Panpepato, also known as pampapato, is a rich, dense chocolate cake that has candied citrus, toasted nuts, and spices. This deliciously dark dessert or snack recipe is a tradition in the city of Ferrara in the Emilia-Romagna region of Italy. There are similar, yet slightly different versions in the areas of Tuscany and Campania.
The term panpepato is translated to peppered bread in English. The name refers to the liberal dose of spices included in the recipe. This is pretty true of the many traditional Italian sweets from the Renaissance period.
When spelled "pampapato" it is more literally translated to Pope's bread which refers to the believed history of this cake, which is said to have originated in a convent in Ferrara during the 1600s. During that time, prized ingredients were nuts, citrus, spices and, imported cacao. Apparently, the nuns created a convex-shaped cake topped with melted chocolate and named their domed creation after the Pope. To this day, it remains a special cake for holidays and other important occasions.
I don't always like hot, spicy foods, but I do like dishes that are infused with savory (not too hot) spices, especially when used in sweet recipes. I will often add garam masala to desserts, nutmeg to bread pudding, cinnamon to almost any sweet bread, and a little salt and pepper to chocolate recipes. I don't know the exact science, but salt enhances sweetness and pepper just makes cacao and chocolate more intense in flavor. A little coffee can do the same.
Overly sweet desserts are not that appealing to me since I have matured. Don't ask my 10-year-old self how I feel about that statement. This cake recipe is exactly what my adult self likes. It has chocolate, mild spices, nuts, citrus, and honey. Panpepato is so nice with a cup of steaming espresso in the afternoon or even for breakfast.
If you like this recipe, you might also like our simpler Sunday Chocolate Cake recipe.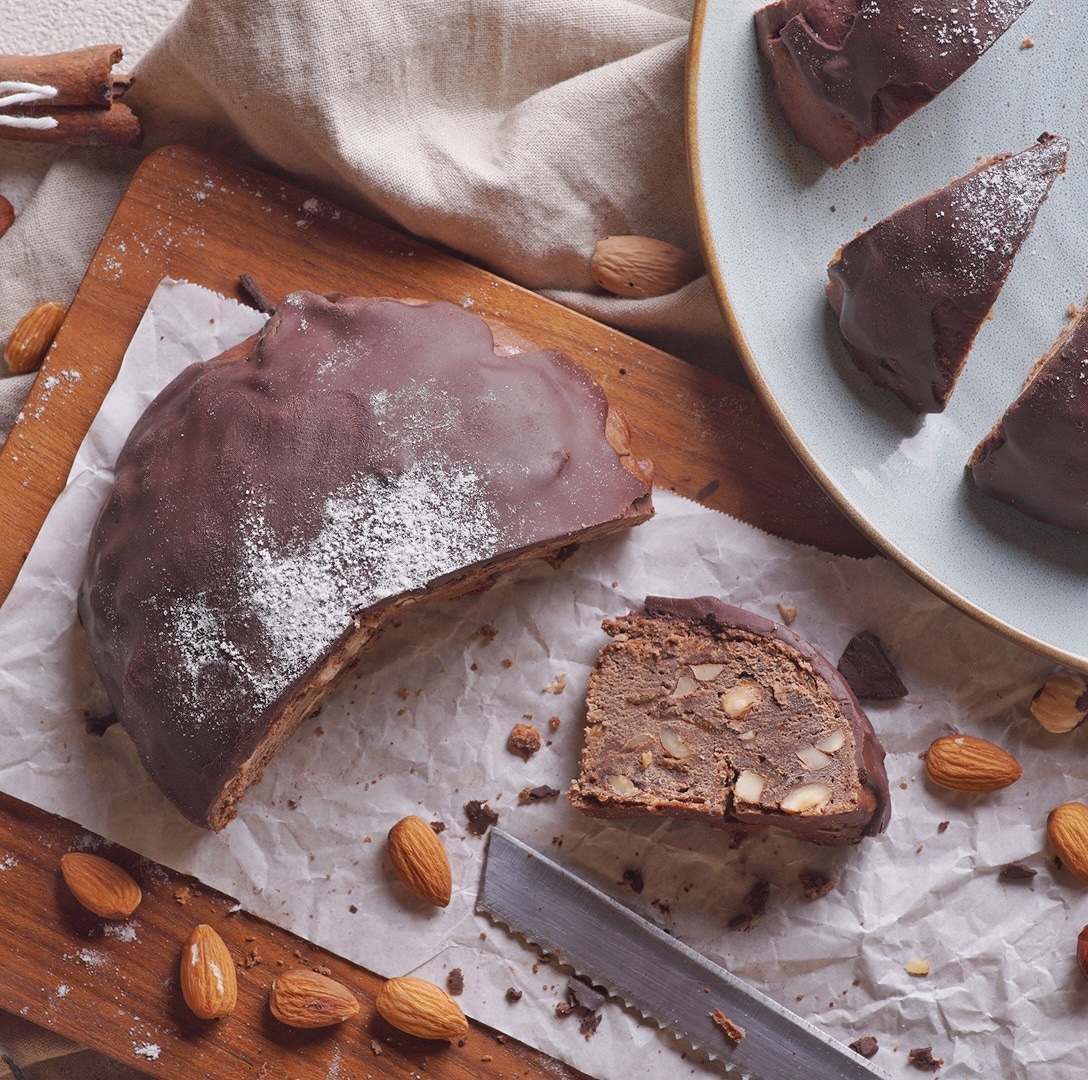 Ingredients
1

cup

all-purpose flour

sifted

⅓

cup

cocoa powder

sifted

½

tsp

ground cinnamon

¼

tsp

ground cloves

¼

tsp

freshly ground black pepper

⅛

tsp

ground nutmeg

⅛

tsp

fine sea salt

½

cup

candied lemon or orange peel

chopped

¼

cup

toasted almonds

chopped

¼

cup

toasted hazelnuts

chopped

½

cup

pourable honey

½

cup

whole milk

1

cup

dark chocolate chips

Confectioners sugar for dusting

optional
Instructions
All ingredients ready? Let's begin!

Preheat the oven to 325°F. Line a sheet pan with parchment paper and set it aside.

In a large mixing bowl, whisk together the flour, cocoa powder, cinnamon, cloves, pepper, nutmeg, and salt. Stir in the candied citrus peel, almonds, and hazelnuts.

Add the honey and milk and stir to combine well.

Use clean hands to make sure everything comes together into a ball of dough. You may need to add extra flour if it becomes to wet to make into a ball. Place the ball on the baking sheet and pat down to flatten it into a slight dome shape.

Put the cake in the oven and bake for approximately 50 minutes, or until the cake sounds hollow in the center when tapped.

Transfer the baked cake to a rack that is placed over the parchment-lined sheet pan and allow it to cool.

Place the chocolate chips in a heatproof bowl set over a pot of simmering water. Stir the chocolate until it just melts, trying not to burn it.

Pour or drizzle the melted chocolate over the cake and leave it alone until the chocolate sets up and hardens.

When the chocolate has cooled and set, dust it with powdered sugar if you like. Slice it into serving portions or wedges and enjoy.
Video
Nutrition
Calories:
421
kcal
|
Carbohydrates:
64
g
|
Protein:
8
g
|
Fat:
17
g
|
Saturated Fat:
10
g
|
Polyunsaturated Fat:
1
g
|
Monounsaturated Fat:
5
g
|
Trans Fat:
1
g
|
Cholesterol:
2
mg
|
Sodium:
92
mg
|
Potassium:
422
mg
|
Fiber:
6
g
|
Sugar:
35
g
|
Vitamin A:
72
IU
|
Vitamin C:
11
mg
|
Calcium:
162
mg
|
Iron:
3
mg
Notes & Tips
Sifting the flour and cocoa powder is pretty important for this recipe to work well. This is a dense cake and you don't want any clumps or uncooked dry ingredients. I learned the hard way when there were white balls of raw flour in a batch of brownies I made.
If toasting your own almonds and hazelnuts, rub the bitter skins off of them before chopping. Discard the skins.
The dry to wet ingredients ratio depends on a few things, such as how liquid your honey is and what the humidity in the air is in your kitchen. Baking is a bit of a science but it is also intuition. If the dough feels too wet, add a little more flour. If it feels too dry, add a tiny bit of milk. Go by the feel of the ingredients when mixed together and formed into a ball.
Most recipes for panpepato are written in metric, including the temperature of the oven being listed in Celsius. I saw recipes that call for baking the cake low and slow at 302°F (150°C) for 1 hour 15 minutes. Other recipes recommend 350°F (175°C) for 20 minutes. I found somewhere in between the two temps and times works well.
Substitutions & Additions
Panpepato appears to be traditionally made with almonds. I like the addition of hazelnuts. They are very common in Italian desserts. I just like their earthy flavor. I would say you could add or substitute pine nuts, pistachios, or walnuts.
There is a lot of candied citrus peel in panpepato. It can be overwhelming if you aren't a fan of this ingredient. If that is the case, I would recommend that you use ½ candied peel and ½ raisins, dried cranberries, or dried figs (chopped). You can rehydrate the dried fruit in a little sweet wine (Marsala).
If you want to pump up the flavor of the chocolate, add a ¼ to ½ teaspoon of espresso powder to the dry ingredients. I can't say enough about the successful marriage between chocolate and coffee in both sweet and savory dishes.
---
Recent Recipes