Easy Honey Mustard Chicken Thighs
I grew up not far from a large Amish community. The countryside was beautiful and peacefully quiet. There was never the hum of a tractor motor or a car engine. We would shop the roadside farm stands for fresh produce, the best free-range chicken, and the sweetest honey. I had a recipe for Amish honey chicken that was beyond good. I made that a couple of times a year and everyone loved it.
This Mennonite recipe was simple. The ingredients were chicken thighs, honey, butter, mustard, salt, and curry powder. I am unclear on how or why curry powder was an ingredient, but it works. The chicken was coated in the sauce and was baked in a 350°F oven for a long time until the skin was crisp.
I don't make this exact same recipe any longer because it is really heavy on the butter and hard on the arteries for those of us who don't work the land for a living. However, I do make a lighter version that is just as good, in my opinion. And yes, I still add a little curry powder. As my niece says, "It's the bomb". I also don't bake for as long as the Amish recipe calls for.
My easy honey mustard chicken thighs are bone-in and skin-on. Skin and bones impart plenty of flavor and moisture. There really isn't any need for butter. This recipe has honey, Dijon mustard, olive oil, salt, and pepper. It doesn't get more basic than that. The simplicity of this dish is the beauty in how all the flavors meld together and the pan juices that make a crazy good basting liquid and finishing sauce.
I like serving this sweet chicken with some spicy Calabrian potatoes with chili and bell peppers for complimentary flavors. Or, you could serve a simple herbed brown rice beneath the chicken. Pan roasted brussels sprouts are another great side to accompany the honey mustard chicken. You can finish this comforting meal with a banana pudding that can be made ahead of time.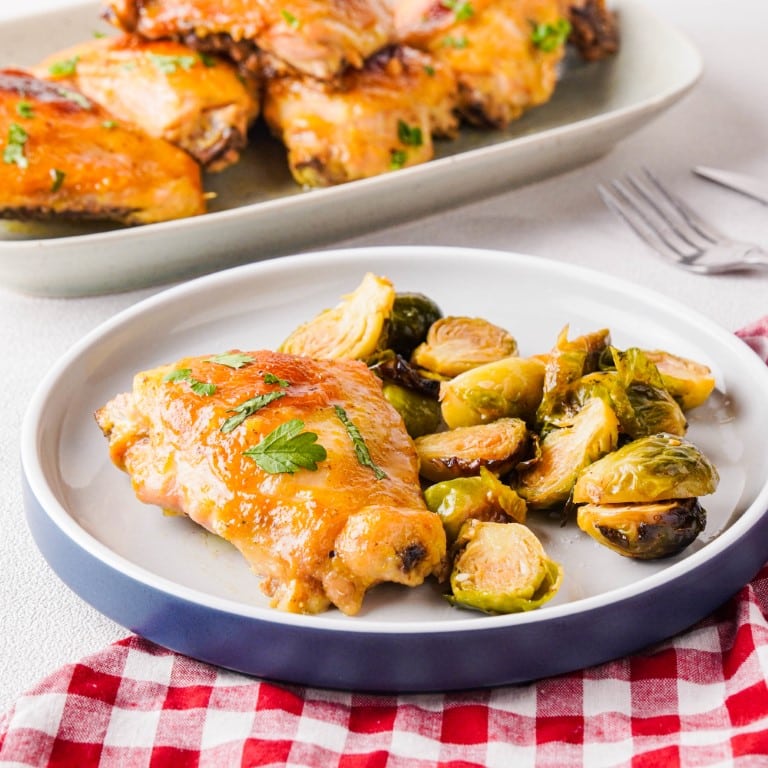 Ingredients
6

bone-in

skin-on chicken thighs, trimmed of excess fat

1/4

cup

of good honey

1/4

cup

Dijon mustard

1

Tbsp

extra virgin olive oil

1/4

tsp

curry powder

1/4

tsp

sea salt

1/4

tsp

freshly ground pepper
Instructions
All ingredients ready? Let's begin!

Remove the chicken from the refrigerator about 20 minutes before baking so it can come to room temperature. Pat dry and set aside.

Preheat the oven to 350°F.

Place the chicken, skin side facing up, in a rectangular baking dish or a large cast-iron skillet. The thighs can touch one another.

In a small bowl or measuring cup, whisk together the honey, mustard, olive oil, curry powder, salt, and pepper.

Pour the sauce evenly over the chicken thighs.

Place the baking dish or skillet on the center rack of the oven and bake for 20 minutes. Baste the thighs generously with the pan sauce and return the dish to the oven. Continue to bake until the skin is crisp and the meat reaches 165°F when checked with a digital meat thermometer.

Remove the chicken from the oven and spoon some of the sauce over it. Allow the chicken to rest for 5 minutes before serving.

Using tongs, remove the thighs from the dish and place them on a serving platter.

Discard the remaining sauce or strain it to remove excess fat. Serve the warm glazed chicken with your favorite side dishes.
Nutrition
Calories:
633
kcal
|
Carbohydrates:
19
g
|
Protein:
40
g
|
Fat:
44
g
|
Saturated Fat:
11
g
|
Polyunsaturated Fat:
9
g
|
Monounsaturated Fat:
20
g
|
Trans Fat:
0.2
g
|
Cholesterol:
236
mg
|
Sodium:
503
mg
|
Potassium:
532
mg
|
Fiber:
1
g
|
Sugar:
18
g
|
Vitamin A:
201
IU
|
Vitamin C:
0.2
mg
|
Calcium:
32
mg
|
Iron:
2
mg
Notes & Tips
It always helps your chicken to cook evenly if you allow it to come to almost room temperature for several minutes before baking it.
The baking time of this recipe varies, depending on your particular oven. I start checking the internal temperature of the meat at 30 minutes. Overcooking thighs can make the meat dry and tough.
Make sure you rest your baked chicken thighs for at least 5 minutes before serving them so they continue to soak up the pan juices and remain moist prior to slicing into them.
Substitutions & Shortcuts
Chicken Thighs: Bone-in, skin-on chicken thighs are so juicy and are perfect for this recipe. If you would prefer to go lighter, use boneless skinless thighs. I tried this the other night and found that the thighs took almost 10 minutes less time to come to temperature, so adjust the cooking time. If you are really on a budget, chicken drumsticks work great and are so much less expensive than thighs, especially if using free-range or organic.
Honey: I always have a good local raw organic honey on my countertop to add to tea or to bake with. I tried this recipe with maple syrup to see if it was as good. I have to say, it was very good. Be sure to use a grade A pure maple syrup for best results.
Dijon Mustard: My mom always made her sticky chicken and ribs with either spicy brown mustard or basic yellow mustard. I think any mustard could work. In fact, you could probably use honey mustard to save a step.
Olive Oil: The original honey mustard chicken was prepared with butter. It is tasty but higher in calories and fat. However, if using skinless thighs, you might substitute melted butter for olive oil.
Curry Powder: I have a sibling who absolutely cannot stand the smell of curry. I think that comes from a semester abroad where curry dishes were served everywhere. I love curry. For my family members who don't like it, I change the recipe up by adding fresh or dried rosemary or thyme. For ease, I simply grab my dried herbes de Provence.
---
Recent Recipes