How To Make Perfectly Cooked Scallops
If you have ever wanted to replicate those perfectly seared scallops that you can order in a really nice restaurant, you can do it and it is very easy. You want that nice golden exterior and buttery soft interior. No one wants to ruin these beautiful mollusks by overcooking them until they are more the texture of a rubber ball than a marshmallow. The key to perfect scallops is never stepping away from the pan. Large scallops will cook in about 5 minutes and should be enjoyed immediately.
Scallops, like clams, mussels, and oysters, are mollusks that grow inside shells. These shellfish are different because they are a bivalve that can swim and move around the ocean floor using their abductor muscles. This muscle is what is prized for its delicate sweet briny flavor and soft texture.
Scallops are expensive and that can intimidate any home cook. Why are they so expensive? Scallops are harvested in two ways. They can be dredged up by commercial scallop fishers or hand-harvested by divers. The latter is a more sustainable practice but the yield is far less than dredging the ocean floor. You may see a sign at your fishmonger's shop saying "diver scallops". This literally indicates that the scallops, notably sea scallops, were gathered from the sea by divers grabbing them with their hands. Even with dredging, the yield is not spectacular, hence the high price.
There are 2 different types of scallops, though many species. At the market, you will find fat juicy sea scallops found in the ocean. Bay scallops are gathered closer to shore and are very small in comparison. Sea scallops are best for searing or grilling while bay scallops are delicious in ceviche, chowders, and pasta.
When shopping for scallops, you will find some sitting in a milky bath of polyphosphates to preserve them. If you see fresh or dry scallops, this indicates that they were likely shucked and packed in ice or flash frozen while still on the boat. These are the fresher and better-tasting options because no chemicals are added to preserve them. Either way, you want to cook and eat scallops as soon as you get them home. Scallops can deteriorate quickly. Otherwise, purchase frozen scallops and defrost them in the fridge overnight.
The cleanest way to prepare sea scallops is to sear them in a combination of oil and butter over fairly hot heat. I like to use a cast-iron skillet, but a good non-stick pan works well also. You will need scallops, olive oil, butter, salt, and pepper.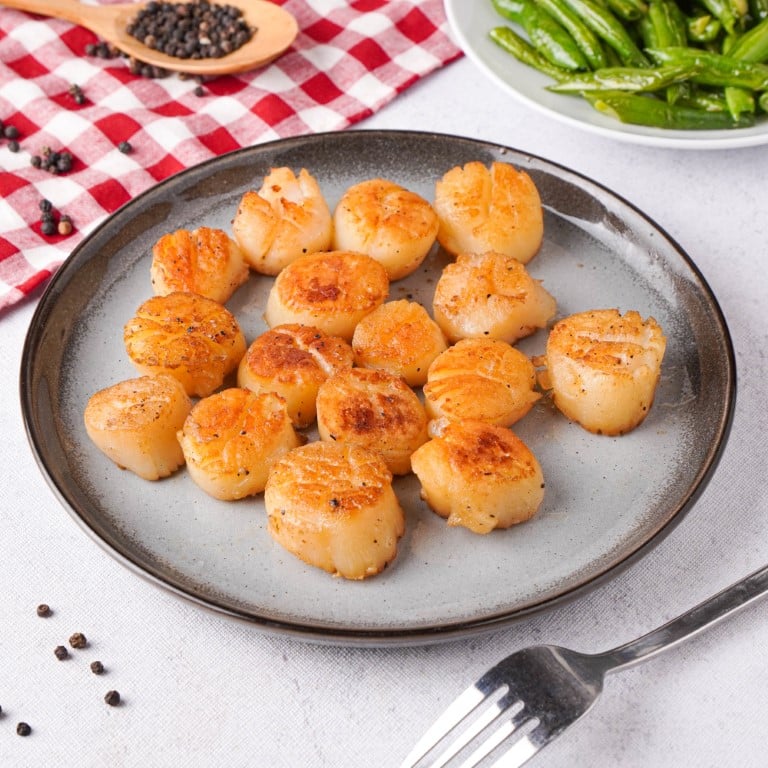 Ingredients
1 ½

pounds

dry-packed sea scallops

approximately 18

1

Tbsp

extra virgin olive oil or grapeseed oil

1

Tbsp

unsalted butter

1 ½

tsp

coarse sea salt

1

tsp

freshly ground pepper
Instructions
All ingredients ready? Let's begin!

If there are small, tough muscles attached to the scallops, pull or slice them off and discard them. Rinse the scallops under cold running water to remove any sand. Pat them completely dry with paper towels. Season both sides of the scallops with salt and pepper and set them aside on a plate.

In a large cast-iron skillet or sauté pan over medium-high heat, warm the oil. Add the butter. As soon as the butter melts, place the scallops in the hot pan.

Sear the scallops until golden brown on the bottom, approximately 2 minutes. The scallops should release easily if they are seared enough. Using tongs, flip the scallops over and sear the other side for another 1-1/2 – 2 minutes until golden on the bottom and opaque in the center.

Serve the scallops immediately as an appetizer or as an entrée with sides.
Nutrition
Calories:
175
kcal
|
Carbohydrates:
6
g
|
Protein:
21
g
|
Fat:
7
g
|
Saturated Fat:
2
g
|
Polyunsaturated Fat:
3
g
|
Monounsaturated Fat:
1
g
|
Trans Fat:
0.1
g
|
Cholesterol:
48
mg
|
Sodium:
1539
mg
|
Potassium:
356
mg
|
Fiber:
0.1
g
|
Sugar:
0.01
g
|
Vitamin A:
95
IU
|
Calcium:
14
mg
|
Iron:
1
mg
Notes & Tips
When shopping for scallops for this recipe, look for large sea scallops that are dry-packed. These are sweet and don't have any chemical additives. Whether dry or wet-packed, you still need to rinse the scallops of any residual sand and pat them very dry with paper towels before cooking. This is especially true if using thawed frozen scallops.
If this is an entrée. You will want to prepare your accompaniments before you sear the scallops because they cook so quickly.
To tell if the pan is hot enough, you can sprinkle a couple of drops of water into the pan. It should sputter.
The way you will know if the scallops are seared on the first side is they will release easily when you go to flip them over. If they are stuck to the pan, they aren't ready to turn.
Remove the cooked scallops from the pan as soon as they are finished cooking. Otherwise, they will continue to cook and will become rubbery.
Substitutions & Additions
Scallops: Well, there really isn't a good substitute for fresh sea scallops in my opinion. But they aren't always available. You can use frozen scallops or go for fresh large shrimp. If you are vegetarian, you can get pretty creative by using a small cookie cutter to shape extra firm tofu into a "scallop". I have also seen a vegan chef take par-boiled potatoes, cut them to look like scallops, and sear them. It was pretty clever and actually good.
Seasoning: Salt and pepper are all that you need for scallops. If the scallops have been preserved in liquid, they sometimes lose their brininess. If that is what you are using, add a few pinches of Old Bay Seasoning to perk up the ocean flavor.
Fresh Herbs: Gordon Ramsey can't read this or he would ask me to give him my chef's jacket. I like sprinkling fresh chopped herb leaves on seared scallops, especially flat-leaf parsley or basil. To be honest, I like fresh herbs on most savory dishes, especially dishes that are pale. The color of the herbs is vibrant and the flavor is so fresh.
---
Recent Recipes