How To Reheat Pizza In A Pan
Key Takeaways
If there's no oven or toaster oven in sight and you don't like running the risk of a soggy or rock-hard crust from improper microwaving, rest assured – pizza reheated in a pan comes out crispy and cooked through when done properly. In essence, all you need to do is heat the base of the pizza until it just begins to crisp up and then drizzle under a teaspoon of water into the pan and beneath the pizza pie. Stick the lid on and let the steam that's building up steadily warm your pizza to perfection.
If you've only got a pan handy but are looking to reheat pizza, read on. We've got all the details you need to know to guarantee that your reheated pizza comes out piping hot with melted gooey cheese, warm toppings, and a crispy base with the ideal texture coming up.
How Do You Reheat Pizza, So It's Crispy?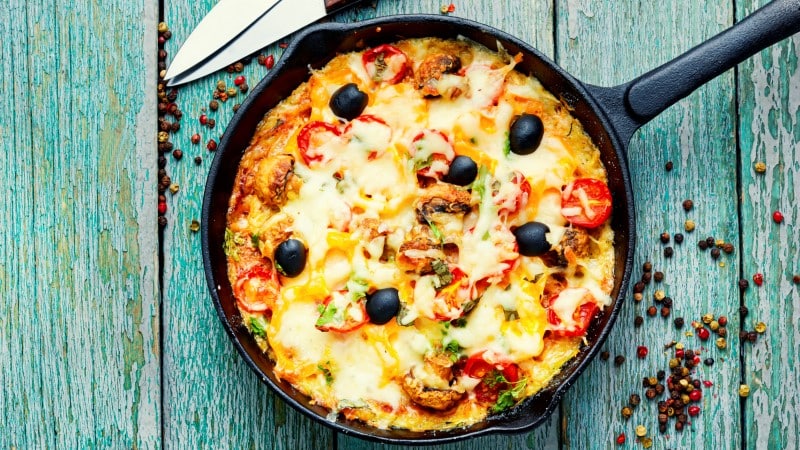 Learning how to reheat pizza in a pan is largely a delicate balancing act of getting the temperature just hot enough to build up enough steam to cook the pizza through and melt the cheese without allowing the base to get so hot that it crisps up excessively and burns. We've got a couple of methods coming up. One involves nothing more than a hot pan and water. The other includes oil.
Best Pan For Reheating Pizza
You can technically reheat pizza in any pan as long as you pay close attention to how hot the base is getting. With this being said, a heavy-bottomed non-stick skillet is the top recommendation for warming up pizza and other dense foods like pasta bakes and casseroles. A seasoned cast iron skillet is a reliable choice that'll give your crust the right char, but if it's not seasoned properly or used correctly, you'll quickly end up with a burned pizza that isn't hot all the way through. This is why we recommend any standard non-stick skillet or frying pan, preferably with a heavy-bottomed base as the top choice.
How To Reheat Pizza In A Pan With Water
Heat a non-stick pan for just under a minute over medium-low heat.
Once the pan is hot, add the pizza and allow to cook uncovered for one to two minutes, thickness dependent.
As soon as you can smell the base, add a few drops of water to the pan (less than a teaspoon), perhaps lifting the pizza to ensure complete coverage.
Cover with a lid and allow steam to build up for three to four minutes at the most.
Remove from the heat. Leave the lid on. Allow the pizza to stand and steam for a further two to three minutes.
Why To Reheat Pizza In A Pan Using Water
The water prevents the base from drying out and becoming so crispy and so low in moisture that it's hard and brittle instead of crisp and crunchy. Any leftover moisture, such as that emanating from the sauce and cheese, fuses with the water and becomes reabsorbed by the base, infusing it with flavor and fortifying its chewy, springy welcoming texture.
How Long To Reheat Pizza In A Pan
Traditional deep dish pizza will normally call for two minutes of cooking uncovered and four minutes of steaming with the lid on. Thin crust pizza usually requires one minute of cooking uncovered and two minutes of steaming with the lid on. With this in mind, adjust according to the heat of your stove and the consequent cookware in use. Thick-bottomed non-stick pans and skillets will need less time than a regular non-stick frying pan. In many cases, cooks will find it better to steam for half the time atop the heat of the stovetop and then leave the pan for the remaining duration off the heat when cooking with a cast iron or other thick-base skillets.
How Do You Reheat Pizza In A Pan With Olive Oil?
Follow the exact same instructions as reheating using water, just add oil instead. You'll also need to allow the crust to crisp for ten to twenty seconds longer before lidding the skillet or pan to ensure pizza with a crispy crust, moist interior, and piping hot, melted cheese and toppings. Most people prefer the end product of reheating pizza with water. Saucy pizzas like our must-try pizza cubana with an oh-so-tasty citrus mojo typically have enough moisture to be warmed using water alone. However, if your crust is already excessively dry, reheating with the help of a little olive oil will grant better results.
Reheating Frozen Pizza
Reheating frozen pizza calls for the same procedure as reheating refrigerated leftover pizza. We do, however, advise that you add one extra step. After putting the lid on and having the toppings start cooking through at anywhere between one and three minutes in, remove the lid, lower the heat to low, and allow any excess moisture to cook away so that the base becomes crispy.
What Not To Do When Reheating Pizza In A Pan
Here are a few golden rules to follow when reheating pizza in a pan:
Don't Use Too Much Water Or Oil
Don't Begin Steaming Too Early
Don't Let Your Pan Cook At Too Low Of A Temperature
Don't Allow Your Pan To Get Scorching Hot
Don't Take The Lid Off Until At Least 5 Minutes Steam Has Elapsed
Reheating Pizza In A Pan Tips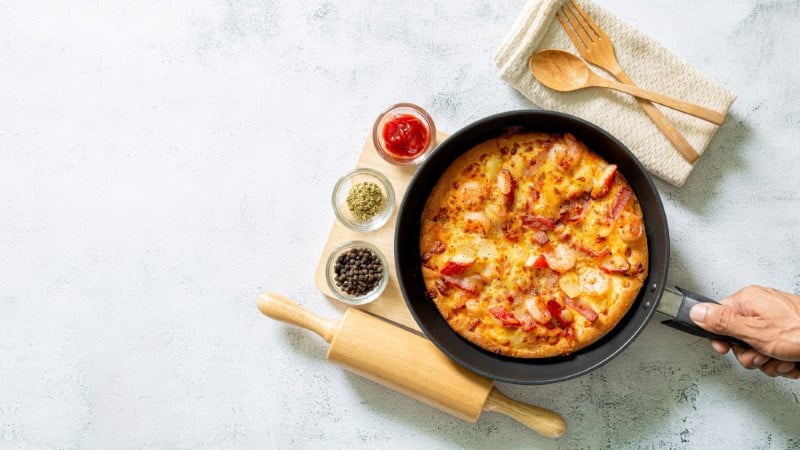 To make sure that the cheese and toppings heat even more evenly than when using a lid alone, cover your pizza with foil tightly before placing it into the skillet or frying pan. This is the very best way to make sure that a whole pizza is reheated perfectly, but just as useful for warming up a few slices at a time. Those who demand leftover pizza as perfect as possible will want to warm it up in a pan covered in foil. The difference is subtle but noticeable and well worth trying out.
There are going to be times when it's extremely difficult to get the temperature of the skillet or frying pan high enough to crisp and warm your pizza but not so low that excessive moisture forms making it soggy. Those with a very hot stove, such as certain gas stovetops, should use moderately high heat to build up steam but quickly remove the pan from the burner. Alternate between forty seconds to a minute on and two minutes off with the lid on at all times to guarantee yourself piping hot pizza without a moist or burned crust, no matter how high the "low" end temperature range of your stove might be.
---
Recent Recipes