All The In N Out Vegan Menu Options
In N Out is arguably the most famous West Coast-based burger joint in the entire country. This is partially because of exclusivity; it wasn't until a few years back that an In N Out restaurant was built outside California. Prior to that, you would only eat a famous In N Out Burger if you visited Cali.
However, the expansion of In N Out has led many to wonder just how flexible their menu is and whether there are any vegan options at this burger eatery. Unfortunately, vegans have very few options at In N Out overall. We'll break down those options below so you aren't surprised if you're forced to stop at In N Out because a friend really wants to try out one of their burgers.
Here is a quick overview of the vegan options before we go into detail:
| Menu Item | Dish Type | Notes |
| --- | --- | --- |
| French Fries | Sides | Prepared fresh in 100% sunflower oil |
| Customized "Vegan" Burger | Sandwich | Ask for just a bun, lettuce, tomato, fresh onion and replace spread with ketchup or mustard |
| Grilled Onions | Toppings | – |
| Pickles | Toppings | – |
| Lemonade | Beverage | – |
Note: Cross-contamination can occur. Menu items as of 1/10/2023 as menu items may have changed.
3 Vegan Choices at In N Out
All told, there are basically three vegan-friendly choices at In N Out in total. You read that right; if you're a vegan at In N Out, you only have a couple of choices unless you want to cheat on your diet. Let's go through them one by one.
In N Out French Fries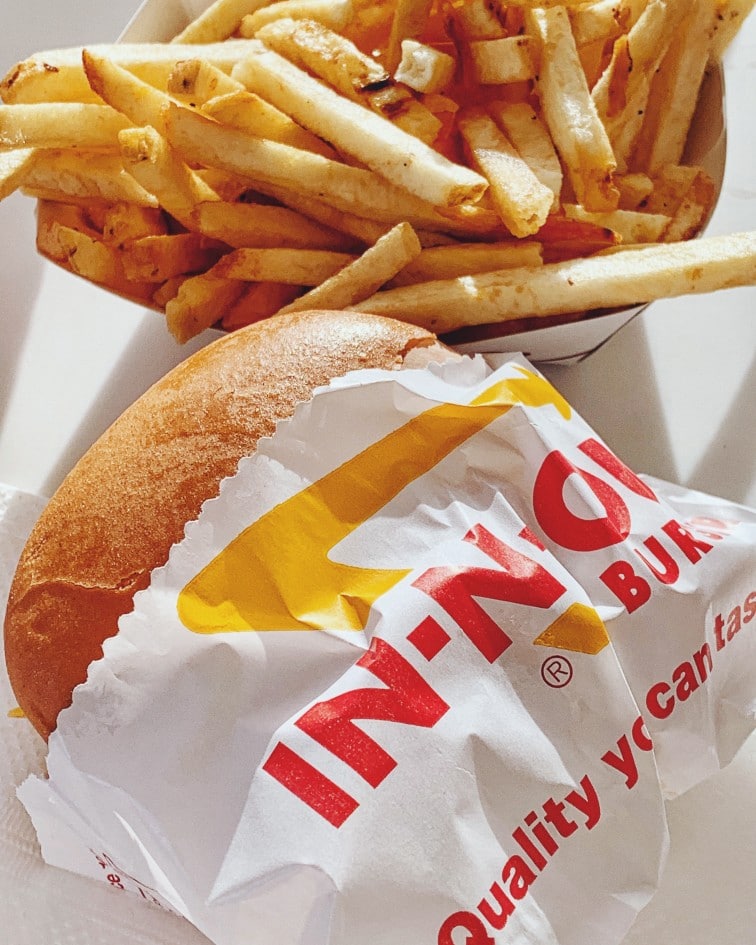 First up are the In N Out French fries. That said, these French fries are pretty tasty and are made from hand-cut potatoes prepared in 100% sunflower oil. Because of this, you don't have to worry about cross-contamination in the frying stage of fry preparation.
However, keep in mind that In N Out doesn't do anything for vegans specifically, so cross-contamination could still be a problem in terms of cooking surfaces or preparatory tools. But we aren't aware of any other menu items at In N Out being used in the fryer, so the fries should always be safe for vegans.
That's a good thing, too, since the French fries are pretty delicious. You can order the fries to your crispiness preference level as well, such as light well or done well (for less crispy and crispier, respectively).
In N Out Vegan Burger
In N Out does technically offer a so-called veggie burger. This doesn't contain any patty or meat. Instead, it's just a bun, lettuce, tomato, fresh onion, and the In N Out spread. If you want to make sure that it's 100% vegan, order the burger without the spread and replace it with ketchup or mustard.
As you can imagine, this burger is pretty uninspiring. You can spice it up in a couple of creative ways:
For example, you can choose from one of four different onion varieties to use on your burger. You can choose from fresh sliced, raw chopped, grilled chopped, and whole grilled onions
You can also add yellow chilies to your burger and give it a little bit of spicy kick to adjust its flavor profile
Lastly, you can ask the In N Out employees to double toast or not toast your bun at all
Still, this "burger" is pretty lackluster for vegans who want to eat something filling. But it can serve as an emergency lunch if you don't have time to go anywhere else on your break.
Honestly, other fast-food burgers for vegans are much better. Hardee's, for example, has a great vegan burger and several other vegan-friendly sides. Because of this, it's a better overall place to eat for vegans.
In N Out Soft Drinks
Aside from the French fries and the so-called veggie burger, you can order any of the soft drinks at In N Out without cheating on your diet. You can find all kinds of Coke products and several types of lemonade to wash down your food.
Want a sauce or dressing for your vegan food at In N Out? You are pretty limited here as well. The famous burger spread at In N Out is based on a basic mayonnaise recipe and it contains eggs. There's no way to adjust this, so it's always non-vegan. You can add ketchup or mustard to your burger or French fries, however. These come in sealed packets, so there's no need to worry about cross-contamination.
In N Out Vegan Options FAQs
Are the fries at In N Out vegan?
Yes, 100%. Furthermore, there's no evidence that the French fries at In N Out are fried in a shared fryer with meat-based or animal-based products. Therefore, you shouldn't need to worry about cross-contamination with the French fries like you do at most other fast-food restaurants.
What about In N Out's spread?
No, sadly. The spread is essentially mayonnaise with a couple of other seasonings mixed in. Since mayonnaise is not vegan, neither is In N Out's famous burger spread.
Will In N Out offer more vegan choices in the future?
Possibly. At the time of this writing, In N Out is clearly trying to expand its audience by opening stores in other states for the first time in its history. Furthermore, many other fast food joints are offering vegan or vegetarian friendly many items to bring more people to their restaurants.

It's possible that In N Out will also do this and start offering famous In N Out Beyond or Impossible Burgers. But In N Out's corporate team hasn't made any announcements on this point.
Should You Eat at In N Out if You're a Vegan?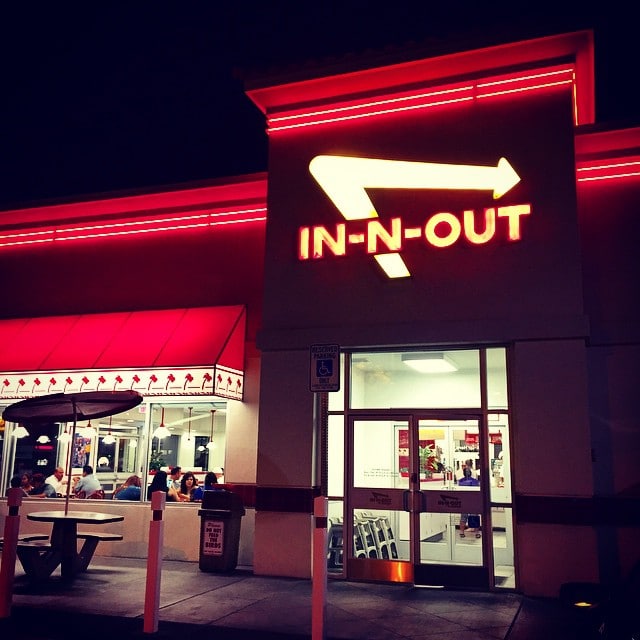 Ultimately, In N Out is a poor choice to grab a bite to eat if you're vegan or even vegetarian (though vegetarians do have a couple of extra options). If you're a vegan, you're better off just getting a snack of French fries and continuing on until you reach a more vegan-friendly eating establishment. Luckily, we've broken down the best restaurants with vegan-friendly menu items on cookgem.
Until In N Out starts offering actual vegan burger replacements, this fast food joint will not be a favorite stop for vegan diners.
---
Recent Recipes