Easy Instant Pot Boneless Beef Short Ribs
The pressure cooker is a great invention. My mom had a heavy steel pressure cooker in which she made the most amazing fall-off-the-bone ribs. Though, I was warned not to get within 5 feet of it in case the top blew off due to the pressure. I was so intrigued by this pot and its volatility that I eventually bought an identical one in my late 20s. Mine never blew up, nor did my mom's, but I have heard stories of ceilings being ruined by exploding pressure cookers.
The instant pot has changed the landscape for pressure cooker concerns. It does cook dishes under pressure, making everything tender and moist. Yet, it has built-in safeguards that prevent this appliance from becoming an active volcano.
Cooking with pressure is awesome. It reduces the time needed and no moisture escapes. I like an instant pot for anything that requires long braising but doesn't require me to nurse what I am cooking for hours.
My favorite rib cuts from a steer are the chuck short ribs. These are cut from close to the shoulder area and are what you will commonly find at your market's meat display case or butcher counter. They are meaty and marbled with a good amount of fat. Short ribs really do need to be cooked low and slow or under pressure to encourage the fat to break down and tenderize the otherwise tough meat.
An instant pot is perfect for cooking short ribs. This recipe is very easy and has only a few ingredients: beef ribs, salt & pepper, olive oil, shallots, wine, broth, coconut aminos, and bay leaves. The ribs can be on the table in just over an hour. The best part is that you can prepare your side dishes while the ribs are cooking without having to check or baste them constantly.
I think you can't go wrong serving juicy short ribs over a bed of creamy mashed potatoes. I also like to serve some healthy green vegetables with this hardy dish, such as spinach or broccoli, to balance the meal. If you are looking for a wine pairing, I think Cabernet Sauvignon or Malbec is a good choice. For beer, I would go with stout. A non-alcoholic beverage would definitely be sweet tea.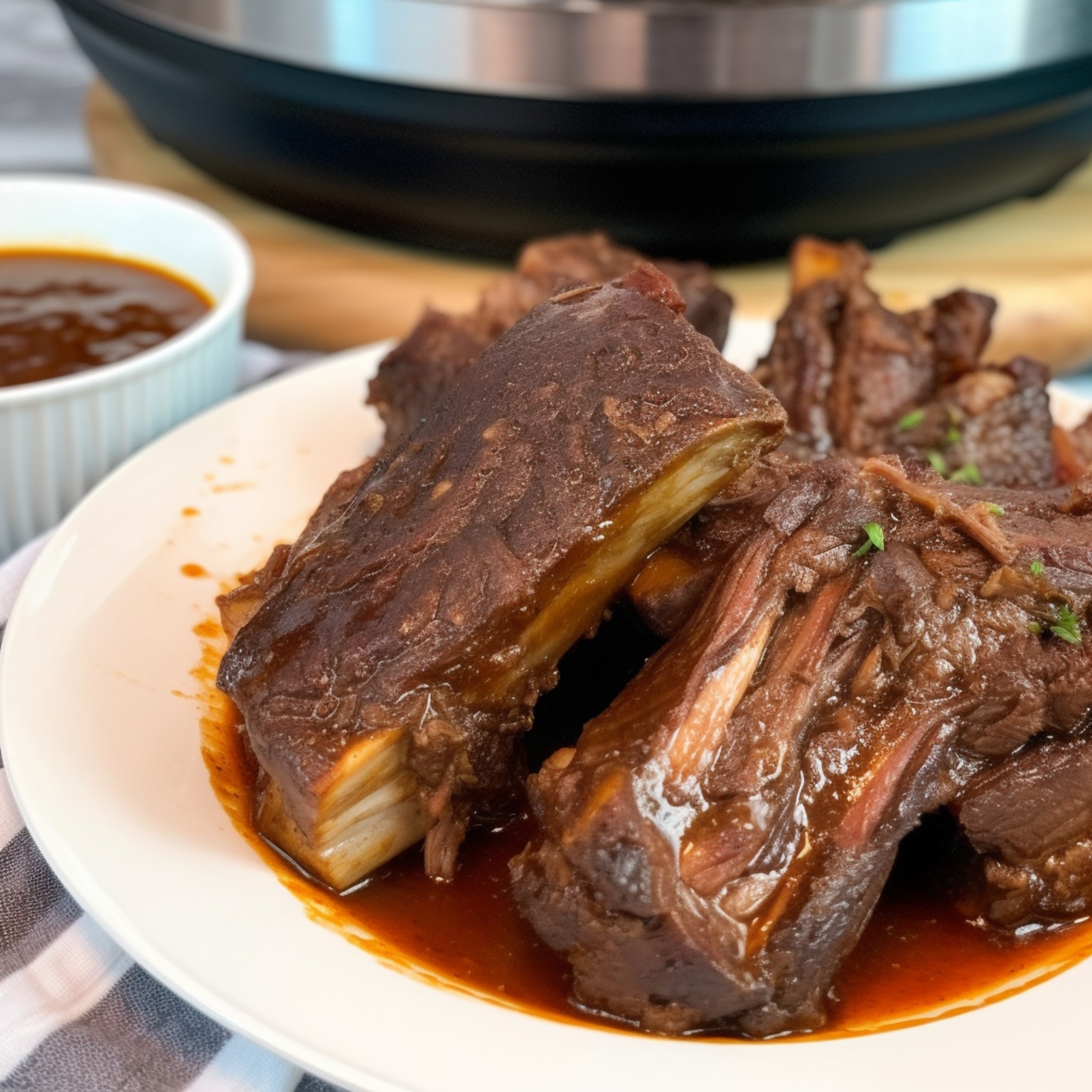 Ingredients
2 to 3

pounds

of boneless beef short ribs

1-1/2

tsp

sea salt

1

tsp

freshly ground black pepper

1

Tbsp

extra virgin olive oil

2

medium shallots

minced

1/2

cup

drinkable dry red wine

1/2

cup

beef broth

1/4

cup

coconut aminos

2

dried bay leaves
Instructions
Using paper towels, pat the moisture off of the ribs. Season the ribs on all sides with the salt and pepper. Set the ribs aside while you heat up your instant pot.

Turn the instant pot onto the high or sauté setting. Add the olive oil and warm it up. Once hot, add the ribs to the pot in a single layer. Do this in batches if necessary, so as not to crowd the pot. Brown the ribs on both sides for about 10 minutes total. Transfer the seared ribs to a platter.

Add the shallots to the pot and cook, stirring to scrape up any browned bits from the ribs. Those bits are flavor. In about 1 minute the shallots should be aromatic and soft.

Add the wine to the pot and continue scraping up the browned bits for another minute.

Stir in the broth and coconut aminos. Turn off the pot.

Nestle the ribs into the liquid in the pot in a single layer. Add the bay leaves.

Place the lid securely on the instant pot. Turn the pot on to high pressure. Cook for 40 minutes. Use the natural release setting to reduce the pressure for 10 minutes. After 10 minutes, use the quick-release setting to make sure all the remaining pressure is released.

Remove the ribs to a serving platter. Remove the bay leaves and discard them. Spoon some of the sauce in the pot over the ribs. Alternatively, turn the pot to high and reduce the sauce for an additional 10 minutes to thicken it.

Serve the ribs while warm over mashed potatoes with your favorite side vegetables.
Nutrition
Calories:
472
kcal
|
Carbohydrates:
5
g
|
Protein:
44
g
|
Fat:
27
g
|
Saturated Fat:
10
g
|
Polyunsaturated Fat:
1
g
|
Monounsaturated Fat:
13
g
|
Cholesterol:
134
mg
|
Sodium:
890
mg
|
Potassium:
852
mg
|
Fiber:
0.4
g
|
Sugar:
0.4
g
|
Vitamin A:
34
IU
|
Vitamin C:
1
mg
|
Calcium:
28
mg
|
Iron:
5
mg
Notes and Tips
It is easier to find bone-in short ribs. If that is all you can get, cook them for about 10 minutes longer.
It is a good idea to take your ribs out of the refrigerator about 20 minutes before cooking them so they can come to room temperature before they hit the hot oil. This ensures even searing.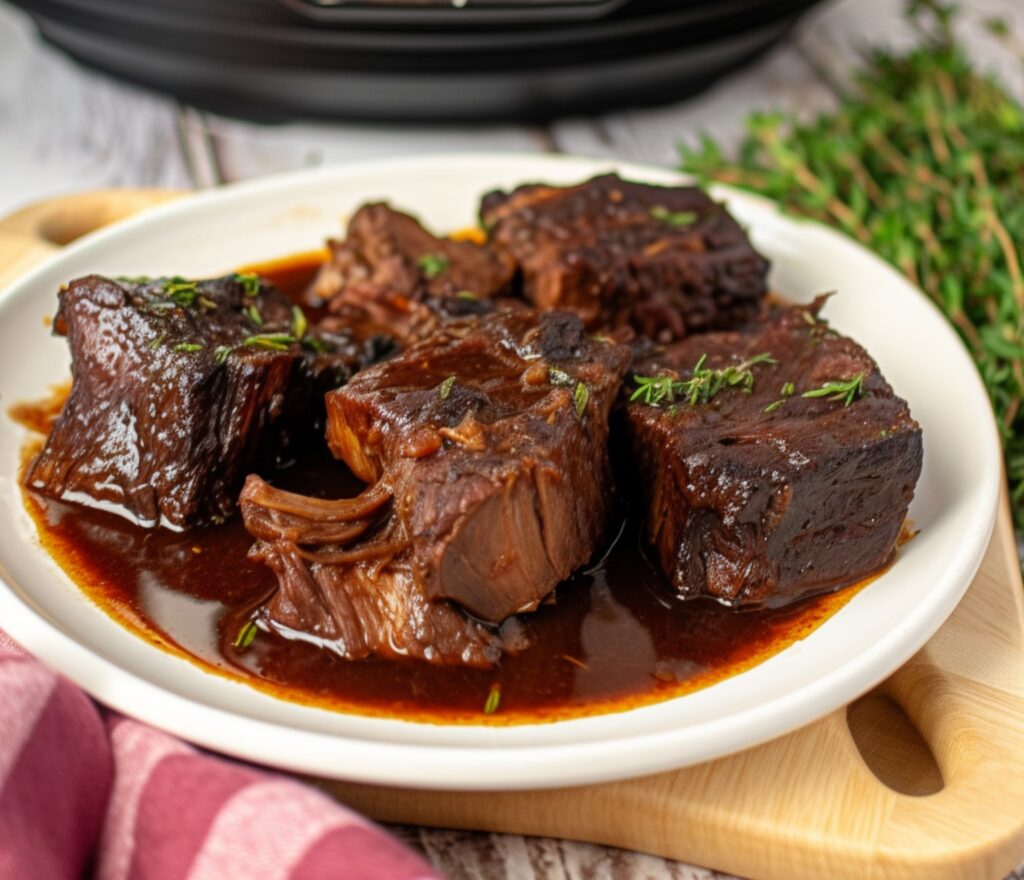 Substitutions and Additions
Shallots: 4 cloves of garlic would be a fine substitution for the shallots.
Red Wine: I always say, if you wouldn't drink a specific wine, don't cook with it either. If you don't want to add wine to the recipe, use all broth instead of 1/2 broth and 1/2 wine.
Beef Broth: I prefer my homemade bone broth for any recipe that calls for broth or stock. It is perfectly fine to substitute with chicken or vegetable broth. Mushroom broth is excellent in this dish.
Coconut Aminos: If you aren't familiar with coconut aminos, you will probably want to add this item to your pantry. It is so versatile. It tastes like a combination of soy sauce and teriyaki sauce. It is salty, sweet, and a little briny from the fermentation process. If you don't have coconut aminos, try soy sauce and a tablespoon of either mirin or balsamic vinegar.
Fresh Herbs: Because I have a small herb garden, I add fresh herbs to pretty much every savory dish. If my garden is still in bloom, I add sprigs of fresh thyme, rosemary leaves, and oregano to this instant pot short rib recipe.
Kudzu: If you would like the sauce to thicken up quickly, add a tsp or more of kudzu powder to it while it is reducing. You might also try arrowroot.
Storage & Reheating
Store leftover beef ribs in an airtight container in the refrigerator for up to 3 to 4 days.
To reheat, transfer the ribs and sauce to a saucepan, cover, and heat gently over low heat until warmed through, about 10-15 minutes. You can also reheat the ribs in a microwave-safe dish, covered with a microwave-safe lid or plastic wrap, on medium power for 2-3 minutes, stirring the sauce halfway through.
If you have frozen the leftovers, let them thaw in the refrigerator overnight before reheating.
Serving Suggestions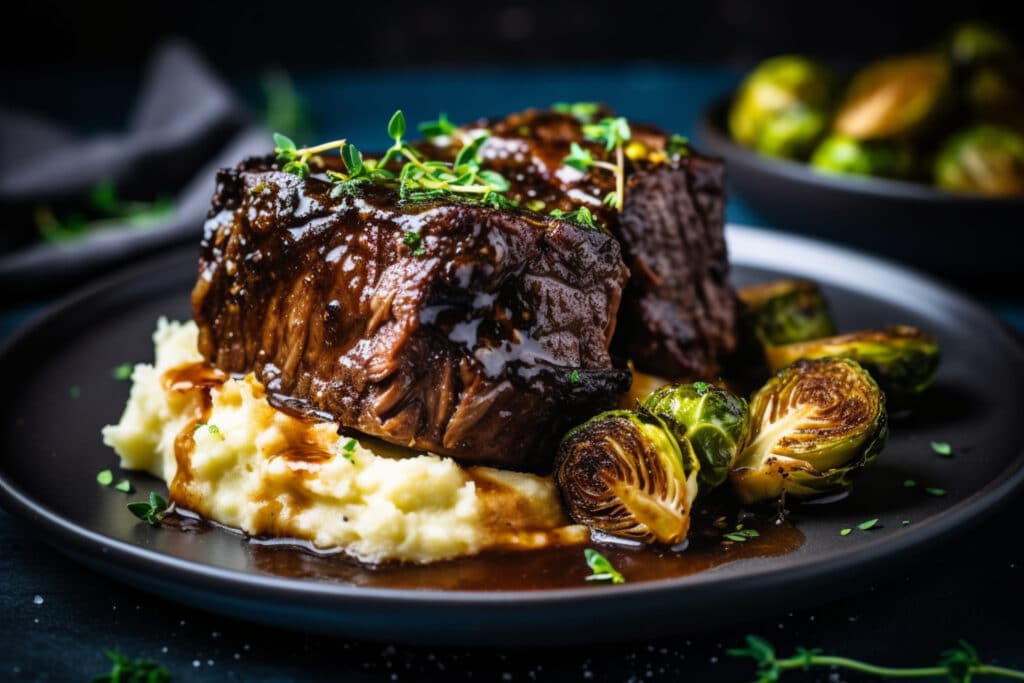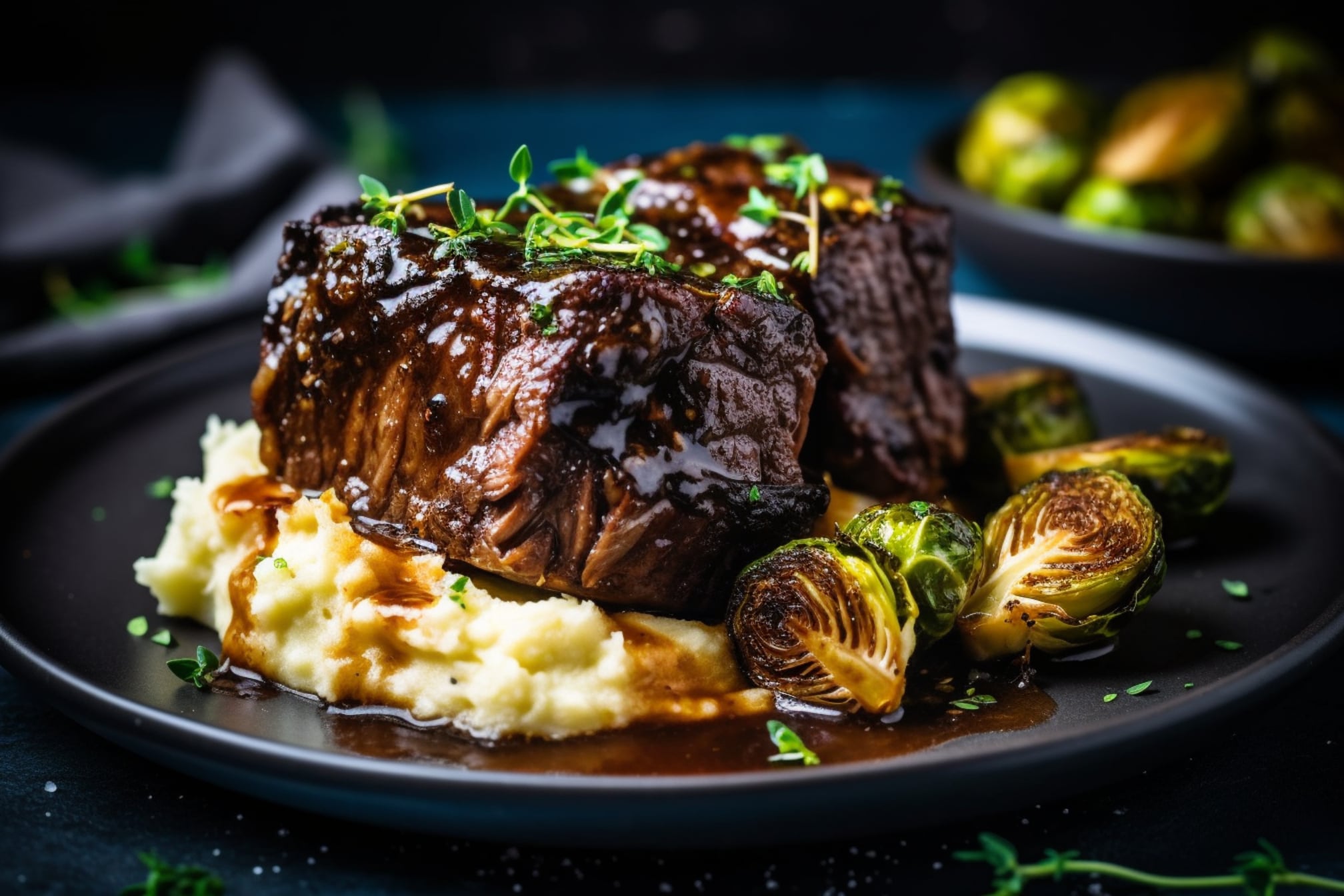 Aside from the suggested mashed potatoes, you can also serve these Instant Pot beef ribs over:

Creamy polenta
Brussel sprouts
Egg noodles
Rice
Cauliflower mash (for a low-carb option)

Pair the beef ribs with additional side vegetables like roasted Brussels sprouts, green beans, or a fresh mixed green salad.
Variations & Customization For Common Dietary Restrictions & Diets
Gluten-Free: This recipe is naturally gluten-free, as long as you use gluten-free beef broth and ensure all other ingredients are gluten-free.
Dairy-Free: No dairy ingredients are present in this recipe.
Paleo: Substitute wine with additional beef broth and ensure the broth is Paleo-friendly.
Common Mistakes
Not searing the ribs properly: Make sure to sear the ribs on high heat and in a single layer to achieve a deep brown crust, which adds flavor.
Not deglazing the pot: When adding the wine, ensure you scrape up all the browned bits from the bottom of the pot to incorporate those flavors into the sauce.
Using low-quality wine: Use a wine you would enjoy drinking, as its flavor will contribute to the final dish.
Health Risks & Benefits of This Recipe
Benefits: Beef ribs are a good source of protein, iron, and essential vitamins, like vitamin B12. This recipe uses a minimal amount of added fat and includes healthy vegetables in the form of shallots and bay leaves.
Risks: Beef ribs can be high in saturated fat, so this recipe may not be suitable for those watching their cholesterol levels or following a heart-healthy diet.
Recipe Context
Beef ribs have been a popular dish for centuries, as they are a flavorful and filling cut of meat. Instant Pot beef ribs are a modern adaptation of traditional slow-cooked or braised rib recipes, making use of the convenience and safety features of the Instant Pot. The recipe's simplicity and limited ingredient list highlight the natural flavors of the beef ribs and the rich, savory sauce.
Common Questions
Can I use bone-in short ribs instead of boneless?
Yes, you can use bone-in short ribs. Cook them for about 10 minutes longer in the Instant Pot to ensure they are tender.
Can I substitute the red wine with something non-alcoholic?
If you prefer not to use wine, substitute it with additional beef broth or even grape juice for a similar flavor profile.
What if I don't have an Instant Pot? Can I still make this recipe?
You can adapt this recipe for a slow cooker or stovetop pressure cooker. Adjust the cooking time accordingly, and follow the manufacturer's guidelines for your specific appliance.
How do I know if the beef ribs are cooked through?
The beef ribs should be fork-tender and easily pull away from the bone (if using bone-in ribs) when they are fully cooked. If the meat is still tough after the suggested cooking time, return the ribs to the Instant Pot and cook for an additional 5-10 minutes.
---
Recent Recipes