Easy Instant Pot Caribbean Pork Tenderloin with Rice and Beans
If you like rice and beans, you are really going to like this easy instant pot recipe for pork tenderloin with rice and beans. Normally, you would make this recipe by braising a pork loin for a very long time. You would cook the rice and beans separately and then pile the pork on top of them.
In an Instant Pot, this meal is all cooked together and it can be on your table in about 30 minutes. One of the keys to the recipe's success is using pork tenderloin which is lean and soft. Don't be tempted to use the pork loin cut. It requires a longer cooking time to break down the tough muscle and the fat.
Look for a pork tenderloin that is approximately 1 pound in weight. If you can only find a double pack of 2 pork tenderloins, you can freeze one and make this dish again at a later date.
Pork used to be a protein that had to be cooked to an internal temperature of 165°F to ensure that any bacteria was sufficiently destroyed. It is now safe to cook pork to an internal temperature of 145°F. This results in a slightly pink hue and tender flesh.
What Makes This Recipe Interesting?
Many Caribbean pork recipes do call for pork loin, which is more muscular and fattier than tenderloin. While I love the flavor of a slow-braised loin, tenderloin is just as tasty and more tender when cooked in an instant pot.
What I like a lot about this recipe is how fresh it tastes with the addition of citrus zest and juice. Many recipes for Caribbean pork tenderloin call for bottled orange and lime juice. These do not compare to the real thing. Freshly squeezed lime juice is especially important as it is added just before serving.
Fresh cilantro leaves are also a great addition to brighten up the dish in both flavor and color. This is also added just before serving. Otherwise, the dish looks a little gray.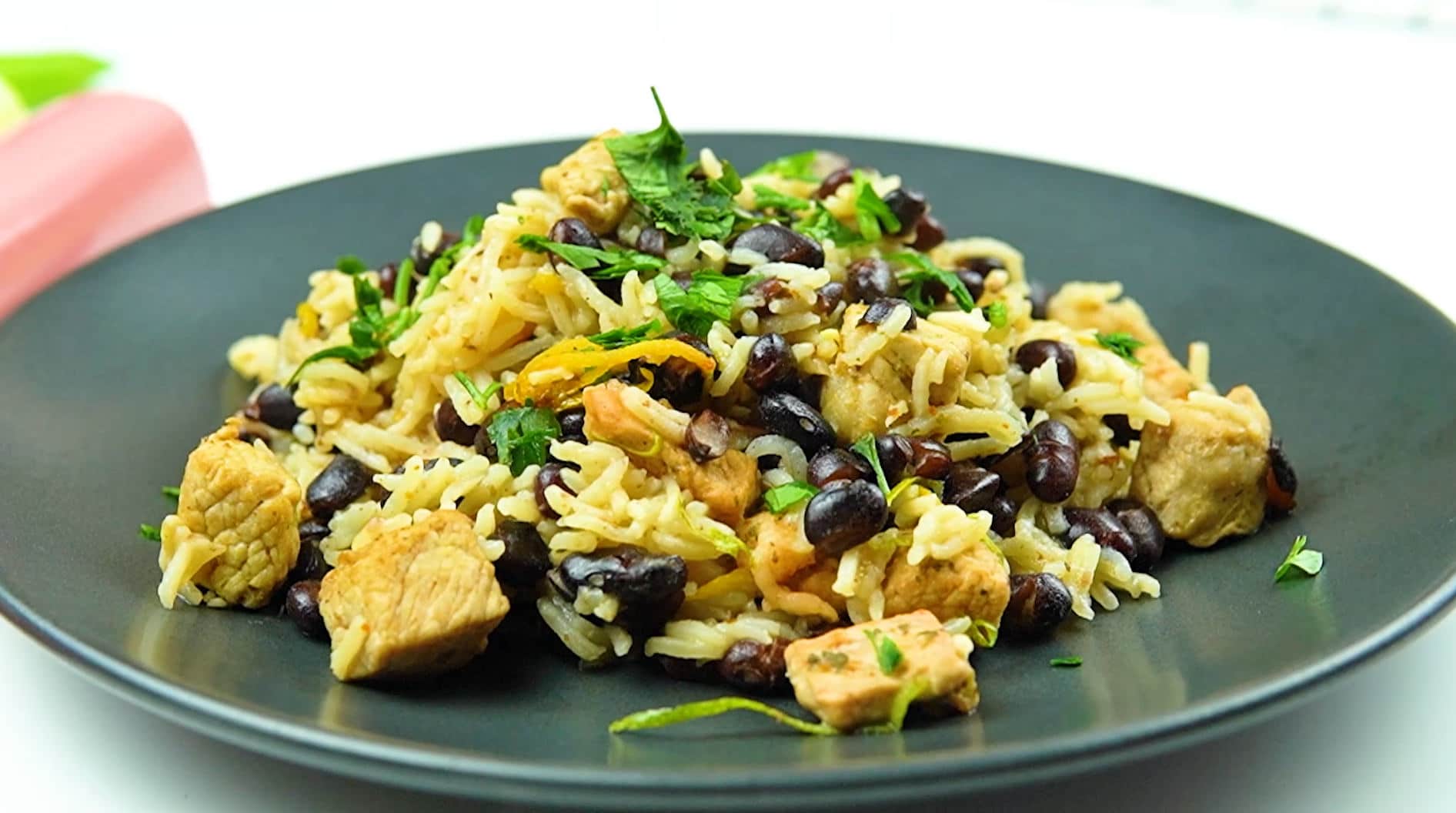 Ingredients
1-1/2

TBS

extra virgin olive oil

1-1/2

TBS

any taco seasoning blend

1

pound

pork tenderloin trimmed and cut into 1-1/2-inch cubes

1-1/2

cups

chicken broth

Zest and juice from 1 orange

3

cloves

garlic

minced

15

oz can

black beans, drained and rinsed

1

cup

uncooked basmati or jasmine white rice

Zest and juice of 1 lime

2 to 4

TBS

chopped fresh cilantro leaves

to your taste
Instructions
Select the sauté option on your Instant Pot. Add the olive oil to the pot along with the taco seasoning. Allow the seasoning to bloom and become fragrant as the oil heats up.

As soon as the oil is hot, add half the pork pieces. Brown the pork on all sides, remove it to a plate and repeat until all the pork cubes are just browned on the exterior, not cooked through.

Pour the chicken broth into the pot. Stir in the orange zest, orange juice, and garlic. Add the rice, beans, seared pork, and stir to combine.

Lock the lid of the Instant Pot in place. Select the high pressure setting for 12 minutes so that the Instant Pot can come to full pressure.

At the 12-minute mark, select cancel and then set the pressure valve to venting to quick-release the pressure. Make sure all of the pressure and steam are released before opening the pot.

Once the pressure is released, open the pot and stir in the lime zest and juice. Ladle the pork, rice, and beans into a serving bowl and top generously with the cilantro.

You can serve this with some toppings on the side. Ideas for toppings include salsa, shredded cheese, jalapeño pepper slices, sour cream, and avocado slices. This is perfect with some crusty bread slices and a glass of cold cervesa (beer).
Video
Nutrition
Calories:
466
kcal
|
Carbohydrates:
63
g
|
Protein:
36
g
|
Fat:
7
g
|
Saturated Fat:
2
g
|
Polyunsaturated Fat:
1
g
|
Monounsaturated Fat:
3
g
|
Trans Fat:
1
g
|
Cholesterol:
74
mg
|
Sodium:
170
mg
|
Potassium:
909
mg
|
Fiber:
10
g
|
Sugar:
1
g
|
Vitamin A:
9
IU
|
Vitamin C:
3
mg
|
Calcium:
54
mg
|
Iron:
4
mg
Substitutions and Shortcuts
Any shortcuts are already built into this recipe. The canned beans are perfect. There is no need to soak dried beans overnight and then boil them before adding to the pork and rice. That would be too many steps and vessels to clean.
A taco seasoning blend is another shortcut. Just buy a packet for around $2.00 from the international aisle of the grocery store right next to the taco shells in the box. If you are a purist and have a lot of dried spices on hand that you want to use up, then make your own blend. A good homemade blend would include ground chili peppers, salt, onion powder, ground cumin, and dried oregano.
If you want to add some heat, you can try any hot sauce and add it at the end when you add the lime zest and juice.
If you don't eat pork, and many don't, you can substitute chicken thighs or even cubed beef sirloin. That actually sounds good.
As for the beans, I usually make rice and beans with red beans because I like the color better than black beans. I would use red kidney beans in place of black beans because they are sturdy and won't break down too much.
Pretty much any white rice will do for this recipe, except for quick-cooking or minute rice.
If you want a little more flavor, you could swap out some of the chicken broth with canned diced tomatoes and their juice.
The cilantro garnish is really lovely on this dish. If you are not a fan of cilantro, garnish the dish with fresh parsley or marjoram leaves.
Notes & Tips
It is really important that you trim the silver skin off of the pork tenderloin, if not already done. This is a thin membrane along the backside of the meat. It is impossibly chewy and won't break down during the cooking process. This video shows how to trim pork tenderloin.
Make sure you rinse your beans in a colander under cool water and allow them to drain. The starch that is in the canning liquid is too thick and will result in a gummy texture.
As mentioned before, I think it is best to use fresh orange zest and juice, as well as fresh lime zest and juice in this recipe. Lime juice in a bottle is so concentrated that it will turn the dish bitter.
---
Recent Recipes