It is finally summer and time to bring out the ingredients for making margaritas. A classic margarita is made with tequila, orange liqueur, lime juice, and simple syrup. It is one of the most refreshing cocktails, especially when shared with good company and a platter of fun appetizers.
Most of us think of a margarita as a Mexican-inspired cocktail. It is, but you can easily put a twist on the classic margarita to enjoy with any cuisine. I have made margaritas with blood oranges and jalapeno peppers for a pop of color and a hint of spice. I have made them with grapefruit juice and agave simple syrup. You can make a lemon drop margarita with fresh lemon juice, tequila, and citron vodka. You get the idea.
I am going in an Italian direction with this margarita recipe and variations of it. Italy is famous for its fresh citruses, such as lemons, limes, and oranges. When I was briefly living in Florence, I would shop at the farmer's market every day. I always picked up fresh lemons and oranges and pretty much used them in every dish. I grilled fish and spatchcocked chicken generously infused with lemon. I made cocktails with orange juice and a variety of Italian liqueurs. I was fond of limoncello, amaretto, sambuca, and Campari. We would sit on the terrace on a warm August evening and sip cocktails while enjoying a spread of grilled, cured, aged, and fresh meats, produce, and cheese.
An Italian margarita cocktail is one that you can customize to your liking. This particular recipe uses tequila, amaretto, lemons, oranges, and a touch of honey simple syrup. Honey from the hillsides in Italy is amazing. We also have some intense floral honey right here. Where I live, organic, raw, wildflower honey is available at every farmer's market. It is amber in color and full of healthy antimicrobial properties.
While I really enjoy the combination of almond and apricot liqueur (amaretto) with tequila and citrus, there are other ingredients you can use to make an Italian-inspired margarita that I will offer in the substitutions and variations section. I do love the smoky amber hue of this drink from the amaretto and the honey.
The tequila choice is absolutely personal. Silver tequila is likely the cleanest-tasting of all the tequilas and really nice for a margarita. Reposado has been aged in oak for 60 days and does have a bit of vanilla notes. Anejo tequila is aged for at least 1 year and is more intense in flavor. I think reposado is a nice match with amaretto.
You will need a 1 ½ ounce (jigger) shot glass, a cocktail shaker, and old-fashioned or martini glasses. Don't fret if you need to improvise with a measuring cup, a tablespoon, a small pitcher, and whatever glasses are in your cabinet. 1 ounce equals 2 tablespoons, just for reference.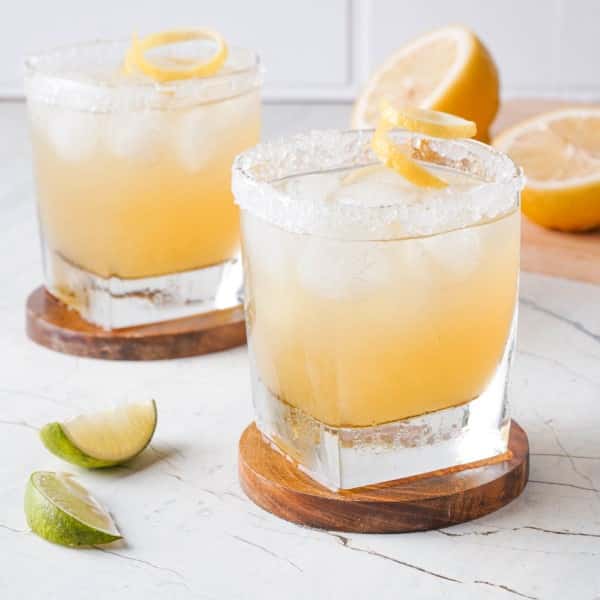 Ingredients
¼

cup

raw wildflower honey

2

Tbsp

hot water

1

lime wedge

1 ½

Tbsp

sea salt

1 ½

Tbsp

granulated sugar

3 ½

ounces

tequila

1 ½

ounces

amaretto

1 ½

ounces

freshly squeezed lemon juice

1

ounce

freshly squeezed orange juice

½

ounce

honey simple syrup

Ice for serving

if desired

Lemon peel twists
Instructions
All ingredients ready? Let's begin!

Boil some water in a tea kettle or pot. Place 1/4 cup of honey into a glass measuring cup or small jar. Add 2 tablespoons of hot water to the cup or jar of honey and mix well with a spoon or small whisk until you have a syrup consistency. You can store this in the fridge for a couple of weeks if you don't need it all.

In a small bowl, stir together the salt and sugar.

Pour it out onto a flat saucer.

Rub the rims of 2 old-fashioned glasses or martini glasses with the lime wedge.

Dip the wet rims in the salt and sugar mixture.

Using a shot glass, add the tequila, amaretto, lemon juice, orange juice, and simple syrup to a cocktail shaker. Add a few ice cubes.

Cover and shake to blend.

Place ice cubes in the old-fashioned glasses, if desired. Strain the margarita over the ice. Alternatively, serve the margaritas up (no ice) in the martini glasses. Garnish each drink with a lemon twist.
Nutrition
Calories:
379
kcal
|
Carbohydrates:
60
g
|
Protein:
0.4
g
|
Fat:
0.2
g
|
Saturated Fat:
0.04
g
|
Polyunsaturated Fat:
0.04
g
|
Monounsaturated Fat:
0.01
g
|
Sodium:
5238
mg
|
Potassium:
94
mg
|
Fiber:
0.4
g
|
Sugar:
58
g
|
Vitamin A:
34
IU
|
Vitamin C:
18
mg
|
Calcium:
13
mg
|
Iron:
0.4
mg
Notes & Tips
Mixed cocktails are best made in a shaker. If you don't have a cocktail shaker, you can just as easily mix the drinks in a small pitcher with a spoon.
If you are having guests over, you can make a batch of margaritas in a tall pitcher. Simply triple or quadruple the ingredients and keep the pitcher chilled in the fridge until ready to serve. Give the drink a quick stir before pouring into glasses.
Freshly squeezed citrus juice is ideal for margaritas. I wouldn't use bottled lemon juice. It is too concentrated and acidic.
Substitutions & Variations
This cocktail is a little on the sweet side. Many like it that way, but you can skip the honey simple syrup for a less sweet version. I personally enjoy a less sweet cocktail to start the evening. But I like ending a meal with a little sweetness, whether that be dessert or a relaxing cocktail. You can also make the syrup with agave nectar or granulated sugar.
I think amaretto is an acquired taste. I happen to love anything almond. Amaretto is an almond and apricot-flavored liqueur that can be too much for some people. This cocktail is super refreshing when made with limoncello, a lemon-flavored liqueur. It is different but delicious in its own right. You could also use Campari. Campari is herbaceous and bitter. It is excellent with citrus juice and simple syrup.
What To Serve With Italian Margaritas?
I love sipping this cocktail with friends on the terrace with some easy nosh. I will often make a simple white pizza with store-bought dough, spinach, feta cheese, and herbs.
I always keep cured meats, cheeses, and fruits on hand to make a cold antipasti board, especially when impromptu guests show up. I'll slice soppressata salami and buffalo mozzarella cheese. Along with that, I'll serve cured olives and bunches of red and green grapes.
If I am feeling ambitious, I will make an eggplant caponata. This is a soft spread or relish with lots of vegetables, raisins, pine nuts, and vinegar. It is generally spread onto crostini (toasted baguette slices) and eaten with your hands.
Everything can be served at room temperature while leisurely enjoying your cocktails.
---
Recent Recipes