Easy Jamaican Jerk Salmon
One summer I was on a mission to perfect my Jamaican jerk recipe. I had been to the islands a few times and came back with a craving for more jerk recipes.
Jerk is a method of seasoning and cooking proteins and fresh produce that originated in Jamaica. The seasoning can be either a dry rub or a wet marinade that includes such ingredients as scotch bonnet peppers, garlic, onions, citrus, soy sauce, vinegar, allspice, ginger, and sugar. This dish is spicy, salty, savory, sweet, and acidic. It basically hits all the tastebuds.
You can use jerk seasoning on chicken, pork, fish, and sturdy vegetables and fruits. In the Caribbean, jerk foods are often grilled on an open charcoal fire. That works really well because the peppers are crazy hot and can assault your olfactory passages when cooking inside. I personally tone down the heat and am fine with cooking jerk inside my kitchen. I just serve my favorite Jamaican hot sauce on the side for those who want extra heat. Hot pepper sauce is one of the best condiments I was introduced to when I lived with a family that was from the West Indies.
I go back and forth on whether to use a dry rub or wet marinade when it comes to jerk seasoning. I keep going back to the wet method because that is what I remember from my travels. I truly love the citrus juice in the marinade. It just speaks of the tropics to me. I will marinate chicken and other meats for hours. When it comes to fish, I only marinate that briefly so it doesn't turn into ceviche. Though, I think I might try that in the near future.
This jerk marinade is big in fruit and heat with scotch bonnet peppers and orange juice. Spices like allspice, nutmeg, and cinnamon give jerk its distinctive flavor and aroma. This marinade has a lot of ingredients, but the recipe is surprisingly simple to make. You can make a big batch and store it in the fridge or freezer.
Thick fillets of salmon can stand up to the intensity of the marinade. I prefer skin-on fillets with a few small slits in the skin for the marinade to sink in. The skin holds the fish together while it cooks and it is just plain delicious when crispy. I cook the fillets in a cast-iron grill pan with ridges over fairly high heat. You can also grill them over charcoal or gas. And, they can be baked in a 350°F oven for about 12 minutes.
I love serving anything jerk-style over a bed of fluffy white or brown rice. You can make the rice more exciting and substantial by trying either Haitian black mushroom rice or Dominican one-pot rice and beans. I also like fruity salsa and avocado slices with jerk salmon. You might need a refreshing beverage to calm the heat of jerk seasoning. I highly recommend a pitcher of orange crush cocktails or a rum planters punch.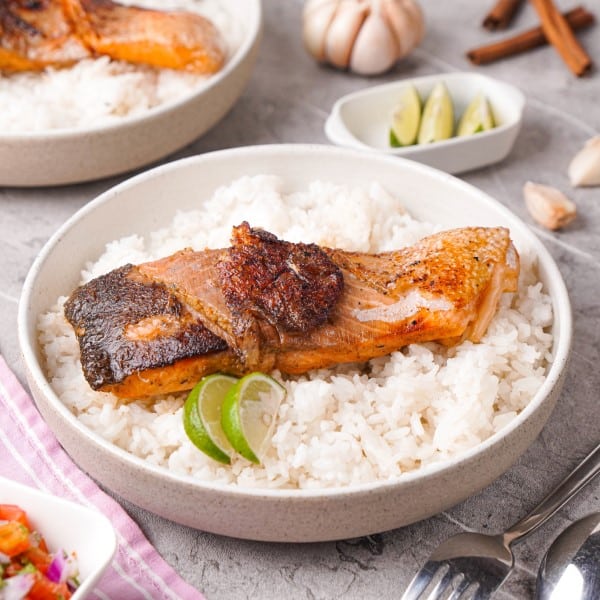 Ingredients
3

scotch bonnet peppers

trimmed

1

small red onion

peeled and roughly chopped

4

scallions

trimmed and chopped

3

cloves

garlic

peeled

1 ½

tsp

grated fresh ginger

1 ½

Tbsp

brown sugar

1 ½

tsp

sea salt

1 ½

tsp

freshly ground black pepper

1 ½

tsp

ground allspice

1

tsp

dried thyme leaves or 4 sprigs of fresh

1

tsp

ground cinnamon

1

tsp

ground or grated nutmeg

½

cup

freshly squeezed orange juice

¼

cup

soy or tamari sauce

¼

cup

unfiltered apple cider vinegar

2

Tbsp

fresh lime juice

2

Tbsp

vegetable oil

avocado, grapeseed, or canola

Four 6-ounce skin-on salmon fillets

1

Tbsp

extra virgin olive oil

Lime wedges for serving
Instructions
All ingredients ready? Let's begin!

Add the first 17 ingredients to the bowl of a food processor or a blender.

Pulse until you have a runny paste, scraping down the sides of the processor or blender periodically.

Pat the salmon fillets dry with paper towels.

Using a sharp paring knife, make 3 small slits in the skin of each fillet, trying not to cut into the flesh.

In a large glass baking dish pour 1/2 of the marinade. Add the salmon fillets and cover with the remaining marinade. Turn the fish over a couple of times to coat evenly.

Cover the dish with plastic wrap and refrigerate for 45 minutes to 2 hours.

20 Minutes before you are going to cook the salmon, take it out of the fridge so it can come to room temperature.

Heat up a grill pan or cast-iron skillet over medium-high heat. Add the olive oil to the pan. Wipe off the excess marinade from the fish fillets. You can use your hands and just let it drip back into the baking dish. Be really careful not to touch your face because the peppers are hot. As you remove the marinade, place the fillets in the pan, skin side down. Discard the marinade and wash your hands well.

Cook the salmon until the skin begins to get nice and crispy, approximately 6 minutes. Flip the salmon over and continue to cook until the internal temperature reaches 140°F, approximately 5 more minutes, depending on the thickness of the fillets.

Transfer the salmon to a serving platter that has a layer of cooked rice, skin side facing up, with wedges of lime. Serve immediately with a tomato or mango salsa and slices of fresh avocado.
Nutrition
Calories:
350
kcal
|
Carbohydrates:
17
g
|
Protein:
37
g
|
Fat:
15
g
|
Saturated Fat:
2
g
|
Polyunsaturated Fat:
5
g
|
Monounsaturated Fat:
6
g
|
Cholesterol:
94
mg
|
Sodium:
1765
mg
|
Potassium:
1099
mg
|
Fiber:
2
g
|
Sugar:
10
g
|
Vitamin A:
392
IU
|
Vitamin C:
37
mg
|
Calcium:
73
mg
|
Iron:
3
mg
Notes & Tips
This dish is best prepared with fresh salmon fillets. The salmon can really be any that is available, chinook, Cohoe, or sockeye. The marinade will help soften the less flaky varieties. If frozen, defrost in the fridge overnight and pat dry to remove any excess moisture.
Bring the salmon to room temperature by allowing it to sit on the counter for 20 to 30 minutes prior to cooking.
Salmon cooks quickly and will become dry if overcooked. It is recommended that you have an instant-read or digital thermometer handy. You are looking for an internal temperature of 140°F. The salmon will continue to cook another 5° while it rests.
Substitutions & Shortcuts
The obvious shortcut for this recipe is to use a bottled jerk marinade. There are many varieties. It might not taste as fresh as making your own, but it will work in a pinch.
This recipe works very well with chicken breasts or flank steak. If using chicken or beef, marinate for about 4 hours. Chicken will need to be cooked to an internal temperature of 165°F. Steak can be cooked to an internal temperature of 125°F. Rest both before serving. Slice the flank steak thinly against the grain before serving.
You don't have to use salmon as the fish. I have had jerk red snapper and jerk shrimp. You really could use any sturdy fish that you like. Shrimp will take only 3 minutes to cook.
If you are vegan, jerk is great on tofu steaks, zucchini planks, thick onion slices, red bell peppers, and pineapple rings. I like jerk seasoning on fruit, especially when grilled over a fire.
The scotch bonnet peppers are probably the main ingredient in jerk seasoning. These are spicy for sure. If you aren't big on all that heat, try serrano chilis or even jalapeño peppers. If you are looking for even more heat, go for red habaneros.
---
Recent Recipes