Best Jambalaya Recipe Creole Style
This Creole-style jambalaya recipe is full of shrimp, chicken, sausage, the "holy trinity", tomatoes, and lots of southern spices. It's the best jambalaya ever because it's bursting with flavors, has seafood, poultry, and sausage, and gorgeous colors thanks to the tomatoes, spices, and bell peppers.
Where Does Jambalaya Come From?
Jambalaya is a rice, protein, and mixed vegetable dish that originated in Louisiana in the 18th century. It's inspired by cuisines from France (especially Provencal cuisine), Africa, and Spain.
There are many varieties of jambalaya out there, the most popular one is Creole jambalaya, also called "red jambalaya". It typically has rice, tomatoes, the "holy trinity", chicken, smoked sausage such as andouille sausage, and seafood.
The second most popular style of jambalaya is Cajun jambalaya or Acadiana style jambalaya, also referred to as "brown jambalaya". What is the difference between Creole and Cajun jambalaya? There are no tomatoes in this version and it gets its brown color from the fried meat.
Other varieties include "white jambalaya" where the meat and vegetables are cooked separately from the rice. This is considered an easy/non-authentic version in Louisiana. Sometimes jambalaya is prepared without vegetables for a more children-friendly dish.
What Is The Holy Trinity In Louisiana Cooking?
The "holy trinity" are three foundational ingredients that appear in most Creole and Cajun dishes – green bell peppers, onion, and celery. Although this popular trio originally comes from French cuisine, it's become a staple in signature Southern meals.
In this easy jambalaya recipe, I decided to add a mix of green, red, and yellow bell pepper just because it makes the dish even more beautiful. But you're welcome to stick to the traditional green bell pepper from the holy trinity.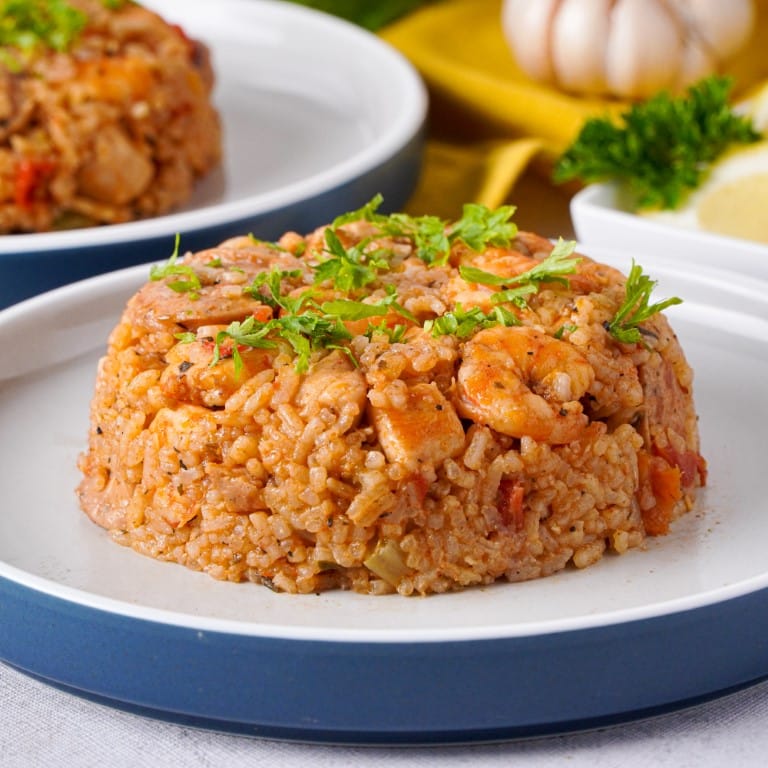 Ingredients
1

lb.

raw large shrimp/prawns

peeled and deveined

12

oz

boneless chicken breasts

cut into bite-sized pieces

1

lb.

Andouille sausage

cut into bite-sized pieces

1

cup

celery

chopped

1

cup

of green

yellow, and red bell peppers, diced

1

cup

golden onion

chopped

1

tsp.

each of dry oregano

dry basil, and smoked paprika

1

Tbsp.

dry or fresh thyme

3

cloves

garlic

minced

½

tsp.

cayenne pepper

1

Tbsp.

each of Cajun seasoning and Creole seasoning

2

bay leaves

2

cups

uncooked jasmine rice

3-4

cups

chicken broth

3

Tbsp.

tomato paste

1 14-

oz

can diced tomatoes

or fresh chopped cherry tomatoes

2-3

Tbsp.

olive oil

Salt and pepper to taste
Instructions
All ingredients ready? Let's begin!

Season the shrimp with the Cajun seasoning and set aside.

In a large, deep sauté pan or stock pot, heat 2 tablespoons of oil over medium heat. Add the chicken and sausage and cook for 6-8 minutes, flipping the pieces of meat halfway, until the chicken is cooked and the sausage is browned and crisp on the surface. Transfer to a clean plate, leaving the oil and grease from the sausage in the pan.

In the same oil, sauté bell peppers, celery, and onion for about 5 minutes until the onion is tender. Add garlic and stir it in, then add tomato paste and cook for another 2 minutes, while stirring constantly. Add more olive oil if needed.

Add crushed tomatoes, stir, and mix in the oregano, thyme, basil, smoked paprika, creole seasoning, cayenne, and bay leaves. Stir for a minute until fragrant.

Introduce the pre-marinated shrimp, and the previously cooked chicken and sausage, and stir them together.

Pour 3 cups of chicken broth in, stir, cover the pot, and let it simmer on medium-low heat for about 10 minutes.

Rinse the rice thoroughly and add it to the pot, stir, and simmer covered for 10 minutes.

Uncover, stir to remove any stuck rice, then cook for another 10 minutes covered. Or uncover after 5 minutes if you like your jambalaya rice to be drier. Add more chicken broth if the rice is still uncooked.

Taste and add salt, pepper, and additional Cajun or Creole seasoning if needed. Remove the bay leaves.

Serve immediately with freshly chopped parsley and lemon wedges. Dig in!
Nutrition
Calories:
736
kcal
|
Carbohydrates:
63
g
|
Protein:
48
g
|
Fat:
33
g
|
Saturated Fat:
9
g
|
Polyunsaturated Fat:
6
g
|
Monounsaturated Fat:
15
g
|
Trans Fat:
0.2
g
|
Cholesterol:
225
mg
|
Sodium:
1364
mg
|
Potassium:
1107
mg
|
Fiber:
5
g
|
Sugar:
6
g
|
Vitamin A:
1980
IU
|
Vitamin C:
36
mg
|
Calcium:
158
mg
|
Iron:
5
mg
Notes & Tips
To keep jambalaya from getting mushy, stick to a 2:1 ratio of liquid to rice. Consider that diced tomatoes introduce a lot of liquid on their own. Also, keep an eye on the rice as it cooks to make sure it's cooked through, but not wet or mushy.
To make this jambalaya Cajun style for a less stew-like version, leave out the diced tomatoes. Follow the instructions above, simply don't add diced tomatoes, and use 4 cups of chicken broth for the 2 cups of uncooked rice. Let the vegetables, meat, and shrimp brown well.
I've used sausage, chicken, and shrimp in this recipe, but you're welcome to use only one or two of these proteins. You can also use other meat or seafood such as turkey, duck, pork, crawfish, oysters, crab, or squid.
Don't forget to taste and season the jambalaya before serving. Add salt and pepper as needed, or even more Cajun or creole seasoning. We've got a recipe for perfect low-FODMAP Cajun seasoning.
You can make this best jambalaya recipe in an instant pot and reduce the cooking time by half. Turn on the instant pot to sauté setting and prepare the recipe as listed above. Cover the instant pot once the broth, rice, and shrimp are added, and cook at high pressure for 5 minutes. Let the pressure release for 5 minutes and serve!
What Is Traditionally Served With Jambalaya?
Although this is already a starchy meal, the most common side dish is cornbread. Yes, cornbread is a staple in Southern cooking and is eaten with almost any meal. Try this super easy microwave cornbread that's ready in 6 minutes!
For a gluten-free version, try out this recipe for easy gluten-free vegan cornbread. It's deliciously fluffy and perfectly buttery and dense thanks to the coconut milk and vegan butter.
I like serving jambalaya with a refreshing green salad to balance the meal. Or this homemade Turkish shepherd's salad with cucumbers, tomatoes, green peppers, and red onion.
The rich and filling jambalaya also pairs exceptionally well with kimchi. Plus, then you're getting valuable probiotics into your system that'll make your tummy happy. Try this traditional Korean kimchi primer or make Lacto-fermented bok choy kimchi.
How Long Will Jambalaya Last In The Fridge?
You can store leftover jambalaya in a sealed container in the fridge for 3 to 4 days. If you want to save it for longer, it can be stored in the freezer in an airtight container or vacuum-sealed bag for up to 6 months.
To reheat frozen jambalaya, preheat the oven to 300°F, place it in an oven-safe dish, and cover it with aluminum foil. Heat for 20 to 30 minutes, depending on whether it was fully frozen or had already been thawing in the fridge.
Can You Make Jambalaya With Cooked Rice?
Yes, you can follow the recipe up until step 5, cook the shrimp, and then add pre-cooked rice instead. Season with some bouillon powder if needed.
A better method is to use chicken broth to cook the rice instead of adding the broth and rice to the stew. Prepare the jambalaya up until step 5, and cook the shrimp through. Then add the rice cooked in broth back to the stew, stir and serve.
---
Recent Recipes