Easy Japanese Style Fried Chicken (Karaage)
Japanese fried karaage chicken is one of the crispiest and tastiest fried chicken recipes out there. It's a popular dish not only in Japan but also worldwide. The secret is in the method of frying which results in a perfectly crispy exterior and juicy interior.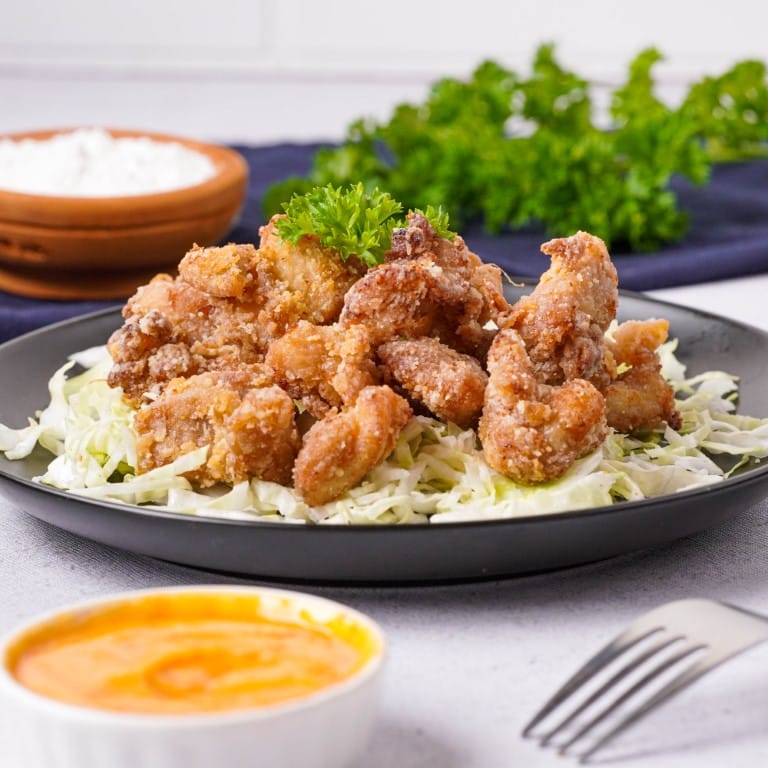 Ingredients
18.5

oz

boneless chicken thighs

10.5

oz

corn starch

1 ½

Tbsp.

soy sauce

1 ½

Tbsp.

cooking sake

¾

tsp.

mirin

3

tsp.

freshly grated ginger

including the juice

Vegetable oil for deep frying

Optional: fresh shredded cabbage and parsley to garnish
Instructions
Cut the chicken thighs into bite-sized pieces and pat them dry with paper towels.

Put the soy sauce, sake, mirin, ginger, and chicken into a large zip lock bag and massage the chicken until all pieces are coated with the marinade. Let sit in the fridge for at least 30 minutes to 1 hour. Remove from the fridge 30 minutes before frying.

Heat vegetable oil in a deep pot or pan to 320°F. The oil should have a 1 ¼ to 1 ½ inch depth.

Drain excess marinade from the chicken and place it on paper towels to remove excess liquid, then put them in a bowl.

Sprinkle the cornstarch and toss the chicken to coat every side with it.

Fry in small batches for 2.5-3 minutes, adding one piece of chicken at a time. You might have to move the pieces around to make sure they don't stick to the bottom of the pot.

Remove chicken pieces from the oil and allow them to rest for 3-4 minutes on paper towels. Repeat until all chicken is fried and resting.

Increase the temperature of the oil to 374-392°F. Put the chicken pieces back into the oil in small batches. Fry for 30 seconds to 1 minute or until golden brown and crispy. Repeat with remaining chicken.

Serve immediately with shredded cabbage and sprigs of parsley to garnish.
Nutrition
Calories:
784
kcal
|
Carbohydrates:
93
g
|
Protein:
30
g
|
Fat:
29
g
|
Saturated Fat:
8
g
|
Polyunsaturated Fat:
6
g
|
Monounsaturated Fat:
12
g
|
Trans Fat:
0.1
g
|
Cholesterol:
171
mg
|
Sodium:
567
mg
|
Potassium:
399
mg
|
Fiber:
1
g
|
Sugar:
1
g
|
Vitamin A:
136
IU
|
Vitamin C:
0.2
mg
|
Calcium:
19
mg
|
Iron:
2
mg
How To Fry Chicken Japanese Style
Karaage in Japanese doesn't mean chicken as one may think, but is rather a generic term for deep-fried foods coated or not coated in flour. If you want to say fried chicken in Japanese, it would be tori no karaage. Now, what is the difference between karaage chicken and fried chicken from the South of the US?
An authentic Japanese karaage recipe for chicken calls for frying it twice. Once at a lower temperature of 320°F to make the chicken tender, and the second time at 380°F to make it crispy. The chicken is allowed to rest for 3-4 minutes in between to allow any excess moisture to evaporate.
Another important step to making the best chicken karaage is letting the chicken marinate in an authentic Japanese umami-rich sauce. The traditional marinade consists of soy sauce, cooking sake, mirin, and freshly grated ginger. The perfect combination of sweet, salty, spicy, and umami.
Now that you're familiar with how to make Japanese fried chicken karaage, let's jump into it!
Notes & Tips
It's crucial to get the temperature of the oil right. If you don't have a thermometer to measure, try throwing in a tiny piece of coated chicken to observe the bubbles. If the bubbles are small and slow-ish, the temperature is about 320°F. If the bubbles coming out from the bottom are larger and faster, the temperature is around 380°F.
If the temperature is too high for the first frying round, the chicken can turn out dry. If it's too low on the second frying round, the chicken will be soggy. So, don't forget to check yourself before you wreck yourself.
Also, it's important to not overcrowd the oil because this will affect the temperature. To make sure the chicken doesn't lower the temperature of the oil, I advise taking it out of the fridge 30 minutes before frying.
The minimum time for marinating is 30 minutes to 1 hour, but you can marinate it overnight as well. This way you can prep the chicken ahead of time and take it out when you're ready to fry it up and enjoy.
Don't forget to massage each piece of chicken lovingly once coated in the aromatic marinade. This will help the flavors seep into the meat, as well as tenderize the chicken.
Bear in mind that the size of the chicken thigh pieces will affect their cooking time. Use your critical thinking skills and adjust the time accordingly.
Let the chicken pieces rest in between frying sessions. This allows the chicken pieces to cook further and become extra tender. If it's cold where you're at, you may need to fry them a bit longer for the second round.
Don't forget to use paper towels to suck up any excess oil after frying each batch (both the first and second time). If done right, your Japanese fried chicken shouldn't have more than an 8% oil content at the end.
If you want to make a large batch of this easy Japanese fried chicken, then turn on the oven to keep your fried chicken pieces warm. Before you begin frying, turn the oven on to about 180°F. Once you finish frying a batch of chicken pieces the second time, keep them in the oven until you've finished frying the rest.
Substitutions & Serving Suggestions
Japanese fried karaage chicken can be made with cornstarch or with regular flour. You can even use a combination of both, going half and half. I find that using cornstarch results in a lighter crispy layer.
If you don't have mirin, don't worry, you can substitute sugar. Mirin is a bit sweeter, so you'll want to use ½ teaspoon of sugar if substituting. You could also use an equal part of maple syrup or agave.
I know it may not be easy to find sake, but luckily there are several substitutions available. The closest thing to sake would be dry Sherry or Chinese rice wine. But you can be as creative as substituting sake for white wine, dry vermouth, rice wine vinegar, or even Kombucha.
This is an authentic Japanese karaage chicken recipe with a traditional Japanese marinade. Some recipes like to add garlic to make it more like Chinese fried chicken. Others omit the mirin so that there's no hint of sweetness. You can always tweak it to your liking.
I suggest serving this easy chicken karaage with fresh shredded cabbage or lettuce and parsley for some freshness. Add a side of fluffy plain rice and dinner is served.
As for which is the best sauce for Japanese fried chicken, it depends on your preference. I love some spicy mayo or even this easy gyoza sauce with garlic & ginger. But what makes this the best chicken karaage is that it's perfectly tasty even without sauce.
Japanese meals are typically well-balanced with a combination of flavors, textures, colors, and made-ahead dishes. Just because your main dish is something deep-fried, doesn't mean your meal can't be healthy. Add plenty of raw vegetables, plain rice, some miso soup, and a portion of fermented food to get a complete range of flavors and nutrients.
---
Recent Recipes