You are probably familiar with flan, the classic dessert served in both Spain and Mexico. There is another custard that is served in Mexico, specifically in Guadalajara. This dessert is called Jericalla.
Jericalla is prepared with just a few ingredients that you likely already have in your fridge and pantry: milk, sugar, cinnamon, vanilla, and eggs. Similar to flan, this custard is baked in individual ramekins and the top of the custard is torched to form a caramel-colored finish. It does lack that crunchy torched sugar topping that you can crack with your spoon.
You can serve jericalla right in the ramekins that you have cooked them in just as they are. This is typically how it is served. You can also enjoy this dessert with berries on top, toasted coconut flakes, or chopped toasted nuts. These suggestions might not earn me brownie points with jericalla purists, but they do sound good.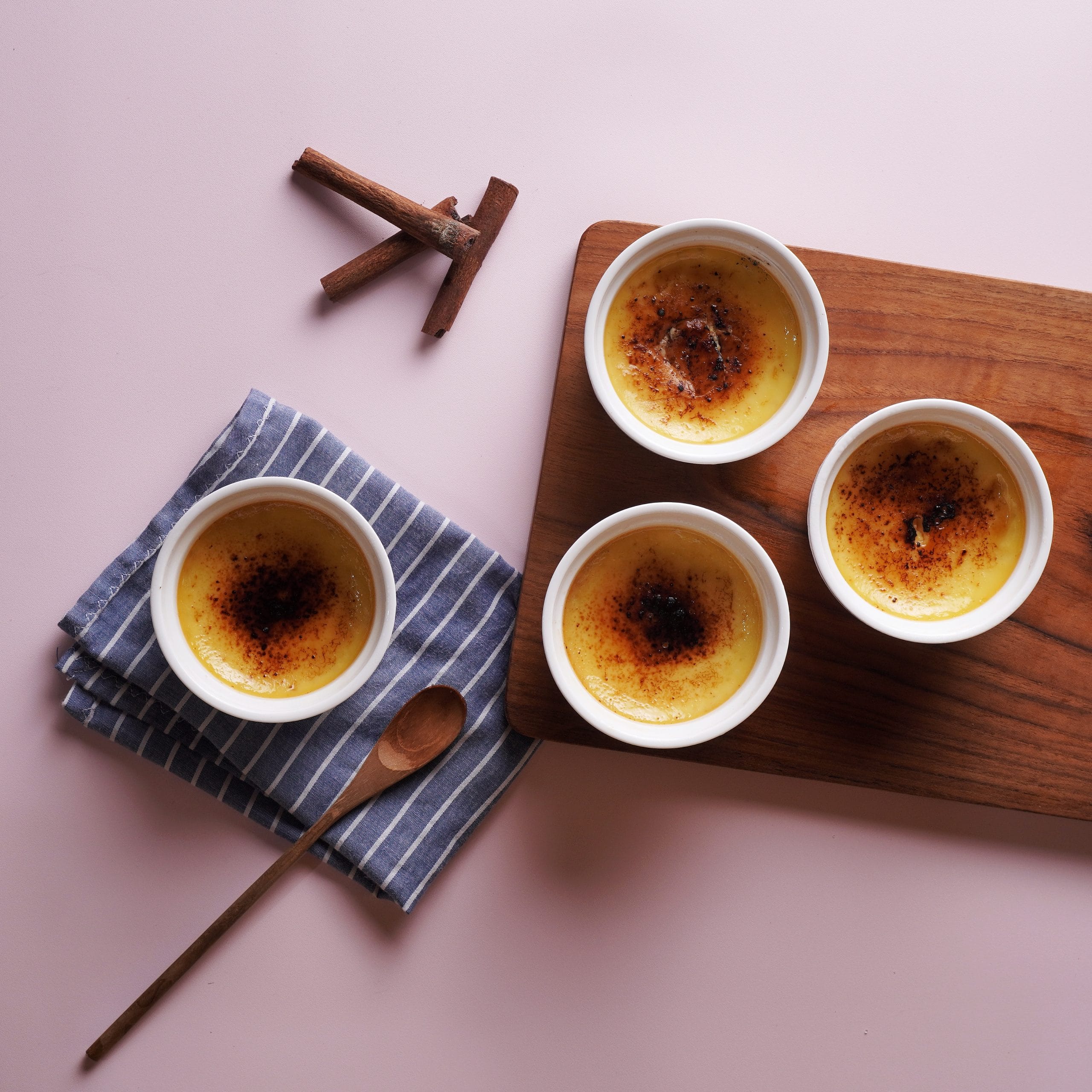 Equipment
Measuring cups

Saucepot

Mixing Bowl

Tablespoon

Whisk

Large baking dish (or 2 medium dishes)

Ramekins

Ladle

Tea kettle with a spout

Sheet pan

Small kitchen blow torch or broiler
Ingredients
3

cups

whole milk

1

cup

granulated sugar

2

cinnamon sticks

1

tsp

pure vanilla extract

6

whole eggs
Instructions
All ingredients ready? Let's begin!

In a saucepot over medium heat, place the milk, sugar, cinnamon sticks, and vanilla. Cook until it comes to a low boil, stirring to dissolve the sugar. As soon as the mixture starts to boil, remove the pot from the heat. Allow the milk to cool for 30 minutes.

Preheat your oven to 350°F.

In a large mixing bowl, whisk the eggs.

Remove the cinnamon sticks from the cooled milk mixture. Add a tablespoon of the milk mixture to the eggs while whisking to incorporate. Add 2 more tablespoons of the milk, one at a time, while continuing to whisk. This will temper the eggs. Pour the remaining milk into the eggs and whisk until well combined.

In a large baking dish or 2 medium baking dishes, place your empty ramekins. Ladle custard into each ramekin to fill ¾ of the way. While you are filling the ramekins, fill your tea kettle with water and bring it to a boil. Carefully place the baking dish in the oven and fill the baking dish ½ way with water around the ramekins, being careful not to get any water in the custard.

Bake for 30 minutes until the custard is set. You can check for doneness by inserting a toothpick in the center and checking that it comes out clean.

After the custard is cooked through, carefully remove the ramekins to a sheet pan. Torch the tops until lightly browned. Alternatively, place the pan of ramekins under a broiler for a couple of minutes until lightly caramelized.

Place the sheet pan of custard-filled ramekins inside the refrigerator and chill for at least 2 hours.

Serve the chilled custard right in the ramekins and top with berries if you like.
Video
Nutrition
Calories:
202
kcal
|
Carbohydrates:
30
g
|
Protein:
7
g
|
Fat:
6
g
|
Saturated Fat:
3
g
|
Polyunsaturated Fat:
1
g
|
Monounsaturated Fat:
2
g
|
Trans Fat:
1
g
|
Cholesterol:
134
mg
|
Sodium:
82
mg
|
Potassium:
188
mg
|
Fiber:
1
g
|
Sugar:
30
g
|
Vitamin A:
329
IU
|
Vitamin C:
1
mg
|
Calcium:
140
mg
|
Iron:
1
mg
Notes & Tips
It is very important to allow the milk mixture to cool down before adding it into the eggs. It is also important to add the milk a little bit at a time. This is called tempering. Tempering ensures that the eggs won't cook. If the milk is too warm, the eggs will start to scramble and that will ruin the custard.
The water in the baking dish is a technique that helps the custard to cook evenly. The water bath, also known as a bain-marie technique, prevents the custard from splitting and keeps the texture perfectly silky and smooth, not curdled.
Substitutions & Variations
I have seen recipes for jericalla that use only egg yolks, not the entire egg. This results in a very rich dessert that is high in protein. If you want to try this with just the yolks, you will likely need about 10 yolks. You can reserve the whites for making a soufflé, meringue, or an egg-white omelet.
Jericalla is a gluten-free dessert. But it isn't a dairy-free dessert. You can definitely make a dairy-free version if you are lactose intolerant by substituting dairy milk with a non-dairy milk beverage, such as oat, almond, or coconut milk. Be sure it is unsweetened and unflavored so as not to overpower the custard.
A Little History or Maybe Folklore
I did a little bit of research to see if I could find out how this dessert originated and why it varies from the iconic Spanish and Mexican flans.
The story goes: There was a nun from Spain who was working with malnourished children at an orphanage in Guadalajara, Mexico. To help the children regain some strength and nutrition, she decided to make a dish that had plenty of calcium and protein that also tasted sweet and delicious so the little ones would want to eat it. She went back to her roots and made a variation of flan that she had learned in her hometown of Jerica. She increased the eggs and milk for the added protein and calcium.
There is another version of the story that reports the nun accidentally burned the top of the custard but the kids still ate it, hence the torching for that distinctive browned top.
---
Recent Recipes