Why is this recipe interesting?
Kimchi is a Korean staple dish that includes fermented vegetables mixed with spicy sauce. It has complex flavors and tastes tangy, spicy and pungent.
Kimchi goes so well dumplings, noodles, fried rice, summer rolls or straight from the jar.
Kimchi is made by lacto-fermentation, the same process that is used to make sauerkraut and pickles. It was originally a way to preserve vegetables for winter.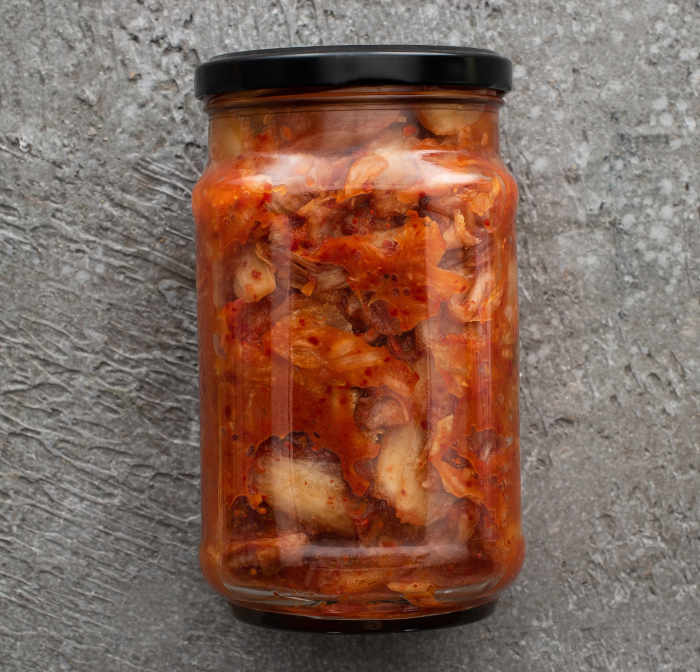 Ingredients
1

medium-sized napa or Chinese cabbage

about 2 pounds

4

scallions

finely spiced

1

onion

finely chopped

1

tbsp

minced garlic

1

tbsp

minced ginger

1

carrot

grated

4

tbsp

sea salt

1

tbsp

sugar

2

tbsp

soy sauce

alternatively use fish sauce

1 to 4

tbsp

Korean chilli flakes

gochugaru

Water as needed
Instructions
Chop the cabbage and add to a large bowl. Add salt and massage it into the cabbage until it starts to soften. Add water to cover the cabbage. Stir a bit to dissolve salt into the water. Place a heavy plate over it to weigh the cabbage down. Let it sit for a minimum of 6 hours or overnight.

The next morning, drain the cabbage and save the brine. Add it into a bowl along with chopped onion, scallion and grated carrot.

Make a spice paste by mixing minced ginger, garlic, soy sauce, sugar, gochugaru and a little water (if needed).

Using your hands, gently mix this spice paste with the vegetable. Mix well until well coated.

Pack this kimchi in a quart jar and weigh it down using a wooden spoon. Pour the brine you saved on top to cover the vegetables. Leave an inch space at the top. Cover loosely by placing a small zip lock filled with brine that serves the purpose of weighing it down.

Let it sit to ferment in cooler room temperature away front direct sunlight for 3-6 days.

Check every day once. Weigh it down a bit. Check if the vegetable is covered in brine. If not top with more brine. This process also burps it as it lets the air out of the jar.

On day three, check if the flavor is sour enough for you. For tangier kimchi, keep fermenting until day six. Just keep checking it every day and refrigerate if need be.

Refrigerate it after the sixth day. It stays good in a refrigerator for a year. The flavors keep getting complex and tangy as time goes.
Nutrition
Calories:
172
kcal
|
Carbohydrates:
17
g
|
Protein:
4
g
|
Fat:
1
g
|
Saturated Fat:
1
g
|
Polyunsaturated Fat:
1
g
|
Monounsaturated Fat:
1
g
|
Sodium:
7514
mg
|
Potassium:
693
mg
|
Fiber:
4
g
|
Sugar:
9
g
|
Vitamin A:
3384
IU
|
Vitamin C:
67
mg
|
Calcium:
203
mg
|
Iron:
1
mg
Substitutions & Shortcuts
You can add more vegetables to kimchi like radishes (or daikon), cucumber, green beans, scallions etc.
You can substitute soy sauce with fish sauce, salted shrimp paste, miso paste.
Lessons learned while making this dish
Use distilled or filtered water as chlorinated water can hinder the fermentation process.
Use iodine-free salt as that hinders fermentation.
Start with one tbsp of Korean red chilli (gochugaru) if you're used to milder taste. Stir in more along the process if needed.
The ideal temperature to ferment kimchi is 12.78-18.33 C (55-65 F). If it is hotter, ferment it in a cooler and dark place.
Enjoy your Kimchi and thank you for reading.
---
Recent Recipes