Simple & Delicious Kkwabaegi (Korean Twisted Doughnut)
Kkwabaegi is a Korean twisted doughnut, popular as a street snack. It is generally light and airy on the inside, golden and crunchy on the outside and delicious all over. Is has a dusting of sugar and cinnamon on top and is perfect as a snack, a teatime indulgence or a simple dessert. A form of Kkwabaegi can be found in most parts of Asia from China and Japan to Philippines and Vietnam. There is also an Italian version filled with cream. This Simple and Delicious Kkwabaegi recipe, though it is long, it is easy and delectable.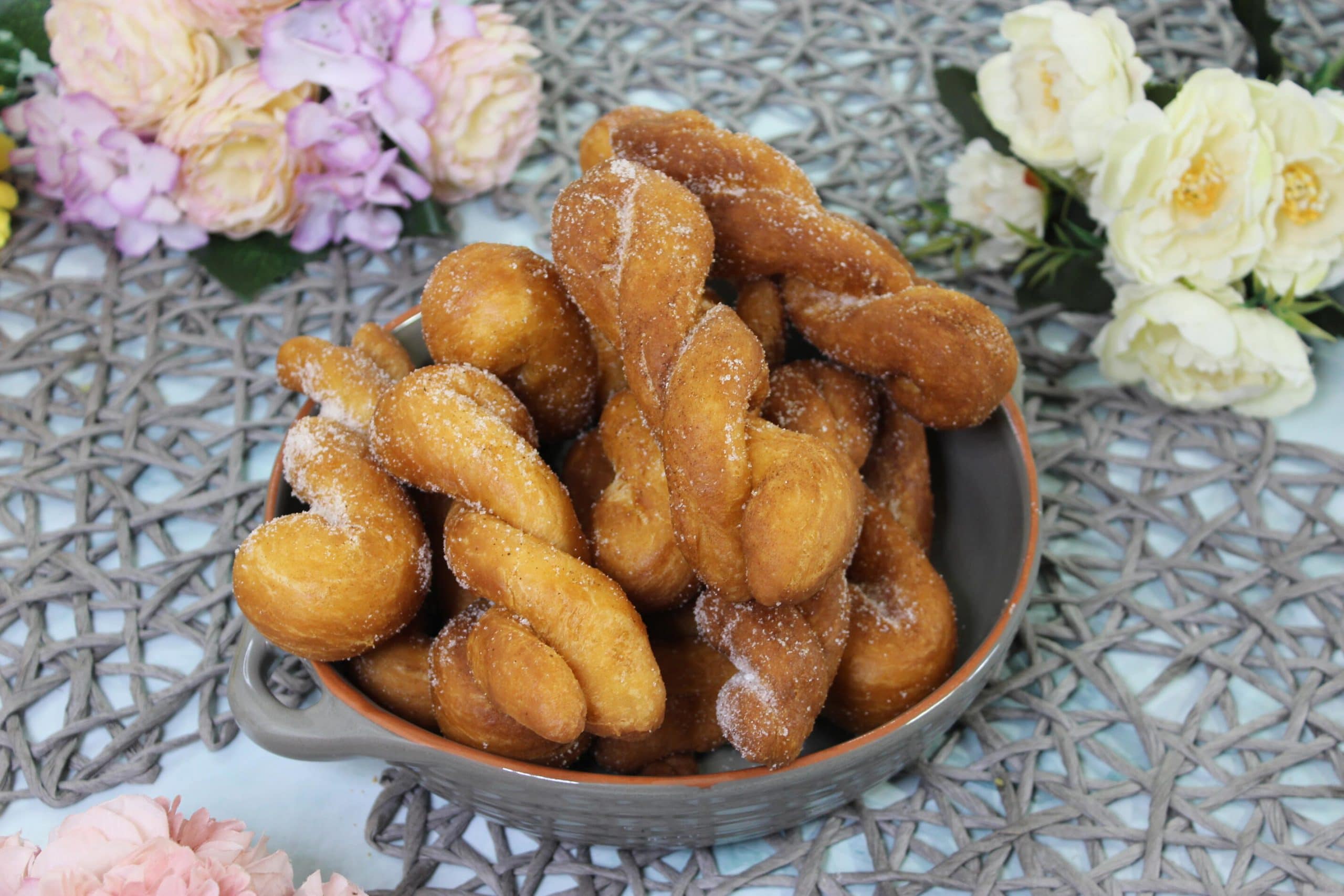 Ingredients
3

cups

all-purpose flour

plus more for dusting

2

tablespoons

butter

softened

4

tablespoons

of sugar

plus more for dusting

1

cup

whole milk

1

egg

2 ¼

teaspoons

of dry yeast

Oil for frying

2

teaspoons

ground cinnamon to sprinkle on top
Instructions
In a large bowl, add the melted butter, milk and whisk well together.

Add 2 tablespoons of sugar and a pinch of salt and mix well

Add the egg and whisk it all together

Add the dry yeast and whisk and let it sit for 5 minutes

Now, add the flour and mix gently with a spatula or wooden spoon

Then knead the dough with your hands, you can sprinkle some flour to keep it from sticking. Place the kneaded dough back in the bowl, cover with cloth or saran wrap and let it rest till it doubles in size, about an hour and a half

Uncover the dough and release the gas trapped by poking or punching the dough with your hands.

Knead the dough again until it softens

Divide the dough into 12-15 equal parts. Keep sprinkling or dusting with flour to keep from sticking.

Take one ball of dough and roll it out on your cutting board till it forms a rope. Use flour to keep it from sticking or breaking apart.

Place one hand on each end of the rope and start twisting in opposite directions till it forms a twisted rope.

Join the two ends together and seal it.

Repeat the process for each ball of dough

Once you've done twisting all the balls into twisted ropes, let them sit out for about 30 minutes on the cutting board or counter. Turn them over halfway.

In the meantime, heat oil in a deep pan. Once it reaches 350 degrees F, reduce to medium heat.

Gently drop a twisted dough into the oil, ensuring it doesn't splatter. Place as many pieces as would fit comfortably in the pan without touching one another.

Fry until they turn a golden brown, about 5 minutes. Keep flipping them over to make sure they are evenly cooked. Remove from heat and drain over a wire rack or on paper towels.

In a large brown paper bag or Ziplock bag, add 2 tablespoons of sugar and 2 teaspoons of cinnamon and shake well till they are well combined.

Add the fried doughnuts to the bag and shake well till each twisted doughnut is coated in the sugar and cinnamon combination.
Video
Nutrition
Calories:
170
kcal
|
Carbohydrates:
26
g
|
Protein:
5
g
|
Fat:
5
g
|
Saturated Fat:
1
g
|
Polyunsaturated Fat:
1
g
|
Monounsaturated Fat:
3
g
|
Trans Fat:
1
g
|
Cholesterol:
14
mg
|
Sodium:
16
mg
|
Potassium:
79
mg
|
Fiber:
1
g
|
Sugar:
4
g
|
Vitamin A:
50
IU
|
Vitamin C:
1
mg
|
Calcium:
31
mg
|
Iron:
1
mg
Tips & Tricks
You have to let the dough rest for as long as it takes to expand. Don't start working on it, till it's ready.
After it has set, you have to ensure you release the gas before you start working on it. Punching down on proofed dough gently is the best way to do it. Else your Kkwabaegi will have too many holes in it.
You have to cover your dough with a damp cloth or cling wrap when you set it to rise, otherwise the outer layer that is exposed to the air will dry out and your doughnut will end up crusty.
Don't forget to add the salt, it is an essential component and will not make these Simple and Delicious Kkwabegi salty.
Storage
They don't necessarily need to be refrigerated if you live in cooler climes. An air-tight container will do. You can freeze these twisted doughnuts for about a month. Before eating them, let them sit out for at least an hour.
FAQs
What happens if I don't let the dough rise enough?
It is essential to cover the dough and let it rise as much as possible because otherwise your doughnut is going to be dense and hard instead of soft and spongy. Whenever you are using yeast in a recipe, you have to let the dough rest, so that it can expand. It helps whatever you are frying or baking rise properly. If it hasn't risen enough, it will collapse or not expand enough to get airy and light.
I followed the recipe and let the dough set for a long time, but my Kkwabaegi is hard?
First, make sure you didn't use old or expired flour, this is one of primary reasons, bakery goods are hard. Also make sure you kneaded the dough enough without overdoing it. Or it could just be that you left it in oil for too long to fry. This is quite common. The Simple and Delicious Kkwabegi takes only about 5 minutes to fry in hot oil, if you left it in there too long, they tend to harden and be dense. They will also be much darker shade of brown than the golden one you need.
Substitutions
As per most baking recipes, the actual process does not lend itself to substitutions. You can however change the sugar and cinnamon topping with other confections, like powdered sugar, sprinkles, a dusting of any powdered flavoring you like. You can also top it with custard or chocolate spread or sprinkles.
You can also change the shape of the twisted doughnuts, but then it won't be traditional Kkwabaegi. If you're making it just for the taste, you can just make them into balls or in regular doughnut shapes.
Accompaniments
This is a great snack for afternoon tea. Have it with tea or coffee with a pot of fresh cream, jam, preserves or even just whipped cream. You can also serve it as dessert with a scoop of vanilla ice cream over the warm Kkwabaegi.
Looking for other treats to make? Try the Bulgarian banitsa or this Sicilian fried dough.
---
Recent Recipes