Cool & Refreshing Korean Strawberry Milk
When I was growing up, we had mealtime rituals. The table was set and the napkins were sometimes cloth. Dinner consisted of a protein, a colorful vegetable, and a starch. We also had a glass of cold milk to the upper right of every plate. I didn't really care for dairy milk, but we couldn't be excused from the table if we didn't eat our veggies and drink our milk. It was torture until I discovered strawberry flavored powder to add to my milk to make it more palatable. Mom was on board, so it all worked out.
To this day, I prefer milk if it is flavored or mixed with fresh fruit. I often drink non-dairy milk and use that in my cereal, baking, and creamy soups. When I make a beverage that calls for milk, I will often use full-fat coconut milk rather than cow's or goat's milk. Coconut milk is creamy, rich, and a tiny bit naturally sweet.
If you have never had Korean strawberry milk, you are in for a treat. Korean strawberry milk is a popular beverage served in cafes during the hot summer months. It is a far cry from the strawberry-flavored milk of my childhood because it has the real thing added to the milk – fresh strawberries. It is refreshing, cooling, filling, and delicious.
I make my strawberry milk with coconut milk. You can use cow's or goat's milk if you aren't vegan or lactose intolerant. I also use fresh sweet strawberries when in season. This recipe is super simple with just a few ingredients: strawberries, sugar, and coconut milk. The only equipment you will need is a blender, a small saucepot, a spoon, and tall glasses for serving.
This refreshing beverage is best enjoyed on a hot summer afternoon. But it is also a great breakfast beverage to get your day started. It will cool you down and you don't really need to eat anything with it. Korean strawberry milk will satisfy you just by itself.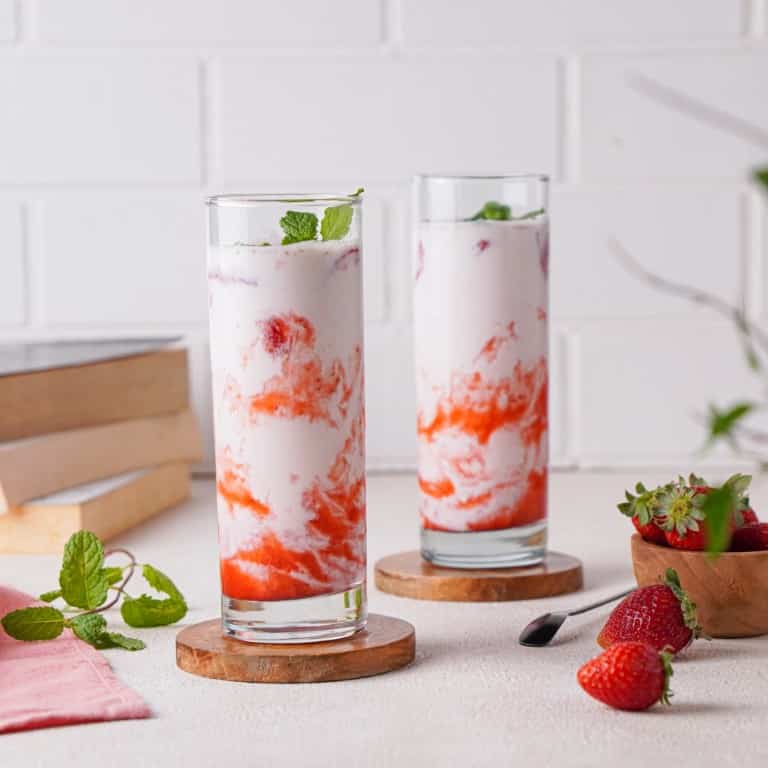 Ingredients
1 ¼

cups

fresh ripe strawberries

leaves removed

¼

cup

granulated sugar

¾

cup

of sliced fresh strawberries

2

cups

cold full-fat coconut milk

2

fresh mint leaves for garnish
Instructions
All ingredients ready? Let's begin!

Place the coconut milk can or carton in the refrigerator to chill it.

In a high-speed blender, purée 1-1/4 cups of the fresh strawberries.

In a saucepan over medium-high heat, combine the puréed strawberries and sugar. Stir until it comes to a boil. Cook for about 1 minute until the sugar has dissolved and the purée has thickened slightly. Remove the pot from the heat and allow the purée to cool. Or, chill it in the refrigerator to speed up the process.

Grab two tall cocktail glasses. Spoon 1/2 of the cooled purée into each glass. Then, add 1/2 of the sliced strawberries to each glass. Rotate and tilt the glasses to coat the sides with the purée and strawberries.

Pour 1 cup of cold coconut milk into each glass. Swirl gently with a spoon just to get a little pattern of red streaking through the milk. Don't stir it completely. This should look like a free-form painting, not a pink milkshake.

Garnish each glass with a mint leaf and serve immediately with tall spoons.
Nutrition
Calories:
588
kcal
|
Carbohydrates:
42
g
|
Protein:
6
g
|
Fat:
49
g
|
Saturated Fat:
43
g
|
Polyunsaturated Fat:
1
g
|
Monounsaturated Fat:
2
g
|
Sodium:
31
mg
|
Potassium:
718
mg
|
Fiber:
3
g
|
Sugar:
32
g
|
Vitamin A:
19
IU
|
Vitamin C:
87
mg
|
Calcium:
64
mg
|
Iron:
8
mg
Notes & Tips
Don't forget to chill your milk. If the coconut milk is at room temperature, you can blend it with a little bit of ice before pouring it into the glasses.
You can make the strawberry puree up to 2 days in advance and store it in a sealed container in the refrigerator until ready to use.
If using canned coconut milk, make sure to shake the can or stir the contents well to incorporate the coconut cream into the coconut water.
One of the best things about this drink is how dramatically creative the presentation is. The way to achieve this is to coat the sides of the glass with the strawberry puree, then pour the cold milk in and allow it to run down the sides of the glass grabbing onto some of the purée. You can coax the puree into the milk with a spoon to make it look like a red-and-white abstract painting.
Substitutions & Additions
Fresh Strawberries: Fresh strawberries are best for this refreshing beverage. If they aren't in season, you can use frozen berries in a pinch. You can also substitute with different berries, such as blackberries, blueberries, or raspberries. I also love this drink with really ripe peaches.
Granulated Sugar: There is no reason why you can't use honey or coconut sugar if you are not someone who eats cane sugar. If any kind of sugar is not on your radar, a pinch of stevia leaf powder will do the trick.
Coconut Milk: I love the natural sweetness and the creaminess of coconut milk for this drink. You can definitely make this with full-fat dairy milk or even another non-dairy milk, such as almond, oat, or hemp.
Mint Leaves: I think mint and berries pair well. I also love the greenery with this festive red and white concoction. You can garnish with a basil leaf or a fresh strawberry.
Additions: Milk drinks are sometimes topped with a bit of whipped cream. I also enjoy a little dusting of cocoa or cinnamon powder. For the Christmas holiday, add a cany cane to the rim of the glass for a special treat.
More Refreshing Drinks
If you enjoyed this Korean strawberry milk, you might also like some of our other non-alcoholic icy beverages. These are all great for breakfast, an afternoon pick-me-up, or a mocktail for a summer gathering.
---
Recent Recipes