All The Krispy Kreme Vegan Menu Options
Krispy Kreme is one of the best-known names in the coffee and donut business in the United States. They are a recognizable brand name almost everywhere, and plenty of people think of Krispy Kreme when they want a donut.
Unfortunately, Krispy Kreme isn't very vegan-friendly at this point. Unlike some other donut chains that have released or announced vegan options, Krispy Kreme is still using animal products in all of their donuts in the United States.
However, that doesn't mean that no one can get vegan donuts at Krispy Kreme. Krispy Kreme locations in the UK do have 1-2 vegan options.
Here is a quick overview of the limited US vegan options:
| Menu Item | Dish | Notes |
| --- | --- | --- |
| Decaf Brewed Coffee | Drink | – |
| Lemonade Chiller | Drink | – |
| Rich Brewed Coffee | Drink | – |
| Smooth Brewed Coffee | Drink | – |
| Strawberry Chiller | Drink | – |
Note: Cross-contamination can occur. Menu items as of 1/10/2023 as menu items may have changed.
Vegan Donuts At Krispy Kreme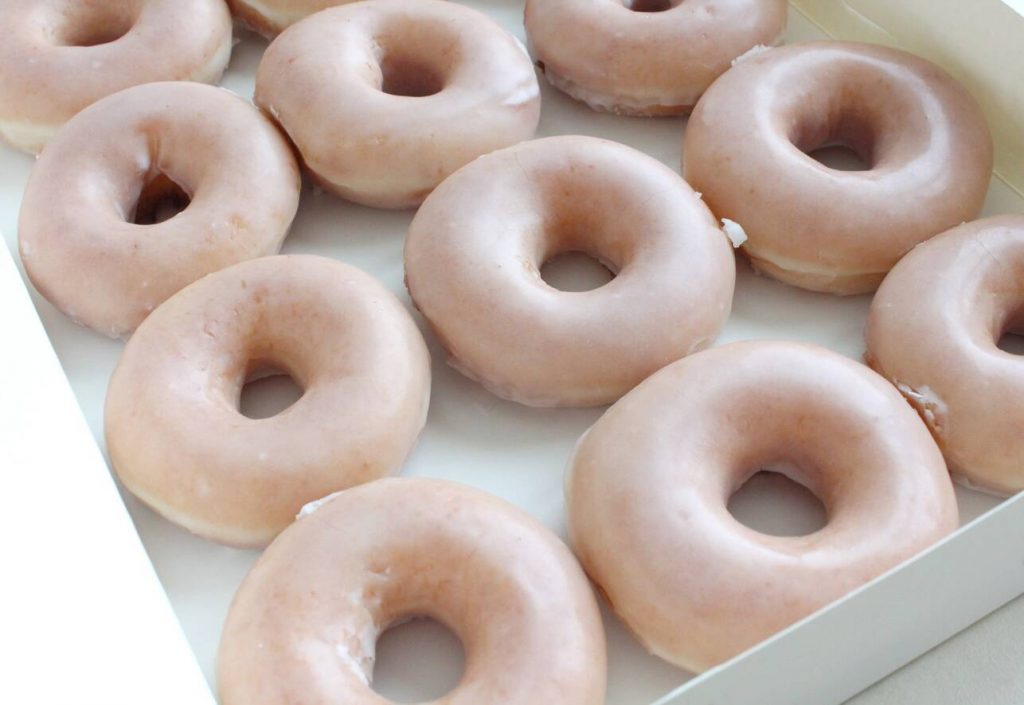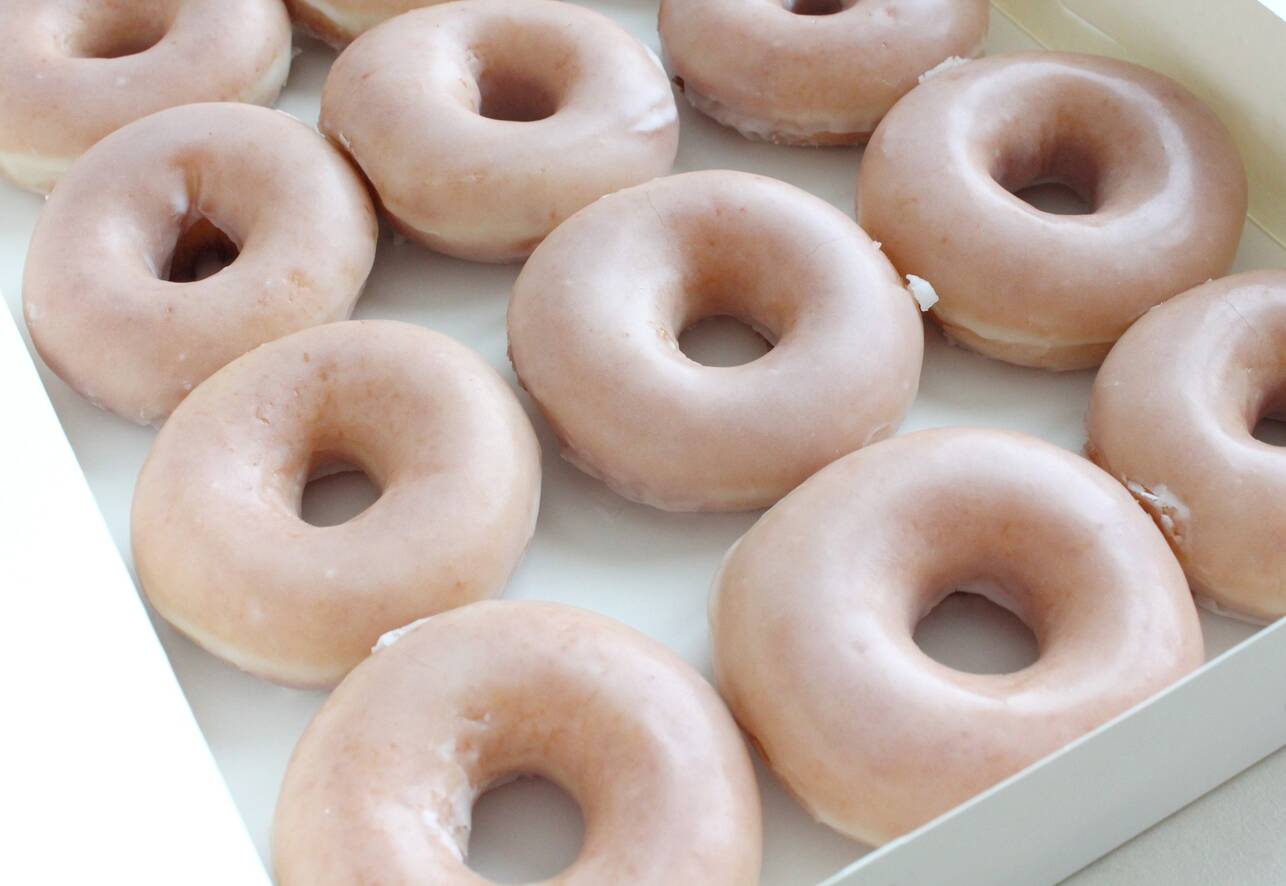 Finding out that there aren't currently vegan options at Krispy Kreme may come as a surprise to many people since a vegan donut was being announced as recently as last year. Unfortunately, when we tried to verify this, Krispy Kreme still lists dried milk and egg products in their donut batters, and both products are listed in the allergen info.
Even searching for vegan donuts on Krispy Kreme's website pulls up donuts that are not vegan. We specifically checked the glazed chocolate donut and the blueberry glazed cake donut. Both options still list milk and eggs in the ingredients.
Not only does the blueberry glazed cake donut contains milk and eggs, but it also doesn't contain any blueberries, according to their nutritional info.
So Why Were People Celebrating Vegan Donuts?
The 2020 announcement that Krispy Kreme would offer vegan donuts starting in January of 2021 was specific to the UK.
Even in the UK, there are only a couple of vegan options as the company experiments to find the right combination of ingredients to reproduce the texture and flavor of their other donuts.
Will Vegan Donuts Be Available Everywhere?
Krispy Kreme is an international donut chain, and there is a lot of demand for vegan donuts in other countries. It makes sense that, if the vegan line is successful enough in the UK, vegan donuts might be launched in other countries as well.
However, Krispy Kreme hasn't announced any plans to expand their vegan selection or bring vegan donuts to new locations as yet.
For those of us waiting on a delicious vegan donut from this chain, the wait has to go on.
But what about other vegan options?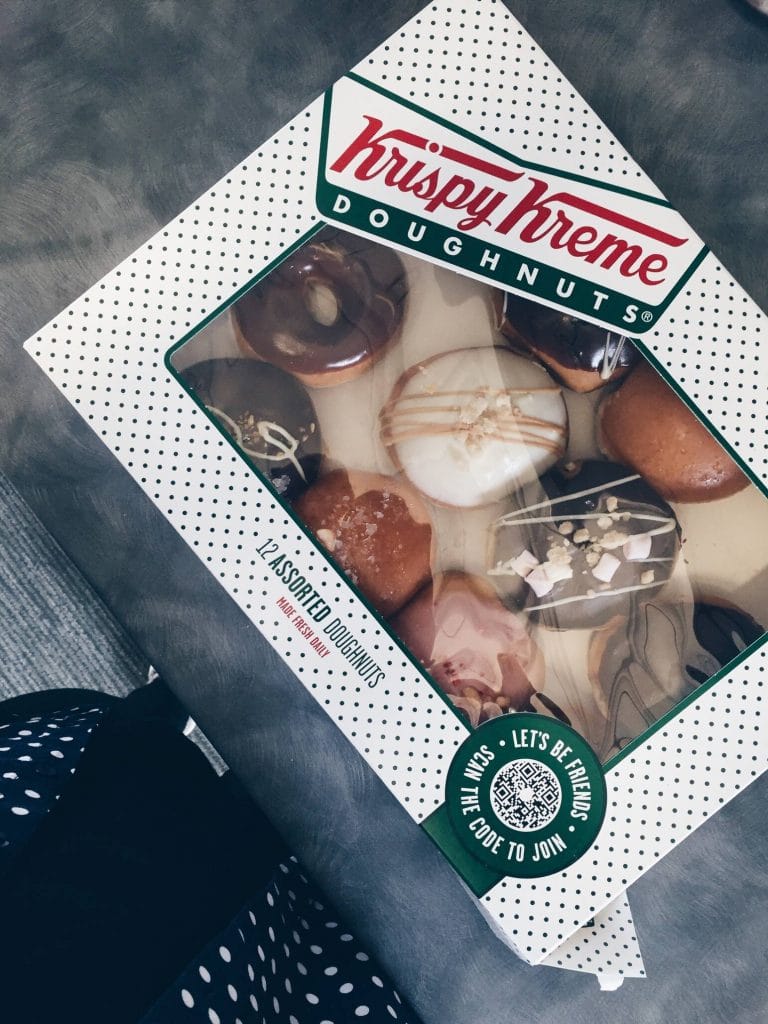 Vegan Drinks At Krispy Kreme
Thankfully you can get a cup of coffee at Krispy Kreme, even if you can't get a donut to dunk in it.
Krispy Kreme offers black coffee, which is a simple vegan option if you don't mind the bitter taste. Sugar and other sweeteners are available in the store if you don't want to drink the beverage black. Most locations also stock dairy-free vegan-friendly creamers you can add.
Expresso is also a good vegan option; at the locations, it's offered. Not every Krispy Kreme has an expresso machine though, so you should check your local menu if you're planning on ordering this drink.
Krispy Kreme also usually offers a variety of juices and teas. These options are almost always vegan-friendly, though the selection can vary a lot from location to location. It's also worth noting that some teas may be seasonal and that locations may run out. That's because juice and tea aren't the most popular menu items, so most locations keep limited stock.
Thankfully the frozen lemonade, strawberry lemonade, and slushie chillers are all vegan options. These make for a great sweet treat you can enjoy while non-vegan friends chow down on a donut.
Vegan Bagels At Krispy Kreme
In another case of international menus not being the same in all locations, Krispy Kreme doesn't currently sell any bagels in their U.S. locations. However, that doesn't mean that bagels aren't available at any Krispy Kreme locations.
Thankfully, locations that offer bagels have a lot of vegan options. Just order your bagel without butter and you should be fine, except for flavors that contain cheese. The good news is that any bagels with cheese have them in the name, making it a lot easier to order.
Many locations that sell bagels also have some vegan-friendly spreads or veggies to top your bagel. Avocado, vegemite, and a few other choices are usually available.
Other Vegan Options At Krispy Kreme
Unfortunately, there aren't other vegan options at Krispy Kreme. Since this chain doesn't have breakfast sandwiches or other alternatives there isn't much selection to choose from, especially in the US.
Krispy Kreme Vegan Menu FAQs
Are Krispy Kreme's donuts vegetarian?
Because their donuts only use milk and egg products, Krispy Kreme's donuts are vegetarian. They also use palm oil and soybean oil to fry their donuts, meaning that there is no risk of animal products contaminating the donuts.
Krispy Kreme has vegan donuts in the UK, do they plan on offering them in North America?
At this point in time, Krispy Kreme's North American locations have not offered any indications that they will begin producing vegan donuts. While the vegan options seem to be popular in the UK, they aren't being considered for these locations.
Will Krispy Kreme be selling bagels in the North American market?
Again, this might be a disappointing answer, but the locations in the United States have shown no indications of selling bagels. If they did, they'd be an excellent vegan option in a market that currently has none.
What makes Krispy Kreme's donuts not suitable for vegans?
The most popular donut makers in history have made their donuts with milk powder and eggs. As such, many of the competitors of big donut producers, as well as the smaller retailers to follow, have made them the same way. Krispy Kreme has followed suit, at least in the North American locations.

Every donut on Krispy Kreme's menu contains egg yolks and dried milk powder on the ingredients list. This means that they aren't vegan-friendly, and that they aren't dairy free. To make them suitable for vegans, they could substitute applesauce or apple cider vinegar for the eggs and dairy. This would keep them delicious, as well as make them vegan-friendly!
Are there vegan donut options available?
When it comes to donut chains, there aren't any vegan options available yet. However, Krispy Kreme's biggest competitor, Dunkin Donuts, has announced that they are moving towards offering vegan and vegetarian donut options in the future. In Europe, Dunkin Donuts offers around 40 different vegan donuts. Hopefully some of those will make their way over here.
In the meantime, however, to get quality vegan donuts you'll need to seek out smaller donut shops. Many of them have vegan options, and some are exclusively vegan! There are plenty of lists online regarding these shops. Unfortunately, none of them seem to be major chains, so availability varies based on your location.
Can you make vegan donuts at home?
Of course! There are plenty of vegan donut recipes available online, and many of them use ingredients that are commonly found. They're completely dairy-free, and don't need eggs to be good. Best of all? They don't sacrifice any quality or flavor. Most people can't tell the difference between a vegan donut and a regular donut whatsoever!
Does Krispy Kreme use lard in their donuts?
Thankfully, they don't! However, until they stop using dairy and egg products, this doesn't mean anything for vegans or vegetarians.
Is Krispy Kreme Vegan Friendly?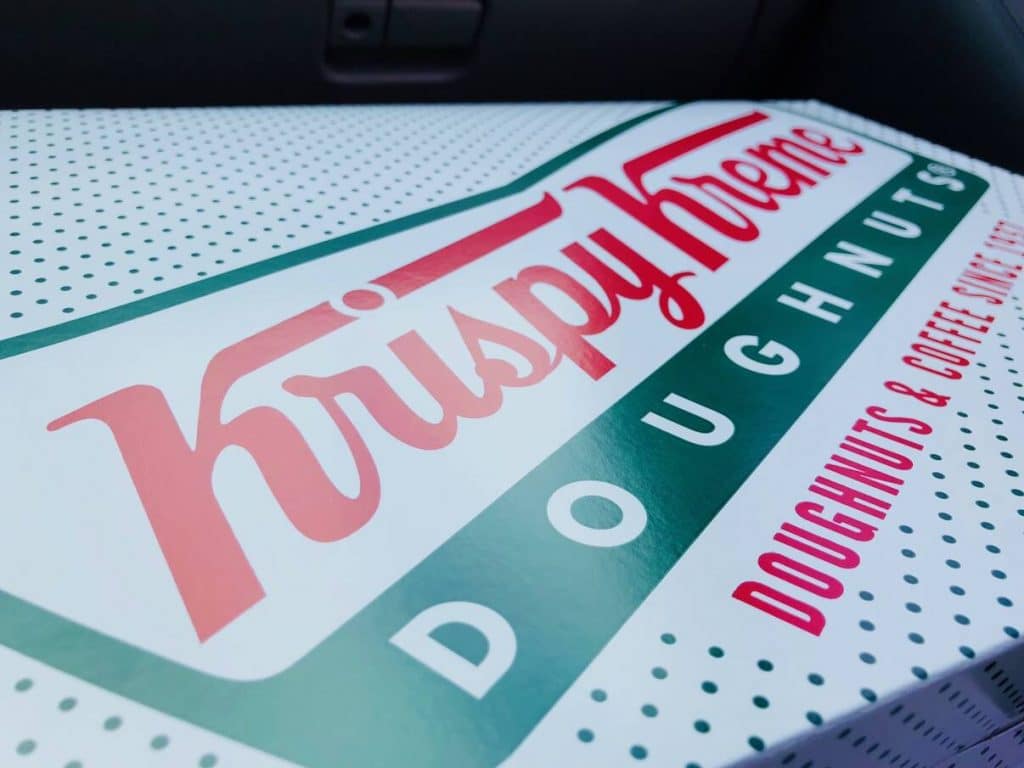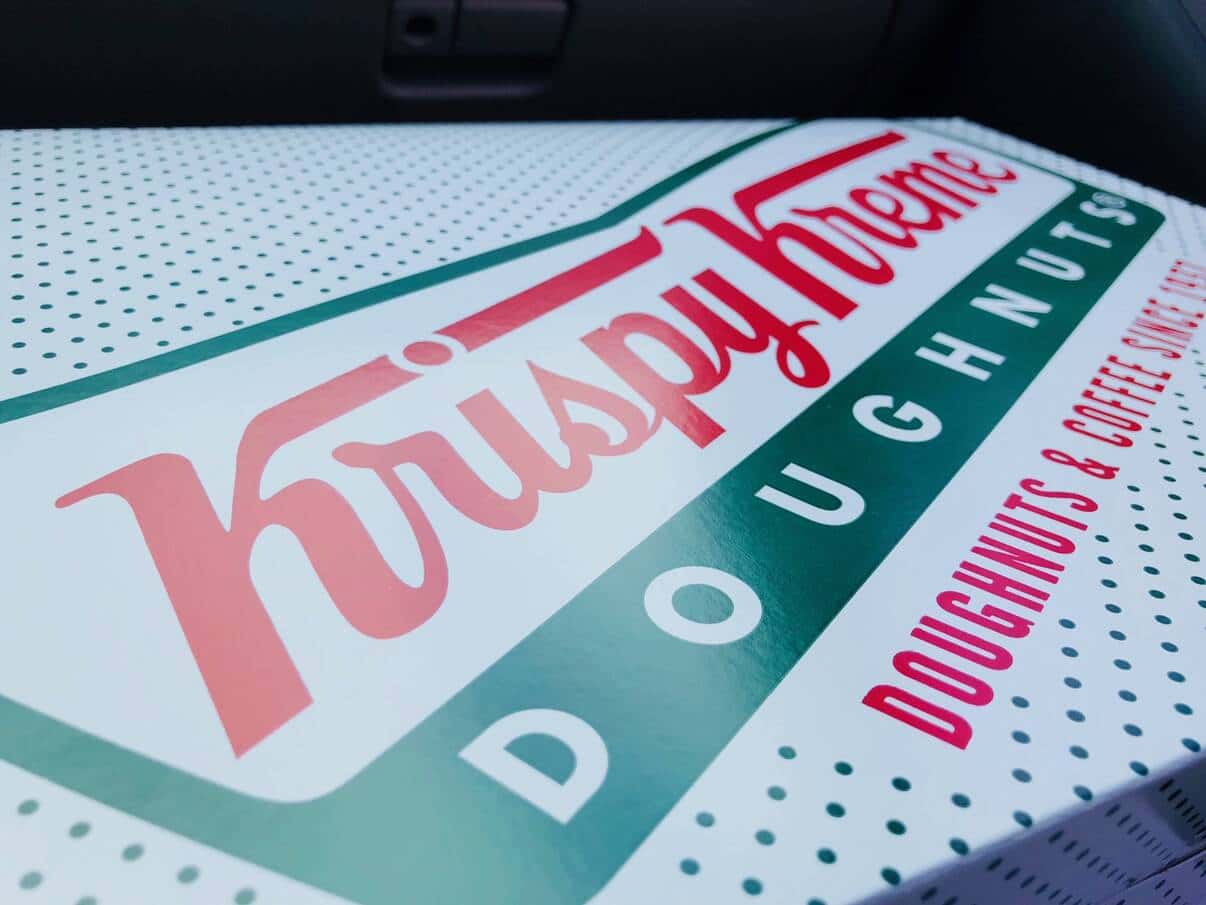 This is one restaurant where it really matters where you live. If you live outside the U.S. Krispy Kreme may have enough vegan options to satisfy. After all, bagels are a reasonable breakfast solution and having some vegan toppings help round out your breakfast.
However, if you're in the United States, Krispy Kreme's vegan options are limited to just the drinks. Worse, not all of their drinks and coffee can be made vegan-friendly. For instance, most of their pre-sweetened coffees aren't vegan friendly and can't be made with vegan creamers on request.
That means that there aren't a lot of ordering options for vegans at this donut chain.
The truth is, Krispy Kreme doesn't really stand out in that regard though. While Dunkin Donuts has released a limited line of vegan donuts, most donut chains don't have vegan options. There are lots of vegetarian choices, but vegan diets are one thing the donut industry really hasn't learned to accommodate.
Krispy Kreme Alternatives For Vegans
Dunkin Donuts is a reasonable alternative to Krispy Kreme for Vegans. The donuts might not have many more vegan options (and there are no vegan donuts at some locations) but they have a good selection of vegan bagels.
Other breakfast places are also a good alternative. Most won't have donuts you can eat and stick to your diet, but they may offer other sweet things you can use as a replacement.
Bruegger's Bagels and other specialty bagel places also usually have good vegan selections. The exact selection varies by store and location, but it's reliably good in most places.
Plus, some of these stores sell sweeter bagels or muffins that work if you're craving something sweet.
---
Recent Recipes