Lasagna in the United States is mainly based on southern Italian versions that came here with Italian immigrants from Naples. It is pasta sheets layered with tomato and meat sauce and a blend of three kinds of cheese. The cheeses are ricotta, mozzarella, and parmesan. This is a very comforting and filling dish. But it is heavy for sure.
I was reading a fine cooking magazine that featured a different international cuisine each month. It was December and the spotlight was on Christmas in Italy. I wanted to understand the number and precise order of the all the courses because I was making dinner for my family and my brother-in-law's family that came here from Italy. What I didn't understand was how anyone could eat so much food and for so many hours.
What I discovered was that the food isn't nearly as heavy in Italy as it is in our version of an Italian holiday meal. For instance, the pasta course wasn't a heavily sauced dish with tons of cheese. The recipe I zoned in on was lasagna Bolognese. The photographs made it look almost ethereal. The layers were thin with very little sauce and something white that didn't look like cheese. Authentic Bolognese lasagna skips the heavy ricotta and mozzarella and uses bechamel sauce instead. It is kind of brilliant.
I decided to make this recipe for my family but was worried they wouldn't understand this variation. I went to our local tiny fresh pasta store to see what they recommended for lasagna Bolognese. I was not surprised when the clerk suggested extremely thin fresh pasta sheets. You could almost see through them. For the theme of Christmas, I decided to get the sheets that were made with spinach water in the dough. They were a beautiful shade of green. These sheets were really wide so they could fit inside the entire width of my baking dish. If you don't have access to fresh pasta, I highly recommend using oven-ready, no-boil lasagna sheets, preferably without the curled edges.
The sauce is a classic ground meat and tomato sauce that actually has milk added to it to make it silky. The bechamel is basically butter, flour, milk, nutmeg, and salt. It is a little creamy and quite light. It sort of melts into the sauce as the lasagna bakes. You will love how delicate and delicious this lasagna is.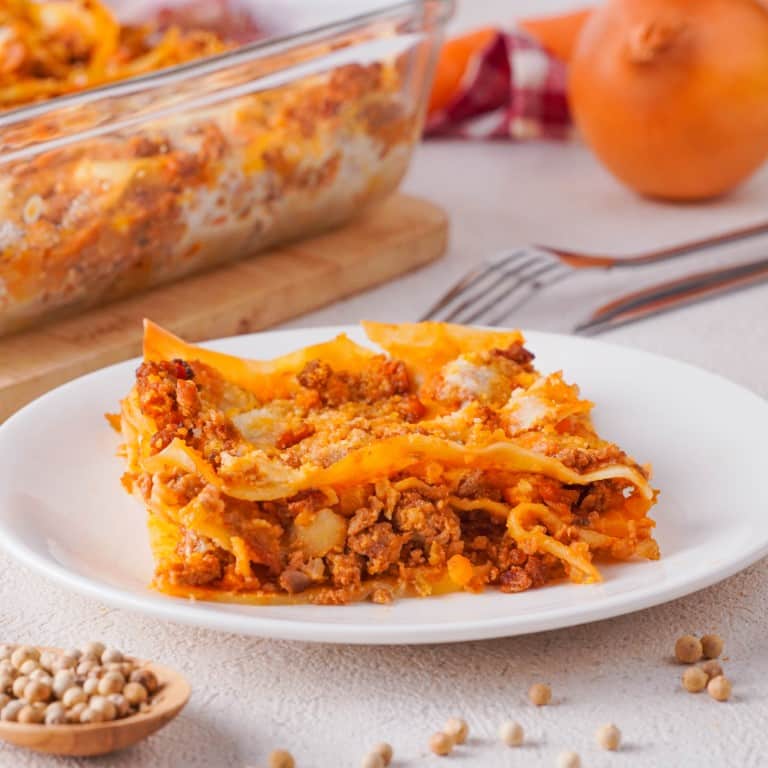 Ingredients
5

ounces

pancetta

finely diced

3

Tbsp

extra virgin olive oil

1

small onion

peeled and finely diced

1

small carrot

finely diced

1

rib of celery

finely diced

10

ounces

lean ground beef

½

cup

dry white wine

1-1/4

cups

tomato passata or canned crushed tomatoes

preferably San Marzano

1/2

cup

beef stock + more if needed

1/2

cup

whole milk

Salt and pepper to tas

¼

cup

4 Tbsp unsalted butter

¼

cup

all-purpose flour

2

cups

whole milk

¼

tsp

sea salt

⅛

tsp

ground nutmeg

14

sheets of fresh or no-boil lasagna

1

cup

finely grated parmesan cheese
Instructions
All ingredients ready? Let's begin!

In a large saucepan over medium heat, cook the pancetta until it starts to brown, about 5 minutes. Using a wooden spoon, stir the pancetta a few times.

Add the olive oil, onion, carrot, and celery to the pot. Stir well to combine and continue to cook for another 5 minutes.

Add the ground beef to the vegetables and pancetta and cook until it browns, approximately 5 minutes, stirring a few times.

Add the white wine and deglaze the pan, scraping up any brown bits. Allow the wine to cook off completely. Stir in the tomato passata or crushed tomatoes and the beef stock. As soon as the liquid bubbles, turn the heat to a low simmer, cover the pot, and cook the Bolognese sauce for 2 hours. At about 1-1/2 hours, stir in the milk. You want a fairly thick and chunky sauce. Add a little extra stock if needed. Season the sauce with salt and pepper to taste.

While the Bolognese sauce is almost finished simmering, prepare the bechamel sauce. In another saucepan over low heat, melt the butter. Whisk the flour into the butter and cook until you have a golden-colored roux. This will only take about 30 seconds to 1 minute, whisking constantly.

Slowly stream the milk into the roux, whisking the entire time so lumps don't form. Keep whisking until you have a thick yet pourable bechamel sauce. This could take about 10 minutes or more until the bechamel coats the back of a wooden spoon. Season with salt and nutmeg and set aside.

Preheat your oven to 380°F. Before assembling the lasagna, you will need to blanch the fresh pasta in boiling water and then drain it. If you are using the dried, no-boil pasta sheets, there is no need to blanch them.

In a 9 x 13-inch glass or ceramic baking dish, spread out 2 tablespoons of the bechamel. Place the lasagna noodles in a single layer over the bechamel. You can cut the sheets. Spread a layer of 2 tablespoons of Bolognese sauce over the pasta. Spoon another 2 tablespoons of bechamel over the sauce. Sprinkle this with 2 tablespoons of parmesan cheese.

Continue step 9 until you have at least 5 layers and up to 7 to fill the baking dish. Finish the top layer of sauce and bechamel with a good amount of parmesan so it gets browned and crisp. Bake for 30 minutes until bubbling.

Remove the lasagna from the oven and allow it to cool for 10 minutes before slicing into it. Serve while warm.
Nutrition
Calories:
562
kcal
|
Carbohydrates:
50
g
|
Protein:
26
g
|
Fat:
27
g
|
Saturated Fat:
11
g
|
Polyunsaturated Fat:
3
g
|
Monounsaturated Fat:
11
g
|
Trans Fat:
0.4
g
|
Cholesterol:
120
mg
|
Sodium:
517
mg
|
Potassium:
523
mg
|
Fiber:
1
g
|
Sugar:
5
g
|
Vitamin A:
1523
IU
|
Vitamin C:
2
mg
|
Calcium:
272
mg
|
Iron:
4
mg
Substitutions
Pancetta: All of my nearby markets have small packages of diced pancetta. This is super convenient for this recipe. If you can't find pancetta, guanciale, or thick-cut bacon will work.
Ground Beef: The Bolognese sauce can be prepared with a combination of ground meats, such as beef and pork or veal and pork. I have even made this sauce with ground lamb.
Tomato Passata: Passata basically means puree. I like crushed tomatoes because they have a little more texture and moisture. You can use your favorite basic tomato sauce if that is what you have in your pantry.
Parmesan Cheese: In Bologna, this recipe may be made with Pecorino Romano cheese. Grana Padano and asiago are also fine substitutions.
---
Recent Recipes