Simple Cheesy Lasagna Zucchini Boats
Lasagna zucchini boats are packed with so much flavor and come-back-for-more silky texture that they'll easily turn anyone into a zucchini fan. Try this spin on classic lasagna for a meal that looks great and tastes even better. Whether you've tried stuffed zucchini yet or not, it'll become your go-to recipe.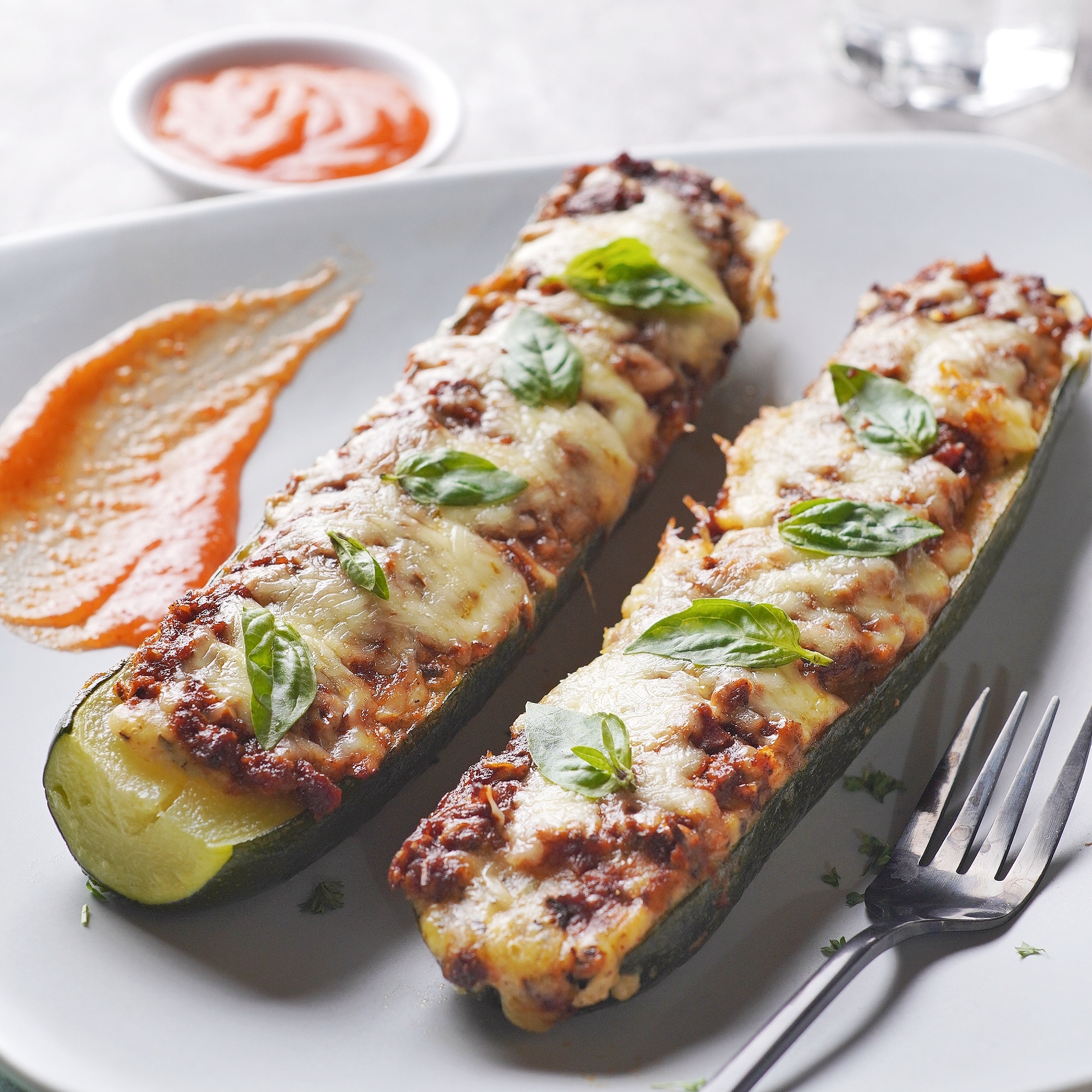 Ingredients
2

Large Zucchini

Sliced Lengthways (Salted, Rinsed & Toasted)

1

Large Onion

Thinly Sliced

3

Cloves

Garlic

Pressed & Minced

1

Teaspoon

Red Pepper Flakes

1

Tablespoon

Dried Oregano

1

Tablespoon

Dried Fennel

1

Tablespoon

Paprika

3

Tablespoons

Olive Oil

2

Ounces

Lean Ground Beef

2

Ounces

Lean Ground Pork

2

Teaspoons

Salt

1

Cup

Bottled Marinara Sauce

½

Cup

Ricotta Cheese

¼

Cup

Grated Parmesan

1 ½

Cups

Grated Mozzarella

1

Tablespoon

Ground Black Pepper

1

Tablespoon

Fresh Basil

Minced

1

Tablespoon

Fresh Parsley

Minced

1

Large Egg

Beaten
Instructions
All ingredients ready? Let's begin!

Prepare the zucchini by slicing lengthways and scooping the insides out.

Only scoop the soft seeds, leaving a quarter-inch border.

Salt, rinse dry, toast (optional), and set aside.

Heat a large skillet over medium heat and saute the onions until the first signs of translucency.

Add the garlic, red pepper flakes, dried oregano, dried fennel, and paprika. Saute until aromatic, and the onions begin browning.

Turn the heat to high and add the ground pork and ground beef to your skillet containing two tablespoons of olive oil.

Season with two teaspoons of salt.

Saute while breaking up the meat and constantly stirring for 8 to 10 minutes or until lightly browned. Drain off excess fat as it forms.

Stir in the marinara sauce and a tablespoon of olive oil. Cover and remove from the heat.

Preheat your oven to 400°F and grease a 9 x 13″ casserole dish

Combine the ricotta cheese, grated parmesan, one cup of grated mozzarella, ground black pepper, fresh basil, fresh parsley, and a beaten egg in a separate bowl.

Either brush or rub the zucchini boats with olive oil and place side-by-side on your casserole dish.

Scoop roughly three tablespoons of the cheese, egg, and herb mixture into each boat and spread to create a flat, even layer.

Fill each zucchini boat with an equal quantity of marinara sauce.

Cover your casserole dish with foil and bake for 30 minutes.

Remove from the oven, remove the foil, and coat with the remaining mozzarella before baking uncovered for a further 5 to 10 minutes or until the cheese melts.

Once done, garnish with fresh basil and let your lasagna zucchini boats rest for 15 minutes before serving.
Video
Nutrition
Calories:
1722
kcal
|
Carbohydrates:
58
g
|
Protein:
100
g
|
Fat:
125
g
|
Saturated Fat:
50
g
|
Polyunsaturated Fat:
10
g
|
Monounsaturated Fat:
57
g
|
Trans Fat:
1
g
|
Cholesterol:
479
mg
|
Sodium:
7698
mg
|
Potassium:
3039
mg
|
Fiber:
15
g
|
Sugar:
28
g
|
Vitamin A:
5485
IU
|
Vitamin C:
118
mg
|
Calcium:
1691
mg
|
Iron:
12
mg
Tips
Although it's one of the most expensive varieties, extra-lean ground pork made from pork loin contains the least fat and is largely the preferred cut. Any ground pork will do but if it's not lean, ensure that you pour the fat off a few times throughout browning. Sweet or spicy Italian sausage can take the place of ground pork, but we'd tone down the dried herbs to half a tablespoon of each to balance out the flavor better. Premade sausage already has a prominent flavor of its own.
If you're using a marinara sauce that looks a little too runny, reduce it for a few minutes longer to thicken it up and consider thickening with either cornstarch or a tablespoon or two of additional tomato paste. Roasting your zucchini and thickening the marinara first guarantees that your lasagna boats won't come out watery.
Substitutions
Feel free to omit the meat if you want to whip up vegetarian lasagna zucchini boats. Plain marinara sauce works pretty well, but we suggest thickening it up with some tomato paste and a few extra herbs if you do not include a meat substitute. Otherwise, texturized vegetable protein, minced roasted black beans, and cubed, fried tofu all come out great when cooked into the marinara in the place of ground meat or sausage.
Cottage cheese is a great substitute for ricotta. Any melting cheese can take the place of parmesan. Many prefer the slightly bolder flavor of pecorino romano. White cheddar, pepper jack, gouda, provolone, and swiss cheese are all outstanding substitutes for mozzarella, as firmer cheeses typically work best with a bake like this.
Those who don't have access to a range of dried spices can use Italian seasoning instead of dried fennel and oregano. We'd still add the paprika, but the final flavor profile is up to you. Ground turkey is a fine lean alternative to ground pork and beef.
Can You Freeze Lasagna Zucchini Boats?
Lasagna zucchini boats freeze extremely well and can be prepared up to three days in advance for storage in the refrigerator. Alternatively, baked zucchini lasagna can be frozen for up to five days for reheating if appropriately packaged. When freezing, baked, or unbaked, cover tightly with foil and then wrap in plastic wrap to ensure that the lasagna doesn't either dry out or become waterlogged from the ice.
How To Test When Zucchini Is Finished Baking?
Perfectly cooked zucchini will be tender and crispy. Insert a toothpick to gauge how firm the zucchini boats are. If it depresses easily into the flesh but requires slight pressure to break the skin, your zucchini bake is ready.
How To Stop Watery Zucchini?
The key to perfectly cooked lasagna zucchini boats is salting the zucchini halves so that they shed excess moisture. Lightly salt your zucchini slices and allow them to stand open on a plate in the fridge for half an hour to forty minutes. Rinse with clean water and pat dry with paper towels. Now, most of the moisture that makes zucchini and eggplant lasagna watery is gone and they're ready for baking. However, we suggest that you transfer the salted, dried zucchini to a baking tray and pop it into an oven preheated to 175°F for five minutes to eliminate the last of the liquid. Toasting the slices guarantees perfect zucchini, or eggplant, lasagna, and excellent depth of flavor.
---
Recent Recipes