Homemade Lebanese Manakish Flatbread
Manakish is a traditional Lebanese flatbread that is topped with olive oil and za'atar, then baked until golden brown. It is usually served for breakfast or as an appetizer, but you can really serve it at any meal. If you're craving a quick, tasty, and filling dish, this is for you.
Manakish (also known as manaqish or manaeesh) is also very easy to prepare, starting with the crust, which requires just a few simple ingredients. Let's dig into the recipe.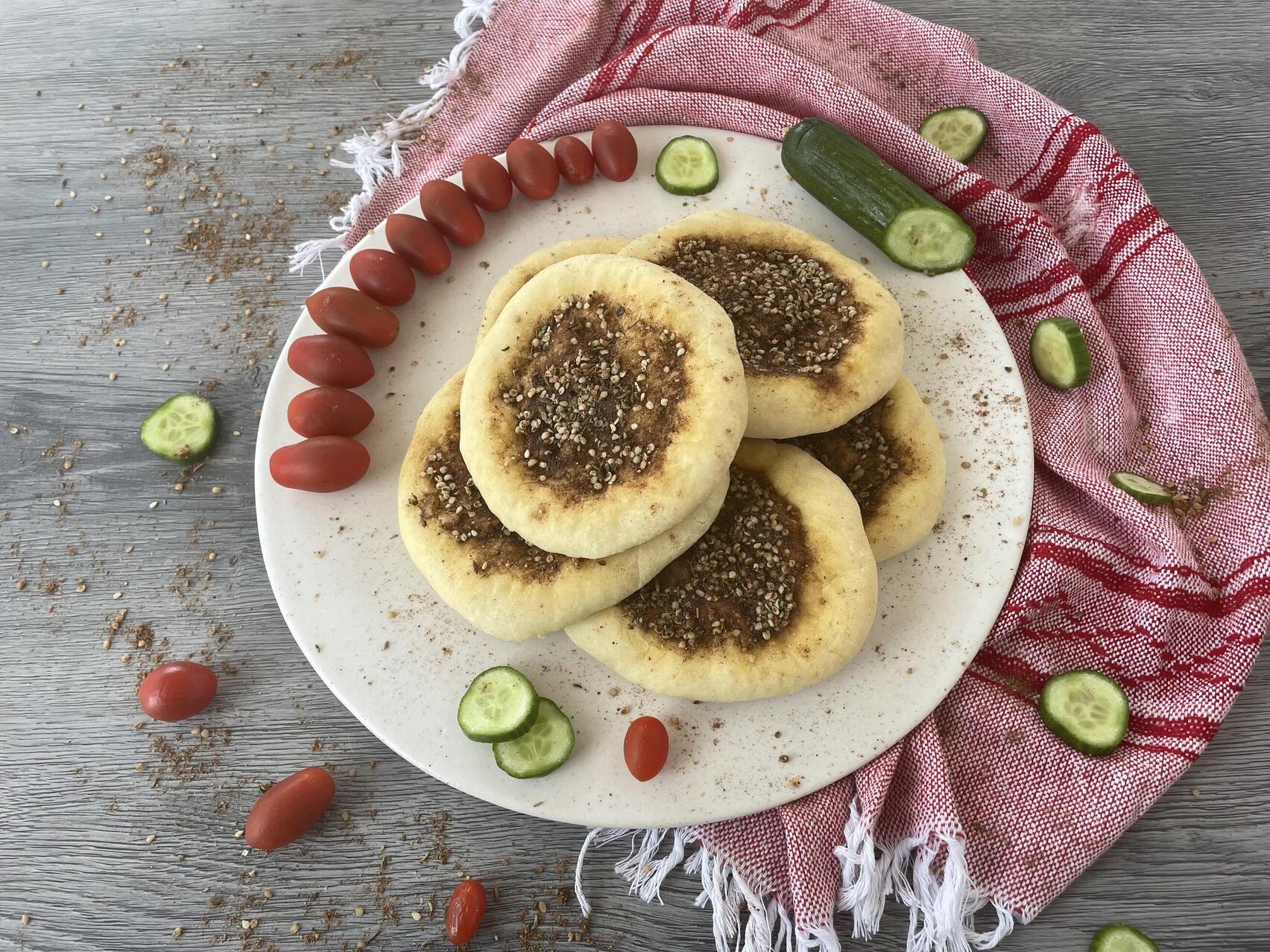 Ingredients
For the dough:
1

cup

warm water

1

tablespoon

dry active yeast

1

teaspoon

sugar

2 1/2

cups

all-purpose

or gluten-free flour

1

teaspoon

salt

1/3

cup

extra virgin olive oil
For the topping:
3

tablespoons

za'atar blend

see shopping notes

1/4

cup

extra virgin olive oil
Instructions

Prepare the dough:
Mix the sugar and the active dry yeast in a cup of warm water. Allow the yeast to activate until frothy, about five to ten minutes.

Mix the flour and salt in a large bowl. When the yeast is frothy, add it to the same bowl. Add the olive oil.

Stir to combine the ingredients. Knead the dough for at least five minutes either by hand or using a stand mixer with a hook attachment.

Coat a large bowl with olive oil. Once the dough is smooth and elastic, form it into a ball and place inside the bowl. Cover the bowl with plastic wrap or a kitchen towel. Let the dough rise for 90 minutes in a warm location.

Punch down the dough and knead for five to ten more minutes.

Divide the dough in half and then into thirds. Roll each portion into a ball and place on a floured surface or baking sheet.

Cover the dough and allow to rise for an additional 30 minutes.

Preheat the oven to 450° Fahrenheit (232° Celsius).
Prepare the topping:
Mix the za'atar (either store bought or a homemade blend) with olive oil.
Form the manakish pieces:
On a floured surface, form each portion of dough into a small circle. Use a rolling pin or your hand to flatten the circle.

Form small indentations in the top of the dough with your fingertips.

Transfer onto a pizza stone or a lightly oiled pan. Spread the za'atar topping onto each portion. Leave an inch border on all sides.

Bake for approximately twelve to fifteen minutes or until the pieces are golden brown around the edges.

Serve warm.
Video
Notes
Video Note: The salt in the first set of ingredients is actually sugar, apologies.
Nutrition
Calories:
380
kcal
|
Carbohydrates:
41
g
|
Protein:
6
g
|
Fat:
22
g
|
Saturated Fat:
3
g
|
Polyunsaturated Fat:
2
g
|
Monounsaturated Fat:
15
g
|
Sodium:
391
mg
|
Potassium:
62
mg
|
Fiber:
2
g
|
Sugar:
1
g
|
Vitamin C:
1
mg
|
Calcium:
10
mg
|
Iron:
3
mg
Notes & Tips
You can add black olives or feta and halloumi cheese as an additional topping before baking the flatbread.
If the water does not froth, indicating that the yeast has activated, this could be because the yeast is expired, or the water is too hot or too cold.
The most time-consuming aspect of this recipe is waiting for the dough to rise.
Where to find za'atar?
Za'atar is a popular spice mixture used widely in Middle Eastern cuisine.
The mix includes the herb za'atar, dried sumac, salt, toasted sesame seeds, and other spices like dried thyme and oregano. Za'atar is used to make manakish, as a topping for salads, and as a marinade for grilled meats. This is definitely a great staple to have on hand in your pantry.
You can make the za'atar spice blend at home or find it in the spice and condiments aisle of your local grocery store.
Optional sides or compliments
Strained yogurt (Labneh)
Hummus
Shish kabobs
Cheese and kalamata olives
What does Lebanese manakish taste like?
Lebanese manakish is delicious. It looks a little bit like a pizza when cooked and has crumbly, crusty edges. The za'atar seasoning is what really steals the show. It's spicy, but not in the same way as curry or cumin.
Storage
Lebanese flatbread is best eaten as soon as it has cooled enough to eat. It will stay fresh acceptably well for a few hours if it has been covered well in plastic wrap or a plastic bag. Storing it in the fridge will cause the bread to dry out and become stale much faster.
This bread can also be frozen. Freeze it as soon as it has chilled. To reheat, pop it in the microwave at 75 percent power for 45 seconds to start, then add 15 seconds incrementally until it has reheated enough to your liking.
Alternatively, you can reheat the bread in the oven. Preheat the oven to 450° Fahrenheit (232° Celsius). The bread will begin thawing while the oven is preheating. Bake for 10 to 15 minutes.
History
Lebanese cuisine is part of the Levantine area, found in the modern states of Jordan, Cyprus, Palestine, Israel, Syria, and parts of Turkey.
Manakish is frequently served for breakfast or dinner because za'atar was traditionally believed to have energizing properties.
In addition to manakish, other well-known Lebanese dishes include falafel, shawarma, baba ghanoush, and, of course, hummus. Flatbread is an integral part of many Lebanese meals.
Common questions
Can I make this ahead of time?
Yes, absolutely. Just place the manakish on a plate and freeze it. When it is frozen, transfer the individual pieces to freezer bags and keep them frozen until you're ready to bake them.
What should I do if the dough is too sticky?
Sprinkle the dough with a little flour as you continue kneading it until the dough is no longer sticky.
What should I do if the dough is too dry?
Add a tablespoon of water at a time until the dough is soft and smooth.
---
Recent Recipes