Crunchy & Juicy Lemon Pepper Chicken Wings
I went through a chicken wing crazy phase where I was determined to make the best crispy wing I could that wasn't dripping in buttery hot sauce. Those are hard to eat without ruining my shirt or my figure. Don't get me wrong, I love a basket of really good deep-fried buffalo wings that are served at my local haunt with blue cheese dip, a pile of paper napkins, and a side of wet wipes for cleaning up after. I just wanted to make wings at home that were maybe a little healthier and less messy. I was on a mission.
I tried grilling, baking, broiling, and air frying wings with any recipe I found online. Every recipe and cooking method worked. Yet, my favorite is coating wings in baking powder and baking them in a conventional oven at 2 different temperatures.
Baking powder somehow crisps up the skin because of its alkaline nature. Baking the wings on a wire rack set inside a rimmed baking sheet allows any excess fat to drip off. This method works every time and the wings are crunchy on the outside, tender on the inside, and way healthier than deep-fried wings.
This method of cooking chicken wings also allows you to get creative with your seasonings. I am often fine with just sea salt, but the options are pretty endless, especially with the amazing spice blends and rubs you can find at the market. Have you noticed that there is now an entire rack or shelf dedicated to blends and rubs? I am slowly replacing my single herbs and spices with these great products in my spice rack.
One staple blend that I have enjoyed most of my life is lemon pepper seasoning. I don't know who came up with that, but it is excellent. Basic lemon pepper is a combination of dried lemon zest, black pepper, and salt. That is how I make it at home. When you purchase a bottle of this blend, it may also include garlic and onion granules. Either way, it is a great seasoning for anything. I use it primarily on chicken and fish.
This lemon pepper chicken wing recipe has just a few basic ingredients: chicken wings, baking powder, lemon pepper seasoning, and salt. I also make a buttery glaze that you can brush over the crispy wings right before serving if desired. I eat them naked, but my nieces and nephews (self-proclaimed wing aficionados) prefer a little sauce and some extra heat. We coat the wings lightly and have a bottle of sriracha always ready for the kiddos.
The baking technique is a two-step process that works really well. After drying and coating the wings, place them on a wire rack insert over a foil-lined rimmed baking sheet. Bake for 30 minutes on the middle rack at 250°F. This dries the wings. Then, move the pan to the upper rack and crank the heat up to 425°F for 45 minutes, rotating with tongs at 20 minutes. This step ensures that plenty of heat circulates around the wings to crisp them up.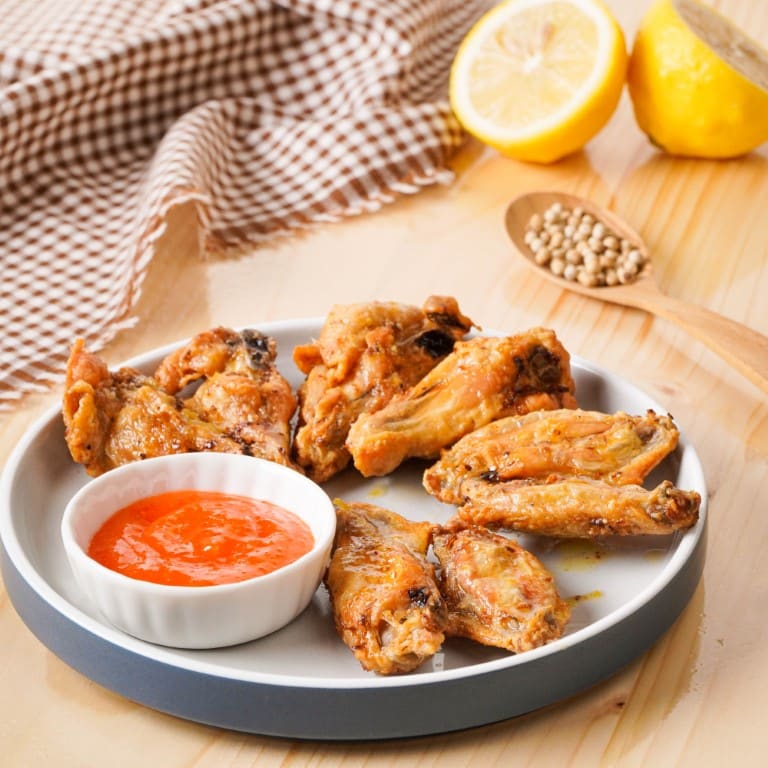 Ingredients
Wings

2

pounds

chicken wings

tips removed and cut into wingettes and drumettes

1

Tbsp

aluminum-free baking powder

2

tsp

lemon pepper seasoning blend

½

tsp

sea salt

Non-stick cooking oil spray

Glaze

¼

cup

4 Tbsp butter

1 ½

Tbsp

freshly squeezed lemon juice

2

tsp

lemon pepper seasoning

¼

tsp

sea salt

1 ½

tsp

honey

optional
Instructions
Wings
Place one oven rack in the lower center slot and another in the slot above. Preheat the oven to 250°F. Line one or two rimmed baking sheets with aluminum foil. Place a wire rack insert in the pan(s). Lightly coat the racks with cooking oil spray.

Pat the chicken wingette and drumette pieces dry with paper towels. Place them in a mixing bowl. Add the baking powder, lemon pepper seasoning, and salt to the wings and toss to coat completely.

Place the wing portions on the lined pan, leaving a little space between each. Put the pan in the oven on the center rack and bake for 30 minutes.

Move the sheet pan to the upper rack and turn the oven temperature up to 425°F. Bake the wings for 20 minutes. Flip them over and continue to bake until they are golden, crispy, and have an internal temperature of 165°F, approximately 25 more minutes.

Remove the wings from the oven and make the glaze.
Glaze
In a small saucepot, melt the butter. Stir in the lemon juice, lemon pepper seasoning, salt, and honey if using.

Brush the hot wings with the glaze and transfer to a platter. Serve while warm and crunchy. With hot sauce on the side
Nutrition
Calories:
394
kcal
|
Carbohydrates:
5
g
|
Protein:
23
g
|
Fat:
31
g
|
Saturated Fat:
13
g
|
Polyunsaturated Fat:
5
g
|
Monounsaturated Fat:
11
g
|
Trans Fat:
1
g
|
Cholesterol:
126
mg
|
Sodium:
855
mg
|
Potassium:
232
mg
|
Fiber:
1
g
|
Sugar:
2
g
|
Vitamin A:
549
IU
|
Vitamin C:
3
mg
|
Calcium:
249
mg
|
Iron:
2
mg
Notes & Tips
When you buy chicken wings, they often come whole. Remove the wing tips and save those for making stock. You can freeze them. Slice the remaining wing portions into drumettes and wingettes.
I find that not all wings are created equal. The free-range ones can be a little skinny, but very delicious. Conventionally raised birds have meaty, fat wings. The two cook very differently, so you need to keep an eye on them for the last 25 minutes so they either don't overcook or aren't raw. I use an instant-read thermometer to check for an internal temperature of 165°F.
When shopping for baking powder, look for aluminum-free. It is definitely a healthier choice.
Substitutions & Shortcuts
Lemon Pepper: I am lazy when it comes to this particular seasoning blend. I don't make my own much anymore because there are some really good ones already made. I also don't trust that I will properly dehydrate fresh lemon zest so that it doesn't go bad. Prepared lemon pepper is definitely a time-saving shortcut.
Spice Blends: My preference for this recipe is the lemon pepper that has a little garlic and onion in the mix. If it also has salt, reduce the amount of salt you add to the recipe. For some extra heat, add 1/4 teaspoon of cayenne powder to the lemon pepper. If you want to change things up, try creole or Cajun seasoning. I also like to make an Asian version with spicy curry powder.
Glaze: As mentioned, I like these wings right out of the oven without sauce. In fact, they don't ever make it to the plate if I am cooking for myself. But a glaze or sauce is a must for many wing fans. If this lemony sauce is too timid for your wing eaters, go ahead and toss the cooked wings in a spicy red hot and butter sauce and serve them with blue cheese or ranch dressing. Another option is to add more honey to the glaze so it sticks better and increases the sweetness. Kids really like a buttery honey glaze.
More Wing Recipes to Try
If you like this crunchy and juicy chicken wing recipe, you might also like tips for brining and cooking chicken wings and a couple of recipes for Greek and Mediterranean wings.
---
Recent Recipes