Homemade Lemony Chicken Paillard
When you see the word "paillard" on a menu, you might wonder what exactly that means. My French isn't bad, but I didn't really know exactly what paillard meant other than there was a famous restaurant in Paris that was named for its proprietor M. Paillard that opened its doors in 1880.
In the U.S., when paillard is on a menu it refers to a thin cut of poultry or meat that has been pounded flat and cooked in a pan over high heat or grilled. Chicken paillard is a fairly common dish. But it can also be made using veal, pork, or beef. Pounding the meat helps to tenderize it and makes the cooking of this dish really fast.
In chicken paillard, the chicken filets are pan-seared and finished with a classic French-inspired buttery lemon and shallot sauce. Everything is made in one pan. I use my largest cast-iron skillet because it holds the heat evenly and gives me yummy little brown bits to scrape up and incorporate into the sauce when the pan is deglazed. You can use any heavy-bottomed pan that you have in your kitchen cupboard.
What I love best about this chicken paillard recipe is that I generally have most of the ingredients in my pantry and fridge. Also, it takes so little time to prepare that we can enjoy a very refined meal on a weeknight. It is best served with a salad of greens and herbs dressed with a lemon vinaigrette. Arugula, dandelion greens, romaine lettuce, and mesclun mix all work nicely. Topping the salad with garlicky croutons is a great finishing touch. Enjoy your chicken paillard with either a glass of light Beaujolais or a rosé with citrus notes. If you skip the croutons or use ones not made with wheat, this is a gluten-free meal that is both paleo and keto friendly.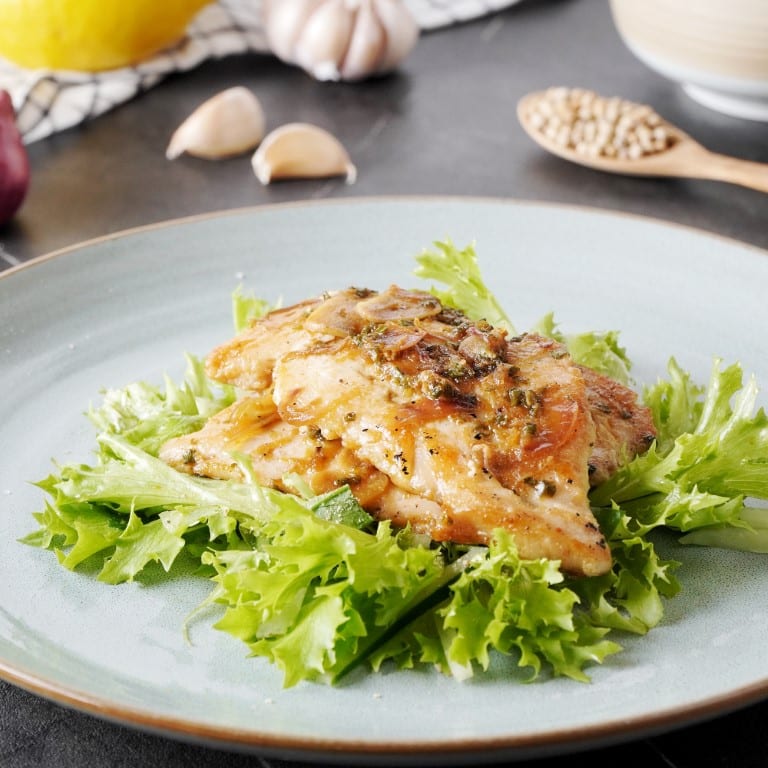 Ingredients
2

skinless boneless chicken breasts

1 ½

tsp

kosher salt

1

tsp

freshly ground pepper

2

Tbsp

extra virgin olive oil

6

Tbsp

¾ stick cold butter, divided

1

large shallot

peeled and sliced thinly

2

cloves

of garlic

peeled and sliced thinly

1

Tbsp

freshly squeezed lemon juice

1

cup

low-sodium chicken broth

3

Tbsp

finely chopped fresh chives

Zest from 1 organic lemon

Salt and pepper to taste
Instructions
All ingredients ready? Let's begin!

Slice the chicken breast in half through the center to form 4 thinner filets. Place the chicken pieces between 2 sheets of plastic wrap. Using the flat face of a meat mallet or a rolling pin, pound the chicken breasts to 1/4-inch thickness. Place the filets on a platter and season both sides with salt and pepper. Set aside to come to room temperature.

In a large cast-iron or heavy-bottomed skillet over medium-high heat, warm the olive oil and 3 tablespoons of the butter. When the butter has melted and starts to foam, add 2 pieces of chicken to the pan and cook until golden brown, approximately 2 to 3 minutes per side. Turn the heat down if the butter starts to brown. Transfer the cooked chicken to a clean platter and repeat with the other 2 paillards. Make sure the chicken is at 165°F when checked with a meat thermometer.

Reduce the heat of the pan to medium. Add the shallots to the pan and cook until softened, approximately 2-1/2 minutes. Add the garlic and continue to cook until it is aromatic, about 1 minute longer.

Raise the heat back up to medium-high. Stir the lemon juice into the pan. Add the chicken broth and stir with a wooden spoon, scraping up any browned bits. Simmer until the sauce reduces by half. This should take about 3-1/2 minutes.

Add the remaining 3 tablespoons of butter to the sauce. As soon as the butter melts, add the lemon zest and chives to the pan. Check the seasoning and add salt and pepper if desired.

Return the chicken to the pan, including any juices that are on the plate. Heat while spooning sauce over the paillards until just warmed through.

Serve the chicken paillard with the sauce. Enjoy with a leafy green salad and a nice glass of wine.
Nutrition
Calories:
374
kcal
|
Carbohydrates:
5
g
|
Protein:
27
g
|
Fat:
28
g
|
Saturated Fat:
13
g
|
Polyunsaturated Fat:
2
g
|
Monounsaturated Fat:
11
g
|
Trans Fat:
1
g
|
Cholesterol:
121
mg
|
Sodium:
1173
mg
|
Potassium:
574
mg
|
Fiber:
1
g
|
Sugar:
1
g
|
Vitamin A:
667
IU
|
Vitamin C:
19
mg
|
Calcium:
30
mg
|
Iron:
1
mg
Notes & Tips
The reason I call for an organic lemon is that you want the zest to be free of pesticides and any other chemicals that can alter the flavor. Make sure you zest your lemon before you extract the juice. Otherwise, you might be zesting your fingertips with flat lemon skin. And please do not use bottled lemon juice. It is too acerbic for this delicate dish.
Don't skip the olive oil in the cooking step. This ingredient keeps the butter from browning too much. Browned butter can be bitter without the addition of the oil.
Keep an eye on the temperature of the pan and adjust as necessary. You want it hot but you don't want to char the chicken on the outside and have it raw on the inside.
Substitutions & Variations
Chicken Breast: I truly love chicken as a protein and probably eat it 4 or 5 times a week. I know that may sound crazy. I grew up in a red meat-eating family and I was elated when I discovered the versatility and affordability of chicken when I left the nest and had to fend for myself. While skinless boneless chicken breast is my go-to, You could definitely make this recipe with veal scallopine or pounded pork loin chops.
Shallots: My local market rarely has shallots and I don't know why. Instead of driving to the specialty market up the road, I will use a small red onion or 1/2 of a Vidalia onion instead of a shallot. They are both a little sweet when cooked.
Chives: The chives add a subtle onion flavor and a vibrant green color to the dish. The green parts of scallions or some fresh leeks will do the same. If you don't want additional onion flavor, opt for minced flat-leaf parsley or fresh tarragon leaves.
More Easy Chicken Recipes
I did mention that chicken is probably my favorite animal protein to cook with, especially during the week when I need to get dinner on the table quickly. I also love having the leftovers for midday salads and weeknight casseroles and stir-fries. Here are some other quick and easy chicken recipes that you might like to try.
---
Recent Recipes