Best Liberian BBQ Style Pork Ribs
You've probably had ribs before, and if you did, there's a pretty big chance they were barbeque ribs. However, have you ever tried Liberian style barbeque ribs? They are delicious-but not quite what you'd expect. Instead of using BBQ sauce or another tomato and vinegar-based sauce, it uses peanut butter to achieve that sweet, savory BBQ taste. If you're looking for a less peanuty rib recipe, try these melt in your mouth ribs.
These ribs retain the most flavor if you allow them to marinate for a few hours, so plan accordingly when you are preparing them. I usually prep them the day before and leave them in the fridge overnight. I will also go ahead and blend my peppers so I can leave that in the fridge too, that way when I'm ready to cook the ribs the next day, I can just go straight for it instead of having to prep even more and make another mess.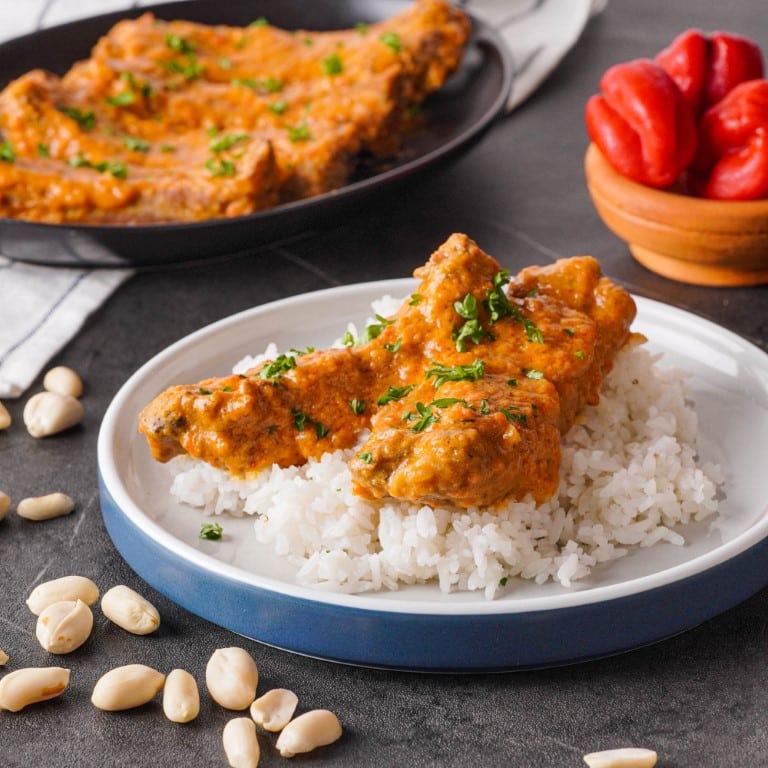 Ingredients
1

lb

spare ribs

1

tsp

black pepper

½

tsp

salt

1

tsp

onion salt

2

tsp

garlic powder

1

tsp

mixed herb blend

1

tablespoon

adobo seasoning

2

bell peppers

2

habanero peppers

2

onions

1

cup

peanut butter

1

beef stock cube
Instructions
All ingredients ready? Let's begin!

Depending on how you've bought your meat, you will need to prep it before seasoning. If your rack of ribs is covered in a white membrane, you'll want to trim it off. This can be done using a long, sharp knife or kitchen scissors. Sometimes it will even peel right off! You should also remove excess fat from the ribs. The fat is another white part with a slightly harder texture. It can be trimmed using a sharp knife or kitchen scissors. Liberian style ribs are not served as a rack, so if you haven't already, use a strong, sharp knife to separate each rib bone.

Once that's all done, you can place all the ribs in a large bowl.

In a smaller bowl, add the black pepper, salt, onion salt, garlic powder, herb blend, and adobo seasoning. Mix gently with a fork or small whisk to incorporate.

Pour the spice mixture over the ribs and toss to coat. If you want to be extra careful, use your hands to rub the spices into each individual rib.

Cover the ribs and place in the fridge for a minimum of three hours.

Cut the bell peppers and habanero peppers in half. Remove the stem and seeds. Cut the bell pepper into halves again. Add all to a high-powered blender or food processor.

Peel the onions and cut into rough chunks. Add these chunks to the blender as well.

Pulse the blender or food processor until the mixture becomes a thick paste. Set aside or store in the fridge until ready.

Once the ribs have been left to soak up the spices for a few hours, you can remove them from the fridge. Prepare a large baking dish by covering it with tin foil (this makes it easier to clean later but is not absolutely necessary).

Turn your oven to 400F and allow to preheat.

Spread the ribs across the baking tray and place in the oven to cook for 40 minutes. At the halfway mark, check them to make sure they aren't drying out, as this can sometimes depend on the quality of the meat.

Once the ribs have finished cooking (they should not be pink and have reached an internal temperature of at least 145F), transfer the fat and juices that have collected to a large pot.

Place the pot on medium heat. If there is less than 1 cup of liquid, you should add some water to stretch it. Add the peanut butter and stock cube and whisk until fully combined. Turn the heat up and bring to a boil.

Once it has begun to boil, immediately turn the heat down to medium low and add the blended pepper mix. Mix to incorporate then allow to simmer for 5 minutes.

Add the ribs into the pot, cover, and continue cooking on medium low heat for 20 minutes.

You should be able to tell they are done when the fatty oils have all risen to the top.

Remove from heat and allow to cool for a few minutes before serving. Don't forget to pour a generous amount of sauce on top!
Nutrition
Calories:
440
kcal
|
Carbohydrates:
18
g
|
Protein:
19
g
|
Fat:
35
g
|
Saturated Fat:
8
g
|
Polyunsaturated Fat:
7
g
|
Monounsaturated Fat:
15
g
|
Trans Fat:
0.1
g
|
Cholesterol:
42
mg
|
Sodium:
958
mg
|
Potassium:
555
mg
|
Fiber:
4
g
|
Sugar:
8
g
|
Vitamin A:
1283
IU
|
Vitamin C:
58
mg
|
Calcium:
48
mg
|
Iron:
2
mg
Notes & Tips
These ribs can be kept in the fridge for up to 5 days. When you want to reheat them, you can use the microwave or, if you're reheating a large batch, throw it all back into a pot with a little bit of water and reheat it that way.
Make sure the peanut butter you use is the creamy type- crunchy peanut butter won't have the same effect.
These ribs taste delicious served atop a bed of soft rice to bulk out the meat. Because the peanut butter BBQ and pork is quite heavy, you can also serve alongside some steamed vegetables for variety.
Substitutions
If you want extra spicy ribs, consider replacing the bell peppers with more habanero peppers for an extra kick. On the flip side of that, if you prefer a milder level of spice, substitute habanero peppers with bell peppers. You can mix and match the ratio to suit your preferences.
As with most cooking recipes, you can adjust any of the seasonings to suit your personal palette. Some people like to add less peanut butter, some like to add more, so it's really up to you.
If you can't find spare ribs, you can also use baby back ribs. I personally prefer baby back ribs, but spare is the way to go for a more authentic dish. If you're unsure of what the difference is, you can check here for a comparison of a few different rib types.
---
Recent Recipes