Easy Low FODMAP Beanless Vegan Chili
One on a low FODMAP diet one may find it hard to find replacements for some of our favorite easy comfort foods, like a nice bowl of chile. Beans such as kidney beans, soybeans, black beans, split peas, and navy beans are high in fructans which make them a high FODMAP food. Those who experience difficulty digesting fructans experience gas, bloating, constipation, and other symptoms linked to IBS. Some studies show following a low FODMAP diet reduces IBS symptoms, such as this 2014 Australian clinical trial published in the Journal of Gastroenterology.
Following a low FODMAP diet doesn't necessarily mean you have to stop eating your favorite foods. It simply means that it is time to get creative in the kitchen. This low FODMAP version of chili calls for quinoa and garbanzo beans. Quinoa is a low FODMAP super grain that is highly nutritious, gluten-free, and allergen-free.
Garbanzo beans are a moderate FODMAP food however when washed thoroughly the galactooligosaccharides (GOS) can be reduced making it a low FODMAP ingredient. It also depends on the quantity consumed. In this recipe, the amount of chickpeas per serving is minimal enough to keep it a low FODMAP food. This chili is delicious and comforting. It's guaranteed you won't even miss the beans!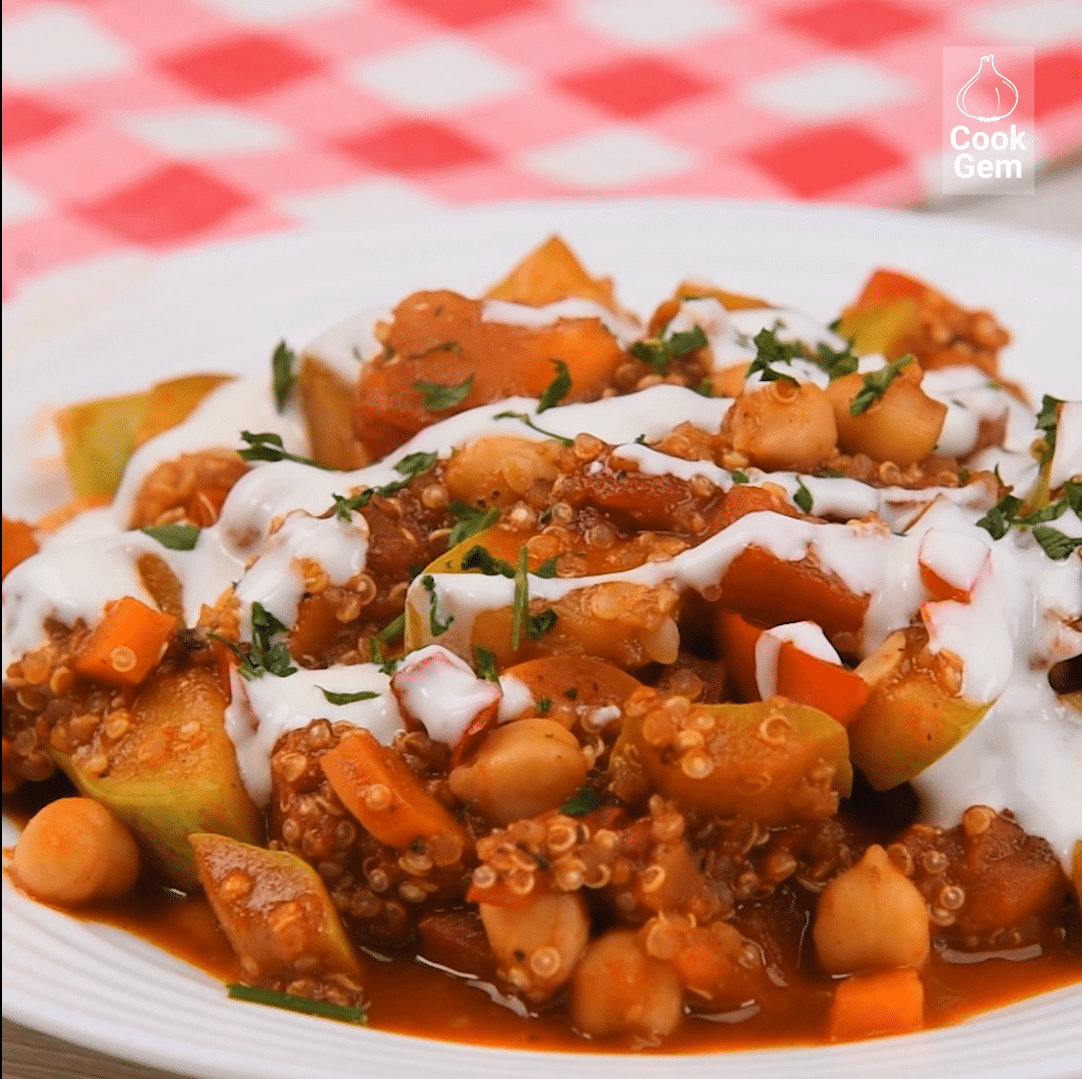 Ingredients
1

230g can organic chickpeas (thoroughly rinsed in water 2-3 times)

1

cup

quinoa

400

g

can roasted tomatoes

1

medium tomato

diced

1

zucchini

diced

1

red pepper

diced

1

carrot

diced

1

red chile

deseeded, diced

2

tsp

cumin

2

tsp

roasted paprika

2

tsp

cocoa powder

1

tsp

cayenne

1

tbsp

Garlic flavored Olive Oil

1

cup

water

1

cup

chopped chives

for garnish

4

tbsp

vegan sour cream

for garnish
Instructions
Heat oil in a large saucepan. Lightly fry diced zucchini, red pepper, and carrot for 6-10 minutes. Add seasonings; chile, cumin, cayenne, and paprika. Cook for about 5 minutes.

Add roasted canned tomatoes, diced tomatoes, and cocoa powder, and bring to a simmer.

Add quinoa, washed chickpeas, and water. Bring to boil then turn down to simmer for about 15-20 minutes until water is absorbed.

Season with salt and pepper. Optional: Add vegan sour cream and chopped chives.

Serve your Easy Low FODMAP Beanless Vegan Chili!
Video
Nutrition
Calories:
296
kcal
|
Carbohydrates:
45
g
|
Protein:
9
g
|
Fat:
9
g
|
Saturated Fat:
2
g
|
Polyunsaturated Fat:
4
g
|
Monounsaturated Fat:
3
g
|
Sodium:
255
mg
|
Potassium:
659
mg
|
Fiber:
7
g
|
Sugar:
8
g
|
Vitamin A:
5080
IU
|
Vitamin C:
79
mg
|
Calcium:
92
mg
|
Iron:
4
mg
Notes & Tips
Look for chickpeas that come in a glass jar. Make sure to thoroughly wash chickpeas and quinoa in water before cooking. This will reduce galactooligosaccharides (GOS) and the risk of bloating or indigestion. Always rinse your legumes and grains before cooking!
Substitutions & Shortcuts
Edamame Beans: Instead of using garbanzo beans, try adding fresh steamed edamame beans after quinoa fully absorbs water.
Roasted Eggplant: Add roasted or sauteed eggplant at the end for a more smokey flavor and some crunch.
Ground Beef: For the meat-eaters, replace garbanazos with lean ground beef. Cook ground beef in oil and add before frying vegetables in Step 1.
Sides & Compliments
Low FODMAP Cornbread: Cornbread always goes well with chili. Try this low dairy-free & gluten-free FODMAP cornbread.
Simple Mushroom Avocado Toast: A simple and easy accomponent for this dish. Try serving together.
Beef Tenderloin: For the meat eaters, try this recipe with a combining
Common Questions
Is chili vegan?
Chili can be made vegan by replacing meat with vegetables and legumes.
Is chili gluten-free?
Yes, chili is gluten-free.
Are legumes low FODMAP?
No, most legumes are high FODMAP. However, depending on the portion size and preparation, some beans like garbanzo can be low FODMAP. For example, if garbanzos are thoroughly washed with water we can get rid of the residue that creates gas and indigestion.
---
Recent Recipes