Best Low FODMAP Bolognese Sauce
Ever wanted to enjoy some classic Italian recipes while sticking to a low FODMAP diet? Well, now you can! Today, we're going to break down a low FODMAP Bolognese sauce. This classic Italian sauce is very meat-heavy and is a slight departure from the traditional, tomato-forward Italian sauces you might be used to. But it's still delicious, especially when paired with the right noodles.
Even better, our low FODMAP Bolognese sauce recipe doesn't make any compromises and is very close to the traditional recipe. So when you combine this sauce with low FODMAP noodles, you'll be able to enjoy this Italian dish as it was always meant to be eaten.
That said, keep in mind that this dish does contain cream and dairy products, so it's not suitable for vegans. We have made a couple of substitutions to ensure low FODMAP appropriateness. Let's take a closer look at the recipe and see what's involved.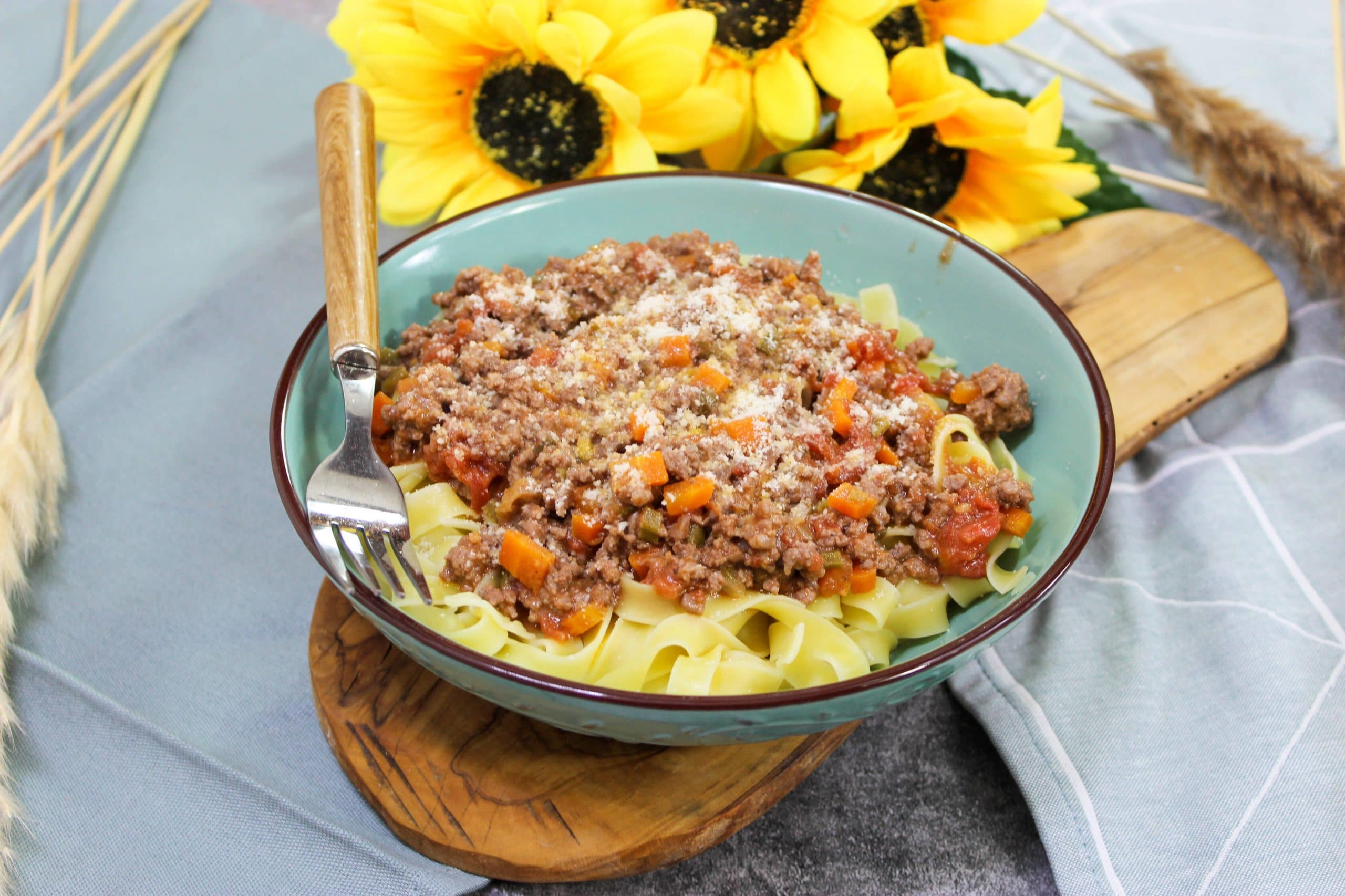 Ingredients
3

tablespoons

unsalted butter

2

tablespoons

garlic-infused olive oil

1

cup

finely chopped scallions

1

medium stalks celery

minced

3

medium carrots

peeled and minced

Kosher salt and freshly ground black pepper to taste

1

whole nutmeg

1 ½

pounds

lean ground chuck roast meat

2

cups

dry red wine or dry white wine

2

cups

lactose-free whole milk

28

ounces

peeled tomatoes in juice

1

pound

low FODMAP gluten-free tagliatelle noodles

Parmigiano-Reggiano cheese to taste
Instructions
To begin this recipe, heat 2 tablespoons of the butter and all of the garlic-infused olive oil in a Dutch oven. Heat these ingredients over low to medium heat so they don't fully boil. When the butter is melted, add the celery, carrots, and scallions. Sauté the vegetables over low medium heat until they are very soft and easy to spear with a fork.

Next, break up the meat and add it to the Dutch oven. Add a little bit of salt and pepper and stir the ingredients together until the meat is no longer pink. Add a slight amount of nutmeg to taste. To do this, take a whole nutmeg and use a fine, rasp-style grater to shred a few bits of nutmeg into the Dutch oven.

Add the lactose-free whole milk and bring the mixture to a simmer. Stir often until the milk is mostly evaporated. Then add the wine and once again simmer and stir until the wine is mostly evaporated. Add the tomatoes into the pot and crush them with your hands so they are broken into very small pieces. Be sure to add the tomato juice that is left behind as well.

Stir the ingredients together and bring the sauce to a low simmer and leave it uncovered. Cook the sauce on low heat for two hours. Check in on the sauce from time to time and add a little bit of water as the recipe cooks if needed.

Once the two hours are almost up, prepare tagliatelle pasta al dente. After preparing the pasta, you can thicken your Bolognese sauce with a little of the starchy pasta water if needed.

After 2 hours have passed, taste the sauce and adjust the seasoning if needed. Once cooled, the sauce can last for up to four days in an airtight container. If serving after making it on the first night, do so immediately while the sauce is hot.
Video
Nutrition
Calories:
766
kcal
|
Carbohydrates:
74
g
|
Protein:
38
g
|
Fat:
30
g
|
Saturated Fat:
13
g
|
Polyunsaturated Fat:
3
g
|
Monounsaturated Fat:
13
g
|
Trans Fat:
1
g
|
Cholesterol:
165
mg
|
Sodium:
350
mg
|
Potassium:
1321
mg
|
Fiber:
6
g
|
Sugar:
14
g
|
Vitamin A:
5946
IU
|
Vitamin C:
17
mg
|
Calcium:
216
mg
|
Iron:
6
mg
Notes & Tips
As you can see from the recipe above, it takes a couple of hours to prepare Bolognese sauce properly, especially if you need to secure low FODMAP ingredients beforehand. With that in mind, be sure to give yourself plenty of time to cook the sauce and the noodles if you are preparing this dish for dinner tonight.
One good way to make sure you don't overheat the sauce during the cooking process is to start your Dutch oven on low heat rather than low medium. Watch the sauce for a couple of minutes and, if it doesn't start to simmer, kick it up to low medium and then medium heat and see if that does better. This will prevent you from over boiling the sauce and evaporating the milk or wine too quickly before the meat has a chance to absorb the flavors.
Adding starchy pasta water may only be necessary if you do overcook the sauce a little bit during steps three or four. To be safe rather than sorry, reserve a little bit of water when prepping your tagliatelle pasta.
Lastly, keep in mind that the vegetables need to be chopped into very small pieces for them to cook quickly and properly. If possible, use a food processor with a metal blade to get your veggies down to minced-sized pieces.
Substitutions
There are lots of substitutions you can enjoy with this low FODMAP Bolognese sauce recipe. These include:
Meat substitutions. Chuck roast meat is our recommendation, but you can use regular beef, veal, or even pork. You can also add chicken instead and make a kind of chicken pasta!
Add some mushrooms for some additional flavor and texture.
Common Questions
Is the nutmeg really crucial to this recipe?
No, and in fact, it's an addition of ours that isn't part of a classic Bolognese sauce recipe. So if nutmeg isn't your cup of tea, feel free to remove this part of the recipe and follow the instructions below as though the nutmeg doesn't exist.
Sides and Pairings
Naturally, this Bolognese sauce is meant to be enjoyed with tagliatelle-shaped pasta. The broad shape of the noodles is fantastic for ensuring the bold and rich texture of the sauce is fully captured in each bite. That said, there's nothing preventing you from changing up the noodles from time to time. It's just that most other noodles are not as complementary with the Bolognese sauce.
We recommend enjoying a dry red or white wine with the Bolognese sauce and low FODMAP noodles, as the flavor of the wine in the glass will complement the wine in the recipe.
---
Recent Recipes