We love salad here at Cookgem, and we're always finding new salad recipes to try out. Finding the right salad dressing for your salad can be tough, especially if you follow the low FODMAP diet. While you might think most salad dressings would be safe, lots of them include garlic, onion, or other FODMAP-heavy ingredients that make them no-goes for your digestive system. This is especially true of heavier, creamier salad dressings
However, there are low FODMAP salad dressings you can purchase at the store or make in your own home. In fact, we've got a great low FODMAP salad dressing recipe you can whip up in your own kitchen in as little as five minutes total.
Even better, you can make plenty of this lemon vinaigrette-style salad dressing ahead of time, allowing you to add it to your salads for days or even weeks to come. Talk about saving time and money! With that said, let's break down this low FODMAP salad dressing recipe step-by-step so you know exactly how to make it.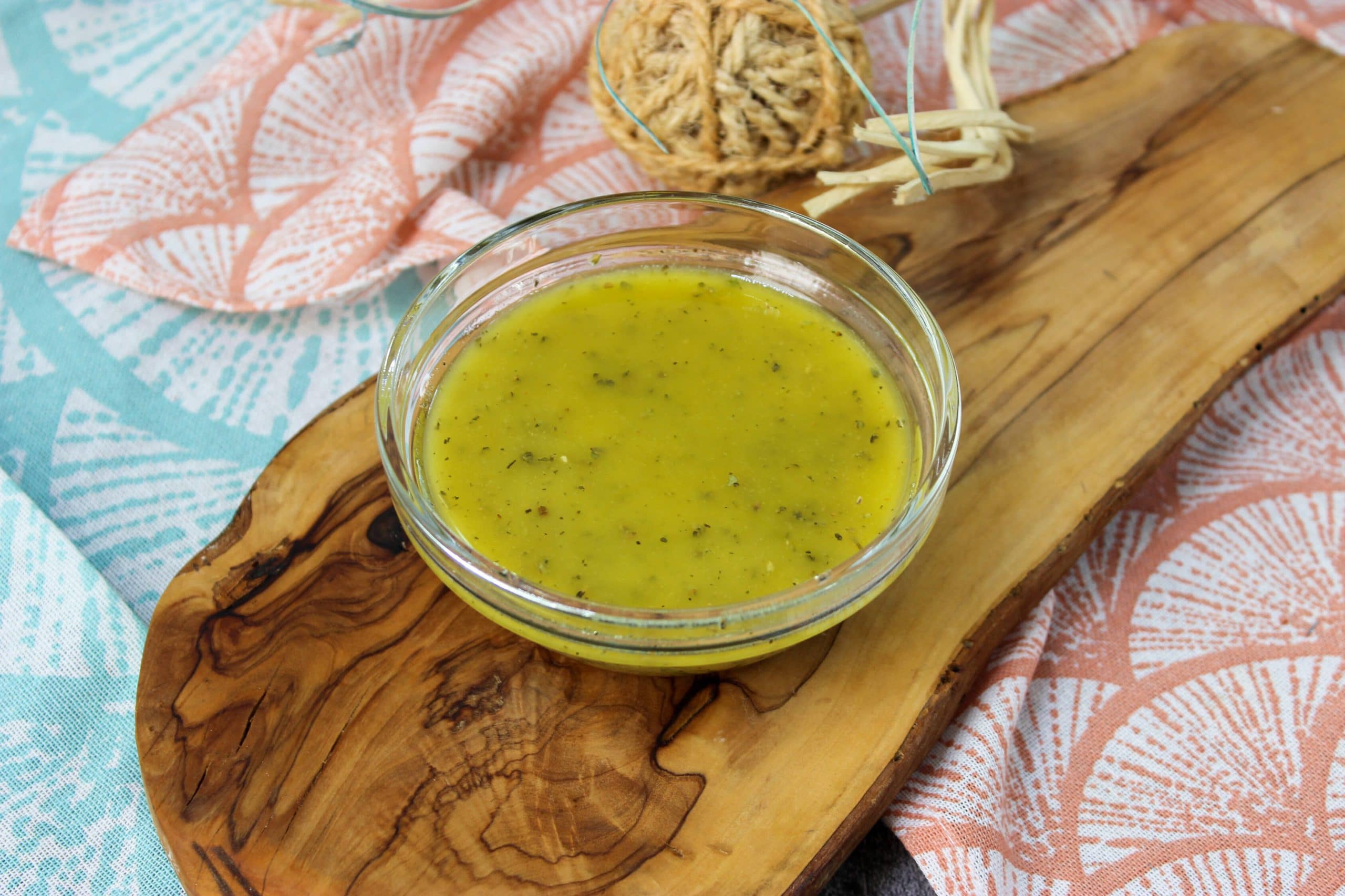 Ingredients
1/3

cup

garlic-infused olive oil

3

tablespoons

fresh lemon juice

which takes about 1 whole lemon

1

tablespoon

red wine vinegar

1

teaspoon

Dijon mustard

¼

teaspoon

salt

½

teaspoon

dried oregano
Instructions
Making this salad is super easy! Squeeze the fresh lemon juice and measure out your ingredients as you place them into a small bowl.

Once everything is combined, with the ingredients together in the bowl or check the ingredients together in a sealed mason jar.

Ta-da, you're all done! Now you can serve this low FODMAP lemon vinaigrette salad dressing or store it in an airtight container. Stored properly, this dressing will last for about one week.
Video
Nutrition
Calories:
163
kcal
|
Carbohydrates:
1
g
|
Protein:
1
g
|
Fat:
18
g
|
Saturated Fat:
2
g
|
Polyunsaturated Fat:
2
g
|
Monounsaturated Fat:
13
g
|
Sodium:
160
mg
|
Potassium:
15
mg
|
Fiber:
1
g
|
Sugar:
1
g
|
Vitamin A:
2
IU
|
Vitamin C:
4
mg
|
Calcium:
2
mg
|
Iron:
1
mg
Notes & Tips
As you'll see from the above recipe, we get around the garlic limitation in most low FODMAP foods and dressings by using garlic-infused olive oil rather than using traditional olive oil and chopping up garlic after the fact.
Luckily, there are plenty of garlic-infused olive oil choices you can find at your local grocery store. We also use this garlic-infused olive oil in many of our other low FODMAP recipes. Who says you have to totally give up the delightful and savory flavor of garlic just because you want to avoid upsetting your digestive tract?
That said, you can also avoid garlic-infused olive oil if you would rather be safe than sorry and use regular olive oil instead.
When getting the fresh lemon juice for the recipe, we recommend looking for a lemon that feels somewhat soft to the touch. This tells you that the lemon is right and will yield lots of juice once you slice and quarter it appropriately. If you haven't made this salad dressing recipe before, it's a good idea to get two or three lemons in case the first lemon you pick doesn't quite yield enough juice for the recipe.
To squeeze out the juice from a fresh lemon, quarter the lemon and slice the center of each piece down the middle. You should be able to squeeze out most of the juice from the lemon pieces with your hands without too much difficulty.
Alternatively, you can always buy a juicer or food processor and get your lemon juice that way. While you could use pre-squeezed lemon juice, we've found that it doesn't taste quite the same. Still, pre-squeezed lemon juice could be the way to go if you want to cut down on time and effort.
Also, don't forget to remove the lemon seeds before squeezing. Don't let them fall into the salad or you may be in for a sour surprise.
Above, we mentioned that you can store this low FODMAP salad dressing for up to one week without losing any flavor quality. While that's true, be sure to shake or whisk the dressing before using it if it has sat in your refrigerator for one or two days.
Substitutions
In addition to the above core ingredients, there are some substitutions or extra ingredients you can add to the salad dressing for new textures or flavors. For example, we recommend sourdough bread croutons if you like a pleasant and sour crunch with your salads. Sourdough bread croutons are low FODMAP and shouldn't upset your digestive system the same way wheat-based croutons can.
Naturally, you can also add chicken to your salad dressing. In fact, you can cook the chicken and then place it in this lemon vinaigrette and allow the chicken to absorb the flavors before mixing everything together with your choice of greens, like spinach or lettuce.
If you don't especially like the taste of red wine vinegar, other wine-based vinegars will do, like white wine vinegar. In fact, any vinegar you choose should be suitable for this recipe, though we can't speak to how the flavors could change if you use a completely different vinegar style.
Common Questions
Is each of these ingredients really low FODMAP?
Yes, including the garlic-infused olive oil, which has been confirmed low FODMAP by a variety of sources. Furthermore, Dijon mustard is confirmed low FODMAP so long as you only consume it in servings of a single tablespoon.

Lemon juice and vinegar are the same way; lemon juice is low FODMAP in servings up to half a cup and red wine vinegar is low FODMAP in servings of 2 tablespoons or less.

As you can see, there's no chance of this lemon vinaigrette low FODMAP salad dressing upsetting your digestive tract because of fermentable carbs.
Sides and Pairings
We particularly like this vinaigrette with salads that are tossed with romaine lettuce, cucumber, diced tomatoes, olives, and grilled chicken. The lemon flavor helps to bring out the bitter or more intense flavors in the other ingredients and gives you a well-rounded meal to enjoy for lunch or dinner.
Remember, most types of meat, including chicken and salmon, are low FODMAP by default since they don't include carbs. However, when making the meat, be sure not to use seasonings or sauces that do include FODMAPs; otherwise, you might give yourself an upset stomach.
---
Recent Recipes