Homemade Low FODMAP Banana & Sultana Flapjack
For lots of folks, starting a low FODMAP diet means many of their favorite foods are suddenly off the table (quite literally). But if you like pancakes – or flapjacks as they are called in Britain and elsewhere – you're in luck.
Turns out, there are plenty of low FODMAP flapjack recipes to check out. Granted, these will be closer to the traditional version of the breakfast food found in Britain compared to the American counterpart. Still, low FODMAP flapjacks are great ways to start the morning or enjoy as an afternoon snack.
Not sure where to start? Let's break down a tasty low FODMAP flapjack recipe you can whip up in your own kitchen starting today. The recipe we'll make will also be easy to separate into snack-sized chunks, too, making them great for munching while on the go.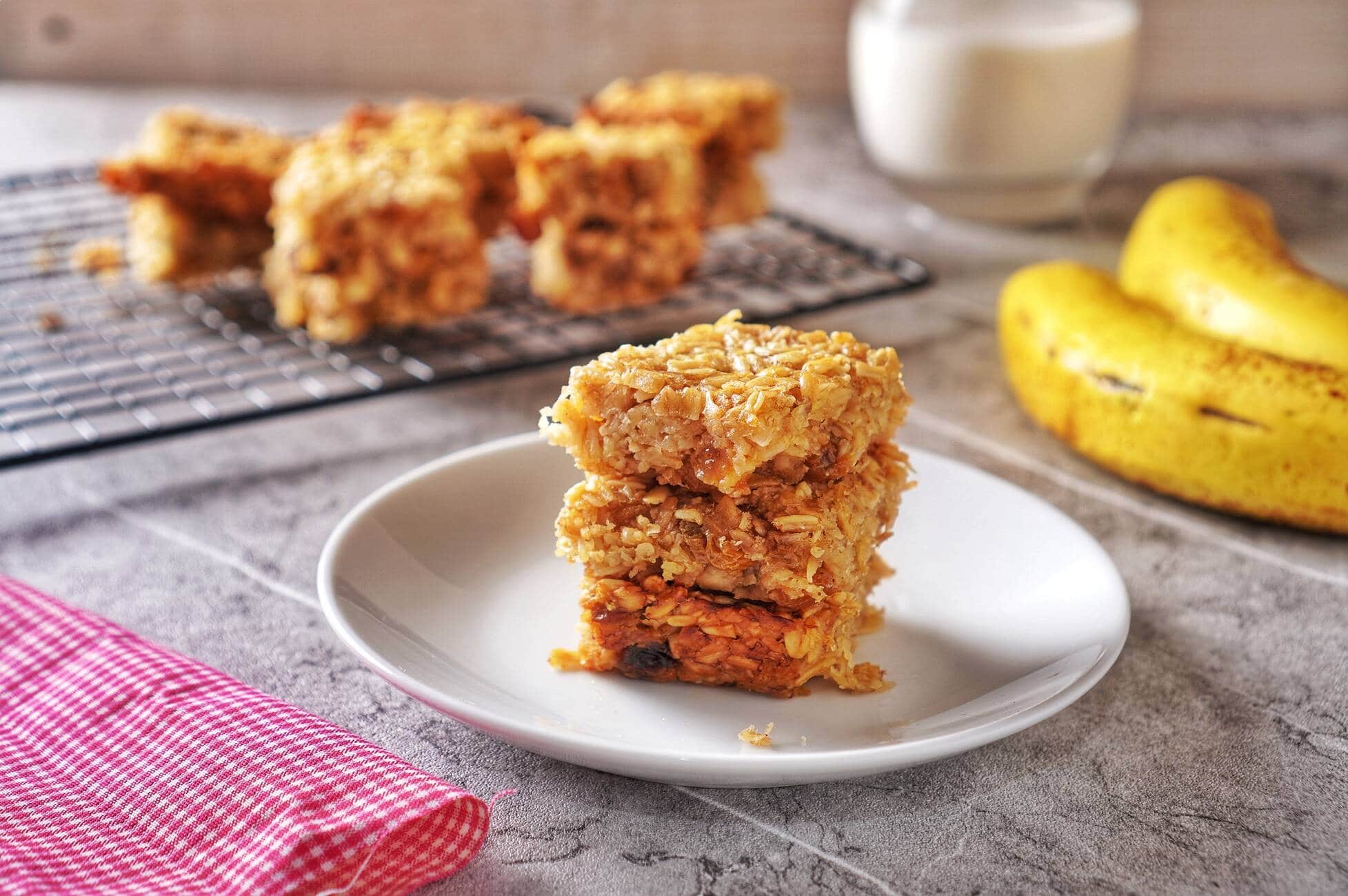 Ingredients
3 ½

ounces

of butter plus a little extra for greasing

2

tablespoon

maple syrup

7

ounces

oats

3 ½

ounces

sultanas

2

large bananas mashed up
Instructions
Assemble your ingredients.

First, preheat your oven to about 345°F. While the oven preheats, grease an 8 in.² baking sheet. You may wish to line the sheet with baking paper for even less chance that the flapjacks will stick to the surface, but it's up to your discretion.

Next, take the 3 ½ ounces of butter and maple syrup. Combine them in a microwave-safe bowl and microwave the mixture for about 40 seconds. Stir until the syrup and butter are properly mixed. If the butter takes longer, microwave in 15-second increments until fully melted.

Mix in the oats, bananas, and sultanas into the syrup and butter very well. Use a whisker or big spoon to get the job done.

Next, press the mixture onto the baking sheet. It should form a roughly rectangular shape. Cover the flapjack base with aluminum foil and stick it in your oven for 20 minutes.

Take the baking sheet out, remove the aluminum foil, then place the flapjacks back in the oven for another 10 minutes. It should cook for 30 minutes in total.

Remove the flapjacks from the oven and mark them with a grid pattern so you have 12 pieces in small square shapes. Don't cut all the way through – this may make it harder to cut the flapjacks into the proper pieces when they have cooled off.

Let the flapjacks rest until they are cool, then finish cutting them into shapes. You can store the flapjacks in an airtight container for up to three days without them losing any flavor.
Video
Nutrition
Calories:
176
kcal
|
Carbohydrates:
25
g
|
Protein:
3
g
|
Fat:
8
g
|
Saturated Fat:
4
g
|
Polyunsaturated Fat:
1
g
|
Monounsaturated Fat:
2
g
|
Trans Fat:
1
g
|
Cholesterol:
18
mg
|
Sodium:
62
mg
|
Potassium:
212
mg
|
Fiber:
3
g
|
Sugar:
10
g
|
Vitamin A:
221
IU
|
Vitamin C:
2
mg
|
Calcium:
20
mg
|
Iron:
1
mg
Notes & Tips
As you can see, the above low FODMAP flapjack recipe is pretty simple and it's easy to whip up in your kitchen with a few basic ingredients.
That said, note that sultanas are moderately low in FODMAPs. As a result, you should only eat one of the flapjack squares per day if you want to really stick to a traditional low FODMAP diet. Of course, you can adjust your consumption based on how many FODMAPs you normally permit yourself in a day or based on advice from your dietitian.
Additionally, you can change the shapes of your flapjacks depending on your preferences. It all depends on how long you bake the flapjacks in the oven. For example, if you want wedge-shaped flapjacks instead of square-shaped flapjacks, bake for the first 20 minutes and cut the wedge shapes using a cookie-cutter or a simple butter knife before replacing the flapjacks in the oven for the final 10 minutes of baking.
The same goes if you want star-shaped, circle-shaped, or other cookie-shaped flapjacks to come out of the oven.
When microwaving the butter and syrup, try not to microwave them for too long or you may accidentally cause the syrup to boil. While this won't affect the recipe too much, it may change the flavor of the syrup and even affect the consistency of the resulting flapjacks.
If microwaving isn't working, you can always melt the butter and syrup in a regular pot or pan under medium-low heat. This takes a little longer and you'll need to supervise it. But it's a good way to avoid accidentally boiling the mixture before you stick everything in the oven.
Common Questions
Can you add flavors to the flapjacks?
Absolutely. One great idea is sugar. You can either put brown sugar or regular white sugar on top of the flapjacks for a sweet treat you and your family are sure to love. Feel free to add any other toppings or flavors to the flapjacks you desire, like coconut flakes, melted chocolate, toffee bits, or anything else. Each of those ingredients are low FODMAP.

Once again, just be sure that you aren't cheating on your low FODMAP diet by eating too many FODMAPS by accident.

For a little extra flavor that doesn't go on top, consider adding a small amount of vanilla extract to the flapjack mixture before you place them in the oven. Simply mix about 1 teaspoon of vanilla extract and your flapjacks will stay low FODMAP while adding a pleasant vanilla tinge to each bite.
My flapjacks are still sticking to the baking sheet. What can I do to stop this?
If using butter plus baking paper on a baking sheet doesn't work, consider using a no-stick spray. However, you'll want to make sure that the no-stick spray doesn't use any synthetic ingredients or additives that could change the flavor or nutritional content of your flapjacks.

Butter should work for most folks. When in doubt, add a little more butter to the bottom of the baking sheet to reduce the likelihood of the flapjacks sticking to near zero.
Shortcuts
For the best results, be sure to prepare the bananas and sultanas while the oven is heating up. This will allow you to mix everything together and stick your flapjacks in the oven quickly without wasting too much time.
Want to know how to make other pancake dishes? We've got some other great recipes to check out, including these Peruvian pancakes!
---
Recent Recipes