We love a quick and easy breakfast, especially when we're in a rush to get out the door in the morning. Not only is this low FODMAP granola recipe a cinch to make, but it provides you with plenty of energy, too. That's why this recipe is such a hit around the Cook Gem office.
As you will soon discover, this granola is a breeze to prepare and serves as the perfect hunger-buster to get you through the morning. Be sure to stick around till the end to learn about some other quick and easy foods that you can enjoy with this low FODMAP granola.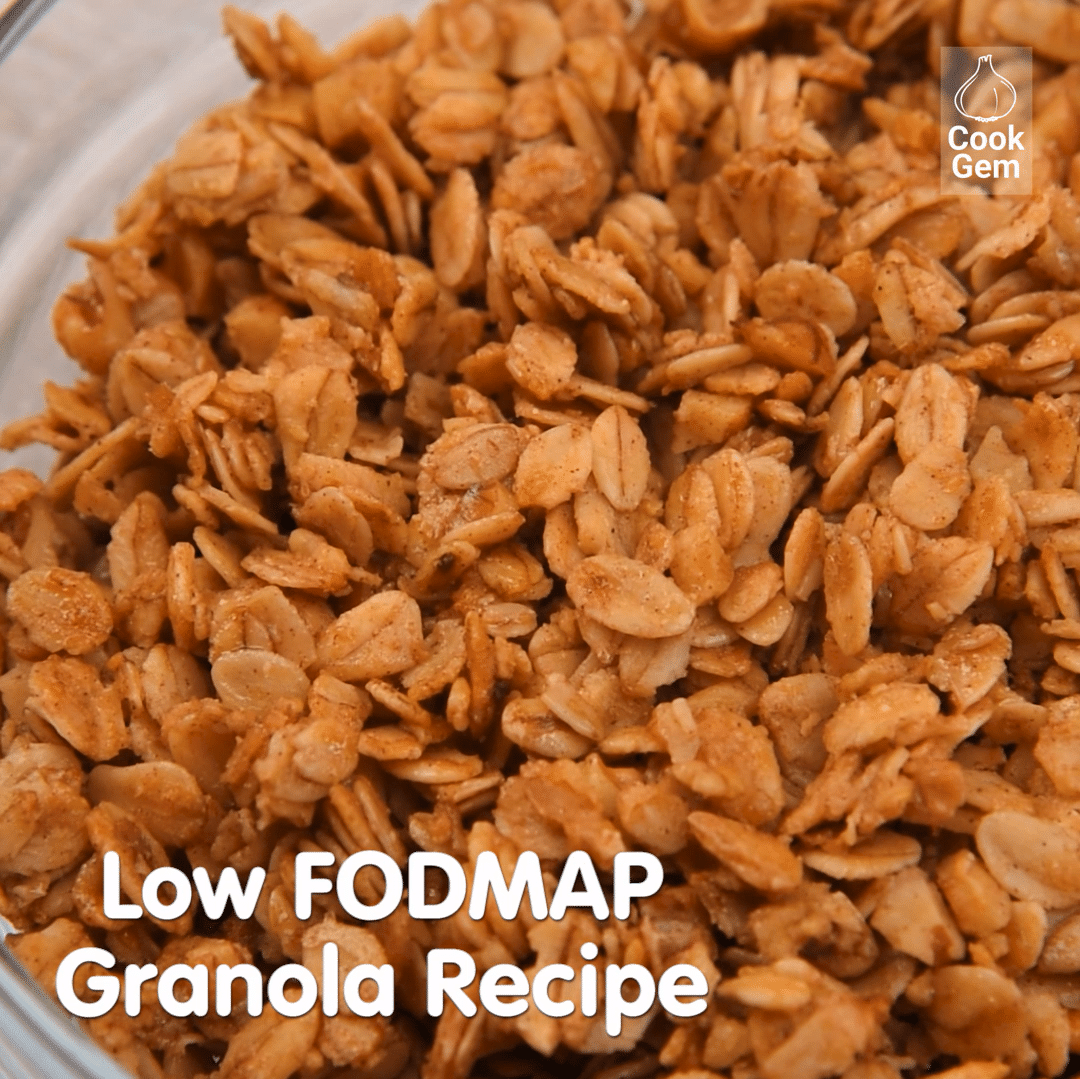 Ingredients
1

teaspoon

of ground cinnamon

¼

cup

of coconut oil

melted

⅓

cup

of pure maple syrup

½

cup

of chopped walnuts

2

cups

of rolled oats
Instructions
Preheat your oven to 300°F.

Line the baking sheet using parchment paper.

With a large bowl, add the melted coconut oil, maple syrup, and cinnamon. Whisk.

Add in the walnuts and oats. If you're using the optional chia or hemp seeds, add them in now, as well. Stir until well mixed.

Pour the mixture on a parchment-lined baking pan and spread it all out until you have an even layer.

Bake at 300°F for 30 minutes. You need to stir at around the 15-minute mark or when you can tell that the granola appears golden-brown or crunchy.

Take the pan out of the oven and let it cool until it reaches room temperature.

Serve and enjoy.
Video
Notes
* If you prefer, feel free to add 2 tablespoons of chai or hemp seeds. Please note that this ingredient is completely optional and not part of the main recipe.
Nutrition
Calories:
294
kcal
|
Carbohydrates:
32
g
|
Protein:
5
g
|
Fat:
17
g
|
Saturated Fat:
9
g
|
Polyunsaturated Fat:
5
g
|
Monounsaturated Fat:
2
g
|
Sodium:
3
mg
|
Potassium:
182
mg
|
Fiber:
4
g
|
Sugar:
11
g
|
Vitamin A:
3
IU
|
Vitamin C:
1
mg
|
Calcium:
46
mg
|
Iron:
1
mg
Notes & Tips
This recipe aims to keep FODMAPs to a minimum. That's why you'll notice that honey is absent, which is usually not the case in granola recipes. Honey can be consumed as part of a low FODMAP diet, but only in small amounts.
As such, this recipe instead opts for pure maple syrup. Maple syrup is lower in FODMAPs compared to honey. Not only that, but syrup also provides a unique flavor that you just can't get with honey. As a result, this granola recipe keeps your FODMAP intake in check while offering a unique spin on a classic.
If your diet dictates that you can't eat gluten (or very much of it), be sure to use a gluten-free rolled oat brand. Furthermore, if you want to make sure that you're getting plenty of fiber in your diet, consider adding chia seeds, as discussed above. 
One area where low FODMAP dieters usually struggle is protein. There simply isn't a lot of this essential nutrient, so it's important to consider ingredients that offer a good source of protein. In this recipe, that's where the walnuts come in. They also provide you with healthy fats, giving your body the boost it needs for optimal health and wellness.
This low FODMAP granola keeps for a long time. You can safely store it in the fridge for as long as two weeks. Or, you can freeze it even longer, as it will stay frozen for as long as three months.
As you're baking the granola in the oven, don't forget to check in on it about 15 minutes in. Many people forget to stir the granola at this point, which can lead to uneven baking and burning. Set a timer if you need help reminding yourself, and you can be sure to get an evenly baked and delicious granola recipe upon completion.
Substitutions
You don't have to use coconut oil in this granola recipe. Instead, you may substitute it with unsalted butter. We've covered a variety of butter in the past, so be sure to check here for some of our favorites. You might want to double-check the ingredients on the butter you have in mind to make sure its salt content is minimal.
Common Questions
Can I use a different type of nut besides walnuts?
Walnuts are a good source of calcium, which is needed if you're on the low FODMAP diet. If you don't wish to use walnuts for any reason, you have other options. Almonds are a stellar source of calcium and protein, and many other nuts should work fine in their stead. 
The only nut that you really need to be cautious over is the pistachio. Pistachios are high in FODMAPS. Thus, they are best avoided and left out of this granola recipe.
How Can I Get More Protein?
There are many foods that go well with granola, as seen below. But if you especially want to boost your protein intake, we recommend serving this recipe with some eggs. This will make an excellent breakfast and will provide you with the energy you need to get motivated for the day ahead.
Sides & Pairings
Granola and yogurt are an instant classic when paired together. We love to enjoy both any time of the day and especially during breakfast. A variety of fruits are also wonderful additions to this low FODMAP granola. We recommend trying it with grapes, oranges, or strawberries for a well-balanced snack.
Milk is another big hit, but you might need to make some adjustments depending on your diet. Obviously, you'll need to steer clear of cow's milk if you're vegan. But you can try coconut or almond milk in its place.
We find the flavor combinations of either to be just right. Not only are they vegan-friendly milk options, but they're also free of dairy and gluten.
We have plenty of other exciting recipes to explore, so be sure to head on over to our Recipes section and check out all that we've compiled. If you feel like your meals have gotten boring, we assure you that we have enough recipes to inject some excitement back into your diet.
---
Recent Recipes