Easy Low FODMAP "KFC" Style Cajun Vegan Fried Chicken Wings
This is a vegan and low FODMAP rendition of the famous "KFC" fried chicken (with a Cajun kick). In this recipe, we replace chicken with king oyster mushrooms (yes, mushrooms!) The end result is ridiculously crunchy yet tender mushrooms with a hint of heat from the Cajun seasoning mix. This dish goes well as a side, appetizer, or main entree. Try serving your guests without telling them it's vegan and see what happens!
What Are The Health Benefits Of Oyster Mushrooms?
Oyster mushrooms are not only delicious but are highly nutritious! They are packed with antioxidants, including gallic acid, chlorogenic acid, and naringenin. According to various studies, oyster mushrooms have been studied to promote heart health and have immune-supportive benefits.
Oyster mushrooms are the only low FODMAP mushroom. According to Monash University. They are safe in servings of up to 1 cup per sitting. Enjoy this low FODMAP take on "KFC" fried chicken, without the guilt or indigestion.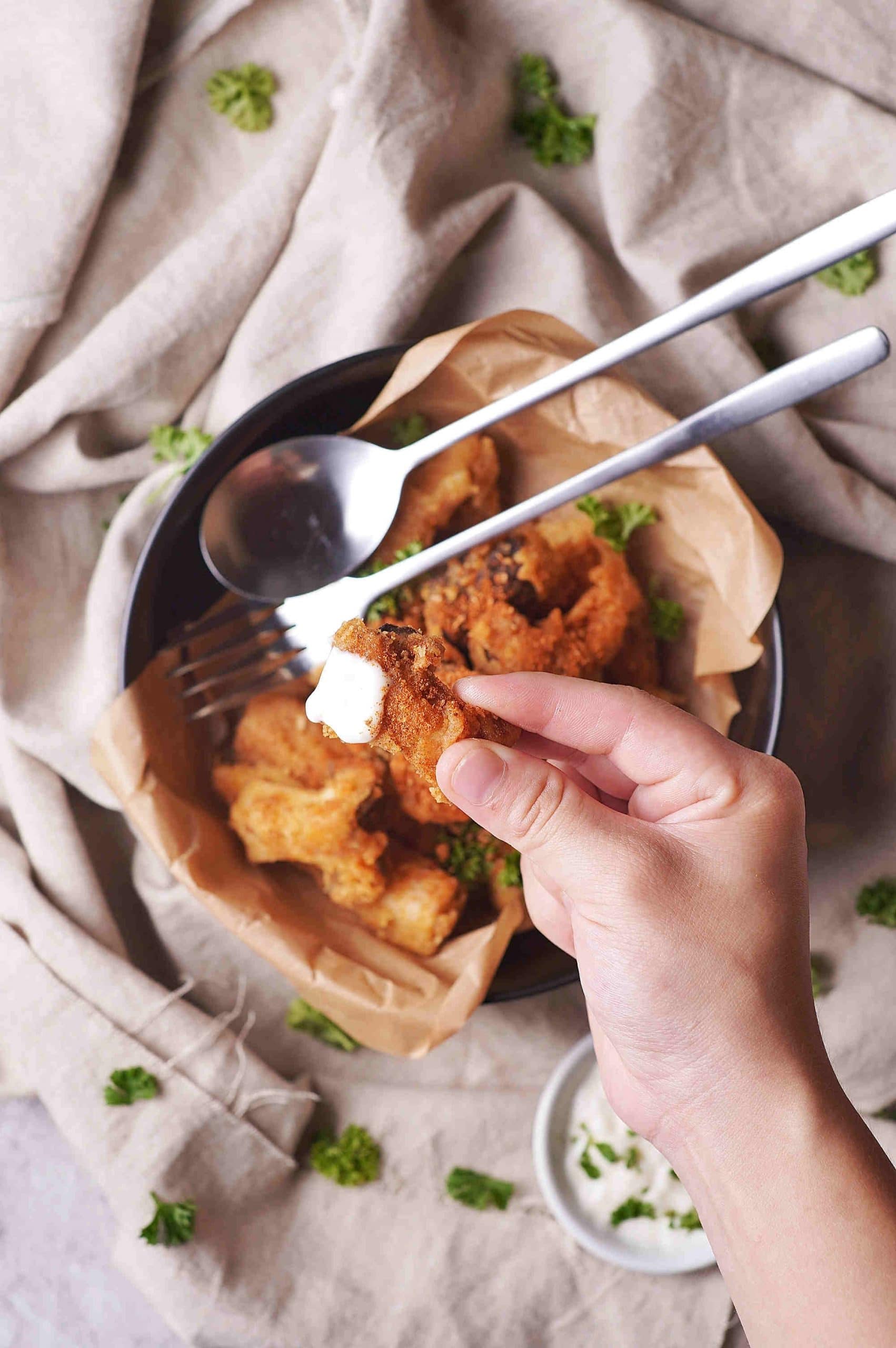 Ingredients
400

grams

King oyster mushrooms

1

cup

chickpea flour

1

cup

potato starch

1

tsp

baking powder

3

tbsp

Cajun Seasoning

1

cup

coconut milk

1

tbsp

lemon

Salt & Pepper according to taste

½

cup

Parsley

for garnish
Instructions
Get all your ingredients together. Good, let's get cooking!

Combine chickpea flour, potato starch, baking powder, and Cajun seasoning (paprika, Asafoetida Powder, oregano, cayenne pepper, salt, pepper). Or add your favorite seasonings.

Mix coconut milk and lemon juice. This will serve as the "buttermilk" replacement.

Coat oyster mushrooms in the liquid mixture. Dip in flour and spice mixture and make sure all grooves are properly covered. Lay them out on a large sheet pan and let sit for 10 minutes. Continue until all oyster mushrooms are properly coated with flour and spice mixture.

Heat a deep frying pan on medium with a coat with oil ¼ inch deep. Wait till oil is sizzling (test with flour mixture if needed). Start to place coated oysters mushrooms in a pan (do not overcrowd). Cook for 2-3 minutes on each side until the crust is golden brown. Be careful not to burn.

Transfer to a sheet pan lined with a paper towel (to absorb the oil). Let sit for 5 minutes.

Garnish with fresh parsley and more Cajun seasoning.
Video
Nutrition
Calories:
422
kcal
|
Carbohydrates:
62
g
|
Protein:
15
g
|
Fat:
15
g
|
Saturated Fat:
11
g
|
Polyunsaturated Fat:
2
g
|
Monounsaturated Fat:
1
g
|
Sodium:
180
mg
|
Potassium:
1365
mg
|
Fiber:
10
g
|
Sugar:
6
g
|
Vitamin A:
3279
IU
|
Vitamin C:
14
mg
|
Calcium:
135
mg
|
Iron:
7
mg
Notes & Tips
Carefully coat all grooves of oyster mushrooms with liquid and flour and spice mixture for maximum flavor and crunchiness. If you can't find fresh oyster mushrooms, try using large sliced portobellos (note: portobellos are not low FODMAP). Cut large portobellos in strips and then follow the same instructions above.
Make sure to let coated oyster mushrooms rest before immediately frying. This will give them a chance to soak the flavor and ensure the batter sticks before frying.
For deep frying, fill a small saucepan with about 4 inches of oil (coconut, canola, or sunflower). Then wait until the oil is hot, add one piece at a time, and avoid overcrowding. Transfer to a paper towel-lined sheet pan to absorb excess oil.
Sides & Compliments
Potatoes This recipe will go well with all potato dishes. Try opting for a vegan mashed potato or these easy Greek Lemon Fries.
Vegan Moussaka This rich eggplant potato dish will go well as the main entree for these delicious fried mushroom bites.
Common Questions
What Are Vegan Chicken Wings Made Of?
Vegan chicken wings usually use tofu, seitan, or mushrooms to get a similar texture and consistency.
Are Oyster Mushrooms Low FODMAP?
Yes, oyster mushrooms are the only mushrooms currently considered low FODMAP.
Are Chicken Wings Gluten-Free?
No, most chicken wings use white flour. However, there are many alternative ways to make fried chicken or vegan fried chicken gluten-free, such as using garbanzo bean flour.
Are Chicken Wings Low FODMAP?
Chicken does not contain any FODMAPS. However, certain fried chicken has high FODMAP batters and is deep-fried in high FODMAP oils which may trigger IBS symptoms.
---
Recent Recipes