Simple Low FODMAP Lasagna
Almost no one can turn down a rich, hearty pasta meal. Many people consider pasta to be their guilty-pleasure food, knowing that they shouldn't have a lot of it. How can you say no to something like a cheesy, meaty lasagna?
Well, what if we told you that something like pasta can be indulged in by anyone, even those who need low FODMAP options, or gluten-free recipes? We're going to teach you how to make a decadent, low FODMAP and gluten-free lasagna. The best part? No one will know the difference between this and a traditional recipe unless you tell them!
We're going to provide some great instructions on how to make a low FODMAP pasta sauce on your own, as well. While you can buy low FODMAP pasta sauce in some areas, you can't in others. As such, this list may seem a bit large! Don't be too intimidated, though. The recipe itself is simple! Plus, you can add it to other dishes, like this ravioli, if you want to!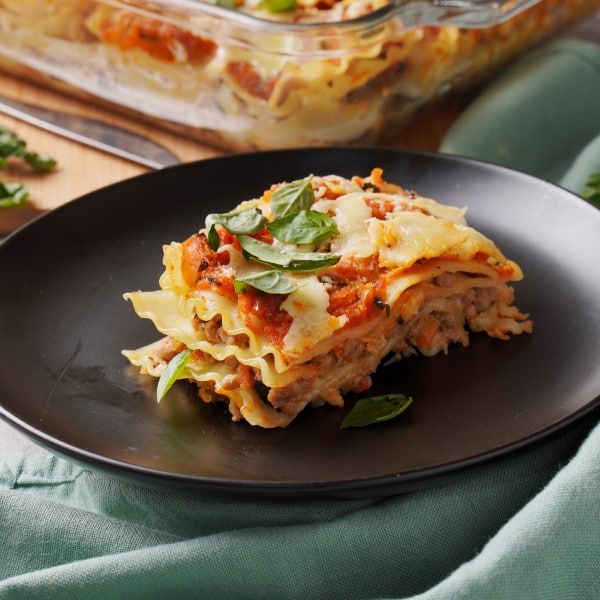 Ingredients
For the sauce:
1

tablespoon

of garlic infused olive oil

1

tablespoon

of onion infused olive oil

½

cup

of finely chopped carrots

½

cup

of fresh basil leaves

chopped

½

cup

of zucchini

diced

15

oz

can of tomato sauce

15

oz

can of diced tomatoes

3

ounces

of tomato paste

¾

cup

of red wine

2

teaspoons

of salt

1

teaspoon

of crushed black pepper

2

teaspoons

of oregano

¼

cup

of white sugar
For the lasagna:
1

tablespoon

of olive oil

30

ounces

of low FODMAP pasta sauce

roughly 1 batch of the homemade recipe

1.5

pounds

of extra-lean ground beef

2

teaspoons

of salt

1

teaspoon

of pepper

2

cups

of shredded mozzarella cheese

1

cup

of shredded Colby Jack cheese

9

low FODMAP and gluten-free lasagna noodles

2

tablespoons

of grated parmesan cheese

2

stalks of basil
Instructions
All ingredients ready? Let's begin!
For the sauce:
Heat the olive oils in a large saucepan over a low to medium heat. Add carrots and cook until translucent.

Stir in fresh basil and zucchini. Cook until the basil wilts and the zucchini has lost most of its juice.

Add diced tomatoes, bringing the mixture to a boil and stirring frequently.

Add the tomato sauce, and reduce the pan to a simmer. Let the sauce simmer until thickened and bubbling. This will take about 15 minutes. Gradually stir in the tomato paste until it's mixed completely.

Gradually add the red wine, stirring well to combine the sauce and the wine.

Bring the sauce back to a simmer, and add salt, pepper, oregano, and sugar. Stir well to make sure the sugar dissolves completely.

Cook until sauce is heated through again, anywhere from 3 to 5 minutes. Congratulations! This is the hardest part of the lasagna recipe, and you've completed it!
For the lasagna:
Preheat your oven to 350 degrees.

Fill a large pot with water and bring it to a rolling boil. Add your noodles and cook to al dente, unless using oven ready lasagna noodles. Once noodles are done, drain excess water and place to the side.

In another pan, heat your olive oil. Add the ground beef, salt, and pepper, browning the meat.

Add 24 ounces (3 cups) of your low FODMAP sauce to the pan and let it simmer for 15 minutes.

Using a 13"x9" pan, layer about ⅓ of your meat mixture, ⅓ of your Colby Jack cheese, and ¼ of your mozzarella cheese.

Layer lasagna noodles on top of the meat and cheese. Repeat this process 3 times.

On the top layer, spread about 6 ounces of sauce on the noodles. Use the remaining mozzarella cheese to cover the sauce. Top the mozzarella with your grated parmesan.

Cover the pan with aluminum foil and bake for 50 minutes.

Remove the aluminum foil, and continue to cook for 10 minutes.

Remove the lasagna from the oven, allowing it to rest for 30 to 45 minutes.

Garnish the cooked lasagna with fresh basil, either chopped or with whole leaves.
Video
Nutrition
Calories:
424
kcal
|
Carbohydrates:
32
g
|
Protein:
20
g
|
Fat:
24
g
|
Saturated Fat:
10
g
|
Polyunsaturated Fat:
1
g
|
Monounsaturated Fat:
10
g
|
Trans Fat:
1
g
|
Cholesterol:
66
mg
|
Sodium:
1626
mg
|
Potassium:
698
mg
|
Fiber:
3
g
|
Sugar:
10
g
|
Vitamin A:
1823
IU
|
Vitamin C:
14
mg
|
Calcium:
231
mg
|
Iron:
3
mg
Notes & Tips
One of the biggest problems you may occur with this recipe comes with using low FODMAP and gluten-free lasagna noodles. They can become mushy if overcooked. As such, you should err on the side of caution and cook them to an al dente consistency. This helps to prevent them from overcooking in the oven when layered with rich sauces and cheeses.
Substitutions
There's a lot of room for substitution in this recipe! It's one of the things we love about it, quite frankly. Let's start with ground beef. If you don't want to use ground beef in this recipe, you can easily substitute it with a veggie protein that you like better! Tofu crumbles are great in vegetarian pasta recipes. Aside from that, you may find success in using diced vegetables, cooked until tender. Things like carrots, spinach, mushrooms, and zucchini work very well in this recipe.
Now let's discuss the cheese. The last obstacle to making this recipe vegan is swapping out the cheese in it! You can easily replace the mozzarella and the Colby Jack with your choice of shredded vegan cheese. Making this recipe vegan couldn't be easier.
Sides & Pairings
Naturally, one of the best pairings for this recipe is garlic bread! Not all garlic bread is great for a low FODMAP diet, though, so be sure to check ingredient lists, too. You might even be able to find a gluten-free pairing to your liking!
Common Questions
Do I have to make the sauce from scratch?
No! There are some low FODMAP sauces available in grocery stores like FODY which is our favorite. However, be sure to check the ingredients closely. Making your own sauce is a way to avoid this.
Where is the ricotta cheese?
We've chosen to avoid ricotta in this recipe to make it adherent to the low FODMAP diet, of course! This makes the overall recipe a bit healthier, but it still remains rich in flavor thanks to the two cheeses used.
If you're looking for other recipes like this, check out all of our cooking guides! We are passionate about providing global, preserving, and vegan recipes!
---
Recent Recipes