Our low FODMAP paella recipe is modeled on Paella Valenciana, the traditional variety where the dish originates in Spain. While we don't use rabbit, chicken is included and a low FODMAP serving of green beans. Snails are also omitted in favor of artichoke hearts. We describe every last step of the process, from reducing a rich sofrito to finishing off your paella to perfection with a delicious Socarrat that's roasted to just crunchy enough.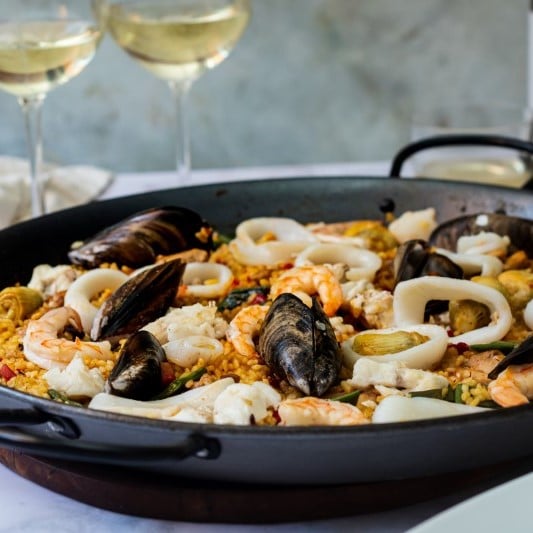 Ingredients
1

Pinch

Saffron

Approximately 10 Threads

4

Tablespoons

Olive/Vegetable Oil

½

Pound

Hake

Cut Into Chunks (2 Large Fish – Cleaned & Deboned)

½

Pound

Calamari Tubes

Sliced Into Rings (+- 3 Cleaned Tubes)

½

Pound

Prawn Meat

16 Large Prawns – Peeled, Deveined & Cleaned

4

Chicken Thighs

Cubed

2

Teaspoons

Salt

1

Teaspoon

Black Pepper

⅓

Cup

Garlic-Infused Olive/Vegetable Oil

2

Red Bell Peppers

Seeded, Stemmed & Diced

1

Bunch Scallion/Green Onion Tops

1

Cup

Frozen Green Beans

1

Cup

Artichoke Hearts

Drained

2

Medium Roma Tomatoes

Chopped

1

Tablespoon

Smoked Paprika

2 ½

Cups

Bomba/Calasparra/Senia Rice

1

Cup

Fish/Vegetable/Chicken Stock

1

Teaspoon

Freshly Ground Black Pepper

½

Pound

Half-Shell Mussels

Cleaned & De-Beared

¼

Cup

Dry White Wine

1

Tablespoon

Lemon Juice
Instructions
All ingredients ready? Let's begin!

Soak the saffron in four tablespoons of warm water until it is later needed.

Heat a large flat-bottomed skillet or pan containing four tablespoons of olive or vegetable oil over medium-high heat.

Season and sear the hake cubes for 2 to 3 minutes per side or until lightly browned. Remove and set aside.

In the same pan, season and sear the calamari and prawn meat in a little oil for 2 to 3 minutes or until it develops color but isn't completely cooked yet. Remove and set aside.

Season the chicken thighs with salt and black pepper before using the same pan to sear them for 4 to 6 minutes a side or until browned and sealed.

Move the seared thighs aside to clear space in your pan for starting the sofrito.

Add the infused garlic oil and chopped red peppers. Saute for 2 to 3 minutes or until tender.

Add the chopped scallions and saute for 1 to 2 minutes or until aromatic. Add the green beans and artichoke hearts and saute for 2 minutes while stirring frequently.

Add the chopped tomatoes and smoked paprika, reduce the heat to low, and saute for 3 to 5 minutes or until the tomatoes become mushy.

Mix in the rice and toast lightly while frequently stirring before adding in the saffron and the fish, vegetable, or chicken stock.

Season with a teaspoon of salt and freshly ground black pepper, cover, and allow to simmer.

While the rice cooks, steam the mussels in a saucepan over high heat containing a quarter cup of dry white wine and a tablespoon of lemon juice for approximately 3 minutes or until they open and set them aside. Discard any mussels that do not open.

Pour the wine that you simmered the mussels in over your paella and allow it to continue simmering, covered, for 5 minutes.

Open the lid and carefully work the prawn meat, calamari, and hake chunks into your paella while taking extreme care not to disturb the bottom of the skillet. Arrange the opened mussel shells around the perimeter of your pan neatly.

Cover, reduce the heat to as low as possible and simmer for a further 5 to 7 minutes.

Remove the lid, crank up the heat to medium-high and simmer uncovered for approximately 5 minutes or until the last of the moisture has cooked away.

Listen carefully for the sound of the rice crackling and popping at the bottom of the pan. When you hear this sound starting, the socarrat is forming, and your paella is under 30 seconds from done. Don't let it toast for too long, or it'll burn.

Allow your paella to rest for 10 minutes and then serve.
Video
Nutrition
Calories:
816
kcal
|
Carbohydrates:
75
g
|
Protein:
43
g
|
Fat:
36
g
|
Saturated Fat:
7
g
|
Polyunsaturated Fat:
11
g
|
Monounsaturated Fat:
15
g
|
Trans Fat:
0.1
g
|
Cholesterol:
229
mg
|
Sodium:
1370
mg
|
Potassium:
905
mg
|
Fiber:
5
g
|
Sugar:
5
g
|
Vitamin A:
2262
IU
|
Vitamin C:
61
mg
|
Calcium:
107
mg
|
Iron:
4
mg
Low FODMAP Paella Tips
Liberal use of oil ensures that your paella will develop a tasty socarrat instead of burning. Long, slow, steady cooking without any stirring and a thin flat steel pan is a sure-fire recipe for no-fail socarrat with just the right degree of crunch. 
The larger the burner, the better, and you're looking for the evenest heat distribution possible. Don't forget to rotate your pan while cooking if it looks like your paella is cooking more on one side than the other. Those working with small electric cooktops or poorly spaced small burners may need to cook the paella over two elements. 
The last few minutes of cooking are vital. If your paella is beginning to run out of moisture too quickly, add an extra scoop or two of stock or water. Most paellas will need a slight top-up five minutes before they're done. Add a little at a time and allow it to simmer away completely so that the socarrat can form. 
What Is The Best Type Of Pan For Paella?
The best type of pan for paella is a carbon steel paella pan. Carbon steel has the rapid heat conduction that you need to ensure that the whole of your paella cooks evenly. Its dense heat retentive base is ideal for finishing off the socarrat at the bottom of a paella, gradually amassing rice and food residue throughout the whole cooking process. If you don't have a carbon steel pan, use a medium-weight non-stick frying pan instead.
What Is Sofrito?
Sofrito is a slow-cooked sauce made from diced vegetables and aromatics that is used extensively throughout Spanish, Italian, and Mediterranean cooking. If you have the time and want to elevate the flavor of your paella even further, make the sofrito separately and then add it to the paella, effectively allowing it to cook twice. Ideally, sofrito should be cooked slowly for over an hour. Feel free to make sofrito in bulk and freeze it in portions. It's an ingredient that adds immense depth of flavor and complexity to any dish.
What Is Socarrat?
The term 'Socarrat' is a Spanish word that refers to the roasted rice crust that forms at the bottom of a perfectly cooked paella. It is essential for every paella to cook undisturbed without agitating the rice so that a caramelized layer forms during the final few minutes of cooking. While lifting the rice slightly to gain sight of the bottom gives a good indication of how done the paella is, one can only hear the socarrat forming during the last minute of cooking. It's instantly recognizable by the faint sound of the rice crackling.
How To Make Fish Stock
Instead of store-bought stock, we suggest making your own fish stock. This is especially easy if you're working with a whole fish. After cleaning, filleting, and deboning, you'll be left with a lot of fish. Soak the remains in water for half an hour and proceed to wash them thoroughly under a running cold water faucet. Shake dry, sear and later remove the bones (discarding them) in a large pot. Use the same pot to fry a teaspoon of fennel seeds until they start to pop.
Add half a cup of finely chopped leek using the dark green top parts only and a third of a cup of thinly sliced celery using the lower white section alone. Mix in a cup of white wine and reduce by half. Add the fish bones, top with water, and season with salt and pepper. Simmer for half an hour, then remove the scum. Toss in a few sprigs of parsley and a few bay leaves, then simmer for another half an hour, and your fresh fish stock is ready.
What To Serve With Paella?
Paella is a very filling dish that is best served alone or with a light side dish. Fresh green salad always works, while dinner rolls are typically welcomed by most. Our simple lard bread tastes great and is easy to make for those looking for bread. Roasted peppers are another commonly enjoyed accompaniment. Whip up our easy Din Tai Fung green beans for something unconventional but tasty to try with seafood like this paella. The umami flavor is ideal.
---
Recent Recipes