Easy Low FODMAP Pizza Dough
This pizza dough will become a tasty favorite for those on a low FODMAP diet. Once you know how to put together a low FODMAP pizza dough using gluten-free flour, you'll soon be turning to pizza for lunch, supper, and the occasional snack as leftovers. We'll be taking you through a look at how to make a dairy-free, nut-free, vegan-friendly low FODMAP pizza dough that has a taste and mouthfeel just like regular pizza bases inclusive of gluten.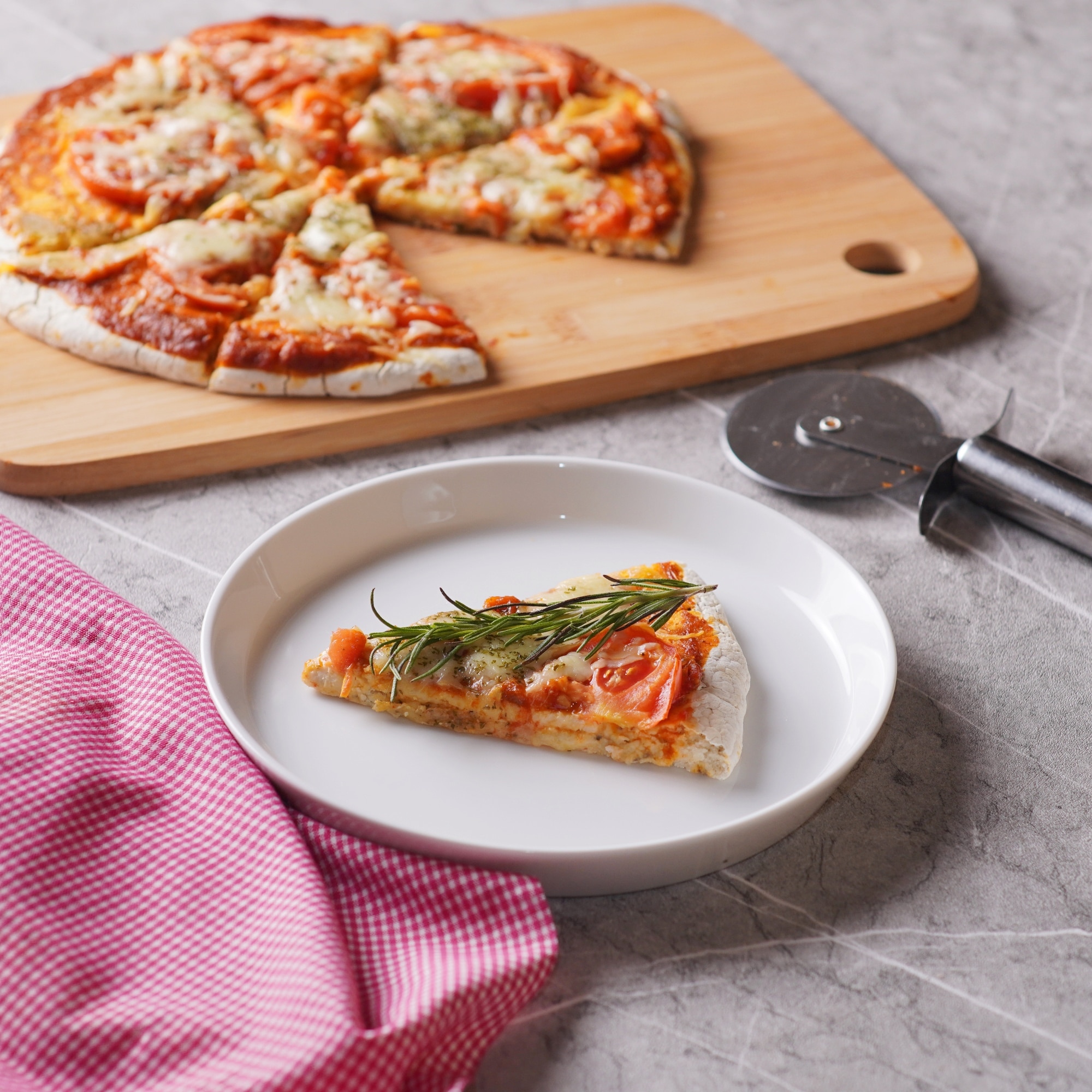 Ingredients
2

Cups

Rice Flour

1/2

Cup

Oat Flour

1/2

Teaspoon

Baking Powder

1/2

Teaspoon

Salt

1/4

Teaspoon

Xanthan Gum

1/4

Cup

Rice Milk

2

Teaspoons

Lemon Juice

1/4

Cup

Lukewarm Water

1

Tablespoon

Sugar

1/2

Teaspoon

Quick-Acting Active Yeast

1

Large Potato

Skinned, Boiled & Mashed

2

Tablespoons

Olive/Vegetable Oil

2

Teaspoons

Fresh Rosemary

Minced (Optional)

2

Teaspoons

Fresh Oregano

Minced (Optional)

1/2

Teaspoon

Ground Black Pepper

Optional
Instructions
All ingredients ready? Let's begin!

In a large mixing bowl, combine the rice flour, oat flour, baking powder, salt and xanthan gum. Add the optional herbs and black pepper if using any.

In a separate bowl, combine the rice milk and lemon juice. Allow it to sit for five minutes to curdle.

While waiting for the almond milk to curdle, combine the instant yeast with a quarter cup of lukewarm water and sugar. Wait two minutes for it to bloom.

Combine the curdled almond milk, bloomed yeast, mash, oil and the dry ingredients. Mix until smooth.

A stand mixer is highly preferred; otherwise, whisk for between 10 and 15 minutes or until properly combined.

Divide the dough in two, wrap in plastic wrap and allow it to rest in a warm place for 30 minutes.

Roll each ball of dough into disks on a well-floured surface using a rolling pin and form pizzas that are roughly 1/2 inch thick.

Place onto a dusted baking pan without toppings and bake at 375°F for 10 minutes.

Remove from the oven, construct your pizza, and bake for a further 15 minutes or until the crust has browned lightly.
Video
Nutrition
Calories:
129
kcal
|
Carbohydrates:
24
g
|
Protein:
2
g
|
Fat:
2
g
|
Saturated Fat:
1
g
|
Polyunsaturated Fat:
1
g
|
Monounsaturated Fat:
1
g
|
Sodium:
91
mg
|
Potassium:
135
mg
|
Fiber:
1
g
|
Sugar:
1
g
|
Vitamin A:
5
IU
|
Vitamin C:
5
mg
|
Calcium:
19
mg
|
Iron:
1
mg
Why You Want To Try Our Low FODMAP Pizza Dough?
The active yeast in this recipe doesn't have anything to react with, but it adds the authentic pizza dough flavor that each of us is looking for. The combination of the starchiness of potato and powdered oats (which anyone can make in a jiffy) combined with rice flour grants a stretchy crust that delivers the perfect midway point between crunchy and bread-like. It's a recipe for pizza that you could easily use for flatbread.
How To Make Oats Flour?
Those who've tried making oats flour before will find that it's an exceedingly accessible, surprisingly versatile low FODMAP flour. It imparts a distinct sweetness while remaining more neutral than nut-based flour. The best part – anyone with a blender can make oats flour in minutes. Pulse any variety of certified gluten-free oats you prefer until powdery, and you've got a flour that you can combine with other more expensive varieties to both make them stretch further and taste more earthy.
Tips
Don't make the mistake of adding too much xanthan gum. It'll turn your dough into a gelatinous blob that's very hard to work with. While working gluten-free dough is a more taxing process than regular baked goods, don't overmix. Once it's workable with a good degree of stretch and a smooth consistency, it's ready to rest. While we've recommended a limited selection of herbs to include in the mix, don't ramp up the prominent flavors blended too much, or the base will have a bitterish aftertaste.
Substitutions
While there are few types of gluten-free flour that work as well for pizza as rice flour, feel free to adjust the quantity if you want to try out other substitutes. Essentially, one could swap out rice flour for almond or coconut, most alternate options require longer pre-baking and just don't result in the right texture anyway. Cracking crusts are a prevailing problem for all-too-many gluten-free bakers. The oat flour is the safest measure to substitute out for other types of flour without impacting the recipe too much. We suggest trying out tapioca flour for something that keeps the pizza base springy.
Feel free to substitute the rice milk for any other plant-based milk that curdles. This means that an equal quantity of almond milk, coconut milk, and soy milk can all be used in place of rice milk. The only way to eliminate the xanthan gum in this recipe while keeping the final product similar is to boil and mash three potatoes instead of one. It still won't be as chewy, and there's a heightened risk of cracking, but all the flavor is there, and you'll still be surprised by how close it comes to regular pizza.
Shortcuts
Mix up all the ingredients directly in a bread maker on pizza dough setting to save yourself a lot of time. Regardless of which types of flour are used in the low FODMap dough that you're making, it's always going to be harder and consequently take longer to knead the dough. Automatic mixers are almost indispensable to a busy cook.
What To Serve With Low FODMAP Pizza Dough?
Each of us enjoys a different type of pizza, but we recommend ensuring that you include a generous drizzle of olive oil and a good helping of sauce to your pizza. The thin base needs a little extra moisture to bake to perfection without becoming too crispy. Those who are looking for a spicy flavor lift they'll turn to time and time again, give our homemade ajvar spread made from eggplant and bell peppers a try. Feta, olive, and eggplant pizza, anyone?
---
Recent Recipes