Simple Low FODMAP Potato Salad
Sometimes you want something a little more substantial and interesting than a regular sandwich for lunch. Or maybe you need to bring something to the backyard barbecue with your friends and family and want to make a classic staple no one will take offense to. In all these situations and more, potato salad is a great idea.
But what if you're following the low FODMAP diet? Is potato salad off the table? Not at all, especially if you follow a dedicated low FODMAP potato salad recipe, like the kind we are about to break down for you step-by-step.
Even better, this recipe can serve six people in a single batch and takes less than an hour to whip up. With enough practice, you could shave that down to about a half-hour. Interested? Let's see what else this low FODMAP potato salad recipe has to offer.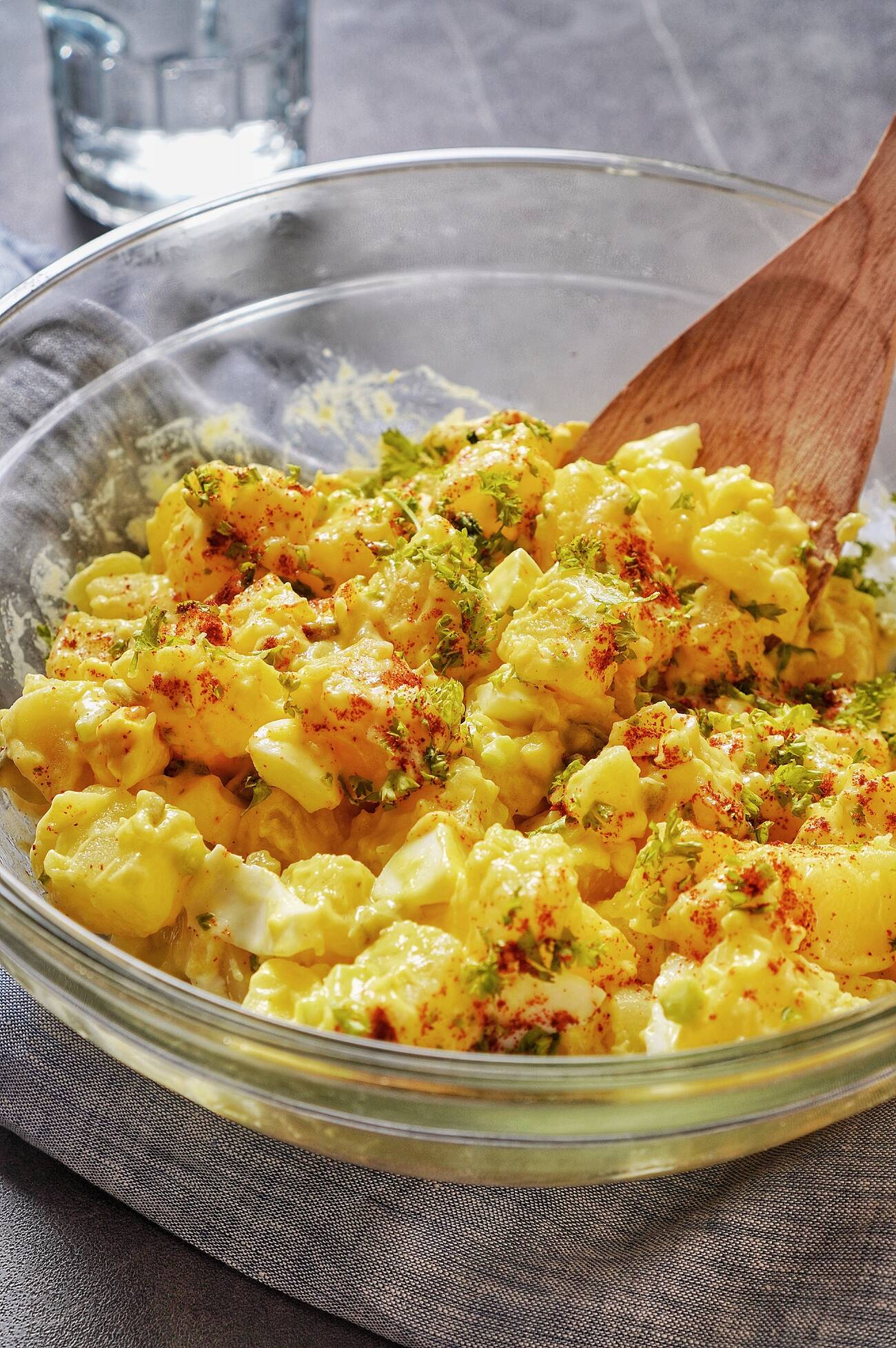 Ingredients
1

and ½ lb baking potatoes

cooked and cubed

¼

cup

chopped celery

¼

cup

chopped sweet pickles – we recommend gherkins

though any sweet pickles will do

2

large and hard-boiled eggs

chopped

½

cup

light

low FODMAP or vegan mayonnaise

2

tablespoon

apple cider vinegar or red wine vinegar

your choice

1

tablespoon

Dijon mustard

¼

teaspoon

salt

¼

teaspoon

pepper

¼

teaspoon

turmeric

¼

teaspoon

paprika

1

bunch of fresh parsley as a garnish
Instructions
Assemble your ingredients together first.

First, cook your potatoes in boiling water for between 25 and 40 minutes or until they are tender. When a potato is properly tender, you should be able to spear it with your fork without much effort.

Drain the potatoes and allow them to cool completely, then cut them into cubes about ½ inches thick.

Combine the potatoes with the eggs, pickles, and celery in a large bowl. We recommend choosing a bowl that has a lid you can close over the top, as you'll be tossing the potatoes in it shortly.

Then take a smaller bowl and combine the mustard, vinegar, low FODMAP mayonnaise, turmeric, salt, and pepper inside. Whisk these ingredients together thoroughly until everything is evenly spread out.

Pour the vinegar and mustard mixture over the potatoes. Toss the potatoes gently to coat.

Cover and refrigerate the potato salad for about eight hours. The longer you wait, the better it will taste since the flavors will marinate more fully.

When you serve the potato salad, garnish with the parsley and paprika.
Video
Nutrition
Calories:
147
kcal
|
Carbohydrates:
17
g
|
Protein:
4
g
|
Fat:
2
g
|
Saturated Fat:
1
g
|
Polyunsaturated Fat:
1
g
|
Monounsaturated Fat:
1
g
|
Cholesterol:
62
mg
|
Sodium:
207
mg
|
Potassium:
433
mg
|
Fiber:
2
g
|
Sugar:
1
g
|
Vitamin A:
127
IU
|
Vitamin C:
19
mg
|
Calcium:
26
mg
|
Iron:
1
mg
Notes & Tips
When choosing the pickles for your low FODMAP potato salad recipe, be sure to check the ingredients of the pickles specifically. Lots of sweet pickles use high fructose corn syrup as their sweetening agent. As you likely already know, high fructose corn syrup is decidedly not low FODMAP. Therefore, gherkins or other pickles that don't usually have high fructose corn syrup are better choices.
When it comes to garnishing, keep in mind that the ¼ tablespoon of paprika is just a recommendation. You can use more or less depending on your flavor preferences. Alternatively, you can substitute paprika with another seasoning of your choice.
While the recipe calls for two hard-boiled eggs to start, you can add another hard-boiled egg and slice it up into small pieces as decoration on top of the salad when you serve it. This extra hard-boiled egg is more of a garnish than a major part of the recipe.
Furthermore, you can always add salt and pepper to taste instead of going with the ¼ teaspoon measurements for both seasonings. This is only recommended for chefs with some experience seasoning potato salad – otherwise, you might make the salad a little too salty or peppery!
Substitutions
While the recipe doesn't need any substitutions, there are several optional ingredients you can add to change the flavor or texture, including:
Garlic-infused olive oil, which gives the potato salad a nice garlicky flavor without actually including sliced garlic pieces
A little dill relish, which can be mixed in with the vinegar and mustard mixture
Common Questions
Do you really need to wait eight hours for the potato salad to be ready?
Technically, no. The potato salad is ready to be served as soon as you toss the potatoes with the mustard and vinegar mixture. That said, the potatoes will definitely taste better if they have had time to marinate in the dressing for a while. If you absolutely have to compromise, go for four or five hours marinating in the fridge instead of eight.
Shortcuts
There are a lot of shortcuts you can take with this recipe to cut down on prep time and to make things easier for you in the kitchen. Here are a couple of examples:
For starters, you can prepare the hard-boiled eggs ahead of time. Hard-boiled eggs do take quite a bit to boil fully, so this recipe is only recommended if you have hard-boiled eggs ready to go. Alternatively, boil the eggs the night before making your potato salad.
The same goes for cooking the potatoes. How long it takes to actually boil your potatoes depends on your elevation, how powerful your stovetop is, and more. For the best results, don't add too much water to your potatoes (since it will take longer for the water to heat up fully) and add a little salt to lower the boiling point of the potato water.
You can also cut the potatoes into cubes before boiling them. However, this takes a little more muscle strength and may also take more time than you have on your hands. It's up to you!
You can further shorten the preparation process for this low FODMAP potato salad by cutting up the celery, eggs, and pickles while the potatoes are boiling. Then you can toss everything together in sequence once the potatoes are ready to go.
Sides and Pairings
There's no limit to what you can pair this low FODMAP potato salad recipe with. Low FODMAP Beef Stew or sandwiches are great ideas, especially if you can find low FODMAP bread like sourdough.
---
Recent Recipes