Steak is already a great food choice for folks on a low FODMAP diet. After all, as pure protein, it has no FODMAPs to speak of. But it's also true that most of us don't eat steak raw. We usually add a variety of seasonings, flavorings, and oils to our steak to enhance the eating experience. Unfortunately, many of these toppings and additions do have FODMAPs that can wreak havoc on our digestive systems.
What about a low FODMAP steak recipe? Turns out, there are plenty of such recipes you can cook at your next barbecue with your friends and family or sear on a pan for a quick work night dinner.
Today, let's take a look at one of the latter recipes. This low FODMAP steak recipe can be pan-cooked in no time at all, making it a great choice for whipping up dinner on short notice, and it'll be just as good as a steak from Longhorn Steakhouse. Let's get started!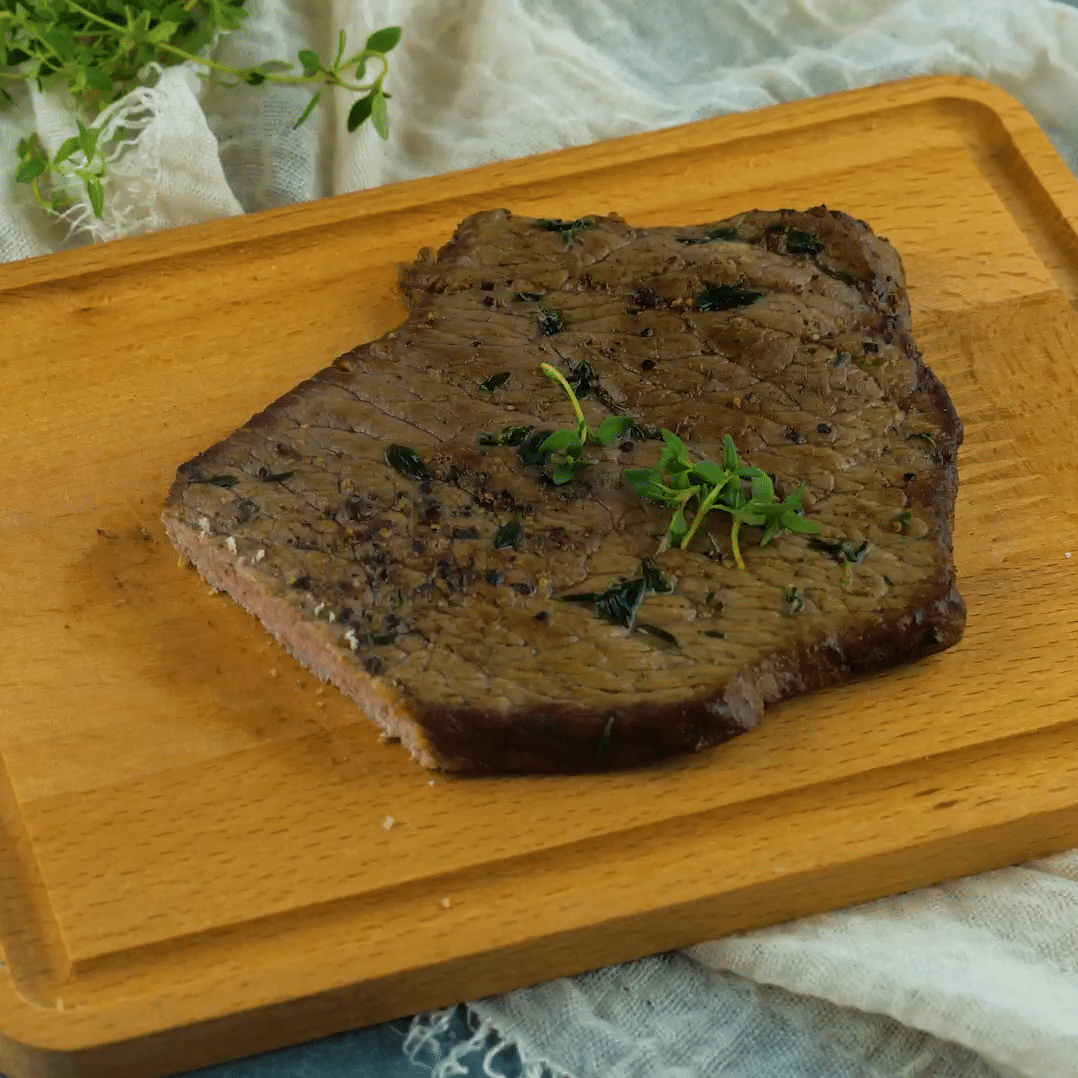 Ingredients
1-2

tablespoons

unsalted butter

1

steak

between 5-7.5 oz in size

Salt and pepper to taste

1

bunch fresh thyme leaves
Instructions
Don't start searing your steak just yet. Instead, remove your steak from its packaging and season it with salt and pepper. Rub the seasonings into the meat using your hands and set the steak aside on a cutting board or plate.

Next, place a frying pan with a nonstick surface on a burner on high heat. Once properly hot, add the butter and turn the pan from side to side to coat the bottom with the butter. This will stop the steak from sticking to the surface.

After the butter has coated the bottom of your pan, add your steak and cook it for four minutes per side or eight minutes in total.

If needed, shake your pan once in a while to move the steak around and stop it from sticking.

When you turn your steak for the first time, add the thyme leaves and make sure that they rub on and around the meat.

After both sides have cooked for four minutes each, place the steak on a plate and cover it with tinfoil. Be sure to only cover it loosely — you don't want to cover the steak too tightly as you'll prevent it from cooking properly. Let the steak rest for about 10 minutes,

Set aside in a serving platter and serve the steak.
Video
Nutrition
Calories:
571
kcal
|
Carbohydrates:
1
g
|
Protein:
46
g
|
Fat:
43
g
|
Saturated Fat:
21
g
|
Polyunsaturated Fat:
2
g
|
Monounsaturated Fat:
18
g
|
Trans Fat:
1
g
|
Cholesterol:
168
mg
|
Sodium:
119
mg
|
Potassium:
615
mg
|
Fiber:
1
g
|
Sugar:
1
g
|
Vitamin A:
431
IU
|
Vitamin C:
2
mg
|
Calcium:
23
mg
|
Iron:
4
mg
Notes & Tips
Not sure whether your frying pan is at the appropriate temperature to start searing your steak? You can do a quick test by shaking a few water droplets from your fingers or a spoon onto the pan service. If the water droplets bounce and/or evaporate on contact with the pan, it's hot enough to start cooking.
It's also often difficult to get steak just right if it's your first time. Some people like their steak more well-done than others. The above cooking time is designed to cook a medium-rare steak. If you want your steak to be more well-done, cook the steak for five minutes on each side or 10 minutes total. The same goes if you want your steak to be rarer; simply cook it for three minutes per side or six minutes total.
But remember that your steak continues to cook while it rests under the aluminum foil. If you have followed the recipe to the letter and it still looks a little pink for your liking, see what it looks like after it is done resting.
As far as meat goes, beef is standard. But you can also make yourself a steak from ostrich meat, bison, or other red meat and keep this recipe essentially the same.
Common Questions
What other ingredients can I add to this pan-fried low FODMAP steak recipe?
There are plenty of low FODMAP ingredients you can substitute, including coconut oil or olive oil in place of butter. Note, however, that both of these oil types smoke quite a bit; if you are cooking indoors, you'll want to turn on a fan or vent to prevent yourself from smoking up your home or apartment.
In terms of condiments, you can add mustard, white rice vinegar, chili, ginger, basil, or wasabi powder depending on your preferences. You can substitute the fresh thyme leaves with basil if you prefer that flavor.
What kind of frying pan should you use for this low FODMAP steak recipe?
Any nonstick frying pan will do, although cast-iron pans are often great for adding additional flavor to the meal. However, another good option is a copper-plated nonstick pan. Copper-plated pans are preferred for many chefs (both professional and home chefs) because copper conducts heat quite well.
However, if you use a copper-plated pan, be sure not to use any sharp utensils or instruments on the steak while it is in the pan. Knives or even metal spoons can scrape away the copper lining and ruin your cookware in no time at all.
Can I start cooking the steak before the pan is fully heated?
Don't do this. It will adjust how much time you need to let the steak sear on either side and you could end up with a rarer or overly cooked steak than you prefer. Just wait for the pan to heat up until water boils on its surface; it should only take one or two minutes if you set your burner to high heat.
Sides or Compliments
Of course, you don't want to eat low FODMAP steak by itself. Odds are you'll want a few low FODMAP sides or pairings to go with it. You can always go with the classic meat and potatoes set up, cooking some roasted veggies and/or a garden salad to go with your steak. Just be sure that those sides are also low FODMAP.
Fortunately, there are lots of vegetables and other foods you can add to your low FODMAP steak, including bean sprouts, bell peppers, carrots, spinach, tomatoes, and so on. All those are great for mixing up a tasty salad to go with your meat. You can also try brown rice, maize, oats, and quinoa if you want to make sure you're full at the end of your meal.
---
Recent Recipes