Easy Low FODMAP Trail Mix
If you're anything like us, you're always on the lookout for tasty low FODMAP foods that you can take with you on the go. You would think this is an easy task, but low and behold, low FODMAP snacks can be tricky.
That certainly doesn't mean you can't enjoy handy snacks like everyone else, though. One of our all-time favorites is trail mix. But if you've been on the low FODMAP diet for any length of time, you know trail mix can present some problems.
As such, we decided to share with you a quick and easy low FODMAP trail mix recipe that is sure to please. Once prepared, you simply need to place it in a plastic sandwich baggie, and you're good to go. As you will soon discover, this is one of the easiest recipes in existence, and it will serve you well when you need a savory snack.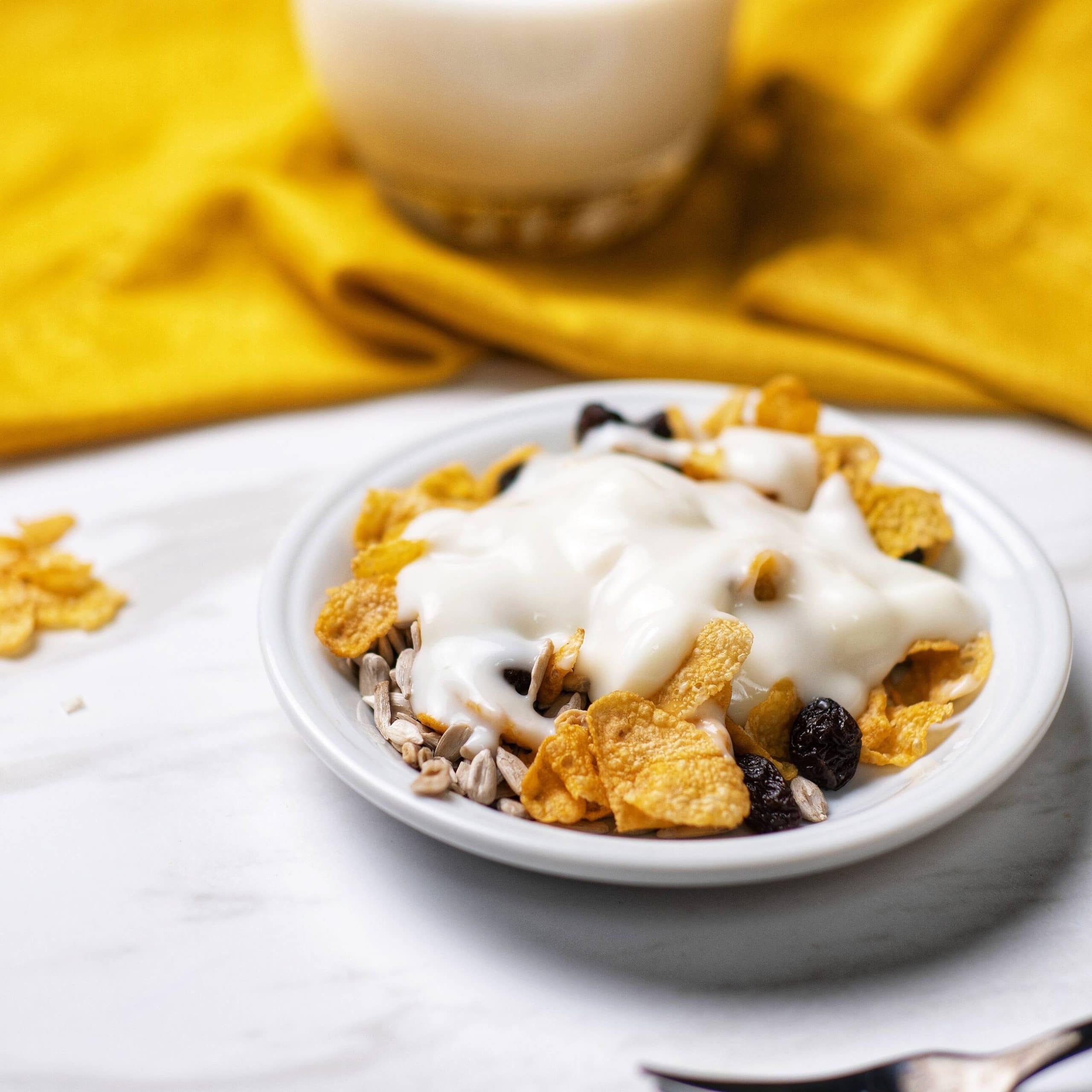 Ingredients
10

almonds

or 5 almonds and 5 walnut halves

¼

cup

of FODMAP-friendly cereal

2

teaspoons

of sunflower seeds

1

tablespoon

of raisins
Instructions
This recipe is as easy as it gets. Simply combine all of the ingredients listed above and mix.

Place mixture in a plastic sandwich baggie.

Enjoy with some lactose-free yogurt or milk!
Video
Nutrition
Calories:
192
kcal
|
Carbohydrates:
24
g
|
Protein:
6
g
|
Fat:
10
g
|
Saturated Fat:
1
g
|
Polyunsaturated Fat:
4
g
|
Monounsaturated Fat:
5
g
|
Sodium:
65
mg
|
Potassium:
315
mg
|
Fiber:
5
g
|
Sugar:
2
g
|
Vitamin A:
255
IU
|
Vitamin C:
1
mg
|
Calcium:
44
mg
|
Iron:
4
mg
Shop Ingredients
Notes & Tips
While this recipe is light on ingredients, it's certainly possible to get your daily allotment of essential vitamins and minerals on the low FODMAP diet. However, like other restrictive diets, you are also at risk of nutritional deficiencies. In other words, you should ensure that you pay close attention to your calcium and fiber intake during the low FODMAP diet.
Moreover, you will want to be sure that you are getting additional foods in your diet to ensure that you don't suffer from a deficiency. Calcium is a big one, and it's not a supplement you're going to get in this recipe if you substitute the almonds.
Almonds are one of the highest sources of calcium in nuts. Therefore, we highly recommend that you keep them intact when preparing this recipe. The same is true for walnuts. If you decide to substitute the walnuts, you risk severely lowering your calcium intake.
But what if you can't have nuts of any kind for some reason? The good news is that you can freely add additional ingredients if you're trying to boost your calcium intake on the go without nuts. Try munching on the following to ensure that your calcium doesn't get too low:
Cheese (hard and aged)
Calcium-fortified oats
Lactose-free yogurt
Lactose-free milk
You can add oats to the trail mix recipe, but you will need to eat the other suggestions separately. In doing so, you can ensure that you're getting plenty of calcium in your low FODMAP diet.
Substitutions
We've already discussed substituting the almonds and walnuts. But what about the low FODMAP cereal? If you're not sure which cereals are low FODMAP-friendly, you're in luck. Many brands offer cereals that are safe for your diet — which means they are safe for this recipe.
Kellogg's currently offers seven kinds of cereal that you can freely use in this trail mix recipe, including:
Strawberry Krispies
Frosted Krispies
Cocoa Krispies
Frosted Flakes
Rice Krispies
Corn Flakes
Crispix
You can also find a wide variety of lesser-known brands that produce low FODMAP cereals. Try any of the following in this trail mix recipe, depending on your preferences. You can even mix up the recipe and make several helpings to provide various flavors.
The low FODMAP cereals you might consider include:
Annie's Homegrown Organic Cocoa Bunnies Cereal
Arrowhead Organic Maple Buckwheat Flakes Gluten Free
Nature's Path Honey'd Corn Flakes Cereal
Envirokidz Lightly Frosted Amazon Flakes
Envirokidz Cinnamon Jungle Munch
Erewhon Honey Rice Twice Cereal
Erewhon Gluten Free Corn Flakes
Barbara's Puffins Peanut Butter
Erewhon Crispy Brown Rice
Envirokidz Leapin' Lemurs
Nature's Path Crispy Rice
Envirokidz Gorilla Munch
Barbara's Peanut Butter
Nature's Path Rice Puffs
Envirokidz Panda Puffs
Barbara's Chocolate
As you can see, you have a wide variety of options to choose from. Don't forget to mix up this trail mix recipe with different cereals. You can pack these in your kids' lunches with different ingredients each day of the week, too.
Common Questions
Do I have to keep the almonds in?
You don't have to, but we highly recommend it. The low FODMAP diet is already one that's low in calcium, and the almonds provide the calcium your body needs. If you absolutely must go without the almonds, please be sure to substitute something that has plenty of calcium.

The same is true for the walnuts. On their own, they provide a good source of calcium. As such, you should choose at least one or the other when preparing this trail mix recipe.
Can I use different cereals?
Absolutely! There is no reason at all that you can't mix up the recipe using different low FODMAP cereals. But they must be low FODMAP-friendly. Refer to our list above to see the various brands and flavors you can safely use in this recipe.

They help add variety and different flavors to the trail mix recipe, so they're perfect for making several unique batches.
Sides and Pairings
This is a handy snack to enjoy on the go. As such, it's primarily used on its own when you need a boost of energy or to curb your appetite. With that said, low FODMAP trail mix is absolutely splendid with some cheeses or yogurts.
We tried several different kinds of each to great success. What's more, kids love the flavors and fun bite-sized snacks that this recipe provides. So be sure to make up several batches using different low FODMAP cereals for plenty of diversity in lunches or just eating on the road.
We love low FODMAP trail mix when we're going hiking or taking our kids to the park. Pack plenty of cheeses and yogurts and enjoy a wide variety of flavors.
---
Get Foodie Deals
We collect great foodie-focused deals from across the web daily. Get yourself or your favorite foodie a great deal at big name stores.
Recent Recipes