If you are looking for an easy classic potato dish, you must try Lyonnaise potatoes. You likely have all the ingredients you need in your pantry and fridge: potatoes, onions, garlic, olive oil, butter, salt, pepper, and parsley. That's it. This dish is the quintessential comfort food. It is also budget-friendly.
Pomme à la Lyonnaise (Lyonnaise potatoes) is a dish that is believed to have originated in the French town of Lyon. The term "Lyonnaise" translates into "Lyon style". In France "à la Lyonnaise" implies that a dish is prepared with onions.
The key to making really good Lyonnaise potatoes is to blanch the potatoes first and then caramelize the onions and garlic. The initial cooking of the main ingredients is done separately because they cook at different time increments. Once the potatoes are blanched and the onions are browned and softened, the two are combined and baked in a hot oven.
I like to make Lyonnaise potatoes in one of my large, well-seasoned cast-iron skillets. You can make it in any oven-proof sauté pan or skillet. Aside from blanching the potatoes, this really is an easy one-pot dish. I love this on a cool autumn evening with a bitter green salad and some French blue cheese. I also enjoy these potatoes with ham and asparagus quiche for brunch. It is filling and satisfying, so a post-brunch nap might be in order.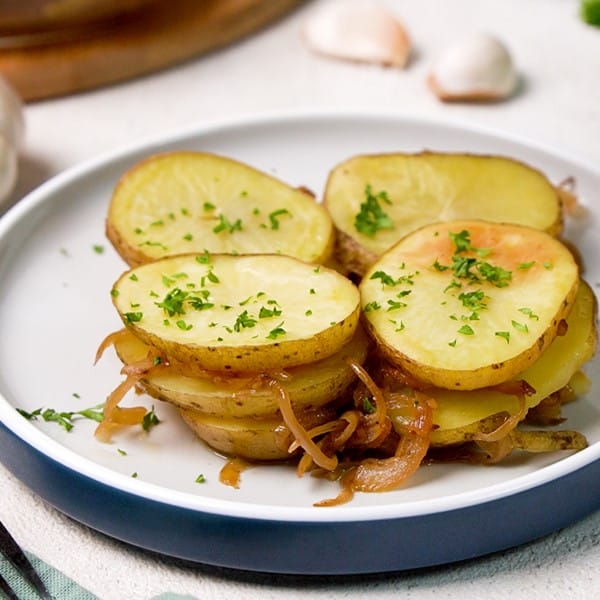 Ingredients
2

pounds

russet potatoes

washed and sliced ¼ inch thick

2

Tbsp

extra virgin olive oil

4

white onions

julienned

1

stick of butter

4

garlic cloves

minced

Sea salt and white or black pepper to taste

2

Tbsp

chopped flat-leaf parsley
Instructions
All ingredients ready? Let's begin!

Place the potatoes in a pot and cover them with water. Add a teaspoon of salt to the water. Turn the heat to high. Once the water comes to a full boil, blanch for just 2 minutes. Drain the potatoes in a colander and set them aside to cool and dry.

In a large ovenproof sauté pan or cast-iron skillet over medium heat, warm the olive oil. When the oil is hot, add the onions and garlic. Season with salt and pepper. Cook until the onions are caramelized, about 10 to 15 minutes. Transfer the onions to a bowl.

Preheat the oven to 400°F.

Place the pan back on the heat and add the stick of butter. When the butter has melted, cover the bottom of the pan with ⅓ of the potatoes.

Cover the potatoes with ½ of the onions and garlic. Season with salt and pepper. Cover the onions with ⅓ of the potatoes and then the rest of the onions. Season again with salt and pepper. Place a final layer of potatoes on top of the onions.

Place the pan in the hot oven and bake until the potatoes are cooked through and tender, approximately 15 minutes.

Using a spatula, lift the potatoes and slide them onto a serving platter. Garnish with parsley.

Serve with your favorite protein and a green salad.
Nutrition
Calories:
329
kcal
|
Carbohydrates:
35
g
|
Protein:
4
g
|
Fat:
20
g
|
Saturated Fat:
10
g
|
Polyunsaturated Fat:
1
g
|
Monounsaturated Fat:
7
g
|
Trans Fat:
1
g
|
Cholesterol:
40
mg
|
Sodium:
133
mg
|
Potassium:
758
mg
|
Fiber:
3
g
|
Sugar:
4
g
|
Vitamin A:
586
IU
|
Vitamin C:
16
mg
|
Calcium:
47
mg
|
Iron:
2
mg
Notes & Tips
As mentioned previously, the key to successfully making Lyonnaise potatoes, it is best to blanch the potatoes first and then caramelize the onions and garlic separately from the potatoes. Onions and potatoes don't cook at the same rate. The dish is assembled and finished in a hot oven.
It is important to note that russet potatoes don't hold up well when boiled for a long time. You want to just blanch them in boiling water for a minute or two. Also, leaving the skin intact helps the potatoes to hold together. I don't peel my potatoes. I like the added texture and fiber of the skin.
Substitutions & Additions
Idaho Russet potatoes are preferable for Lyonnaise potatoes. Their flesh is white and dry and fluffy when cooked. They are great for baked dishes and mashed potatoes. If you can't find russets, you can substitute Yukon gold or red potatoes. The flesh of these is a little creamier but they will work if you don't have baking potatoes.
You can use yellow onions if white onions aren't available. You could also substitute with shallots. You will need about 8 large shallots.
In France, this potato dish is sometimes prepared with duck, goose, or bacon fat. This preparation is incredibly rich and flavorful. If you aren't concerned about your arteries, go for the duck fat, which tastes amazing. There is a lot of butter in this particular recipe. If you want a lighter version, try ghee or even just olive oil. Some chefs do cut the butter in half and add some bone broth to lessen the calories. The dish is still rich in flavor.
For a tasty twist, you can add cheese and crumbled cooked bacon to the onion layers. You can also make the dish in the skillet on the stovetop and skip baking it. There is a skillet potato dish hailing from France called pomme paillason where shredded potatoes are cooked directly in a skillet until crisp. This can be achieved with Lyonnaise potatoes. But you will need to place a plate over the pan (carefully) and flip the potatoes onto the plate, then slide the potatoes back into the hot pan. This will give you a crisp exterior on both the top and bottom.
Lyonnaise potatoes can be finished with any chopped herbs you like, such as oregano, basil, or tarragon. You can also sprinkle some paprika on top for a smoky flavor and a pop of bright color.
---
Recent Recipes