Quick Mac & Cheese Without Milk
Mac and cheese is one of my family's favorite meals and one of the easiest to prepare. I love making mac and cheese because it's so versatile and it's the best comfort food. This mac and cheese without milk recipe is one of the easiest and most fuss-free solutions for your next meal.
There are so many variations on the classic mac-n-cheese with milk and sharp cheddar cheese. From the New Orleans Mac and Cheese made with spaghetti, heavy cream, two types of cheese, and lots of spices, to Haitian Mac and Cheese with gouda, parmesan, onions, and peppers. We love them all.
This mac and cheese without milk recipe is pretty close to the original recipe in taste, color, and texture. But, of course, you're welcome to tweak this recipe as well. We've added plenty of ideas in the Substitutions and Serving Suggestions section.
Now, let me show you how to make mac and cheese from scratch, without milk!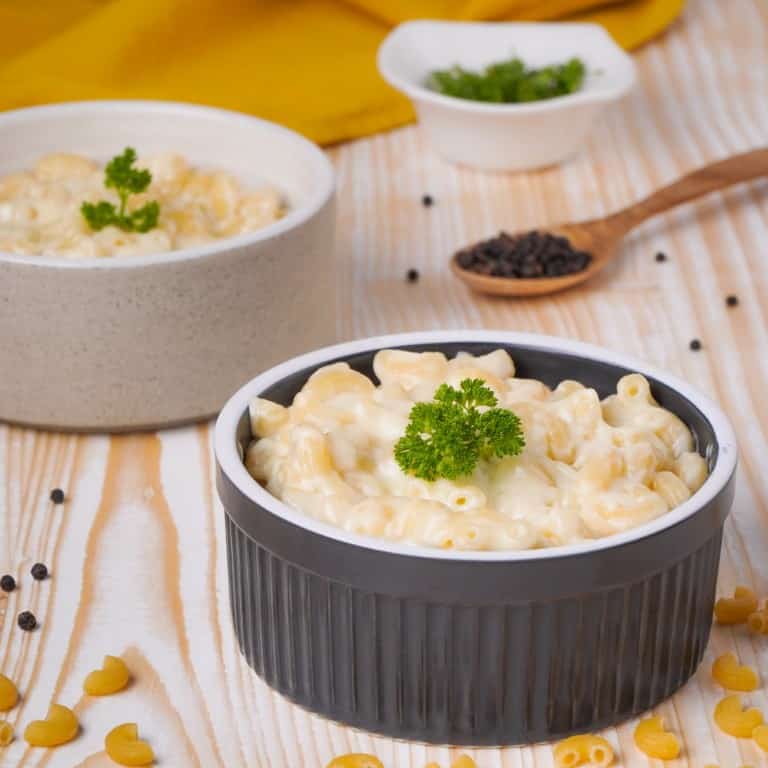 Ingredients
½

lb.

uncooked elbow pasta

1 ½

Tbsp.

all-purpose flour

1 ½

Tbsp.

butter

¾

cups

heavy cream

2 ½

cups

water

6

oz.

freshly grated cheddar

¼

tsp.

salt

or more to taste

¼

tsp.

freshly ground pepper

or more to taste

Optional: 1 finely minced garlic clove
Instructions
All ingredients ready? Let's begin!

In a large stockpot over medium-high heat, melt the butter. Add the minced garlic here if using. Then, sprinkle the flour over the melted butter and whisk until combined. Cook for 2-3 minutes, whisking frequently until the mixture looks lightly toasted. You have just made a roux.

Continue whisking as you pour in 1 cup of water. Once combined and completely smooth, add the remaining water and cream. Whisk well until combined and there are no clumps.

Now, stir in the uncooked pasta, salt, and black pepper. With a wooden spoon, press the pasta down so that it's fully submerged in the liquid.

Cover the pot and bring it to a boil over high heat. Then reduce the heat to medium-low and cook covered for 5 minutes, stirring occasionally. Take off the lid and simmer for another 3-5 minutes or until the pasta is al dente (still slightly chewy but not hard).

Remove the pot from the stove and stir in the grated cheese until melted and incorporated. Taste and season with more salt and pepper if needed.

Serve immediately with a sprig of parsley to garnish. Enjoy!
Nutrition
Calories:
556
kcal
|
Carbohydrates:
49
g
|
Protein:
19
g
|
Fat:
32
g
|
Saturated Fat:
19
g
|
Polyunsaturated Fat:
2
g
|
Monounsaturated Fat:
7
g
|
Cholesterol:
94
mg
|
Sodium:
426
mg
|
Potassium:
213
mg
|
Fiber:
2
g
|
Sugar:
3
g
|
Vitamin A:
1093
IU
|
Vitamin C:
0.3
mg
|
Calcium:
358
mg
|
Iron:
1
mg
Notes & Tips
When making the roux (the mixture of butter and flour), keep an eye on it at all times and whisk frequently. It's very easy to burn or let it lump up too much.
Make sure you whisk the first cup of water with the roux thoroughly until combined and thickened. It's easier to get rid of any lumps before adding the rest of the liquid.
Don't overcook the pasta. Elbow pasta takes 8-10 minutes to cook through but still be firm to the bite (al dente).
Sharp cheddar is already pretty salty, so be careful of how much salt you add. You can always add more, but you can't take it away.
Substitutions & Serving Suggestions
If you want to make this mac and cheese without milk gluten-free, simply replace the pasta with gluten-free pasta and use a cornstarch slurry instead of the flour and butter roux.
For more options on thickening the sauce for mac and cheese, check out our detailed article with over 10 easy mac and cheese thickening hacks. We've got everything from a roux to egg yolk or beans in there.
We've also got an article on the Best Substitutes For Butter or Milk In Mac and Cheese that you may find interesting to check out. These options could also work for substituting the water and heavy cream in this recipe.
To make vegan mac and cheese, substitute the sharp cheddar for a vegan cheddar. Parmela Creamery's sharp cheddar is vegan and tastes just like real cheddar. It's impressive. And substitute the heavy cream and water for vegan milk such as unsweetened almond milk.
Now, I like a sharp white cheddar because it gives the mac-n-cheese just the right amount of flavor. If you choose a mild cheddar, the flavor is going to be pretty bland.
You can make mac and cheese with several kinds of cheeses, just remember to keep the overall quantity the same. Here are some of my favorite cheeses to use in mac-n-cheese without milk (or with milk):
Gruyere – this Swiss/French cheese has a rich, creamy, salty, and nutty flavor bouquet. It's similar to Emmental, Jarlsberg, or Raclette cheese, and so delicious with macaroni. I'd go half cheddar, half gruyere for the perfect combo.
Monterey Jack – a cheese ideal for those of you who prefer a mild, buttery flavor. Again, I like going half and half with sharp cheddar. The kids love this recipe.
Smoked Gouda – you could also use regular gouda, but smoked gouda is next level with its buttery, mild, and slightly sweet caramel undertone. This is a good way to pack some slow-roasted fire aroma into your mac-n-cheese.
Fontina – a semi-hard cheese from northern Italy with a mild but distinctively nutty and savory taste. It's a delectable experience for your palate.
Parmesan cheese – Parmigiano Reggiano or parmesan cheese is one cheese I could never give up. It has a robust flavor, so I would suggest adding no more than 1/3 part parmesan and letting the other 2/3 be other milder cheeses.
There are other ingredients you can add to homemade mac and cheese to make it more interesting or healthy. I love adding some cooked veggies like broccoli, mushrooms, onions, or bell peppers. You can also add some ham pieces or shredded chicken or pork for extra protein.
For a more intense flavor or a little spice, try adding some jalapeño peppers, chili, smoked paprika, Italian seasoning, or even some fresh herbs. I find that fresh basil is always good with cheesy pasta.
Finally, if you don't have heavy cream, you can substitute whipping cream. It's slightly lower in fat content (whipping cream is 30% fat and heavy whipping cream is 36% fat), and it'll still do the job remarkably.
Can I Freeze Mac And Cheese?
Yes, mac-n-cheese is freezer-friendly. You can store it in airtight containers for up to 3 months.
Make sure to thaw it in the fridge before heating it in the microwave. Otherwise, it can get dry. You can also reheat it in a pan or the oven (after thawing). Just add a little extra grated cheese on top and heat until the cheese has melted.
Where Did Mac And Cheese Originate?
The origins of macaroni and cheese date way back to 14th century northern Italy when a cookbook by the name Liber de Coquina featured a dish with parmesan and pasta.
During the same century in medieval England, a cookbook by the name of Form of Cury featured a recipe for a pasta casserole called makerouns which consisted of fresh, hand-cut pasta sandwiched between a mixture of melted butter and cheese.
Macaroni and cheese would reach the US only centuries later when president Thomas Jefferson discovered macaroni in Paris. He decided to purchase a pasta machine in 1793 and also started to import parmesan cheese.
Some years later, in 1824, the first recipe ever called macaroni and cheese was published in the cookbook The Virginia Housewife. The recipe had three ingredients – macaroni, cheese, and butter, mixed and baked in a hot oven.
Nowadays, mac-n-cheese is one of the most popular dishes in the US, available in packaged form, dry, or in the frozen section. But we all know homemade is best. And there are over 50 variations of mac and cheese from all over the US and worldwide to choose from.
---
Recent Recipes