Make Perfect Over Easy Eggs
Do you wonder how so many diner cooks make that perfect over easy fried egg with crispy edges and a warm runny yolk? How is that possible? And why doesn't the delicate yolk break when the egg is flipped? Over easy eggs are by far the favorite choice to adorn the breakfast plate.
So, what does "over easy" mean? Over easy eggs are fried eggs that are cooked in a skillet or on a flattop grill on both sides for a very short amount of time. The idea is to set the egg whites just enough to cook them and hold the fragile yolk in place without it turning solid. This occurs by carefully flipping the egg with a spatula after the bottom has firmed up.
Over easy eggs are a step above sunny side up eggs in terms of doneness. A sunny-side-up egg is fried on one side resulting in a bright yellow yolk that is nearly raw while the surrounding white is just set. Over medium eggs have firm whites and creamy yolks that barely run. Over hard eggs are fried until the yolks and whites are completely cooked through and the yolk is solid when you cut into the egg.
I like to cook over easy eggs in a non-stick skillet in melted butter or ghee. The butter helps to brown and crisp the edges. For best results, I crack the eggs into a bowl first and slide them into the hot pan so I don't break the yolks in the pan. I cook them until the whites start to firm up and turn white, then I flip the eggs and just cook for 15 seconds.
I prefer cage-free organic chicken or duck eggs. They have amazing yellow or orange yolks from all the chlorophyll and beta-carotene the birds ingest while foraging outside. If you are concerned about the safety of semi-cooked egg yolks, go ahead and use pasteurized eggs that have been heated to reduce any bacteria.
I like to serve over easy eggs with crip whole grain toast that I can dip into the yolk. Of course, bacon and sausage go with the eggs. I also think a good runny egg is great on a hamburger or in an egg and cheese sandwich. It's messy but delicious. These eggs are also great on pasta for lunch or dinner.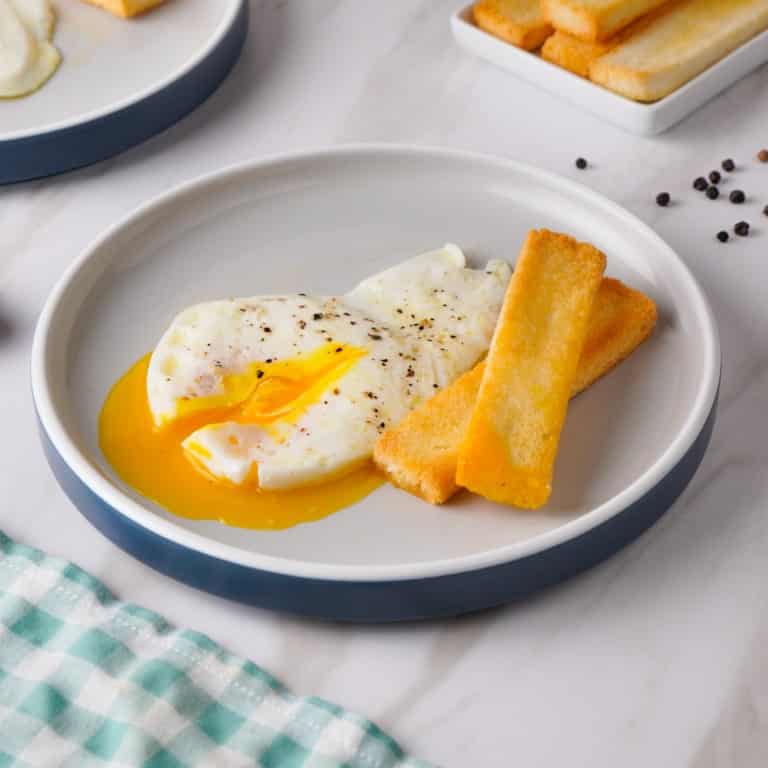 Ingredients
2

large whole eggs at room temperature

1

Tbsp

butter

Kosher salt and freshly ground black pepper
Instructions
Crack the eggs into 2 ramekins or a small shallow bowl.

Heat an 8-inch non-stick pan or a cast iron skillet over medium heat. Add the butter and swirl the pan until the butter melts and covers the entire base of the pan.

Once the butter starts to foam, add the eggs to the pan. Lift the handle of the pan so the eggs slide a little to one side. This keeps the whites from spreading out too thinly. Just hold it there for 10 seconds.

Set the pan flat and cook the eggs until the whites just start to set, approximately 2 minutes.

Jiggle the pan to make sure the eggs aren't sticking. Season with a little kosher salt and a grind or two of pepper. Carefully flip the eggs over and cook for another 15 seconds.

Flip the eggs back over so that the yolk faces up. Slide the eggs onto a serving platter and separate them with a sharp knife if serving 2 people.

Serve the eggs with toast for dunking into the yolks.
Nutrition
Calories:
76
kcal
|
Carbohydrates:
1
g
|
Protein:
7
g
|
Fat:
5
g
|
Saturated Fat:
2
g
|
Polyunsaturated Fat:
1
g
|
Monounsaturated Fat:
2
g
|
Trans Fat:
0.02
g
|
Cholesterol:
187
mg
|
Sodium:
98
mg
|
Potassium:
79
mg
|
Sugar:
1
g
|
Vitamin A:
282
IU
|
Calcium:
37
mg
|
Iron:
1
mg
Notes & Tips
The eggs are best when they are at room temperature before frying them. Take the eggs out of the fridge about 30 minutes before you plan to cook them.
Make sure your skillet is fairly hot so the whites set up quickly while the yolks remain runny.
I did learn a trick for making over easy eggs where the eggs aren't actually flipped, which can be intimidating. You can do this by placing a lid on the pan so the top of the egg actually steams to form a seal around the runny yolk. It helps to have a skillet with a glass top so you can see the eggs as they set up.
Substitutions
Chicken Eggs: I have made over easy eggs with duck eggs that I can get at the farmer's market. These have bright yolks and are a little larger than chicken egg yolks. They take a little bit longer to cook. They are very rich in flavor.
Butter: I like the way butter browns for this recipe. Ghee is a perfectly good substitute but it won't really brown because the milk solids have mostly been removed. If dairy isn't part of your diet, olive or coconut oil are great alternatives.
Nutrition of Eggs
Eggs used to get a really bad rap by the American Heart Association for being high in cholesterol in the yolks. This spurred the egg white omelet movement that I found to be very unsatisfying.
Whole eggs are actually very nutrient-dense. They are packed with protein that we need for building and maintaining muscle mass as well as supporting the strength of nails and hair. 2 large whole eggs contain 13 grams of protein. The protein in eggs contains all 9 of the essential amino acids that we can't produce naturally on our own.
The same 2 large eggs contain 11 grams of fat. I know that sounds like a lot, but 2/3 of that fat is unsaturated. Most of the fat is omega-3 fatty acids that are necessary for cardiovascular and brain health.
In addition to high-quality protein and healthy fats, eggs are a rich source of vitamins and minerals. Vitamins found in eggs include A, B-12, D, E, and folate. Minerals in eggs include choline, iron, and selenium.
Yes, eggs do contain cholesterol. Our bodies rely on a certain amount of dietary cholesterol to support hormones, create bile acids for digestion, and produce vitamin D. While we do a fairly good job at regulating the amount of cholesterol that circulates within the bloodstream, our bodies can produce too much cholesterol if we don't get enough from food sources. It's a delicate balance and shouldn't make us afraid of including some foods that contain cholesterol.
---
Recent Recipes