Simple Homemade Manicotti
I was invited to a friend's place for dinner many years ago when we were graduate students and struggling financially. He was planning on making manicotti, which I hadn't really ever eaten. My friend was new to cooking and he had to go to the library to look up a recipe. My poor friend spent the better part of the day preparing 2 different fillings for his manicotti and completely forgot to prepare anything else for the meal. I admit, it was good despite the lack of any vegetables to go with it.
So, what is manicotti? Manicotti translates from Italian to English to mean little sleeves. And that is what this pasta looks like. It is basically ridged tubes that are about 1 inch in diameter and 4 inches in length. The tubes are generally filled with cheese, spinach, herbs, and maybe ground meat. The stuffed pasta is coated in tomato sauce and baked like you would lasagna.
My first manicotti dish had a ground veal, spinach, ricotta, and mozzarella filling. It was definitely delicious. For this recipe, I used ground beef, ricotta, mozzarella, parmesan, and fresh green herbs. I also used marinara sauce because I always have some in my freezer. Any good jarred marinara sauce will work.
This is a very filling dish, so you probably only need a lightly dressed leafy green salad to go with it. My preference is our lemon vinaigrette. And I do cheat and pick up a package or two of pre-washed organic mixed salad greens. I love the ones that are labeled "power greens" or "super greens" because they have spinach, kale, red leaf lettuce, and sometimes sorrel or watercress. I also think this is a perfect dish to pair with a light red wine, such as pinot noir or Beaujolais.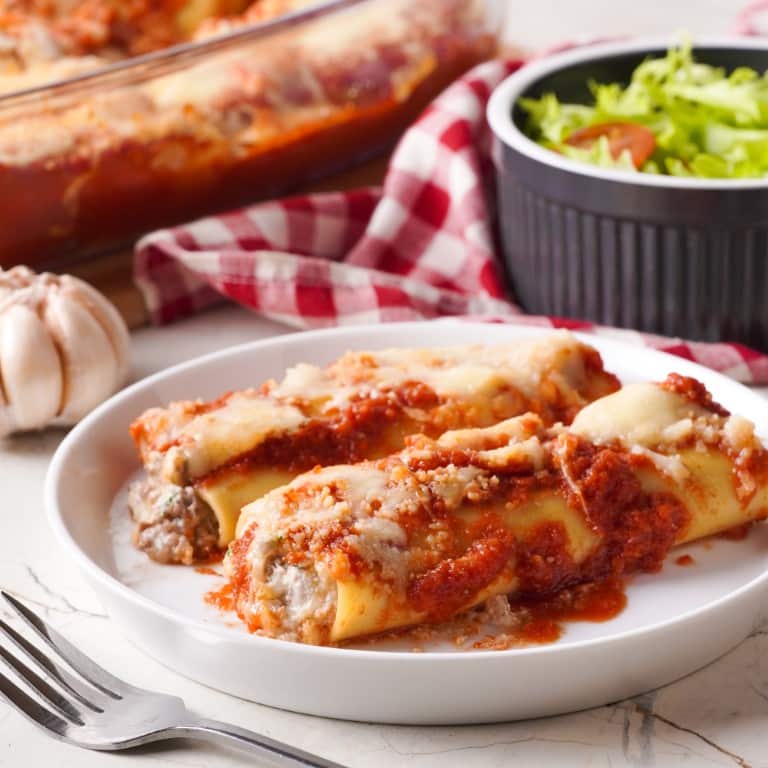 Ingredients
1

8-ounce package of manicotti

1

Tbsp

kosher salt

4

Tbsp

extra virgin olive oil

divided

1

medium yellow onion

peeled and chopped

2

garlic cloves

peeled and minced

1

tsp

dried oregano

1

pound

lean ground beef

½

tsp

sea salt

½

tsp

freshly ground pepper

15

ounces

whole milk ricotta cheese

drained

3

cups

grated mozzarella cheese

1

cup

grated parmesan cheese

1

Tbsp

chopped flat-leaf parsley

1

Tbsp

chopped basil leaves

3

cups

marinara sauce
Instructions
All ingredients ready? Let's begin!

Brush a sheet pan with 1 tablespoon of olive oil and set aside.

Bring a large pot of water with kosher salt to a boil over high heat. Cook the manicotti until al-dente, approximately 5 minutes. Using a spider or slotted spoon, transfer the manicotti to the oiled baking sheet and set it aside to cool.

While the pasta is cooking, place a large skillet over medium-high heat. Add a tablespoon of olive oil to the pan along with the onion. Cook the onion until it starts to soften, about 1 minute. Add the garlic and oregano to the pan and continue to cook until the garlic and herbs are fragrant, about another 1 minute. Add the ground beef to the pan and cook, breaking it up with a spoon, until the beef is browned, approximately 4 minutes. Remove the pan from the heat and allow the beef to cool.

In a large mixing bowl, place the ricotta, 1-1/2 cups of the mozzarella, 1/2 cup of the parmesan, parsley, and basil. Stir together to combine well. Fold the cooled beef into the cheese and herb mixture.

Preheat your oven to 350°F.

Coat a glass or ceramic 9×13 inch baking dish with a tablespoon of olive oil. Spoon 1-1/2 cups of the marinara sauce into the baking dish.

Spoon the cheese and beef filling into the manicotti. Place the filled manicotti in a single layer in the baking dish on top of the sauce. Spoon the remaining sauce over the top of the manicotti. Sprinkle the remaining mozzarella over the pasta and sauce. Then, add the remaining parmesan over the mozzarella. Drizzle the last tablespoon of olive oil over the cheese.

Place the dish in the oven and bake for 30 to 35 minutes until the sauce is bubbling. Remove the dish from the oven and allow it to cool for at least 5 minutes.

Serve the pasta while warm with a green salad.
Nutrition
Calories:
727
kcal
|
Carbohydrates:
43
g
|
Protein:
48
g
|
Fat:
40
g
|
Saturated Fat:
19
g
|
Polyunsaturated Fat:
2
g
|
Monounsaturated Fat:
16
g
|
Trans Fat:
0.3
g
|
Cholesterol:
142
mg
|
Sodium:
2693
mg
|
Potassium:
899
mg
|
Fiber:
4
g
|
Sugar:
7
g
|
Vitamin A:
1449
IU
|
Vitamin C:
11
mg
|
Calcium:
623
mg
|
Iron:
4
mg
Substitutions & Variations
Pasta: Cannelloni is similar in shape and size to manicotti except without ridges. You could use that instead. You could also use large shell pasta shapes.
Dried Oregano: If you don't have dried oregano, you can use chives, marjoram, thyme, basil, or an Italian seasoning blend.
Ground Beef: You could really use any ground meat you prefer, such as veal, pork, turkey, or sausage. You could definitely leave the beef out and use thawed frozen spinach and more cheese for a vegetarian version of the recipe.
Fresh Herbs: I like the flavors and bright green color of parsley and basil. As summer winds down, my basil starts to bolt and my parsley turns brown. What is still going strong are the plants that come back every year, like oregano and thyme, so that is what I will use. I also will freeze fresh herbs that I can use throughout the winter. You can do this in an ice cube tray or make a pesto that can be frozen in baggies.
Marinara Sauce: I enjoy the texture and simplicity of marinara sauce for baked dishes. You can use any neutrally flavored tomato sauce or even canned crushed tomatoes.
More Baked Pasta Dishes
If you enjoy baked pasta dishes, we have a lot of recipes that will satisfy most palates and different types of diets. Here are a few you might want to try:
---
Recent Recipes