If you plan to arrange a fun and exciting family barbeque, Meat N' Bone should be your go-to butchery. They supply delicious selections of meats that will surely leave your tastebuds in a frenzy; at least, that is what customers say. Are they truly worth the price, and do their products surpass your expectations?
Meat N' Bone comes highly recommended because the meat and seafood selections are supreme and higher quality than the meat you find in stores or restaurants. Meat N' Bone provides top-notch services and operates a grand online store. They deliver nationwide in the US, and orders arrive very fast.
Read this well-put-together article about Meat N' Bone, the unique products they produce and sell, and the impressive services they offer. Learn how this online butchery came to be and whence they get their hands on the most delectable meats and seafood.
What Is Meat N' Bone?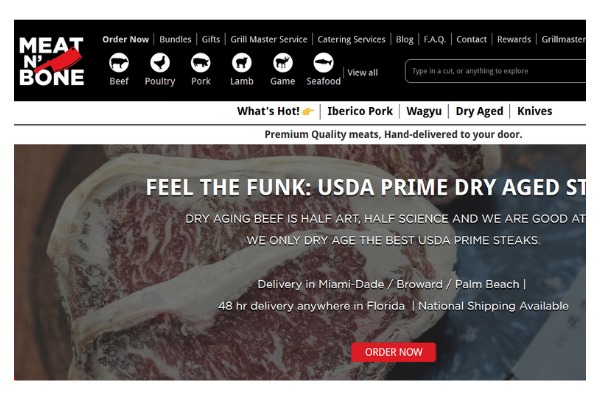 Meat N' Bone was founded by three best friends, Luis Mata, Germann Vollbracht, and Gabriel Llaurado. The online butchery provides more than 300 premium quality-cut meat, seafood, and poultry. Their main focus is beef, but they supply so much more than just that!
It all began in 2016 when the three owners got the idea of opening an online butchery shop. It went into operation in March of 2018, and their first three retail stores opened their doors in sunny Miami in March 2019.
They expanded their retail stores by launching them in Coral Spring in November 2019 and Pinecrest in January 2021. The trio did not expect the butchery to reach such great heights, but they are not complaining!
They sell chicken, sausage, lamb, game, Iberico pork, tuna, salmon, and branzino, but that is not all. Meat N' Bone has taken it further by adding an assortment of wine, beer, sake, and alcohol-infused ice cream! This company surely has some creative owners behind its success. The products they stock are acquired in the US and other parts of the world.
How Does Meat N' Bone Deliver Their Products?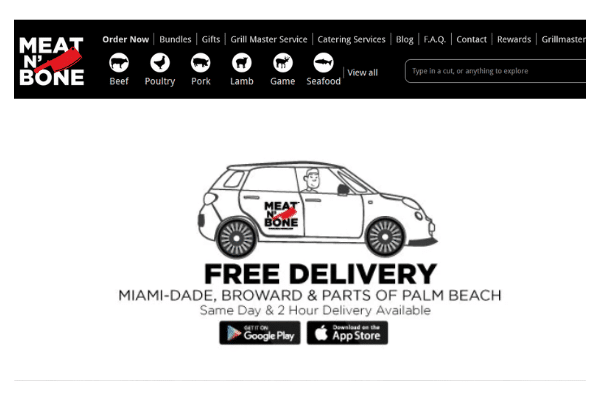 Meat N' Bone safely delivers their meats in a cooler bag filled with dry ice. The meat itself comes in an airtight food-safe bag. They use a vacuum to draw out all the air inside the bag.
Once it is properly vacuumed, the vacuum is removed, and they use heated bars to seal the bags shut. The meat they use is specially selected by experts so that the online butchery can provide customers with high-grade meats.
They are exclusively online but offer free same-day and two-hour delivery in Miami-Dade, parts of Palm Beach, and Broward. For the customers that do not live close to these locations, they offer national shipping via UPS at a fee of $20 and for the rest of the US $20-$50
How Can You Contact Meat N' Bone?
To get in touch with Meat N' Bone, use these telephone numbers:
If you would rather send an email, you can use info@meatnbone.com. You can sign up for their newsletter by typing in your email so that you can stay in touch with exclusive updates and special discounts. Also, stop by their website for recipes and tips to prepare a mouth-watering meat dinner for your family and friends!
What Other Services Does Meat N' Bone Offer?
The company already made a name for itself by selling a wide range of meat products, alcohol, and alcohol-infused ice cream. However, they decided they still needed to make the business more exciting and attractive.
Meat N' Bone Grill Master Service
Meat N' Bone decided to implement a Grill Master Service. Customers get to hire expert Meat N' Bone grill masters for events like parties or private events. The only downside is that this service is only available in South Florida.
The grill masters they send have expert experience and skills earned by hours of work. They know how to grill a mean steak! The grill master will be clothed in their uniform and bring special grilling tools like knives and cutting boards. Your grill master is available for up to four hours and will grill for no more than 25 guests at once.
The grill master does not serve the food, but Meat N' Bone can appoint servers to help serve the food at an additional fee of $90 for four hours. They have variations of grill sizes available and canopies, tables, and other equipment.
The Meat N' Bone Grill Master Service fee is as follows:
| | |
| --- | --- |
| The Grill Master (0-25 people) | $200 |
| The Grill Master + Assistant (25-50 people) | $300 |
| The Grill Master + 2 Assistant (50-75 people) | $400 |
| The Grill Master + 3 Assistant (75-100 people) | $500 |
| Meat that must be purchased at Meat N' Bone | $10+ per person |
|  Grill Rental | $80 |
| Sides Available (Mashed Potatoes, Bacon Mac & Cheese, Rice, Veggies, etc) | Confirm the price |
*Cost is from 5/12/2022 and may have changed since writing
If your event is more than four hours, they bill $45/hr. In my opinion, the prices are reasonable and inexpensive. You would expect them to ask more, especially what the service includes. Customers can book the service easily on the Meat N' Bone website.
Simply go to their website, search 'Grill Master', add to cart, and checkout. The customer can expect a call within 24 hours and discuss the date, time, details, and schedule.
They also have a policy that if the event is canceled, the client can request a full refund 48 hours before the event. Alternatively, you can email them: orders@meatnbone.com or call them: 1 (877) 488-6328. See, they make it easy peasy!
Meat N' Bone Catering Service
The second service they offer is catering services. This is for more upscale events like weddings or corporate events, and they provide venue and theme sourcing along with their quality culinary services.
It is pretty easy to book the service on their website. They make sure it is user-friendly. All you need to do is quickly fill out a form with the required information and provide them with your event details such as total guests, what type of event it is, the date, venue, etc.
Meat N' Bones' catering service is truly worth the investment, and it is practical for big events. The event planner they hire has over 25 years of experience. An entire team and a private chef will be at your beck and call, so you call the shots. They are willing to make a success of your event. Do you not think that is fancy?
Meat N' Bone Gift Giving
Are you a generous meat lover? How about a meat lover gift? Meat N' Bone allows you to purchase meat hampers to gift a friend or family member. They even offer a corporate gift section!
Customers can select a gift from a list of pre-made sets, or they can create their own combo. Add a personalized note and have it hand-delivered or shipped to the receiver.
Listed below are the pre-made combos that are readily available on their website: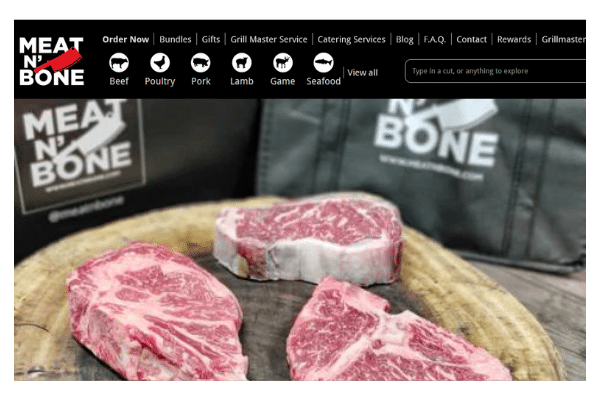 If you look up the word 'perfection', an image of the meats in this gift set would be plastered next to it. They are cut beautifully, taste out of this world is just the right amount of thickness.
The gift set includes:
Wagyu Porterhouse Steak (26oz)
Wagyu-Angus Cowboy Steak (20oz)
Kansas Steak (16oz)
All three steaks have a BMS (beef marbling score) of 5+ and come in an elegant Meat N' Bone gift box. The price might seem a bit ridiculous, but trust me, for $275.96 (as of 5/12/22), it is definitely worth it!
The meat in this gift set is sourced from Colorado, USA, and there is nothing I would not do to get my hands on it! With the price of $136.96 (as of 5/12/22), you will receive the following: 
Wagyu 10/12oz Flap Steak
Wagyu 10oz Denver Steak
Wagyu 8oz Filet Mignon
Wagyu 8oz Flat Iron Steak
All four of these deliciously tender steaks have a BMS (beef marbling scale) of 7+. I recommend going for this gift set because it features four of the most underrated steaks.
If your loved one recently purchased a grill, or you are deciding on a housewarming gift, look no further! It is perfect for a Saturday barbeque. The gift set includes:
G1 Certified USDA Choice Picanha
G1 Certified USDA Prime Skirt Steak
Argentinian Chorizos
It is costs slightly less, but the quality stays the same. Customers can buy the gift set for $93.97 (as of 5/12/22).
If you have $65.94 laying around, why not reward yourself with the Everyday Greats meat gift set. The meat in the set is wet-aged for longer than 30 days and is some of the most sought-after at Meat N' Bone. They are also G1 Certified Choice USDA steaks. The $65.94 cost is from 5/12/22 and may have changed since writing.
2x Boneless Ribeyes (9-10oz)
2x Filet Mignon (4oz)
2x New York Strip (7oz)
The $187.97 (as of 5/12/22) meat gift set features steak sourced straight out of Australia, vacuum-sealed, and cut beautifully by their expert butchers. Meat N' Bone included a delicious seasoning for the steak. The set contains: 
Wagyu Tomahawk Steak (30-35oz)
White Truffle Salt by Hepp's
The Wagyu Tomahawk Steak has a BMS (beef marbling scale) of 8+.
There are six more giftsets available on their website, and customers can purchase a physical or digital gift voucher online starting from $25. Meat N' Bone made sure to offer their clients cost-effective and quality products.
Overall, I personally love this meat giftbox concept, and they provide sufficient information about the types of gift boxes, ensuring that they will reach everyone's standards.
How Long Can You Store Meat N' Bone's Products?
They do not leave their frozen meats in the freezers for months, so it is fresh and juicy when their clients receive them. When you receive your flavorsome and well-packaged Meat N' Bone order, you can store the meat in the refrigerator for 3-4 days and the fish for 1-2 days.
If you bought the meat to store for future dinners, place it in the freezer. Since Meat N' Bone packs the meat in a vacuum-sealed bag, you can store it as is.
You can freeze it for 6 months and vacuum-sealed beef for up to 3 years. Your order will be of the same quality and just as juicy as the day it arrived on your doorstep.
Meat N' Bone Combos & Bundles
So, you have never purchased a Meat N' Bone bundle before? What are you waiting for? They have amazing bundles for all their customers. You can find six options on their website. Although it might seem costly to some, good meat is not cheap and cheap meat is not good. Here is what you can choose from according to the Meat N' Bone website:
Asado derives from the Spanish word 'asar' and means 'to grill' or barbeque, and that is exactly why Meat N' Bone decided to put together the perfect asado bundle. The bundle consists of:
Argentinian Chorizo (traditional Argentinian sausage)
GrillMaster's Chimichurri Sauce (handmade by Meat N' Bone)
USDA Prime Short Ribs-Flanken Style
USDA Prime Vacio (flap) is wet-aged for about 30 days or more.
USDA Prime Tri-Tip
You can buy this entire bundle for only $101.95 (as of 5/12/22)! If the overview of the bundle does not impress you, take a look at the two 5-star reviews submitted by satisfied customers. 
Apparently, this combo attracted a lot of customers when Meat N' Bone first published it on their Facebook page, and for a good reason. Here is what you can expect:
Wagyu Denver Steak (10oz)
Wagyu Flap Steak (10oz)
Wagyu Picanha (3-4 lb)
Wagyu Tri-Tip (2-2.5 lb)
All four of these meats have a 7-9 BMS (beef marbling score) and cost $229.95 (as of 5/12/22.) Expensive but a great Wagyu combo.
Now, this bundle is very special! It includes 5 A5-grade steaks with a BMS (beef marbling score) of 10-12. It comes directly from Provicen of Miyazaki, Japan, hence the combo's name.
The bundle includes the following A5-graded Miyazakigyu Japanese Wagyu:
Filet Mignon
Baseball Steak
Picanha Steak
Strip Loin New York Steak
Shabu Shabu
Ribeye Steak
Meat N' Bone's Grillmaster's Boutique
They sell a few powerful tools and products. The Grillmaster's Boutique is a separate Meat N' Bone website, though you easily access it on their primary website.
Their physical store is located in Miami: 2229 Coral Way. Miami, FL 33145. They sell many high-quality kitchen tools and products, even some cooking apparel. Here is a taste of what they sell to their customers:
Knives
Broilers and grillers
Grilling tools
Cast iron
Rubs and spices
Charcoal and wood
Funny apparel, aprons, and caps
Dry aging fridges
The Pros & Cons Of Shopping At Meat N' Bone
Scan through the list of pros and cons I outlined below before you go shopping at this online butchery. These are some of the points I believe are important to consider as customers. Let us dive right in!
The Pros Of Shopping At Meat N' Bone
An extensive selection of meats and seafood
They supply gift boxes
They have catering services available
High-standard meat
Easy-to-navigate website
The meat and seafood are fresh and well-packaged
They have shipping available within the US
Customers can choose from a variety of meat bundles
They sell alcohol and alcohol-infused ice cream
They have a Grill Master's service
Products are sourced from different parts of the world.
The Cons Of Shopping At Meat N' Bone
Their shipping rates can be expensive.
Their catering prices are not listed on the website
Not all the products on the website are readily available
Most products are costly
What do you think? Is Meat N' Bone worth it? I certainly think so! They do not have any major disadvantages regarding their meat and seafood quality. Meat N' Bone has over 5000 customer reviews that you can look through before hitting the checkout button.
So, What Do You Think About Meat N' Bone?
Meat N' Bone has a tasty wide selection of meat and seafood products. I do not think another online butchery can come close to them, so I recommend their services to anyone. You can book expert grill masters for informal events or catering services for upscale occasions. If you feel generous, buy a meat gift box for someone close to you.
The GrillMaster's Boutique has several quality tools and products they stock, and their worth every penny. Their website is easy to navigate, and their customer service is excellent. They deliver well-packaged and fresh products. Meat N' Bone may be expensive; however, the tenderness and juiciness of their high-standard meat and seafood will surpass your expectations.
---
Recent Recipes