Homemade Meatball Lasagna
Oven-baked meatball lasagna, using readily available store-bought ingredients, is quick and easy to make and, out of this world, delicious!
A hearty dish combining two popular comfort food staples, lasagna, and homemade meatballs, this is a delightful twist on the Italian classic. It allows for some flexible options and is a no-fuss alternative that will surely be a crowd-pleaser every time.
This verdict is out, and there is no disputing it. Traditional cheesy lasagna and meatballs are firmly ensconced amongst the winners when it comes to food that soothes the soul.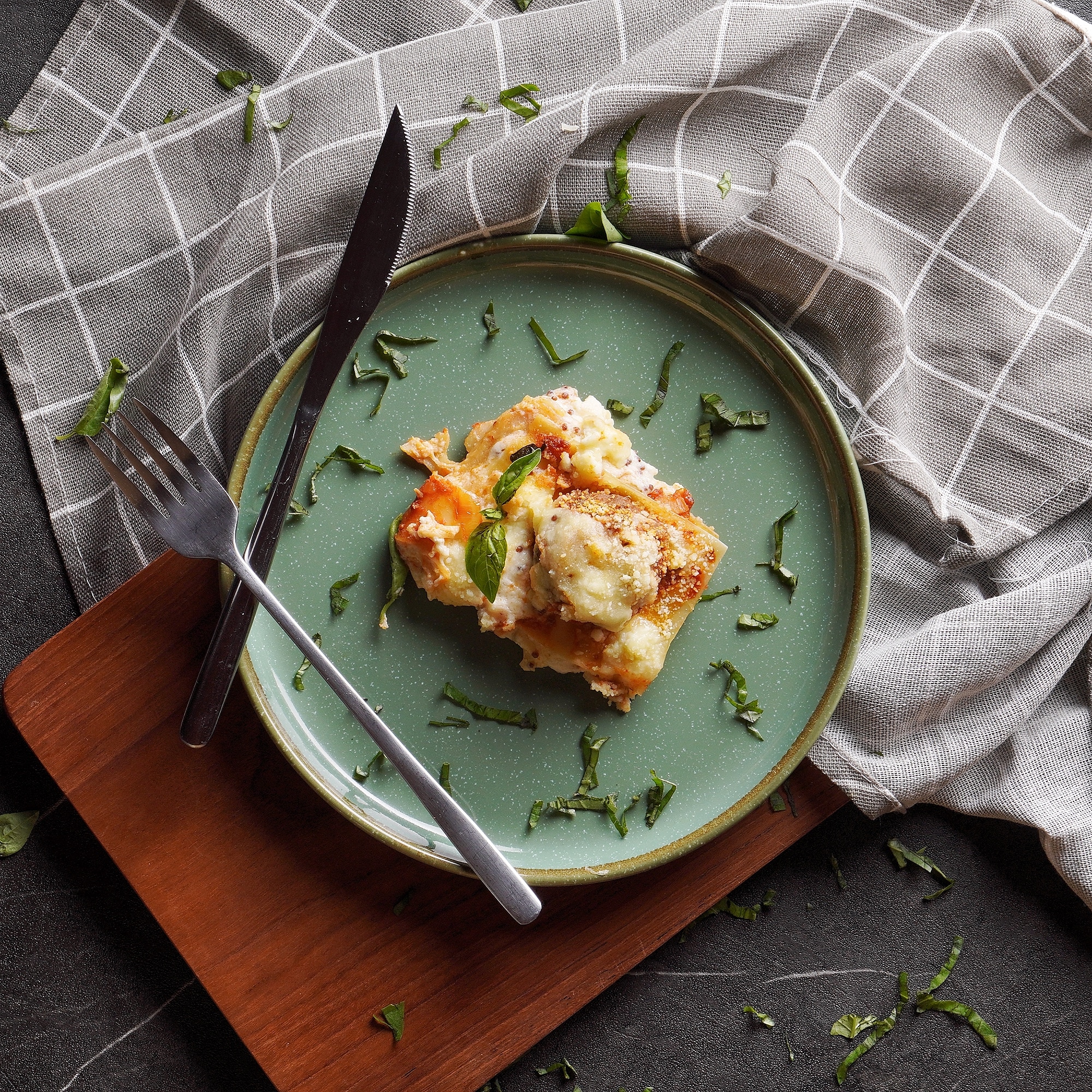 Ingredients
9

ounces

ground beef mince

9

ounces

ground pork mince

2

garlic cloves

crushed and chopped

3

tbsp

fresh flatleaf parsley

finely chopped

1

large egg

beaten

Olive oil

for frying

2

tbsp

butter

5

tbsp

plain flour

1

pint

milk

2

bay leaves

1

tbsp

wholegrain mustard

½

cup

parmesan cheese

grated

1

cup

good quality red wine

1

medium onion

finely chopped

2

garlic cloves

crushed and chopped

1

jar passata

24 ounces

1

tbsp

tomato paste

puree

1

tbsp

sugar

1

teaspoon

oregano

2

handfuls of fresh basil

13

ounces

lasagna sheets

fresh or dry

2

cups

mozzarella cheese

grated

1

cup

ricotta
Instructions
All ingredients ready? Let's begin!

Preheat the oven to 360°F.

To make the meatballs combine the mince, garlic, parsley, and egg and mix well by hand into a smooth paste.

Shape the meat mixture into golf size balls. The yield should be around 20 balls.

Dust the meatballs with flour and fry in a deep, large frying pan or skillet until golden brown on all sides. Drain meatballs on paper toweling.

Keep the skillet aside for cooking the tomato sauce.

Heat the butter and brown the flour in a medium saucepan, and stir gently.

Add the milk slowly while stirring to avoid clumping.

Add the bay leaves and bring to the boil.

Turn down the heat, simmer for 2 to 3 minutes while stirring.

Add the mustard, half the parmesan, and season to taste.

Continue simmering for 5 minutes, remove saucepan, and set aside.

Now let's prepare the tomato sauce. Reheat the skillet, spoon off excess oil and fat from the meatballs.

At a medium temperature, add the onions and garlic.

Fry the onions until soft and translucent.

Stir in the tomato paste and cook for 5 minutes while stirring.

Throw in the wine and bring to the boil; continue stirring.

Add the passata and oregano and turn down the heat.

Simmer for 40 minutes or until the sauce starts to thicken.

Add sugar and additional seasoning, add the meatballs, continue simmering for 5 minutes, and set aside.

The layering is next, grease a 9 x 13-inch glass baking dish with softened butter. If preferred, leave out the butter, then proceed to the next step.

Spoon the tomato sauce into the baking dish covering the base of the dish entirely.

Place the first layer of lasagna sheets next, do not overlap the sheets. Trim them if necessary.

Spoon in another layer of the tomato sauce, and follow with a layer of white sauce.

Mix the ricotta and mozzarella cheese and scatter on top of the sauce. Add a second layer of lasagna sheets and repeat the process with the sauces and the cheese mix.

Put all the meatballs on the top, add the rest of the parmesan last.

Sprinkle with some smoked paprika sauce for an extra touch.

Place the dish into the preheated oven and bake for approximately 35 minutes or until the cheese starts bubbling.

Remove from the oven and garnish with the basil.

Enjoy your Homemade Meatball Lasagna!
Video
Nutrition
Calories:
605
kcal
|
Carbohydrates:
48
g
|
Protein:
33
g
|
Fat:
29
g
|
Saturated Fat:
14
g
|
Polyunsaturated Fat:
2
g
|
Monounsaturated Fat:
10
g
|
Trans Fat:
1
g
|
Cholesterol:
117
mg
|
Sodium:
422
mg
|
Potassium:
536
mg
|
Fiber:
2
g
|
Sugar:
7
g
|
Vitamin A:
684
IU
|
Vitamin C:
4
mg
|
Calcium:
391
mg
|
Iron:
3
mg
Notes & Tips
Unless there is a specific preference, use a half and half mixture of good quality ground pork and beef. Beef tends to dry out somewhat, so lean pork may add some juicy flavor.
Instead of ground beef and port, use a good quality sausage instead. Just squeeze it out of the casing and roll it into balls by hand.
Opt for fresh lasagna sheets instead of dry ones if you can get your hands on them. They are generally a little more expensive too but are worth the effort and extra expense.
Avoid a watery lasagna by using a glass baking dish and avoid overlapping the lasagna sheets.
Can I Leave Out The Ricotta?
The addition of ricotta is a very american take on lasagna. The italians traditionally don't use ricotta, but they use fresh lasagna sheets and buffalo mozzarella, which is a lot creamier than the typical mozzarella used elsewhere.
Double up on the mozzarella instead if you don't like ricotta, or use any leftover cheddar or gouda in your fridge. The white sauce should keep the dish moist enough. It's a matter of personal choice. And, of course, italians use the bechamel or white sauce, and that is not negotiable.
How Many Layers Of Lasagna Sheets Do I Need?
The recipe doesn't specify how many layers are required; it depends on the yield of all the ingredients. Aim for at least 4 or 5 layers if possible. This helps keep the sauces moist and develop that perfect complex texture when biting into the lasagna.
Do I Need To Pre-Boil The Noodles?
That is a million-dollar question. It all depends. By boiling them in water before layering, you are almost guaranteed that the dish will be adequately cooked throughout. You do, however, run the risk of over-cooking. By spooning in enough sauce between layers, you should be ok, especially if the noodles are to be cooked al-dente, which of course, is preferred.
How Do I Store Leftover Lasagna?
This lasagna freezes wonderfully. Haul it out of the freezer in the morning and defrost thoroughly before reheating on a weekday evening or feel free to prepare this dish way ahead of time when expecting visitors. Serve with a freshly prepared greek salad on the side and enjoy!
---
Recent Recipes