Best Meatball Stuffed Biscuits
When I first thought of meatball stuffed biscuits, I thought it wouldn't work. How wrong I was! This dish harkens to mozzarella sticks, garlic knots, cheese balls, and other delicious bread combos. This is a superb option to take as a side to any event or to eat on its own as a lunch. Unlike other bread side dishes, meatball stuffed biscuits can be eaten as a whole meal without making you feel guilty for only eating carbs.
You might want to use meatball stuffed biscuits as a side to easy chicken tikka pizza. Garlic knots or cheesy bread of any sort are a classic pizza partner, so it would be a shame to break the tradition.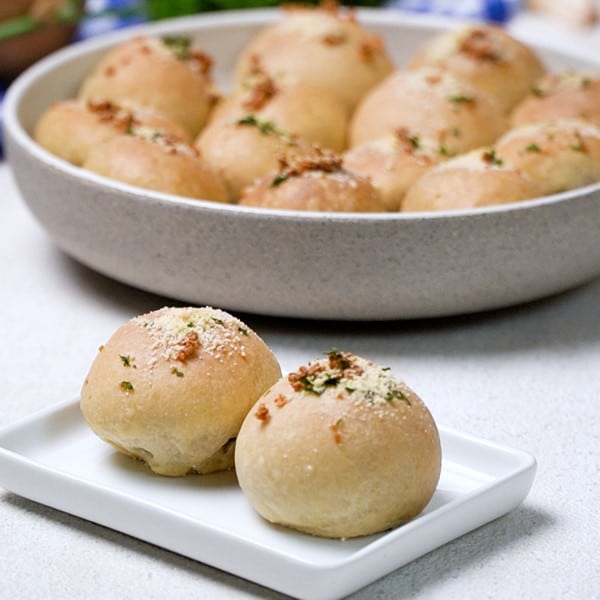 Ingredients
3

cups

flour

1

tsp

salt

1

tbsp

baking powder

1

tbsp

sugar

8

tbsp

butter

1

cup

buttermilk

½

cup

panko

1

lb

ground beef

1

tsp

salt

½

tsp

garlic powder

½

tsp

paprika

¼

tsp

pepper

2

eggs

1

onion

Handful fresh parsley

¾

cup

parmesan

1

tbsp

olive oil

5

garlic cloves
Instructions
All ingredients ready? Let's begin!

In the bowl of a stand mixer, add the flour, salt, baking powder, and sugar. Mix together with the paddle attachment. You can also do this by hand if you do not have a stand mixer.

Cut 6 tbsp of cold butter into small chunks or slices and add it to the flour mix. Mix until the butter is cut into smaller pieces and the texture is crumbly. You can also do this with a food processor or your hands.

Slowly pour in the buttermilk and mix. The consistency should be thick and sticky but not wet, so you may need to add more buttermilk or flour a tablespoon at a time to reach that point.

Flour a clean surface and dump the dough onto the surface. Knead it a few times to make sure everything sticks together and to avoid air pockets.

Lightly grease a bowl and put the dough in. Cover and place in the fridge until ready to use.

In a large bowl, add the panko, beef, salt, garlic powder, paprika, pepper, and eggs.

Peel and finely dice the onion then add to the bowl. Finely chop the parsley and add half to the bowl. Set aside the other half. If the parmesan is not already shredded, shred it then add ½ cup of it to the bowl.

Use your hands to mush the ingredients together. Mix until all ingredients are evenly dispersed and the beef is broken up.

Use a spoon to scoop the beef mixture into even amounts then use your hands to roll each scoop into a ball.

Heat the olive oil in a skillet over medium-high heat.

When the oil is hot, add the meatballs to the skillet. Leave a little bit of space between them (you may need to do it in batches).

Cook the meatballs for about 10 minutes. Turn over occasionally so all sides are equally brown.

Remove from heat and place on a plate covered with paper towels to drain.

Preheat the oven to 375F.

Lightly flour a clean surface again (or use the same one as before). Remove the biscuit dough from the fridge and place on the counter.

Roll the dough out to about ½ inch thick. Use a large circular biscuit or cookie cutter to cut out circles.

Put a meatball in each biscuit circle and pinch the edges together at the bottom, trying to avoid any gaps.

Place each wrapped meatball seam side down in a cast iron skillet or regular baking dish. Leave a little bit of space between each ball.

Put in the oven and cook for 30 minutes.

While the biscuits cook, melt 2 tbsp of butter over medium heat.

Finely dice or press the garlic and add to the melted butter. Cook for 2 minutes then remove from heat.

After 30 minutes, pull out the meatballs and use a pastry brush to brush the butter-garlic mix on top. Sprinkle with the remaining chopped parsley and remaining parmesan.

Put back in the oven and cook for another 5 minutes or until the cheese has melted and the biscuits are golden brown.

Remove from oven and allow to cool a few minutes before serving.
Nutrition
Calories:
588
kcal
|
Carbohydrates:
60
g
|
Protein:
29
g
|
Fat:
25
g
|
Saturated Fat:
10
g
|
Polyunsaturated Fat:
1
g
|
Monounsaturated Fat:
10
g
|
Trans Fat:
1
g
|
Cholesterol:
123
mg
|
Sodium:
1362
mg
|
Potassium:
440
mg
|
Fiber:
2
g
|
Sugar:
6
g
|
Vitamin A:
346
IU
|
Vitamin C:
4
mg
|
Calcium:
386
mg
|
Iron:
5
mg
Notes & Tips
These meatball stuffed biscuits are best served with some marinara sauce that has been warmed up. Delicious!
Store any leftovers in an airtight container in the fridge for five days and reheat in the microwave. Or, you can reheat them in the oven or toaster oven so they get a little crisp.
If you have any leftover biscuit dough, you can reroll it out to ¾ inch thickness and cut out using the same biscuit cutter. Cook at the same temperature and check on them after 25 minutes. Extra biscuits for breakfast!
Substitutions
There are a few ways to make this recipe quick and easy if you are on a time crunch. Homemade biscuits are delicious, but you can skip that step. Instead, buy premade biscuit dough from the store and do everything else the same.
If you don't have panko, you can make some yourself. Use a food processor to blend a few slices of bread or use your hands to tear them into small crumbs. Spread the crumbs on a baking tray and cook at 350F for a few minutes or until toasted. Use in place of panko.
If you want to make a vegetarian version of this recipe, use these yummy vegan meatballs instead. If you want to make a totally vegan version, exchange the butter for plant butter, parmesan for a vegan cheese, and buttermilk for a non-dairy milk. It will be different, but just as good.
---
Recent Recipes