Easy Meatballs With Grape Jelly Chili Sauce
I know we don't usually think to combine jelly with meat, but this recipe is so yummy. When you think about it, grape jelly is pretty much the same as cranberry sauce, which we already know is delicious with turkey. If you've ever been to the restaurant at IKEA, you'll know their most popular dish is their Swedish meatballs with gravy and lingonberry jam. IKEA was the first place I tried meatballs with a fruit jam and I'm still so glad I did.
The sweetness of the grape jelly brings out the natural fat and flavor of the beef while the chili adds spice and keeps the sweetness in check. This recipe is decently spicy, but you can adjust the spice to suit your preferences. There are a few other substitutions and shortcuts you can find below the recipe that work to make this recipe simple and accessible to anyone.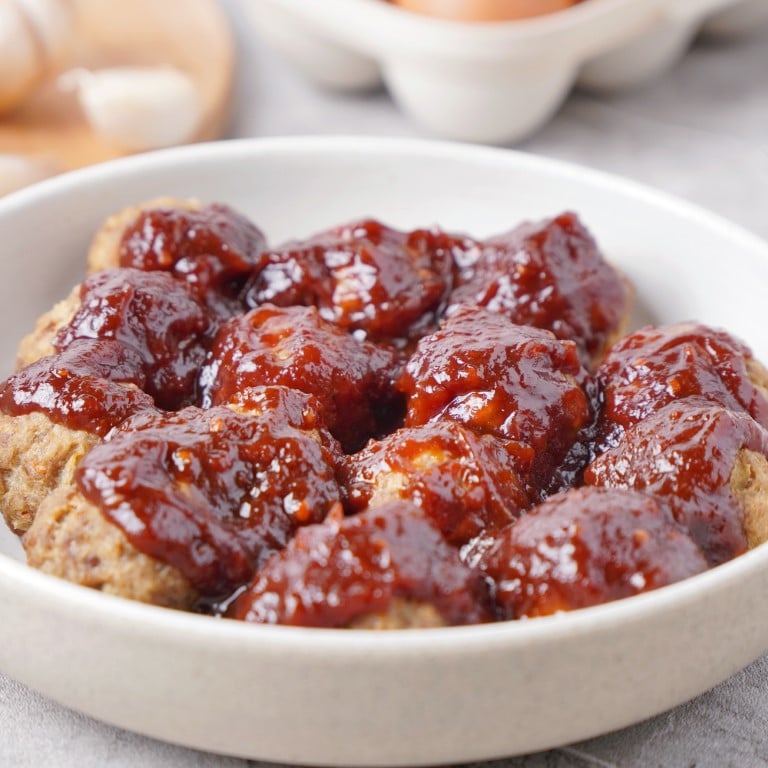 Ingredients
For the sauce:
8 to

matoes

2

onions

5

garlic cloves

2

chili peppers

1

tbsp

olive oil

4

tbsp

red wine

½

cup

brown sugar

½

tsp

salt

¼

tsp

pepper

1

jar grape jelly
For the meatballs:
1

lb

ground beef

1

onion

1

cup

panko

2

eggs

½

tsp

salt

¼

tsp

pepper

¼

tsp

chili flakes

3

tbsp

olive oil
Instructions
All ingredients ready? Let's begin!

Roughly chop the tomatoes, 2 onions, and garlic cloves. Cut the chili peppers in half and remove all the seeds.

In a medium pot, heat the olive oil over medium-high heat.

Add the onions and chili and cook for 2 minutes.

Add the garlic and cook for another 2 minutes.

Now add the tomatoes, red wine, brown sugar, salt, and pepper. Cook for 5 minutes.

Turn the heat to low and bring to a simmer. Cover the pot and continue to simmer for about an hour.

After an hour, check the consistency. It should be super mushy and relatively thick. If there is an excess of liquid, remove the lid and let simmer for another 30 minutes or until is evaporates.

Remove from heat and let cool for half an hour.

In a strong blender or food processor, add a cup of the tomato mix and blend until thick and smooth. Transfer to a pot.

Repeat with the rest of the tomato mix until it is all blended and smooth. You want to do it in small increments if the sauce is still warm because otherwise too much steam can build up.

Put the sauce over medium heat and add the entire jar of jelly.

Continuously stir while cooking for 15 minutes or until the jelly has melted and is fully mixed with the tomato chili sauce.

Remove from heat and set aside.

Preheat the oven to 395F.

Peel and finely chop 1 onion. Add it to a large bowl along with the ground beef, panko, eggs, salt, pepper, and chili flakes.

Mix together. It is easiest (and more fun) if you use your hands. Make sure the egg yolks have popped and mixed in well.

Roll the meat into balls. This can be easily done if you use a small muffin or ice cream scoop to keep the sizes even. Scoop into your hands and roll to make sure the meatballs are firm.

Place the meatballs in a large baking tray or two. Try to leave a little space between the meatballs.

Pour the olive oil on top of the meatballs and roll around to coat. You don't need to use the full amount–just enough to lightly grease them.

Cook in the oven for 30 minutes, checking halfway to see if you should turn the meatballs. When the they're done, they should be brown all the way through. You can check this simply by cutting one open. Remove from oven and plate. Drizzle a generous serving of chili-jelly-sauce over the meatballs and serve.

Enjoy!
Nutrition
Calories:
357
kcal
|
Carbohydrates:
30
g
|
Protein:
14
g
|
Fat:
20
g
|
Saturated Fat:
6
g
|
Polyunsaturated Fat:
2
g
|
Monounsaturated Fat:
11
g
|
Trans Fat:
1
g
|
Cholesterol:
81
mg
|
Sodium:
414
mg
|
Potassium:
610
mg
|
Fiber:
3
g
|
Sugar:
20
g
|
Vitamin A:
1211
IU
|
Vitamin C:
37
mg
|
Calcium:
70
mg
|
Iron:
2
mg
Notes & Tips
I recommend serving these meatballs and jelly-chili-sauce over some fluffy, creamy mashed potatoes. The potatoes add some much-needed starch to round out the meal and allow the distinct flavors of the meat and sauce to shine.
Store leftovers in an airtight container in the fridge for up to 5 days. You can store the sauce and meatballs together or separately.
These meatballs are great for freezing if you have excess. You can freeze them before they are cooked or after. If you freeze them raw, cook them the same way later but for longer. If you freeze them cooked you can reheat them in the oven, in a skillet on the stovetop, or in the microwave.
You can make a large batch of tomato chili sauce and store some of it for later. If you allow it to cool completely before putting in an airtight container, you can keep it frozen for a year. You can also can it and store it that way, but that is a different process.
Modifications & Substitutions
If you don't like a lot of spice, omit 1 chili pepper or more. You can also leave out the chili peppers entirely and replace them with about 1 tsp of chili pepper flakes. It won't taste as fresh and flavorful, but it is an easy way to adjust the heat level.
If you don't have red wine or you don't like to cook with alcohol, you can substitute the red wine with red wine vinegar. If that's still too close for comfort, use apple cider vinegar instead.
A good way to make this recipe quicker and easier is to buy premade sauce and frozen meatballs. If you want sauce from a store, look for one that says "tomato chili sauce" or something similar. If you look for meatballs, just go with your favorite kind.
You can also make this recipe using vegan meatballs. There are several options that you can explore making or buying.
---
Recent Recipes