Easy Mediterranean Roasted Vegetables
This easy roasted Mediterranean vegetable recipe is one of my favorite ways to eat veggies. Forget frying, steaming, sautéing, and especially boiling vegetables; roasting is the way to go. By coating the vegetables in a generous amount of high-quality olive oil, herbs, and seasoning and baking them until caramelized, all the beautiful flavors come out. And the best part is that it only takes 10 minutes to prep. Plus, you can choose your favorite veggies and mix them up each time. This is a classic dish that never gets old.
For this recipe, I'm using zucchini, eggplant, peppers, red onions, Portobello mushrooms, baby potatoes, carrots, and cherry tomatoes, but you can choose your favorite Mediterranean veggies. Find a list of all the Mediterranean vegetables at the end of this article. Don't forget to read the Notes & Tips section for an impeccable result every time. Now, let's roast these veggies!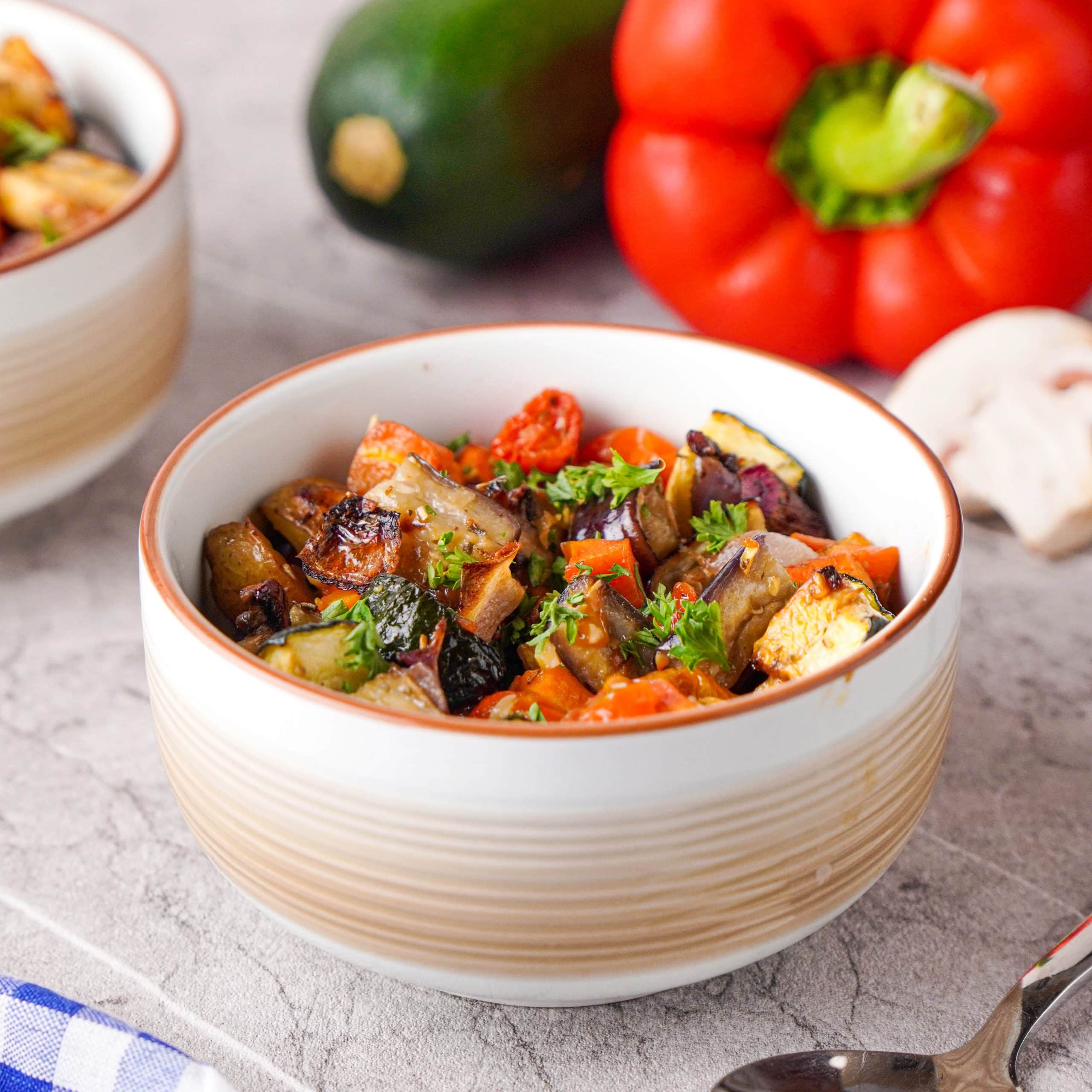 Ingredients
1

zucchini

1

small eggplant

1

bell pepper

2

red onions

6

oz

mushrooms

8

oz

baby potatoes

6

oz

carrots

5

oz

cherry tomatoes

6-7

garlic cloves

About 3 Tbsp. extra virgin olive oil

1

tsp.

dried rosemary

½

tsp.

dried oregano

Salt & pepper to taste

1

Tbsp.

fresh parsley

to garnish
Instructions
All ingredients ready? Let's begin!

Preheat the oven to 430F and lightly oil a baking tray.

Cut all of your veggies into fairly large pieces.

Cut the baby potatoes and carrots into smaller pieces. Place all the veggies in a large bowl.

Mince the garlic and add to veggies together with salt, pepper, herbs, and olive oil. Toss and coat evenly. You can use your hands for the best result.

Add veggies to the tray, spread them out evenly, and bake for 30-40 minutes or until caramelized. A bit of char is good!

Remove tray from oven. Poke the potatoes to see if they're done. The root vegetables (potatoes and carrots in this case) should be crisp on the outside. All of the veggies should have a nice caramelization.

Transfer to a bowl or platter and garnish with fresh parsley. Enjoy!
Nutrition
Calories:
167
kcal
|
Carbohydrates:
23
g
|
Protein:
4
g
|
Fat:
8
g
|
Saturated Fat:
1
g
|
Polyunsaturated Fat:
1
g
|
Monounsaturated Fat:
5
g
|
Sodium:
41
mg
|
Potassium:
786
mg
|
Fiber:
6
g
|
Sugar:
9
g
|
Vitamin A:
5797
IU
|
Vitamin C:
55
mg
|
Calcium:
65
mg
|
Iron:
2
mg
Notes & Tips
Make sure to salt your veggies! This not only helps enhance the flavors of the vegetables but also brings out some of the moisture in them. I love using my hands to toss the veggies and coat them with oil, herbs, and seasoning. This way you can massage them well and you can do it directly on the baking tray. Yay, no clean-up!
For best results, use an aluminum baking tray and don't line it with parchment paper. Yes, it may be a little harder to clean after, but this way you'll get better caramelization. And trust me, adding parchment paper doesn't facilitate the clean-up as you may think. It actually can make it worse because the paper can get soggy and stick to your veggies. No Bueno.
Another tip for getting the best caramelized roasted veggies of your dreams is to use a low baking tray. This way the moisture is allowed to escape, meaning less water and more caramelized goodness. Also, don't overcrowd the tray, you want the veggies to have room to breathe and release moisture. If you see that one tray is too little, divide the veggies into two trays. In this case, swap the trays every 10 minutes to ensure both trays roast evenly. This may result in a longer roasting time.
To stay true to the Mediterranean diet, use high-quality extra virgin olive oil in this recipe. But if you're saving your pricey olive oil for salads, then you can use ghee. Both olive oil and ghee work well in high temperatures and will give you that crispiness you're looking for, as well as add a unique flavor to the veggies.
That being said, don't roast the veggies at any temperature under 400F. Then this wouldn't be roasting, but rather baking. The difference is the caramelization and slight charring that results from the roasting process.
And finally, take the cooking time of each veggie into account. Root vegetables such as potatoes, carrots, turnips, and beets take longer to cook than other vegetables. To avoid overcooked peppers or undercooked potatoes, cut your root vegetables into smaller pieces than the rest of the veggies. This should do the trick. Another option is to pre-bake the root veggies for 10 minutes and then add the other vegetables for the remaining 20-30 minutes.
Serving Suggestions & Substitutions
I love serving these roasted Mediterranean vegetables with steak, grilled chicken, fish, or some juicy lamb chops. But you can enjoy them as is or toss them with pasta or quinoa for a light vegan meal. I also love drizzling them with tahini sauce for a quick and healthy snack.
These veggies are even good cold, so you can make them ahead of time and bring them to the next pot-lock! But if you want to reheat them, turn on the oven to 400F and heat them for 5 minutes.
Personally, rosemary and oregano are my favorite Mediterranean herb combination, but you could also try a mix of thyme, marjoram, basil, or sage.
List of Mediterranean Vegetables
These easy Mediterranean roasted vegetables are so versatile and, as the name suggests, super easy to make. Check our list of Mediterranean vegetables for roasting to get more ideas. We've divided them into two groups according to their roasting time for an easy veggie roasting experience.
Root vegetables and other veggies that take 30-50 minutes:
Artichokes
Beets (root veggie)
Potatoes (root veggie)
Pumpkin
Carrots (root veggie)
Sweet potatoes (root veggie)
Turnips (root veggie)
Rutabaga (root veggie)
Fennel
Brussels sprouts
Veggies that take about 20 minutes to 30 minutes to roast:
Broccoli
Cabbage
Celeriac
Eggplant
Leeks
Mushrooms
Okra
Onions (red, sweet, white)
Peppers
Shallots
Zucchini
You can roast a combination of veggies from both groups. Just remember to cut the veggies with a longer cooking time into smaller pieces. Or you can choose a mix of vegetables from just one of the groups. Root veggies are a delicious side dish as well. Add a little maple syrup and balsamic vinegar to your dressing to enhance the caramelization of your root vegetables. 
The Mediterranean Diet
Studies have shown that the Mediterranean diet is one of the most heart-friendly ways of eating you could choose. This diet is characterized mainly by eating a lot of fruits, vegetables and salads, bread, whole grains, potatoes, legumes, nuts, and seeds. Generally, dairy, fish, and seafood are eaten in lower amounts, red and processed meat is eaten sparingly, and eggs are consumed up to four times per week.
Most importantly though, is that the main source of fat in a traditional Mediterranean diet comes from extra virgin olive oil which is wonderful for the immune system and fights inflammation in the body. Also, the Mediterranean diet tends to be lower in salt and fat because plenty of herbs and spices are used to flavor meals. So, what about that typical glass of wine with dinner? Don't be shy and take it! Wine in moderation can be good for your heart too. The key word here is moderation. Everything in moderation. Except for easy Mediterranean roasted vegetables!
---
Recent Recipes