Easy Homemade Mexican Fideo Soup
Sopa de Fideo or Fideo Soup is a traditional Mexican soup that is both hearty and refreshing and is made in every household, with their own variations. Children grow up on this soup and is the comfort food that is quick to whip up and brings with it a taste of nostalgia and childhood with its rich, tangy tomato base, the soft fideo or pasta and tons of flavoring.
I have made a simple version of the Easy Homemade Mexican Fideo Soup. If you have all the ingredients, which are pretty common and can be found in most pantries, then you can make it in less than 30 minutes for a quick dinner that is healthy and filling and uber delicious.
I have used fresh tomatoes for this, but canned tomatoes work just as well. Fideo is a very similar to vermicelli but are short noodles. I have used thin spaghetti and broken them off into shorter sticks. You can use vermicelli, fideo, spaghetti, angel hair or even whole wheat spaghetti for this. I have toasted them in oil first, before cooking the pasta. You can also toast the spaghetti without oil on a really hot pan.
Easy Homemade Mexican Fideo Soup is a humble dish that is packed with flavor and is perfect for when the weather gets colder but is just as awesome on a warm summer afternoon.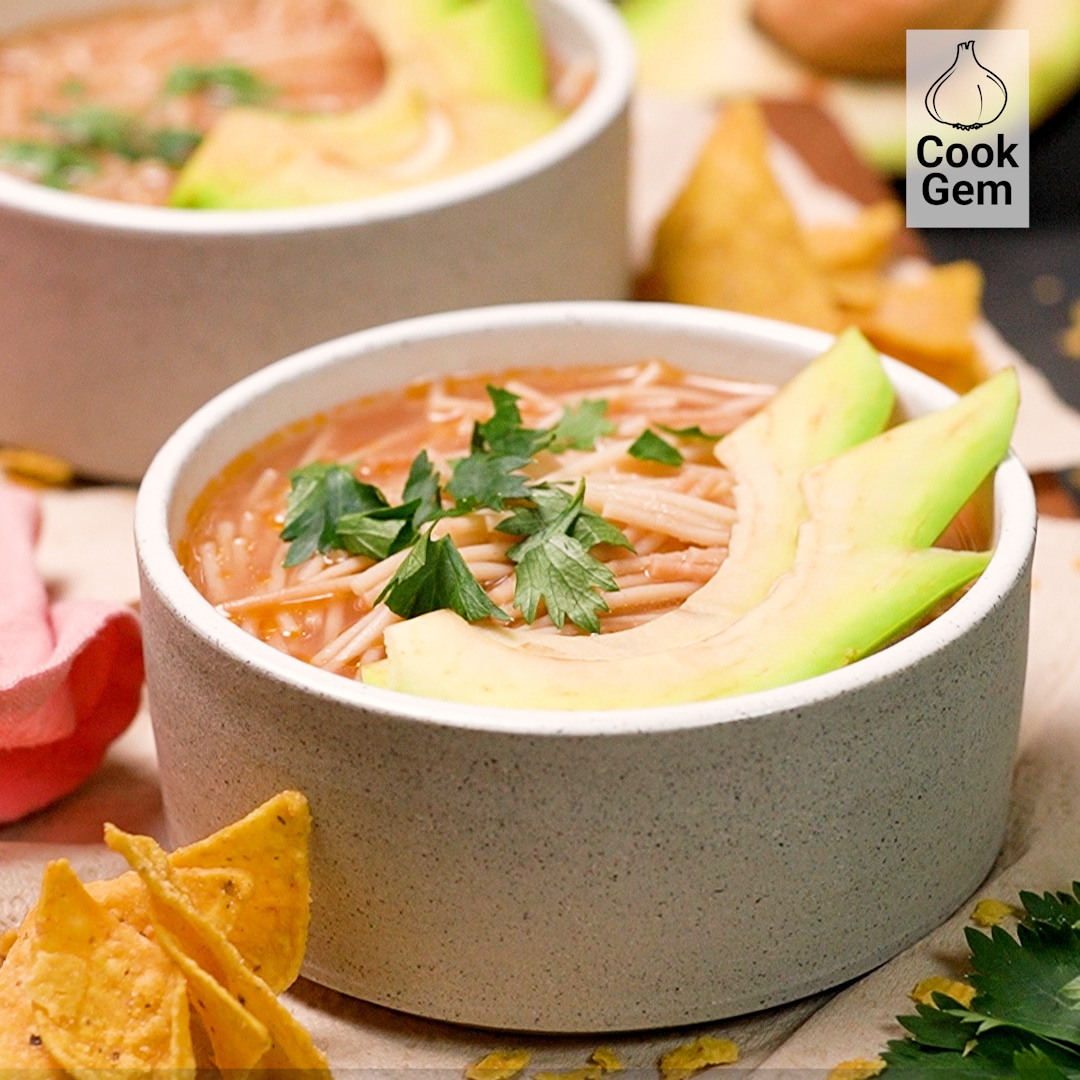 Ingredients
8

oz

thin spaghetti

broken roughly into 1-inch pieces

2

cups

of tomatoes

roughly chopped

2

cloves

of garlic

chopped

½

cup

of onions

chopped

8

cups

of vegetable broth

2

tablespoons

of oil

Salt to taste

Avocadoes for garnish

Lime for garnish
Instructions
All ingredients ready? Let's begin!

Blend the tomatoes, onions and garlic and set aside.

In a large pot, heat 2 tablespoons of oil. Add the broken pieces of spaghetti to the oil and toast. The spaghetti should be coated in oil should get lightly browned.

Take the blended tomatoes, onion and garlic and strain it directly over the browning spaghetti. Stir till they are well combined.

Now add the 8 cups of vegetable broth and bring to boil.

Then bring it to a simmer and let it all cook together till the pasta is completely cooked.

Taste and add salt. Take off heat.

Add a generous squeeze of lime on top. Garnish with some thinly sliced avocadoes.
Video
Nutrition
Calories:
319
kcal
|
Carbohydrates:
54
g
|
Protein:
8
g
|
Fat:
8
g
|
Saturated Fat:
1
g
|
Polyunsaturated Fat:
2
g
|
Monounsaturated Fat:
5
g
|
Trans Fat:
1
g
|
Sodium:
1888
mg
|
Potassium:
338
mg
|
Fiber:
3
g
|
Sugar:
8
g
|
Vitamin A:
1622
IU
|
Vitamin C:
12
mg
|
Calcium:
27
mg
|
Iron:
1
mg
Tips & Tricks
You need to toast the spaghetti before you start cooking it, as it definitely adds a deeper flavor to the Easy Homemade Mexican Fideo Soup. You can choose to toast it with or without oil
You can use vegetable or olive oil
Fideo should be available in most Latin American supermarkets. If it's not available, you can always use vermicelli or thin paghetti
Canned tomatoes work just as well in this dish.
The garnishes I have used are all optional. Cilantro is another great garnish which works well with this dish. You can also use a dollop of sour cream.
Storage
The Easy Homemade Mexican Fideo Soup can be stored in the fridge for up to 3 days in an airtight container. Keep in mind that the soup is not going to go bad, but the noodles in the soup are going to get mushy.
You can reheat in the microwave or stovetop. Let the Easy Homemade Mexican Fideo Soup sit out for about 20 to 30 minutes before you heat it. Transfer to a pot and heat over low heat.
You can also freeze this dish in an airtight container for about 2 months. Again, remember that thawed Easy Homemade Mexican Fideo Soup will have a different texture. The broth will be fine, but the noodles might be soggy.
FAQs
What is Fideo?
Fideo basically means noodles in Spanish, and fideos are short noodles. They are short, gold-brown in color and most often found in sopa de fideo, or Fideo Soup, which is a Mexican soup. In Spain, fideos are popularly found in a dish called fideua, which is kind of like paella pasta.

The most interesting thing about fideo is that unlike most other forms of noodles and pasta it has to be toasted first. While this is not always essential, for most dishes made with fideo you have to toss these short noodles in a hot pan, with or without oil, and then let them toast to a deep brown color before they are boiled in water.
Substitutions
You can definitely change things up in this Easy, Homemade Mexican Fideo Soup to cater to your tastes.
Fideo: If you don't have fideo noodles, use vermicelli, thin spaghetti or angel hair pasta. You can also use whole wheat versions of this.
Tomatoes: You can use canned or fresh tomatoes
Broth/Stock: You can use vegetable or chicken broth. You can also use bouillon cubes for more flavor
Oil: You can use vegetable oil or olive oil to toast the fideo noodles
Garnish: Lime juice or lime wedge add a lovely brightness to this dish and slices avocadoes make it rich and creamy. You can instead garnish with cilantro, sour cream or fresh ground pepper. You can also add some chopped jalapenos on top.
Spices and seasoning: Besides onions and garlic, I have only used salt in the Easy, Homemade Mexican Fideo Soup. You can add garlic powder, cumin powder and chili powder for some more flavor and heat.
Extras: You can also add some veggies and proteins to up the ante of the dish. Beans, peas, carrots, corn, potatoes and zucchini are all great additions to this delicious soup. You can also add some hard-boiled eggs or cheese to it. You can also make it with ground beef, chicken or any meat of your choice.
Accompaniments
You can have the Easy Homemade Mexican Fideo Soup as a starter or as the entrée. Some corn tortillas make a great accompaniment to this.
If you're hankering for more delicious Mexican soups and stews, try this Mexican Shrimp Soup or this Mexican Cabbage Soup.
---
Recent Recipes