Simple Homemade Mexican Shrimp Soup
Mexican Shrimp Soup (Caldo de Cararon) is a recipe that varies by region and the person cooking it. Some regions of Mexico add masa (corn) to the recipe as a natural thickening agent. Others highlight ground dried peppers as one of the main ingredients.
Ultimately, the recipe consists of vegetables, a tomato broth and shrimp. It's a rather simple recipe that can be put together quickly.
The important component of the soup is the savory tomato broth. A good broth or stock is the backbone of a delicious soup. The rest of the soup will lack depth and flavor if it's not made with a robust base.
Most stocks do take a lot of time to come together. With this recipe though, we'll put together a stock in a fraction of the time by starting with pre-made vegetable stock. Then, with the addition of fresh vegetables and plump, hearty shrimp, we will have delicious Caldo de Camaron. It's a great winter meal option that you can serve alone or with tacos or quesadillas.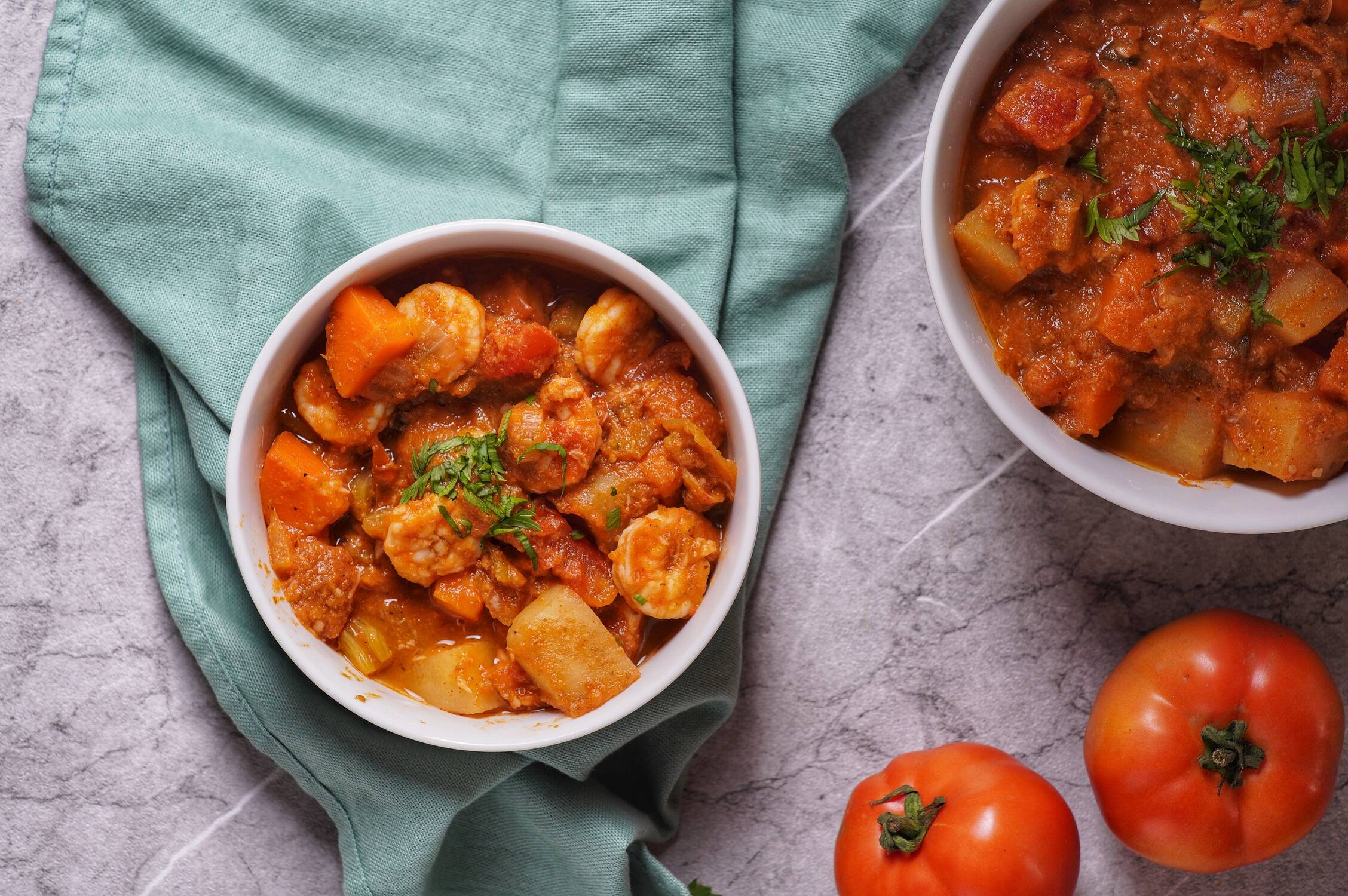 Ingredients
2

pounds

shrimp

peeled and deveined (keep the peels)

1

tablespoon

extra virgin olive oil

4

cloves

garlic

minced

1

quart

low sodium vegetable stock

homemade or store-bought

1

jalapeno

seeds removed and minced

1

small yellow onion

¼" diced

2

large carrots

¼" diced

4

stalks of celery

¼" diced

1

tablespoon

extra virgin olive oil

1

large white potato

½" diced

1

can

15 ounces tomato sauce (no salt or low sodium)

1

can

14.5 ounces diced tomatoes

1

teaspoon

dried oregano

Salt and pepper

for seasoning

1

bunch cilantro

stems and leave, fine chopped
Instructions
Assemble your ingredients.

First, make the shrimp broth. Heat a saucepan on medium heat and add the extra virgin olive oil. Add the shrimp shells and garlic.

Saute the shells until they become fragrant and turn pink.

Add the vegetable stock and scrape the bottom of the pan so that the shrimp shells and garlic are all mixed together into the stock.

Turn the heat to low and allow the stock to simmer while you prep the other ingredients.

While preparing the jalapeno, onion, carrots, and celery, be sure to not throw out the scraps. Simply add the ends, peels, etc. to your simmering stock for extra flavor.

Heat a dutch oven or large pot to medium high heat. Add the extra virgin olive oil, onions, carrots, and celery. Season with a little bit of salt and pepper. Allow these vegetables (a.k.a. mirepoix) to cook for 3-4 minutes or until slightly tender.

Once the vegetables are cooked, add a little bit of the stock and stir the vegetables together so any bits that have stuck to the bottom are scraped up. This is called "deglazing".

Now, add the potatoes and cook with the vegetables for about 2-3 minutes. Add a little bit more stock if the vegetables start to stick to the bottom.

Add the diced tomatoes (with liquid), tomato sauce and oregano.

Now, we will go back to the shrimp stock. After about 30 minutes of simmering, it's time to strain the shrimp stock. Strain the stock and pour the liquid into the soup pot.

Add the peeled shrimp to the soup.

Season with salt and pepper. Let the soup simmer for 15-20 minutes, or until the potatoes and shrimp are cooked.

Taste the soup. Season appropriately to your liking.

The final step will be adding the chopped cilantro right before serving.
Video
Notes and Tips
Shrimp is expensive. If you still want a shrimp-filled bowl, but you are making this soup on a budget, simply slice shrimp in half and use only one pound instead of using two pounds.
Are you looking for more shrimp flavor? You can add dried shrimp to this soup, as well. Adding dried shrimp is a great way to add more salt flavor, too.
If the soup is too rich for you, or you simply want to stretch the amount a little bit, there is a trick to add more stock without just adding water. Once you strain the stock the first time, keep the shrimp shells and vegetable scraps and put back into your sauce pot. Add about 1 cup of water. Allow the shrimp shells and vegetable scraps to simmer again for about ten minutes or so. Strain again and now you have more shrimp stock.
Are you looking for a little more heat? Use diced tomatoes with green chilis to make the soup a little spicier. You can omit the jalapeno if you don't want it to be spicy at all.
What are good toppings for Mexican shrimp soup?
The soup is delicious on it's on, but adding toppings to a soup really brings the soup to another level.
You can add sliced avocado to the top of the soup. You could also sprinkle cotija cheese and fried tortilla strips on top. A dollop of sour cream or plain greek yogurt would add a creamy element to the soup. Adding a fresh squirt of lime juice is also a great way to boost the soup's flavor and add a bit of acidity.
Can you freeze Mexican shrimp soup?
Yes, you can freeze Mexican shrimp soup. Making a larger batch of soup and freezing it is a great way to meal prep and save you time in the future. You can simply store the soup in single serve containers and remove them from the freezer as you need them.
You need to let the soup cool down before freezing it. Be sure that you are using an air-tight container in the freezer so that it maintains its freshness and flavor. Deli cups are a great way to store soups in the freezer.
The soup can be frozen for up to three months. Always be sure to label and date your frozen food to help keep track of your food supply.
---
Recent Recipes