Homemade Miso Glazed Tofu
Tofu is one of my favorite proteins. It's incredibly versatile and, when done right, soaks up any flavor you give it. I often prefer tofu to meat because I find it much simpler to work with. As long as you drain it a little, you can infuse any taste into it. Tofu can even be turned into dessert! Or this yummy tofu korma! Plus, there's no risk of accidentally getting sick from it being undercooked, because technically tofu does not even need to be cooked before being eaten.
This miso glazed tofu is an elevated version of how I usually whip up my tofu meals, but it is honestly just as easy. The key ingredient is miso (as you have probably deduced) and most of the other ingredients you probably already have. The type of miso used is not set in stone. Red miso, white miso, or even a combination can be used here to yield slightly different results. The choice is up to you. Both types of miso usually come in a paste and can be found in person at Asian markets or online through an Asian shop that offers delivery or another food place.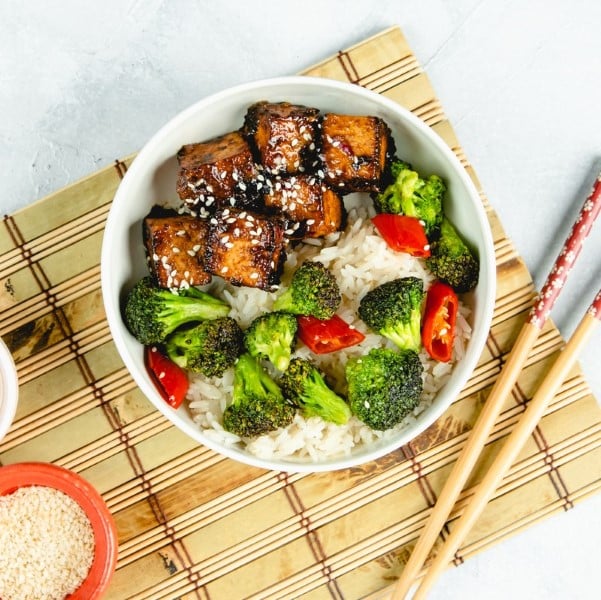 Ingredients
1

block extra firm tofu

2

tbsp

olive oil

6

garlic cloves

½

red onion

2

tsp

ginger powder

1

tbsp

miso paste

1 ½

tbsp

honey

2

tbsp

soy sauce

2

tbsp

rice vinegar

1

tbsp

lemon juice

2

tbsp

sesame oil
Instructions
First thing's first, you need to drain the tofu. Set several paper towels on a plate, then place your whole block of firm tofu on it. Cover it with a few other layers of paper towels, then put weight on it. I like to put my cast iron skillet on top, but make sure it's positioned so it won't fall over.

Leave for a minimum of 30 minutes (though you can even leave it overnight in the fridge if you want).

While you let the tofu press, you can go ahead and prepare the marinade. Peel the garlic cloves and the ½ red onion. Dice or press the garlic and finely chop the onion before adding to a medium sized mixing bowl. Add the rest of ingredients except the sesame oil to the mixing bowl and use a fork or whisk to mix well until incorporated.

Once the tofu has drained enough, unwrap it from the paper towels and place it on a chopping board. Cut it once horizontally so you have two slabs on top of each other, then into slices about an inch wide. Lastly, do two cuts down the middle. You should end up with cubes about an inch large.

Gently drop the tofu chunks into the mixed marinade and make sure all chunks are covered in the sauce. Cover the bowl with a kitchen towel.

Allow the tofu to marinate for 30-60 minutes.

One the tofu has marinated, place a skillet (perhaps the cast iron skillet you used to weigh the tofu?) over medium-high heat. Add the sesame oil and heat through.

Use your fingers or tongs to transfer the tofu into the pan with the hot oil. Do not pour in the marinade, but set it aside as you will add it in a few minutes.

Allow the tofu to cook for around 5 minutes each side or until it is evenly browned all over. This means you will have to keep an eye on it and use tongs or chopsticks to gently turn them over.

Once the tofu has browned, pour in the marinade. Wait until it begins to bubble around the edges, then turn the heat down to low.

Allow to cook for around 5 minutes, but make sure the marinade and tofu aren't sticking to the bottom of the pan.

Remove from heat and serve hot. Enjoy!
Nutrition
Calories:
258
kcal
|
Carbohydrates:
13
g
|
Protein:
11
g
|
Fat:
19
g
|
Saturated Fat:
3
g
|
Polyunsaturated Fat:
6
g
|
Monounsaturated Fat:
9
g
|
Sodium:
667
mg
|
Potassium:
70
mg
|
Fiber:
1
g
|
Sugar:
7
g
|
Vitamin A:
5
IU
|
Vitamin C:
3
mg
|
Calcium:
139
mg
|
Iron:
2
mg
Notes & Tips
If you have any leftovers, store in an airtight container in the fridge for up to 5 days. You should keep the tofu and sauce together. When you are ready to reheat, you can pop it in the microwave. Alternatively, if you want it to get a little crispy again, you can put it back into a skillet over medium heat and let it reheat that way.
If you like your sauces extra thick (which I do sometimes), you can add 1/2 teaspoon of cornstarch to the marinade while it is in the pan and stir to mix in. It will get thick super fast! When you store it in the fridge, the sauce will get very lumpy but will soften again when you reheat.
Substitutions
This recipe can be amplified by using fresh ginger. You would need to peel the rough skin off and grate 1 tbsp worth before incorporating as normal.
If you want a stronger taste of sesame, you can use sesame oil in the marinade instead of olive oil. However, sesame oil can easily become the dominating flavor of a dish, so I advise being wise about its use. On the other hand, if you do not have sesame oil, you can replace its use with olive oil or even vegetable oil.
Serving Suggestions
I often enjoy my tofu over steamed rice. The best rice to use is jasmine or fragrant Thai rice as it has a sweeter, almost floral taste and stickier texture that is desirable for dishes like this. If I am feeling extra fancy, I will do a quick stir fry of some vegetables and either add them next to the tofu on top of the rice, or even cook them then add them to the marinate with the tofu on the stovetop. You can also enjoy this miso glazed tofu over noodles, though you will probably want to add the cooked noodles to the pan with the tofu and marinade rather than simply pouring marinade over top.
---
Recent Recipes