Chocolatey Mochi Brownies
Mochi brownies are super chewy and super chocolatey desserts. They are basically a chocolate version of Hawaiian butter mochi — which is one of my favorite treats. The key ingredient is glutenous rice flour. Glutenous rice flour is what makes the amazing chewy texture in both butter mochi and these brownie mochis. Because you use glutenous rice flour, mochi is gluten-free.
I know "glutenous" makes it sound like it actually has a lot of extra gluten, but that is misleading. The gluten in regular flour comes from wheat and that is the kind of gluten that gluten-free diets need to avoid. Glutenous rice flour does not have any wheat in it, so it is gluten-free. The adjective "glutenous" is used because this type of rice flour makes things super sticky. I know it can be a little confusing, but glutenous rice flour is gluten-free even though the name suggests otherwise.
Because mochi is naturally gluten-free, this is a great recipe to take to a party when you are unsure about everyone's dietary restrictions. It's a good recipe to bring even if everyone does eat gluten because it's so darn delicious. If you're wondering what else you can make with glutenous rice flour, check out mochiko bibingka — it can be sweet and savory!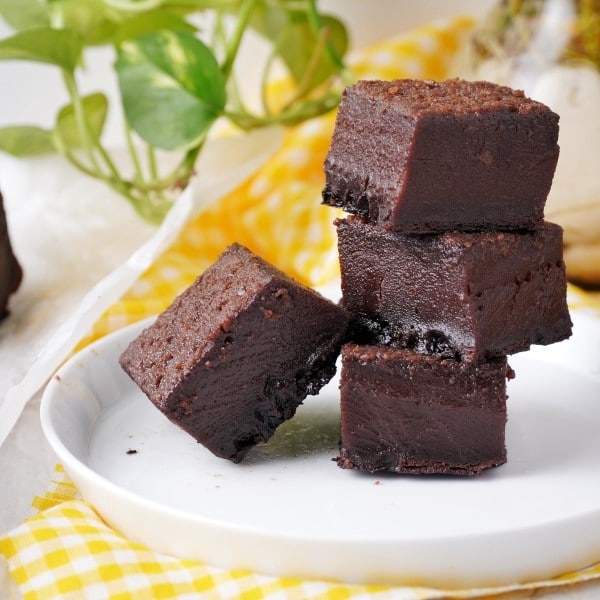 Ingredients
1

16oz bag glutenous rice flour

2

cups

sugar

1

tsp

baking powder

1

cup

cocoa powder

¼

tsp

salt

¾

cup

butter

4

eggs

2

cups

milk

1 ¾

cups

coconut milk

2

tsp

vanilla

½

cup

chocolate chips
Instructions
All ingredients ready? Let's begin!

Preheat oven to 350F. Prepare a 9×13 inch baking dish by lining it with parchment paper then spraying with non-stick cooking spray.

In a large mixing bowl add the glutenous rice flour, sugar, baking powder, cocoa powder, and salt. Whisk together until combined.

In a different large bowl, add the butter. Melt in the microwave.

Add the eggs, milk, coconut milk, and vanilla. Whisk until smooth.

Pour the wet ingredients into the dry ingredients.

Mix until incorporated and there are no lumps. The batter may get too heavy for the whisk, so you might need to use a spatula instead.

Add the chocolate chips and use a spatula to gently fold into the batter until the chocolate chips are evenly distributed.

Pour the batter into the previously prepared baking dish and put in the oven for an hour.

When done, the top should be darker. You can stick a toothpick in to test for doneness. If it comes out wet, it's not done. If it comes out clean or with crumbs stuck to it, it's done.

Remove the mochi from oven and set aside to cool completely before cutting.

Once cool, turn the tray upside down and pull on the edges of the parchment paper to dislodge the mochi brownies from the pan. Cut and serve at room temperature.
Video
Nutrition
Calories:
215
kcal
|
Carbohydrates:
37
g
|
Protein:
4
g
|
Fat:
7
g
|
Saturated Fat:
5
g
|
Polyunsaturated Fat:
1
g
|
Monounsaturated Fat:
1
g
|
Trans Fat:
1
g
|
Cholesterol:
31
mg
|
Sodium:
72
mg
|
Potassium:
157
mg
|
Fiber:
2
g
|
Sugar:
20
g
|
Vitamin A:
85
IU
|
Vitamin C:
1
mg
|
Calcium:
57
mg
|
Iron:
1
mg
Notes & Tips:
Mochi brownies can be stored covered or in an airtight container for up to 5 days. Good luck on having them last that long though, I could eat an entire pan by myself in a day! You can also freeze them in a ziplock bag or airtight container for up to 6 months. When you are ready to serve again, remove them from freezer and allow to dethaw overnight.
It is best to use coconut canned coconut milk instead of the kind you get as dairy-alternative. Canned coconut milk is usually a little thicker and less processed which is what you want for this recipe.
Where To Find Glutenous Rice Flour?
If you're lucky, you might be able to find glutenous rice flour in the foreign food aisle at your local grocery store. However, it is more likely that you will need to pay a visit to your closest Asian food store. I like to visit my closest Asian food store and buy several bags of glutenous rice flour and other ingredients so that I have them on hand when I am ready to make another batch of mochi brownies.
You can also search for glutenous rice flour online at websites like amazon, but their price is usually higher than if you found it in person. Some online Asian shops will deliver, but those often have high shipping prices or a minimum purchase amount of around $50. This is never a problem for me because I like to stock up on ingredients, snacks, and drinks, but not everyone can afford that kind of payout. It's the fancy drinks that really drain my wallet, so I've started trying to make things like this easy ube smoothie at home to save money and go along with mochi brownies.
What is the Mochi Texture Like?
While you may not have had Hawaiian butter mochi or mochi cake before, you may be familiar with ice cream mochi. Ice cream mochi has been growing in popularity and can even be found in places like Aldi as well as specialty restaurants and vendors. If you have ever had mochi ice cream, you will know that it is yummy ice cream wrapped up in a sticky, chewy dough-thing. The mochi encasing the ice cream is also made out of glutenous rice flour, which is how it achieves it's stretchy, chewy texture. So, imagine that, but really thick.
If you've never had ice cream mochi before, I'll describe it a different way. You know how regular brownies can be super gooey and drippy? Imagine a gooey, fudgy brownie that's less melty and more stretchy. Instead of squishing when you press it, it bounces back. Mochi is a hard texture to describe, but it is totally worth a try. I love it! The fun, unique texture of mochi and the delicious chocolatey goodness of brownies make this recipe stand out from the crowd.
Even if you decide that glutenous rice flour texture isn't for you, I highly recommend trying it because it will blow your mind.
---
Recent Recipes