If you haven't tried mochi donuts, you're in for a treat! Mochi is a Japanese rice cake with immense ceremonial significance. People pound steamed rice to form a stretchy dough in a process as complicated as it sounds. What you get is pearly white, chewy cakes that are part of every celebration in the country.
Mochi donuts, on the other hand, are a newer invention. Japan's largest donut shop, Mister Donut, created mochi donuts, and they look like rings made of eight small mochi balls. You might also know these as Pong de Ring, but here's the thing — mochi donuts and pong de ring are not the same thing.
Pong the rings are eight dough balls connected in a circle, and they're made with tapioca starch and wheat flour. Mochi donuts are made with glutinous rice flour, and they don't look like pong de ring at all. In fact, my mochi donuts kind of look like regular mini donuts; of course, they taste entirely different! They taste like mochi!
What Goes into Mochi Donuts?
To make mochi donuts, you'll need sticky rice flour. Luckily, it is much more readily available today than ever. You'll also need milk, butter, sugar, baking powder and an egg. I'm pretty sure you already have these ingredients at home.
We're also making a classic donut glaze, for which you'll need half and half (or whole milk), confectioners' sugar and vanilla extract. Oh, you'll need a donut cutter as well, or two round cookie cutters of different sizes.
If you've made donuts before, you'll see these are fairly easy to make. However, you'll be working with sticky dough, but that's the fun part! You'll see. Let's get started!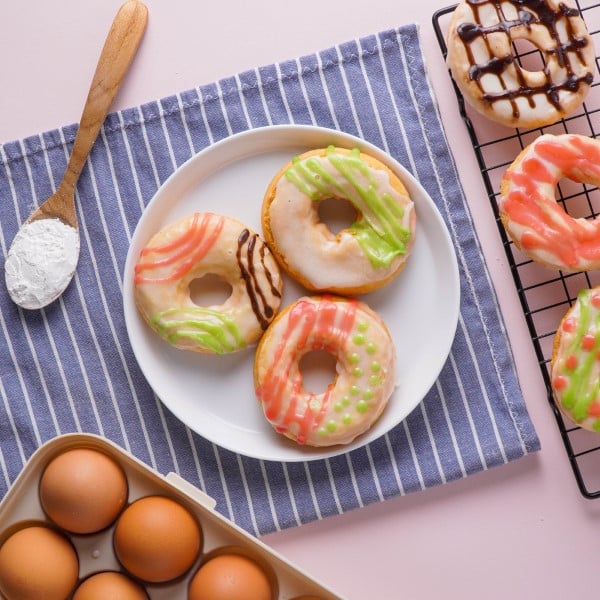 Ingredients
1

cup

sticky rice flour

¼

cup

milk

1

tbsp

unsalted butter

2

tbsp

granulated sugar

1

egg

1

tsp

baking powder
For the glaze:
½

cup

confectioners' sugar

1.5

tbsp

half and half

or whole milk

2

drops of vanilla extract
Instructions
All ingredients ready? Let's begin!

In a stand mixer, sift the sticky rice flour, and whisk at a low speed while adding the milk, butter, sugar and egg, making sure the ingredients are incorporated before adding a new one. Add the baking powder last and increase the stand mixer's speed to ensure everything is thoroughly mixed. You should get sticky dough.

Scrape the sides of the bowl and try to form a ball in the center of the bowl. Cover with a kitchen towel and let the dough rest for at least 30 minutes at room temperature. It won't rise much, but the flour will hydrate better.

Dust a surface with extra sticky rice flour and place your dough. Dust a rolling pin with flour and roll the dough until half-inch thick.

Use a donut cutter or circular cookie cuttera to cut the donuts. Set aside.

In a frying pan, add at least 2 inches of cooking oil and heat over a medium flame. When possible, measure the temperature aiming at 375°F (190°C). Fry in batches flipping the donuts every minute until golden and puffy.

Set the donuts aside on a tray lined with paper towels.

To make the glaze, sift the confectioners' sugar and whisk while incorporating the half and half until dense. Add the vanilla and stir to combine. Add more milk or half and half for a runnier glaze.

Glaze the donuts and enjoy!
Nutrition
Calories:
152
kcal
|
Carbohydrates:
37
g
|
Protein:
3
g
|
Fat:
4
g
|
Saturated Fat:
2
g
|
Polyunsaturated Fat:
0.3
g
|
Monounsaturated Fat:
1
g
|
Trans Fat:
0.1
g
|
Cholesterol:
35
mg
|
Sodium:
88
mg
|
Potassium:
51
mg
|
Fiber:
1
g
|
Sugar:
5
g
|
Vitamin A:
128
IU
|
Vitamin C:
0.03
mg
|
Calcium:
63
mg
|
Iron:
0.3
mg
Tips
Add 1 tsp of matcha powder to the glaze for lovely green mochi donuts.
Dust the donuts with brown sugar instead of glazing them for a grainier bite.
Enjoy warm, or store at room temperature over the counter, not the fridge.
---
Recent Recipes