A mojito is a rum-based cocktail that is flavored with fresh mint, lime juice, and sugar. It is served over ice and is very refreshing. But you don't have to make a mojito with alcohol for it still to be a refreshing cocktail. You can leave the rum out and make a virgin mojito mocktail. This is great for guests who aren't drinking alcohol but still want to have a festive and sophisticated cocktail.
I attended a birthday party where there was a mixologist making muddled drinks with herbs and citrus that looked so good. But I had a 45-minute drive home and really didn't want any alcohol. My hostess asked if I wanted a drink. I explained that I was driving so she asked the bartender to make me a mocktail that looked just like what everyone else was drinking. She then told me she doesn't drink any alcohol and has perfected the art of the mocktail. That was my aha moment that I didn't have to mingle with the typical seltzer with a wedge of lime and no one ever asks what I am drinking.
I have said this before, so I apologize if I repeat myself. I always say that the key to a good cocktail or mocktail is in the freshness of the ingredients. I am not a fan of powdered "juices", bottled citrus concentrates, or canned fruits. I will on occasion use food-grade essential oils and frozen fruit for certain cocktails.
To make a mojito mocktail you will need fresh mint leaves, granulated sugar, freshly squeezed lime juice, sparkling water, and ice. The equipment needed is a cocktail shaker, a muddler, a citrus reamer or juicer, a long spoon, and some 10-ounce highball cocktail glasses. This recipe is for 2 mocktails. You can double the recipe and make a pitcher for 4 drinks.
If you have guests who wish to make this mojito recipe into a real cocktail, you just need to place a bottle of white rum and a shot glass on your bar or countertop so they can help themselves.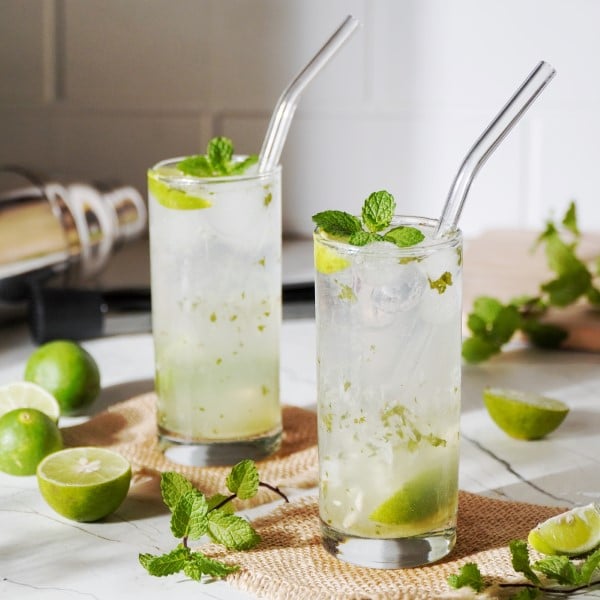 Ingredients
22

fresh mint leaves

save 2 for garnish

1

lime cut into 8 pieces

4

Tbsp

granulated sugar

2

cups

of ice

1

cup

sparkling water or seltzer
Instructions
All ingredients ready? Let's begin!

In a cocktail shaker or a tall sturdy glass, add 20 mint leaves and 2 lime pieces. Using a muddler, crush the mint leaves and lime pieces until the juice is released from the limes.

Add 4 more lime pieces and the sugar to the shaker. Muddle again to crush the limes and dissolve the sugar in the lime juice.

Spoon equal amounts of the lime and mint mixture into 2 highball glasses.

Fill the glasses almost to the top with ice. Pour the sparkling water over the ice to fill the glasses.

Garnish each glass with a mint leaf and a lime wedge. Enjoy.
Nutrition
Calories:
110
kcal
|
Carbohydrates:
29
g
|
Protein:
1
g
|
Fat:
0.2
g
|
Saturated Fat:
0.03
g
|
Polyunsaturated Fat:
0.1
g
|
Monounsaturated Fat:
0.01
g
|
Sodium:
41
mg
|
Potassium:
100
mg
|
Fiber:
2
g
|
Sugar:
25
g
|
Vitamin A:
484
IU
|
Vitamin C:
13
mg
|
Calcium:
51
mg
|
Iron:
1
mg
Notes & Tips
Fresh lime juice really makes a difference when making mojito mocktails. I don't recommend using bottled lime juice. It is way too concentrated and tart.
If you don't want all the mint and lime in the highball glass, you can add some of the sparkling water to the muddled herbs and fruit. Stir it and then strain the liquid over the ice in the glasses. Top off each glass with the rest of the sparkling water.
Substitutions & Additions
Mint: I am not a huge fan of peppermint leaves. I think they can be overpowering sometimes, especially mature leaves. If you can find them, wintergreen or spearmint leaves are a little more subtle. If you want something very different, use some basil leaves in place of a few of the mint leaves.
Citrus: Lime juice is typically the base for a mojito. You can use lemons instead if that is what you have on hand. You can also make this mocktail with tart white grapefruit juice.
Sugar: I like the way cane sugar breaks down the fiber in the mint and the oily skins of the limes when muddling everything together. If you aren't on board with white sugar, you can use agave syrup or honey. Just be sure to stir well to dissolve the honey if using that.
Sparkling Water: I prefer sparkling or mineral water because it is less carbonated than say club soda or seltzer. But you can use any fizzy water. And, if you want more citrus flavor, try lime-infused seltzer.
What to Serve with Mojito Mocktails
Mojitos are fresh, tart, and herbal. I think the best dishes to serve with this tangy beverage are those made with fresh seafood or spicy finger food. My first inclination is to serve small bowls or martini glasses with chilled shrimp ceviche with citrus juice, tomatoes, and fresh cilantro.
You could also make a botana platter. This is a baked cheese and bean dip topped with fresh avocados, tomatoes, jalapeño peppers, and sour cream. It is served with crisp corn tortilla chips. Of course, guacamole and salsa are other perfect dips for tortilla chips.
Some other good finger foods include refried bean quesadillas, bowls of green and black olives, jalapeño poppers, A platter of fresh veggies and fruit with an herbed yogurt dipping sauce, and bruschetta with smoked salmon with Dijon mustard and capers or thinly sliced filet of beef with horseradish cream cheese.
---
Recent Recipes