Best Moroccan Couscous Bowl
North African cooks take their couscous seriously. Couscous is tiny pasta balls made from rolling semolina (durum) wheat with water. It is generally steamed before serving and is a base for a variety of dishes. Traditionally, couscous is cooked in a couscousiere. This is a double pot with a steamer on top. The couscous is steamed in the upper section and then finishes cooking in the lower pot.
I don't know many people who own a couscousiere, including myself. For this recipe, we will be using a simpler method to cook the couscous. We will concentrate on the preparation of the vegetables, legumes, fruits, nuts, and seasonings that will top the couscous, honoring the ingredients and flavors of Morocco.
This Moroccan couscous bowl is vegetarian. But it hits all the major food groups with protein, vegetables, fruits, grain, fat, and dairy. The grain is obviously the couscous. The protein comes from the addition of chickpeas, almonds, and yogurt. To build the bowl, start by roasting the vegetables and toasting the spices and nuts. The couscous is simply steamed in a bowl of hot broth until fluffy. Just like your typical rice buddha bowl or ramen noodle bowl, the veggies are layered on top of the couscous. Yogurt or tahini sauce is served on top of the entire dish if desired. A Moroccan couscous bowl is savory, aromatic, and a tiny bit sweet from the addition of dried fruits.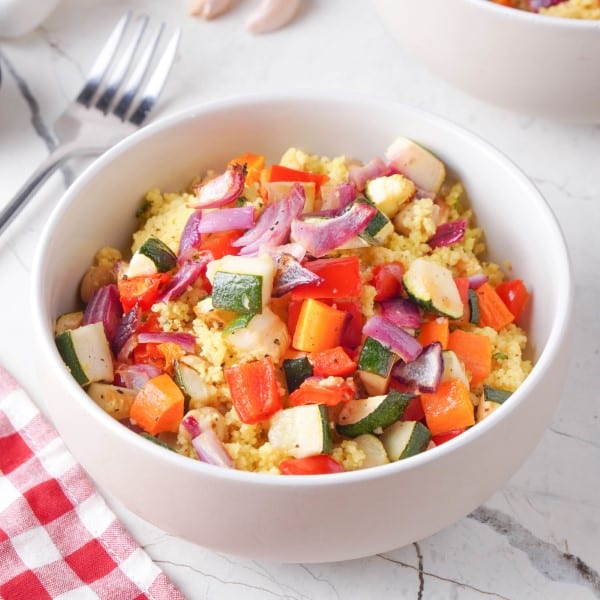 Ingredients
Vegetables
2

small red onions

peeled and cut into 1-inch chunks

2

carrots

trimmed and diced into ½ inch pieces

2

red bell peppers

seeded and diced into 1-inch pieces

1

large zucchini

diced into 1-inch cubes

1 ½

Tbsp

extra virgin olive oil

Juice from ¼ of a lime

2

cloves

garlic

minced

1

tsp

coarse sea salt

½

tsp

freshly ground black pepper
Nuts and Spices
½

cup

slivered almonds

1

tsp

ground cumin

1

tsp

ground coriander

½

tsp

ground cinnamon

½

tsp

za'atar
Couscous
16

ounces

of vegetable broth

½

tsp

ground turmeric

1 ½

cups

dried couscous

½

cup

golden raisins or dried currants

1

14-ounces can of chickpeas, drained and rinsed

2

Tbsp

extra virgin olive oil

1

Tbsp

fresh lemon or lime juice

3

Tbsp

minced fresh cilantro

2

Tbsp

minced fresh mint leaves

Salt and pepper to taste

Plain full-fat yogurt

preferably sheep or goats milk for serving

Sesame tahini paste thinned with lemon juice for serving
Instructions
Vegetables
Preheat the oven to 475°F. Line a rimmed baking sheet with foil or parchment paper.

Add the onions, carrots, peppers, and zucchini to a large mixing bowl. Add the olive oil, lime juice, garlic, salt, and pepper. Toss to coat everything.

Spread the vegetables out on the lined baking sheet. Place this in the oven and roast the veggies for approximately 15 to 18 minutes until cooked through and a little charred, tossing at 10 minutes.

Toast the nuts and spices and cook the couscous while the vegetables are roasting
Nuts & Spices
In a heavy-bottomed skillet over medium heat, toast the nuts until just aromatic, approximately 1 to 3 minutes. Add the cumin and coriander and continue to toast until the spices are just fragrant. Stir in the cinnamon and za'atar and transfer the warm nuts and spices to a bowl. Set aside.
Couscous
In a saucepot over high heat, bring the broth and turmeric to a boil.

Place the couscous and raisins or currents in a large bowl. Toss to combine. Pour the hot broth over the couscous and stir to combine. Cover with plastic wrap and set aside for 5 minutes.

Add the chickpeas, olive oil, lemon juice, cilantro, mint, and the almonds and spices to the couscous. Toss to combine. Season with salt and pepper to taste and toss again.

Place the couscous in individual serving bowls. Top each with the roasted vegetables. Serve immediately with bowls of yogurt and tahini sauce on the side for drizzling over the top.
Nutrition
Calories:
366
kcal
|
Carbohydrates:
56
g
|
Protein:
12
g
|
Fat:
12
g
|
Saturated Fat:
1
g
|
Polyunsaturated Fat:
2
g
|
Monounsaturated Fat:
7
g
|
Trans Fat:
0.001
g
|
Cholesterol:
0.02
mg
|
Sodium:
544
mg
|
Potassium:
596
mg
|
Fiber:
9
g
|
Sugar:
13
g
|
Vitamin A:
3766
IU
|
Vitamin C:
51
mg
|
Calcium:
86
mg
|
Iron:
3
mg
Notes & Tips
I don't always want all my vegetables cooked together, especially if I am trying to create a more layered bowl. The way I get around this is to take a large sheet of foil and line my sheet pan with it. I crimp the foil at intervals to create individual compartments for each type of vegetable. I'll place onions in one section, carrots in another, and so on. Then, drizzle olive oil and lemon juice over each section. Add the garlic and season with salt and pepper. Roast the vegetables.
Toasting the nuts brings out their natural oils. Toasting the spices makes them extremely fragrant and adds a depth of flavor to the couscous that you wouldn't otherwise achieve with raw spices.
Substitutions & Variations
Vegetables: It is not uncommon to find eggplant, sweet potato, wilted spinach, and even pumpkin in a couscous bowl. For freshness and less heat, you might have a room temperature couscous bowl topped with cucumbers, tomatoes, olives, and fresh herbs, such as parsley leaves.
Herbs and Spices: The dried spices are fairly typical in Moroccan dishes. I sometimes like to add fenugreek for a touch of anise flavor and as a digestive aid. For some heat, try ras el hanout. Not everyone enjoys mint, despite it being a local plentiful herb. You can swap mint out for basil, parsley, or oregano.
Broth: There is no reason you can't use chicken or beef broth if you are not vegetarian. Water is also fine.
Protein: The main sources of protein for this recipe are almonds, chickpeas, and yogurt. You may choose pine nuts and lentils or walnuts and kidney beans if desired. Feta cheese is a nice alternative to yogurt. If not vegetarian, add roasted or grilled chicken thighs, lamb meatballs, or even braised goat meat. Pork would not be an appropriate protein in Morocco. 
Couscous can be served with preserved lemons on the side for a little extra punch of flavor. Preserved lemons are a tart treat popular in Northern Africa and the Mediterranean.
---
Recent Recipes